Bringing together collectors and art lovers from across the French Riviera and beyond, armonte-carlo is now in its sixth edition. An intimate presentation, international galleries such as Almine Rech, Esther Schipper, Hauser & Wirth, and White Cube will be present. Below is a preview of some of our favourite works that will be on view.
---
Natalia Gonzalez Martin, Tragicomedy in Two Part: The Moon (2022). Oil on wood. 91 x 61 cm. Courtesy the artist and Galerie Sébastien Bertrand.
Natalia Gonzalez Martin at Galerie Sébastien Bertrand
Young figurative painter Natalia Gonzalez Martin graduated from City & Guilds of London Art School with a BFA in Painting in 2017.
After graduating, Martin focused her practice on religious medieval art, drawing upon the European painting tradition more broadly. Most recently, she has been inspired by the Desert Mothers—Christian ascetics who retreated to the wilderness during the 4th and 5th centuries AD.
Tragicomedy in Two Part: The Moon possesses the vastness and the sense of solitude that characterises Martin's paintings that depart from these figures, which were shown at Steve Turner in Los Angeles this year. Another solo exhibition of the artist's work was recently presented by Hannah Barry Gallery in London.
---
Luchita Hurtado at Hauser & Wirth
Luchita Hurtado's chosen subjects and scenes are both expansive and intimate, expressing her vision for the interconnectedness of life.
Her renowned suite of paintings from the 1970s and 80s showing the curves of her body from above against geometric rugs beneath her feet are indicative of this. Like a desert landscape, her body is positioned against the patterned rugs in a renewed take on geometric abstraction.
Hurtado, who led a nomadic existence, died last year at the age of 99, having had her first-ever institutional solo exhibition at the Serpentine Galleries in London in 2019. A year before, her work featured in the Hammer Museum's biennial exhibition Made in L.A. 2018.
---
Giorgio Griffa at ABC-ARTE
Known for working on unstretched and unsized canvas laid upon the floor, Giorgio Griffa's practice is centred on collapsing the hierarchies of materials.
Gestures and lines stand out in bright colours against beige jute in a celebration of the act of painting. 'I don't represent anything, I paint', the artist has emphasised.
Developing his practice in the latter part of the 1960s in Turin, where he was born and is still based today, Griffa's practice has only recently begun receiving institutional attention, following solo exhibitions at the Centre d'Art Contemporain de Genève in 2015 and Camden Art Centre in London in 2018. Most recently, the artist's work was shown in Paris at the Centre Pompidou.
---
Alighiero Boetti, Senza titolo (I verbi irregolari, Tocchi e rintocchi, Per nuovi desideri...) (1989). Embroidery on canvas. 110 x 110 cm. Courtesy Cortesi Gallery.
Alighiero Boetti at Cortesi Gallery
Another Turin-born artist, Alighiero Boetti was a principal figure of the Arte Povera movement, and his early works consisted of industrial materials to comment on the economic expansion of northern Italy.
In the 1970s Boetti travelled to Afghanistan, where he invited embroiders and weavers in Kabul to work with him on designs, collaborating with them until 1994. During this time he also briefly opened a hotel in Kabul alongside his friend Gholam Dastaghir.
Split between two crossing lines of Farsi text, the letters in Senza titolo constitute phrases that contributed to the philosophical genesis of the work, including avere fame di vento (hungry for wind) and ammazzare il tempo (killing the time).
---
Tomokazu Matsuyama, But Love Had Better Do (2022). Acrylic and mixed media. 152.4 x 5.1 cm. Courtesy the artist and Almine Rech.
Tomokazu Matsuyama at Almine Rech
Tomokazu Matsuyama's elaborate paintings radiate a feeling of warmth, partially as a result of their gentle, ombré backgrounds.
Walking the fine line between chaos and control, their surfaces depict figures surrounded by elements drawn from nature, blurring the line between domesticity and the outdoors.
Matsuyama is based in New York, where he completed his MFA in Communications Design from the Pratt Institute in 2004. Since then, he has exhibited at galleries and institutions around the world, including the Long Museum in Shanghai and Kavi Gupta earlier this year, after the gallery announced their representation of the artist in 2021. In June, a selling exhibition at Sotheby's included a collection of the artist's first NFTs.
Main image: Giorgio Griffa, Movimento blu (2007). Acrylic on jute. 58 x 67 cm. Courtesy ABC-ARTE.
---
WORKS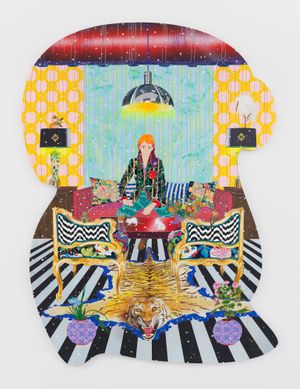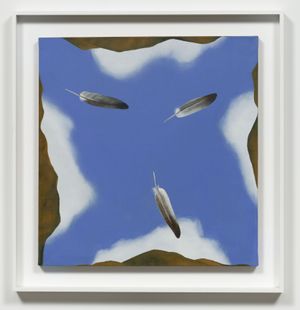 ---