6 April 2017
The 21st Biennale of Sydney (2018) announces first 21 artists for its 45th anniversary exhibition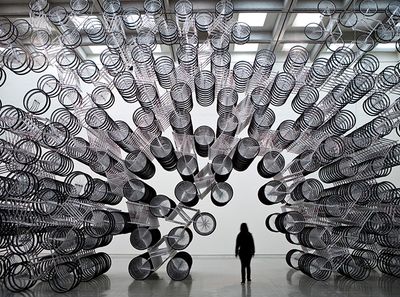 Ai Weiwei, Forever Bicycles, 2011. Installation view at Taipei Fine Arts Museum (2011). Courtesy Ai Weiwei Studio, Berlin.
The world-renowned Biennale of Sydney is back next year to celebrate its 45th anniversary exhibition. Set to maintain its status as the largest and best-attended contemporary arts event in Australia, the 21st Biennale of Sydney is anticipated to once again bring an impressive and diverse range of contemporary artists and artworks to the Asia-Pacific region.
Artistic director Mami Kataoka (Tokyo-based chief curator of the Mori Art Museum) has today revealed the first 21 artists selected for the latest edition of the Asia Pacific's leading contemporary art event. The first announcement includes major international artists such as Ai Weiwei, Haegue Yang, Laurent Grasso, and Eika-Liisa Ahtila; inclusions which provide an inkling of themes that will surface in the 2018 edition.
Among the first 21 artists to be announced are an artist duo, four Australian artists, ten artists from throughout Asia, five European artists and one artist from North America. The first selection of artists is as follows:
Eija-Liisa Ahtila (Finland); Ai Weiwei (China); Brook Andrew (Australia); Oliver Beer (England); Anya Gallaccio (Scotland); Laurent Grasso (France); N.S. Harsha (India); Mit Jai Inn (Thailand); Kate Newby (New Zealand); Noguchi Rika (Japan); Nguyen Trinh Thi (Vietnam); Ciara Phillips (Canada); Koji Ryui (Japan); Semiconductor (England); Yasmin Smith (Australia); George Tjungurrayi (Australia); Nicole Wong (Hong Kong); Wong Hoy Cheong (Malaysia); Yukinori Yanagi (Japan); Haegue Yang (South Korea); and Jun Yang (China)
The 21st Biennale of Sydney will continue to celebrate the individuals and communities of the contemporary art world with major new commissions by artists from Australia and worldwide. Spanning over twelve weeks from the 16th of March until the 11th of June 2018, and across multiple locations throughout Sydney, the 21st Biennale of Sydney will explore 'a journey; a walk through microcosms of the world today based on the stratum of history, human knowledge, emotions, desires and beliefs, as well as the mysteries of natural phenomena and the whole of the universe' according to artistic director Mami Kataoka.
Commenting on the curatorial premise for the 21st Biennale of Sydney, Kataoka said: 'Next year's Biennale will explore multiple viewpoints in search of a state of equilibrium. With a holistic view, the 21st Biennale of Sydney will also seek in-depth engagement with individuals and communities while exploring a range of perspectives and meanings of abstractions. Rather than focusing on a specific concept or theme, the exhibition will suggest multi-layered perspectives of the world and its histories simultaneously. In July this year, the exhibition title will be announced along with details of the themes and concerns informing this edition.'
In celebration of the organisations 45th anniversary, the Biennale will explore its rich history with a close examination of its Archive, drawing on 45 years of art and encounters. The Biennale of Sydney has long been a platform for pioneering contemporary art and is known for showcasing the freshest and most thought-provoking works from local and international artists, allowing attendees to gain a sense of what is to come in the international contemporary art world.