Tessa Goldsher
ARTNews
First published on 5 August 2016
'The last taboo is the penis': John Cheim on 'The Female Gaze, Part II: Women Looking at Men' at Cheim & Read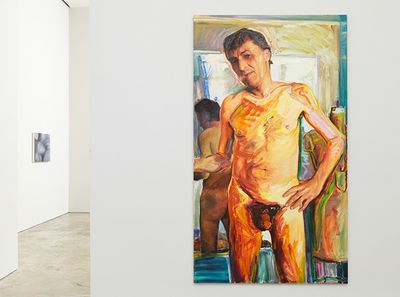 The Female Gaze, Part Two: Women Look At Men, installation view at Cheim & Read, New York. Courtesy Cheim & Read, New York.
The Female Gaze, Part II: Women Looking at Men, a group show that runs at Cheim & Read through September 2, is as ambitious in scope as it is in ideology, showcasing work by a wide range of artists–including Tracey Emin, Alice Neel, Diane Arbus, and Jenny Holzer–who have applied a nontraditional lens to viewing and depicting the male figure.
Organized by John Cheim, the show comes seven years after the first edition of the show he put on at his gallery, and tracks a history, from the early 20th century to the present, of representations in which men and the rigid concept of manliness are notions to be turned on their head—and ultimately even laughed at. Several times in the exhibition, the male nude is pared down to its essential parts, a move Cheim likened to the framing that occurs in Gustave Courbet's Origin of the World, 1866.