News | Market
Asia Now to Show Online With Ocula

Sponsored Content | Asia Now
Leading global galleries Perrotin, Templon and Almine Rech are among those joining the fair for the first time.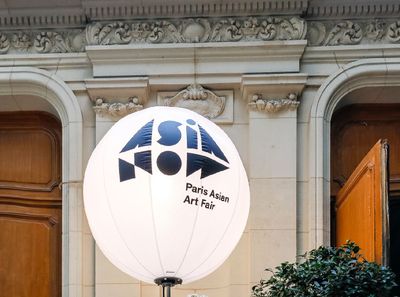 Asia Now, Paris. Courtesy Ocula. Photo: Charles Roussel.
Paris art fair Asia Now will show online in Ocula's Viewing Rooms as well as in-person at 9 Avenue Hoche in the French capital's Eighth Arrondissement from 21 October, opening a day earlier to VIPs. The physical fair will run until 24 October, with the online exhibition continuing until 7 November.
Over 30 galleries will present their works at the fair, including Perrotin, Templon, Nathalie Obadia, Jeanne Bucher Jaeger, Cahiers d'Art, and Almine Rech, all of whom are taking part in Asia Now for the first time. Those galleries and an additional 10 will show in the fair's Online Platform section, exclusively on Ocula. Each of the gallery presentations will feature high resolution images that allow viewers to examine key details and supporting texts such as quotes from critics and the artists themselves.
Founded by Alexandra Fain and her father Claude, Asia Now began as a single exhibition at the Palazzo Morosini during the 2015 Venice Biennale. Now in its sixth edition, the fair presents leading contemporary art from Asia with an eye to connecting European collectors with Asian artists.
'We believe it is an important opportunity to provide greater access to people unable to attend the fair in person this year,' Fain said. 'The two-format approach is also advantageous to the galleries to provide an additional format to share their artists' works to existing and new audiences.'
In addition to the gallery presentations, the physical fair will include Special Projects such as site-specific assemblages by New Delhi-born artist Remen Chopra W. Van Der Vaart and masterful drawings on felt by Chinese artist Zhang Yunyao. Off Site exhibitions will also take place at the National Museum of Asian Arts—Guimet, Cernuschi Museum of the Asian arts of Paris, and Château du Marais.
The fair's in-person Conversation Platform will include contributions from: Catherine David, deputy director of the Musée National d'Art Moderne at the Centre Pompidou; Guy Ullens, founder of Beijing's UCCA Centre of Contemporary Art; Jérôme Sans, former director of the UCCA; Hadrien de Montferrand, Founder of HdM Gallery; Shwetal A. Patel, founding member of the Kochi-Muziris Biennale; and artists Xie Lei, Chan Kai-yuen, Barthélemy Toguo, and Romain Bernini, among others.
Register here to be notified when the fair goes live at 6am Paris time on Wednesday 21 October.—[O]