News | Institutions
E.SUN Bank Calls on Global Artists to Paint Yushan Mountain

Sponsored News | E.SUN Bank
The best depictions of Taiwan's tallest peak will win prize money totalling $130,000.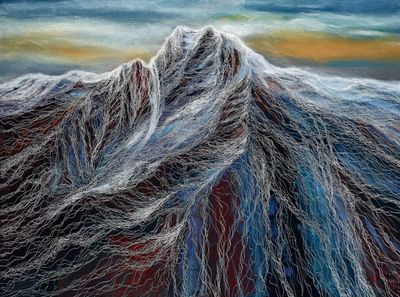 Leigh Wen, Yushan (2012). Courtesy the artist and E.SUN Bank.
Taiwan's E.SUN Bank has announced an open call for submissions to the E.SUN Awards. The competition calls on artists to paint Yushan, a 3,952 metre-tall peak whose name translates to Jade Mountain.
Oil, acrylic, and gouache depictions of Yushan will be accepted on their website until 31 August 2022 at 23:59 Taipei time.
E.SUN Bank, whose logo depicts Yushan, was established in 1992 with the goal of becoming Taiwan's top bank. It was ranked number one among Taiwanese banks in Forbes' 2021 Worlds Best Banks listings.
'We look forward to seeing the depictions of the natural, cultural, and artistic beauty of Mount Jade by domestic and international artists, as we actively support artistic and creative talent,' the bank said.
Chu Huei-Fen, Spring in Yushan (2017). Courtesy the artist and E.SUN Bank.
Over 2,800 works were submitted in the awards' first two iterations held in 2012 and 2017. The first place prize winner in 2012 was New York-based artist Leigh Wen, who is represented by Whitestone Gallery in Taipei, while Chu Huei-Fen received the prize in 2017 for her painting Spring in Yushan.
For the bank's 30th anniversary, in addition to a prize of NT $1 million (US $35,000) for the best painting by a Taiwanese artist, US $130,000 in cash prizes will be awarded to painters from around the world for the first time.
In the international category, which is open to artists of all ages and nationalities, one first prize winner, one to three special prize winners, and one to five merit award winners will be chosen. As well as cash prizes, the winning artists will have their works presented in a special publication and exhibited around Taiwan.
Finalists for the E.SUN Awards will be announced on E.SUN Bank's website on 31 October. The winners will be announced at an awards ceremony in November.
Visit E.SUN Bank's website for further guidelines on how to apply. —[O]