News | Artists
Foundwork Announces Open Call for US $10,000 Artist Prize

Foundwork | Sponsored Content
Two artists, selected by a jury of arts professionals around the globe, will receive the independent art platform's annual prize this year.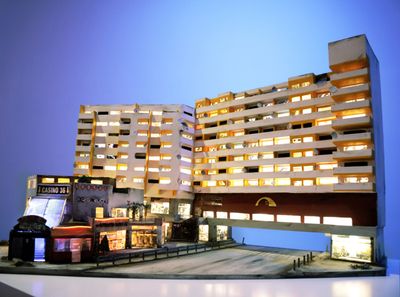 Tracey Snelling, Kotti (2018). Mixed media sculpture with video. 72 x 122 x 90 cm. Courtesy the artist and Foundwork.
Foundwork is inviting artists around the world to apply for the 2021 Foundwork Artist Prize.
Established in 2019, the award recognises outstanding practices by contemporary artists working in any media. The award aims to further Foundwork's purpose of helping artists share their work with the global art community.
The prize was won by Chicago-based Puerto Rican artist Edra Soto in 2019 and Berlin-based American miniaturist Tracey Snelling in 2020.
'We're very excited to share that 2021 will be the first year that we award the Foundwork Artist Prize to two honourees, both of whom will receive unrestricted $10,000 grants to support their practices, and studio visits with each of our esteemed jurors,' said Adam Yokell, founder and director of Foundwork.
The two winners and three shortlisted artists will be announced in December. In addition to the cash prize, they will be featured in long-form interviews as part of Foundwork's Dialogues series to further public engagement with their practices.
Melanie McLain, Wall Compressions (2020). Ceramic tile, wood, silicone, fabric, high density foam, plaster and zippers. 53 x 14 x 32 in. Image courtesy Foundwork and the artist, who was shortlisted for the 2020 Foundwork Artist Prize.
This year's jury for the Foundwork Artist Prize is made up of six curators, gallerists, educators, and artists spread across four continents.
They are: Vanessa Carlos, founder of Carlos/Ishikawa Gallery, London; independent curator Qu Chang, formerly curator at Para Site, Hong Kong; Bridget Donahue, owner of Bridget Donahue Gallery, New York; Cédric Fauq, the incoming chief curator at CAPC Musée, Bordeaux; Thomas Lawson, artist and dean of CalArts' School of Art, Valencia; and São Paulo-based independent curator Thiago de Paula Souza.
'We are thrilled to be able to bring together their dynamic experiences, perspectives, and mentorship for this year's award,' Yokell said.
The Foundwork Artist Prize is open to artists around the world with limited exceptions. To be eligible for the 2021 prize, artists need to have a profile on the Foundwork website. They also need to have at least six artworks published on their profile page for the duration of the selection period—from 5pm Pacific Time on 10 October to 5pm Pacific Time on 30 November.
Artists can sign up to join Foundwork on their website, here. Membership costs US $4 per month and can be cancelled at any time.
Further information about the platform and the prize can be found on Foundwork's FAQ page and the prize rules page. Questions can also be sent to [email protected]. —[O]