News | Galleries
Frieze Seoul 2022: 8 Great Galleries Introduce Their Booths
Frieze comes to Seoul for the first time from 2–5 September. Take an early look inside the booths of Almine Rech, Empty Gallery, Eva Presenhuber, Hauser & Wirth, Jhaveri Contemporary, Sprüth Magers, STPI, and Yeo Workshop.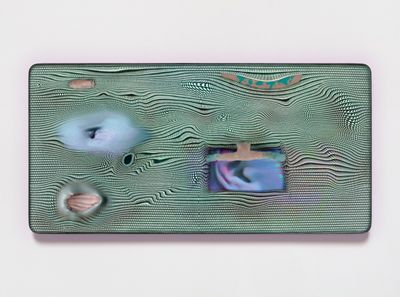 Tishan Hsu, ear-screen-green-1 (2022). UV-cured inkjet, acrylic, ink, silicone on wood. 61 x 122 x 12.8 cm. Courtesy the artist, Empty Gallery, Miguel Abreu Gallery. © Tishan Hsu / ARS, New York. Photo: Pierre Le Hors.
Alexander Lau, Director, Empty Gallery, Hong Kong
The selection of works we are bringing to Seoul includes a number of our core gallery artists, Cici Wu, Tishan Hsu, and Taro Masushio, who we are introducing to the Korean market for the first time, as well as Vunkwan Tam, a young artist from Hong Kong who has just joined the gallery.
These artists all deal with the intersection between technological modernity, imperialist legacies, and contemporary East Asian identity in important ways.
Vunkwan Tam, Untitled (A billionaire unveils an electric truck styled after a 1996 polygon render), 2020. Goat horn, sink, mouthwash. 15 x 47 x 34 cm. Courtesy the artist and Empty Gallery.
Tam's work includes a novel element that we need to install. The sculpture includes a pool of mouthwash which will degrade as it is exposed to air during the run of the fair.
The highlights of our booth are the aforementioned work by Tam and two new works by Tishan Hsu. These are some of Hsu's first new pieces since his recent inclusion in the 59th Venice Biennale, and function as a bit of a preview for his upcoming second solo exhibition with Empty in March 2023.
Jason Rhoades, NOM Korean Bedroom Idol (2006). Palette-shaped leather blotter, L'Aiglonstretch belt, found neon, GTO cable, six silicone end caps, 120V Ventex transformer, three ceramic donkeys, blue cummerbund, pink bowtie, pink ribbon, white halter top, black ribbon, camel saddle stool, orange extension cord. 236.2 x 61 x 40.6 cm. © The Estate of Jason Rhoades. Courtesy The Estate of Jason Rhoades, Hauser & Wirth, and David Zwirner. Photo: Jeff McLane.
Sara Chun, Director, Hauser & Wirth, Zurich
We wanted to show the breadth and depth of our programme, including many of the greats of 20th century art alongside leading contemporary artists. Our list includes Mark Bradford, John Chamberlain, George Condo, Philip Guston, Camille Henrot, Jenny Holzer, Roni Horn, Luchita Hurtado, Rashid Johnson, Mike Kelley, Glenn Ligon, Angel Otero, Nicolas Party, Pipilotti Rist, Mika Rottenberg, and Avery Singer.
As the first artist we represented, Jason Rhoades is important to us and was a true friend who is in many of our early memories of Hauser & Wirth. His idiosyncratic installations draw on the history of assemblage, incorporating a wide range of objects, including products of mass culture combined with hand-made and personal items with a strong personal significance.

Louise Bourgeois, Grey Fountain (1970–1971). Grey marble and steel. Sculpture: 28.5 x 55.8 x 116.8 cm. Wood base: 29.2 x 58.4 x 121.9 cm. ©The Easton Foundation. Courtesy The Easton Foundation and Hauser & Wirth. Photo: Christopher Burke.
The work NOM Korean Bedroom Idol (2006) was hung in Rhoades' bedroom at his Los Angeles studio near the Koreatown neighbourhood, where he was living and working at the time. This is Rhoades' only known artwork using a found neon sign, which reads 'karaoke' in Korean, and was acquired by the artist from a karaoke bar he frequented nearby his studio.
By Louise Bourgeois we bring Grey Fountain (1970–1971), a work which shows her emotionally intense and psychologically charged sculptural practice. An ensemble of separate and cylindrical grey marble components form a subtle incline and appear to face simultaneously toward and away from one another, creating a sense of tension, movement and dynamism.
Rana Begum, No. 1107 Tiles (2021). Paint on mirror finish stainless steel. 170 x 350 x 0.1 cm. Courtesy the artist and Jhaveri Contemporary.
Amrita Jhaveri, Founding Director, Jhaveri Contemporary, Mumbai
We first exhibited Rana Begum's work in Hong Kong. Ever since she has been shown widely in the UK and the MENASA region but very little in Asia. We were keen to highlight her work as we feel it would find a welcome audience in Korea.
We will be showing sculptural works but in a two-dimensional format. The works will engage the viewer with its reflective qualities and draw them into the stand, an area of reflection and contemplation within an otherwise busy fair.
These unique sculptures, minimal in form and subtle in colour are a departure for the artist. The watercolours on the stand pay homage to artists like Lee Ufan.
Fyerool Darma, Screenshot 04-08-2022 at 0333AM XT-6Skyline featuring moyang and budyoung (2022). 121 x 68 cm. Courtesy Yeo Workshop.
Audrey Yeo, Founder and Director, Yeo Workshop, Singapore
The highlight of our booth is a solo presentation of new works by Fyerool Darma. The artist mediates Southeast Asian rural and urban culture with our new-age cosmopolitanism, developing object and material experimentations based on an extensive visual vocabulary drawn from popular culture, literature, the archives, the Internet, and his own life.
The artworks are embroidered, and made of vinyl wraps and carbon fibre—materials used in custom auto culture, industrial safety, manufacturing, and image-saturated mobile marketing. The presentation will spread across the walls.
Hyun-Sook Song, 11 Brushstrokes (2022). Tempera on canvas. 140 × 120 cm. © Hyun-Sook Song. Courtesy the artist and Sprüth Magers. Photo: Ingo Kniest.
Shi-ne Oh, Head of Asia and Senior Director, Sprüth Magers, Berlin
We've been receiving lots of requests for works by George Condo, Andreas Gursky, Jenny Holzer, Barbara Kruger, and Sterling Ruby, to name a few, and so we have made sure to bring important pieces by these artists. What's been remarkable, however, is the interest in South-Korean artist Hyun-Sook Song, both globally and in Korea especially.
As a focal point at the centre of the booth we have a number of works by Song. Though she has lived in Germany for 50 years, Song's artistic approach is firmly rooted in Korean calligraphy.
We also have a major work by Rosemarie Trockel at the stand–a wool piece from the same series presented at the Venice Biennale this year. As the scale of the work is massive, we needed to mount the work on site and there were lots of complications due to a short installation slot.
Tom Wesselmann, Monica Sleeping with Matisse (1988). Enamel on cut-out steel. 118.1 x 218.4 cm. © Courtesy the Estate and Almine Rech. © 2022 The Estate of Tom Wesselmann / Artists Rights Society (ARS), New York. Photo: Nicolas Brasseur.
Maximilian Lefort, Director, Almine Rech, London
Our intention with the booth is to bring together artists represented by our gallery who demonstrate distinctive practices within painting and sculpture, spanning a wide range of generations and origins.
One of our highlights is Tom Wesselman's steel cut-out, Monica Sleeping with Matisse (1988). The work is from Wesselmann's series of laser-cut and painted metal drawings, several of which were based on one of his favourite models, Monica Serra.
Wesselmann forged a distinctive, figurative fusion of colour and line through a long-time engagement with Henri Matisse, finding his own direction through adaptations of controlled, precise contours, bold, flat colours, and sensual imagery popularised by Matisse.
Pae White, MOTHERFLOCKER UPPERCASE GREY to ZED (2018). Screen print, multi-colour flocking, 27-part installation. 60 x 60 x 0.6 cm each. © Pae White / STPI. Photo courtesy of the artist and STPI.
Even though our long-term collaboration with Haegue Yang and Do Ho Suh is well known, our intention at Frieze Seoul is to curate a robust presentation that showcases the full breadth and creative innovation of our artistic exchanges. Our objective is to introduce and share the unique output of our world class residency programme with the Frieze Seoul audience.
In the case of Pae White, the technical and creative collaboration she experienced in the STPI - Creative Workshop allowed her to create a unique body of work that pushed her visual vocabulary and conceptual concerns in fresh and unexpected ways.
Jason Martin, Hereafter (2018). Pulp and mixed media on paper. 88 x 76 x 10 cm. © Jason Martin / STPI. Photo courtesy of the artist and STPI.
On the other hand, Jason Martin, deals with paper pulp for the first time in his practice. As Martin is used to working with pigments in a more painterly manner, being able to think about paper as a material to tangibly manipulate brought a renewed artistic sensibility into his treatment of material.
Karen Kilimnik, Leonardo Da Vinci's last home the hall, Amboise, summer fog (2018). Water soluble oil colour on canvas. 41 x 51 x 2 cm. © Karen Kilimnik. Courtesy the artist, Galerie Eva Presenhuber, and Sprüth Magers. Photo: John Berens.
Our presentation is based on landscapes and nature. We are showing a cypress tree by Jean-Marie Appriou, which refers to Arnold Böcklin's Isle of the Dead paintings. Furthermore, we will show a landscape by Shara Hughes, whose inspiration is the inner being of the artist herself and thus represents a kind of self-reflection.
Nature can also be found in abstract form in Tobias Pils' work Apple tree, while Joe Bradley's newly developed visual language brings a different approach to nature and landscape to the canvas. Louisa Gagliardi's artwork shows nature in a confronting way, and the works of Verne Dawson, with their anthropological approach, express an integration of civilisation with nature and the ways we perceive and experience life.
Ugo Rondinone, the real (2021). Bluestone, stainless steel, and concrete. Sculpture 122 x 30.5 x 40.5 cm. Pedestal 63.5 x 61 x 61 cm. © Ugo Rondinone. Courtesy the artist and Galerie Eva Presenhuber. Photo: Studio Rondinone.
The interplay of all our artists' works makes our stand a highlight. If one had to emphasise something, it would certainly be the work of Karen Kilimnik, which has been developing wonderfully over decades. The same goes for the world-renowned artist Ugo Rondinone.
Ugo Rondinone's stone figures stand for nature and its permanence, while Kilimnik's pastoral landscapes give the viewer a direct encounter with the unguarded verve of her wit and engagement with history, always balanced by her assured sense of colour and form. —[O]