News | Artists
Joyce Foundation Awards $300,000 to BIPOC Artists in the Midwest
The winners will receive US $75,000 to support the creation of works that engage local communities.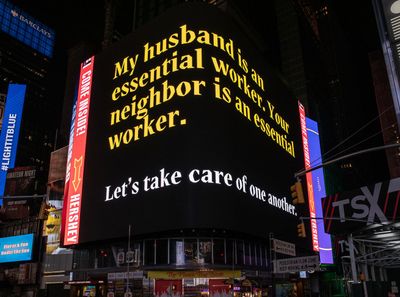 Kameelah Janan Rasheed, My Husband is an Essential Worker (2020). Digital Projection. Courtesy the artist and Times Square Art x For Freedoms. Photo: Maria Baranova.
The Joyce Foundation today announced the winners of the Joyce Awards, which provide support for Black, Indigenous and People of Colour (BIPOC) artists. The awards aim to 'foster more culturally vibrant, equitable, and sustainable communities' in six Great Lake cities: Chicago, Cleveland, Detroit, Indianapolis, Milwaukee, and Minneapolis-St Paul.
The winners are painter and assemblage artist Daniel Minter, Guggenheim fellow Kameelah Janan Rasheed, indigenous futurist SANTIAGO X, and theatre director Sydney Chatman.
In a project entitled In the Healing Language of Trees, Minter will transform an ash borer-ravaged tree into a spire, removing branches and carving them into beads and talismans that adorn the trunk. The work will join the permanent collection of the Lynden Sculpture Garden in Milwaukee.
In Cleveland, Janan Rasheed will lead a civic mural project entitled What would happen if this sentence never ended? with FRONT International Cleveland Triennial for Contemporary Art.
SANTIAGO X will create an augmented reality work at 4000N, formerly known as Chicago's Northwest Portage Walking Museum trail, that allows users to see a digital gallery of native histories, cultures, and languages as they walk the trail.
And Chatman will work with a licensed therapist and Chicago's Congo Square Theatre Company to develop a play dealing with intra-communal and state-sanctioned violence.
Joyce Award recipients (clockwise from top left): Sydney Chatman, Daniel Minter, Kameelah Janan Rasheed, and SANTIAGO X. Image courtesy Joyce Foundation.
The Joyce foundation was established in 1948 by Beatrice Joyce Kean, whose family built a fortune in the lumber industry. It has total assets of $1.1 billion. Among the private foundation's main emphases is gun violence prevention and justice reform.
According to the most recent data from the CDC, the number of firearm deaths per 100,000 inhabitants was above the national average (12.1) in Indiana (14.1) and Ohio (13.3), equal to the national average in Michigan, and lower than the national average in Illinois (10.8), Wisconsin (10) and Minnesota (8.1).
Former Minneapolis Police officer Derek Chauvin murdered George Floyd in Minnesota last year, reigniting Black Lives Matter protests.
The Joyce Foundation has provided over $3.7 million for the development of 72 new visual art and performance works since 2003.
Past winners of the Joyce Awards include: Nick Cave, Theaster Gates, Julie Mehretu, Nari Ward, and Sanford Biggers.
Applications for the 2022 Joyce Awards open on 1 June. —[O]