News | Galleries
1-54 Contemporary African Art Fair Nets Lakwena Maciver Basketball Paintings
Maciver will exhibit 20 paintings derived from full-sized courts she painted in Arkansas last year.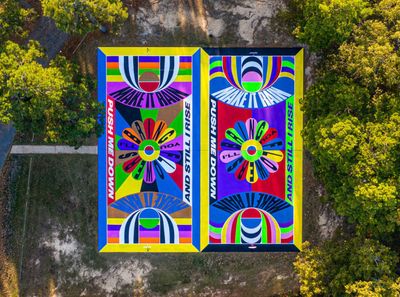 Lakwena Maciver, Basketball Courts, Pine Bluff (2020). Curated by Justkids.art. Courtesy of Vigo Gallery.
Twenty basketball paintings by Lakwena Maciver will be revealed at Somerset House when the 1-54 Contemporary Art Fair opens to VIPs in London on Thursday 14 October.
The London-based artist will exhibit her I'll Bring You Flowers paintings—each roughly 3m x 1.5m—for the fair's Courtyard Sculpture Commission. Rendered in vivid acrylics that map onto the lines of a basketball court, the paintings include emphatic messages of hope and empowerment in English and African languages.
'I like the notion of the basketball court as a platform or a stage, and that the players become almost like superheroes [or gods] on this stage,' Maciver recently told Vigo Gallery's Toby Clarke.
'It feels like a metaphor to me,' she continued. 'The heights that they soar to, it's like they're flying, and somehow able to rise above the limitations of this world.'
Lakwena Maciver, Aerial Painting (2021). Acrylic on wooden panel, 304.8 x 152.4 x 30.5 cm. Courtesy of Vigo Gallery.
Maciver began using basketball courts in her paintings last year when she painted two full-sized courts in Pine Bluff, Arkansas. She made them to honour State Senator Stephanie Anne Flowers, who spoke out against 'Stand Your Ground' legislation in 2019.
Maciver will also exhibit 12 hand-stitched flags from her Nothing Can Separate Us series in Somerset House's West Wing corridor.
'Lakwena's works were a good fit for this edition because they're an encouragement of unity, particularly Black unity,' said Touria El Glaoui, founder of 1-54. 'Her work is also at Covent Garden and Temple underground station at the same time, so central London is immersed in her bold typographic work.'
Other programming planned for this year's 1-54 in London includes a forum curated by Dr Omar Kholeif, the fair's first Annual Book—which includes forum transcripts and works by over 300 artists that showed in 1-54's three locations—and a special exhibition curated by Christine Eyene at Christie's King Street gallery.
Theresa-Anne Mackintosh, Tiger Eyes (2019). Oil on canvas with Kiaat frame, 62.5 x 53 cm. Courtesy of Kalashinkovv Gallery.
As part of their ongoing relationship with the fair, Christie's will also present about 500 works by artists from Africa and the diaspora online, and auction a series of NFTs called Different Shades of Water that Nigerian crypto-artist Osinachi created using Microsoft Office.
1-54 has held annual editions in London since 2013, New York since 2015, and Marrakech since 2018, long before the sudden intense interest in art from Africa that has arisen in recent years.
'The international art world is fickle, focusing on trends and then dropping them, often creating a market boom in the process,' El Glaoui told Ocula Magazine. 'We are trying our utmost to encourage thoughtful, knowledgeable, and mutually beneficial engagement with artists from Africa and its global diaspora by the international art world.'
Forty-eight galleries are participating in this year's London fair, including a record 20 from Africa. These include Addis Fine Art, Afriart Gallery, Berman Contemporary, Circle Art Gallery, Guns & Rain, and Kalashnikovv Gallery.
Osinachi, MAN IN A POOL III (2021). Digital illustration. Courtesy of the artist and Daria Borisova.
Among the 14 galleries participating for the first time are Bubble'n'Squeak, Foreign Agent, Nuweland, Richard Saltoun Gallery, and Yamamoto Keiko Rochaix.
Florian Azzopardi, founder of AFIKARIS Gallery, described 1-54 as an unmissable event for collectors who want to discover emerging artists from Africa.
'For us, it is a great place to meet very relevant collectors and institutions,' he said. —[O]