News | Institutions
MoMA Closed After Disgruntled Former Member Stabs Two
Police are yet to apprehend the suspect, who they identified as 60-year-old Gary Cabana.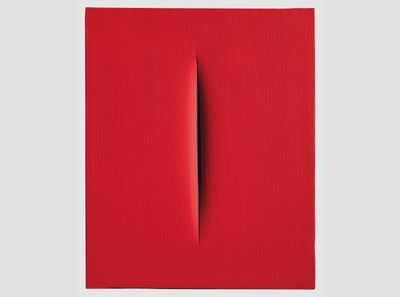 Lucio Fontana, Concetto Spaziale, Attese (Spatial Concept, Waiting) (1967). Water-based paint on canvas. 61.5 x 50 cm. Courtesy Robilant+Voena.
New York's Museum of Modern Art (MoMA) closed its doors on Saturday afternoon after a man jumped the reception desk and stabbed two employees.
Police said the victims—a 24-year-old woman who was stabbed in the back and neck, and a 24-year-old man stabbed at the collar—were in stable condition at Bellevue Hospital.
The suspect, who police identified as Gary Cabana, 60, was denied entrance to the museum after his membership was revoked for previous instances of disorderly conduct.
'He became upset about now being allowed entrance, and then jumped over the reception desk and proceeded to attack and stab two employees of the museum multiple times,' said NYPD Deputy Commissioner of Intelligence & Counterterrorism John Miller.
No more information? https://t.co/CXD5COwaz5

— 艾未未 Ai Weiwei (@aiww) March 13, 2022
The museum was evacuated shortly after the attack, which happened around 4.15pm. On Twitter they announced that the museum would remain closed on Sunday.
In response, artist Ai Weiwei tweeted 'no more information?'
MoMA tweeted again on Sunday, saying, 'Thank you for your incredible support. MoMA and its Stores will reopen to the public on Tuesday, March 15.'
Cabana is reportedly an usher on Broadway. He was ostensibly at MoMA to attend the 4.30pm screening of the 1938 screwball comedy Bringing Up Baby, starring Katharine Hepburn and Cary Grant.
Friends said Cabana had a history of mental health problems. —[O]