News | Exhibitions
UK Government Backs Hong Kong Artists in Online Festival
Peer to Peer: UK/HK seeks to bolster exchange in the face of the pandemic.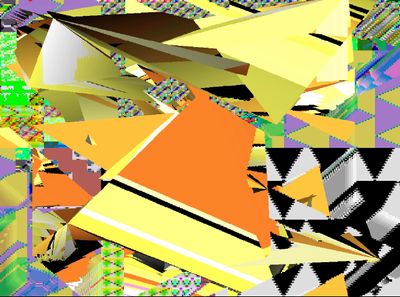 Antonio Roberts, Glass (2014). Video. Courtesy the artist and Peer to Peer: UK/HK.
Artists based in Britain and Hong Kong have carried out new commissions and taken up digital residencies as part of the Peer to Peer: UK/HK festival. Organised by curator Ying Kwok, the University of Salford Art Collection, Open Eye Gallery, Liverpool, and the Centre for Chinese Contemporary Art, Manchester, the event takes place 11–14 November.
The newly commissioned works include an audio-visual performance that will be 'live coded' by Antonio Roberts, an interactive story by Danielle Brathwaite-Shirley that communicates the experiences of Black trans people, and a photo project by Sharon Lee Cheuk Wun that juxtaposes Google Maps' Street View images of Hong Kong's Harcourt Road taken in 2014 with her own photographs of the same sites taken this year.
The other artists commissioned to create new work are Lee Kai Chung and Hetain Patel.
The festival will also feature: existing works; panel discussions on topics such as art's intersection with activism, the climate emergency, and art exchanges during the pandemic; and digital residencies on supporting organisations' Instagram channels, such as Nisa Khan's takeover of the Hong Kong International Photo Festival account.
The festival is financially supported by Arts Council England and tourism agency Visit Britain's GREAT campaign, both funded at least in part by the British Government.
'This is such a heartening example of international exchange and partnership evolving despite the global pandemic,' said Nick McDowell, Director International, Arts Council England. 'Artists may not be able to travel but – as this project shows — they can connect and innovate in the digital space.'
Danielle Brathwaite-Shirley, I can't remember a time i didn't need you (2020). Interactive story. Courtesy the artist and Peer to Peer UK/HK.
Exchanges between the United Kingdom and Hong Kong have also taken on new importance in light of the People's Republic of China's (PRC's) tightening grip on the city.
A new security law introduced in June left Hong Kongers—especially pro-independence activists, media and artists—vulnerable to arrest and punishment by the PRC. In response, the British government those born before 1997 the right to live in the United Kingdom and a path to British citizenship.
Organisers say the festival's planning wasn't influenced by the new law, however.
'The Hong Kong National Security Law was passed during the final planning stage of our festival, and we would not have done anything differently, as our intention has always been to use the online festival as a platform to showcase good quality artists that deserve more international exposure,' said Kwok.
The festival is supported by a host of galleries and organisations. Those in the United Kingdom include: Castlefield Gallery, Firstsite, Furtherfield, Milton Keynes Arts Centre, New Art Exchange Nottingham, Newlyn Art Gallery & The Exchange, Nottingham Contemporary, QUAD Derby, Red Eye Photography Network, and Wellcome Collection.
The event's Hong Kong partners include: 1983, 1a space, Blindspot Gallery, Centre for Heritage Arts and Textile, Eaton Workshop, HART, Hong Kong Visual Arts Centre, Jockey Club Creative Arts Centre, K11 Art Foundation, Oil Street Art Space, Videotage, and WMA.
Audiences can register for Peer to Peer: UK/HK here. —[O]