Aaron Seeto. Courtesy Museum MACAN.
In November 2016, Aaron Seeto was appointed director of Museum MACAN in Jakarta, Indonesia. MACAN is an acronym for Modern and Contemporary Art in Nusantara, Nusantara being an Indonesian and Malay term for 'archipelago'. The museum—the first institution of its kind in Indonesia with a planned focus on art education—is the vision of Indonesian collector Haryanto Adikoesoemo, and will house and showcase his private collection as well as run a programme that intends to engage Indonesian audiences with homegrown and international contemporary art. The opening of Museum MACAN is therefore something of a milestone for the Indonesian art community and an opportunity for the local public to see art that hitherto could only be seen abroad. It will open to the public on 4 November 2017 with the inaugural show: Art Turns. World Turns. Exploring the collection of Museum MACAN.
As the former curatorial manager of Asian and Pacific art at the Queensland Art Gallery & Gallery of Modern Art, Brisbane, and prior to that, director of 4A Center for Contemporary Asian Art in Sydney, Seeto is well positioned to facilitate Museum MACAN's aim to become a regional hub. In this interview, he talks about the museum's plans and aspirations on the eve of its opening.
Interior of Museum MACAN. Photo: Yori Antar.
SA

Can you speak about the collection of Haryanto Adikoesoemo and his vision for Museum MACAN?

ASHaryanto Adikoesoemo has been developing his collection for around 25 years, and it currently consists of around 800 works. His holdings form the basis of the museum's collection, with 50 percent from Indonesia, 25 percent from Europe and America, and the remaining 25 percent from Asia, covering the modern to contemporary periods. Many people will be quite surprised to know that key works by familiar artists are in the Museum's collection, from Raden Saleh, S. Sudjojono, FX Harsono, through to Mark Rothko, Willem de Kooning, Atsuko Tanaka, Yayoi Kusama, Jeff Koons, Andy Warhol, Robert Rauschenberg and many more.

Museum MACAN is 4,000 square metres and has around 2,500 square metres of gallery space. Building a museum in Indonesia has been a dream of Haryanto for over ten years. When it opens in November 2017, it will be the culmination of years of planning. The interior has been designed by MET Studio, a London-based architecture firm.

Museum MACAN has three core components to its mission. First, to develop and advance awareness and appreciation of art in Indonesia; second, to facilitate cultural exchange between Indonesia and the world, providing a platform for Indonesian art internationally and for international art in Indonesia; and third, to nurture and support the development of Indonesia's art ecology through education and training. We hope programming will allow people to consider themselves in the context of much larger global discussions, how we connect and interact with the world around us, and how Indonesia imagines itself as part of the world.
Interior of Museum MACAN. Photo: Yori Antar.
SA

The museum opens on 4 November 2017, but has already held several live performances and a forum in September and August, which allowed the public to preview the museum's facilities. Can you brief us on the upcoming programme and how the museum will showcase the collection?

ASIn August and September 2017 we began previewing the museum to the public in its raw state—without artworks on the wall—with a programme of performance art titled 'First Sight'. We decided to preview the facilities with a series of performance works for a number of reasons. First, performance is such an important part of the history of contemporary art in Indonesia, and the Indonesian artists we presented have each played some role in expanding ideas of what art can do in a society, illustrating the entangled relationship between art and society here in Indonesia.

For many of our visitors, this may have been their first encounter with a performance work, and I was keen to forecast the different experiences that they might have in the museum. The kind of work we presented was really predicated on the need for an audience, but more than just a passive audience; these works, because they are 'live', allowed opportunities for encounter. The programme was really well received.
Xu Zhen, In Just a Blink of an Eye (2005/2017). © Xu Zhen. Courtesy Museum MACAN.
The museum opens to the public on 4 November with a major exhibition that is drawn from the collection. Titled Art Turns. World Turns. Exploring the collection of Museum MACAN, it is co-curated by Charles Esche and Agung Hujatnika. Art Turns. World Turns. is a snapshot of the collection, featuring 90 artworks from a collection of around 800 works. This selection, which sees Indonesia as its foundation, branches off into conversations that draw in artists from around the world. As the curators remark, the strategy has been to explore the resonances between national discourses as they emerge in Indonesia, and global connectedness as it has been experienced since the late 20th century. The curators describe a 'constellation' of work which 'positions the international art of this collection through an Indonesian perspective that is both art historical and political, while encouraging each viewer to read the arrangements through their own experience.' It is clear that there is an entangled relationship between art and the world.
SA

Is it fair to say that—despite a relatively long history of market success, first for Indonesian modern masters like Raden Saleh, Hendra Gunawan and Affandi, and now for Indonesian contemporary artists including Eko Nugroho, Ronald Ventura, Agus Suwage, and Christine Ay Tjoe, among many others—critical discourse and other opportunities for artists have lagged because the various elements necessary for a successful art ecology are not all in place in Indonesia?

ASThough this is an observation of the recent situation, I don't believe that this has always been the case. When we look at the history of art in Indonesia, the relationship between artist studio, critical discourse and marketplace has been intertwined. What Art Turns. World Turns. illustrates is the important role that artistic discourse has had alongside the political—especially during the struggles for independence in the mid-20th century, which establishes so much of the subsequent art historical dialogue.
Interior of Museum MACAN. Photo: Yori Antar.
Now, however, the current external observation of the Indonesian scene is probably skewed towards the marketplace—Indonesia has gone through an impressive boom, artists and collectors are highly visible. Interestingly, it is not just in the contemporary, but through all kinds of historical periods, with some individuals building strong collections in modern Indonesian art. A growing number of foreign museums and collectors, including Australian institutions, show interest in the art of Indonesia and the Southeast Asian region, and there are two ways in which collections are being built: through the framework of the market, because information is readily available and easily packaged, or through on-the-ground research.
Having said all of this, even though Indonesia has great artists and collectors, and a strong scene, it has lacked infrastructure. This is where we see Museum MACAN playing an important role. We can add to the existing opportunities for artists, assist artists to think critically about their work in the context of museum displays, and publish, commission and share information through an international network. This is an important responsibility that the Museum wants to take up, with the support of the greater art ecosystem here—to further encourage artists' conceptual development, and also to assist in expanding artists' peer networks through connections with other artists around the globe. This cannot simply be achieved through the process of collecting, but must also be supported by encouraging opportunities for critical dialogue and feedback, which occurs through contemplation and discussion in museum and gallery spaces. We must create opportunities where things can be seen and experienced by a wide audience demographic, where ideas can be tested, and where dialogue between an artist and a diverse Indonesian audience can occur. This is not only the responsibility of a museum, but also more generally of a society that supports and values the arts as integral to its fabric.
The museum has been designed to serve the public of Indonesia. Indonesia has a really vibrant arts community, including artists, curators, collectors and a public who are interested to know more and learn more about art, but what Indonesia lacks is museum infrastructure, as well as programmes which encourage art education for all. Through the museum, we can encourage opportunities where artwork can be seen and experienced by a wide audience demographic, and where dialogue between artist and audience can occur.
Interior of Museum MACAN. Photo: Yori Antar.
SA

Could you talk about the Indonesian art ecosystem in general, and how artist centres such as Bandung and Yogyakarta operate within this environment?

ASBandung and Yogyakarta (Jogja) are key artistic centres and, aside from the two oldest art schools that were established in these cities, their importance relates back to some of the key ideological arguments as they emerged in the mid-20th century around issues of realism and social awareness/activism and of abstraction and the politics of representation. In simple terms, Bandung is known for its schools of abstraction, which are related to ideas of nature, universal humanism, and spiritual influence, while Yogyakarta is recognised for its social activism and politics. Which is not to say that both discussions are not political: in fact, it is clear that the discourses that emerge from Bandung and Jogja are intrinsically linked to the evolution of politics and nationalism here in Indonesia during the period from 1908 through the Independence in 1945 (National Awakening period). This period is explored further within our opening exhibition.

In 1974, artists from Jogja such as FX Harsono, Siti Adiyati, and Bonyong M. Ardhi, among others, were galvanised to lead a protest against the perceived conservatism and influence of the more traditional quarters of the Indonesian art scene known as 'Black December'. They protested against the judging system of Pameran Besar Seni Lukis Indonesia I (which later became the Jakarta Biennale) in 1974, with its bias towards decorative styles of painting and sculpture. These artists were in contact with other prominent artists from Bandung such as Jim Supangkat, with the support of art critic Sanento Yuliman, which led to the establishment of the New Art Movement of Indonesia (Gerakan Seni Rupa Baru Indonesia) in 1975, an important foundation for contemporary art in the country.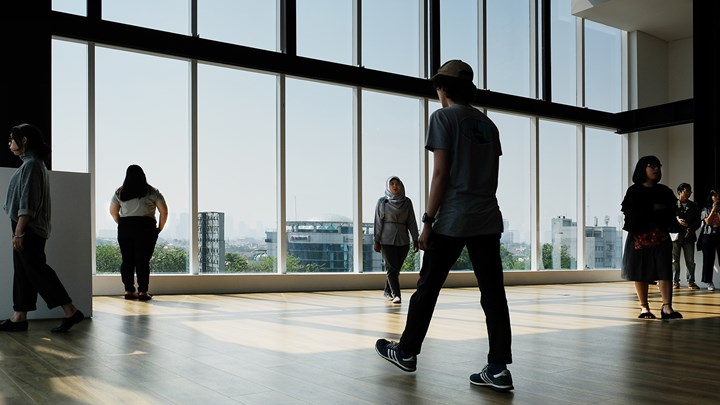 Duto Hardono, Variation & Improvisation for In Harmonia Progressio (2017). © Duto Hardono. Courtesy Museum MACAN.
More recently, the country's international art fairs—namely Art Stage Jakarta, Art Jakarta and Art Jog—have been gaining commercial success, illustrating the strength of the Indonesian market. The lure of Indonesian contemporary art has concerned a few respected figures from Yogyakarta, including Nindityo Adipurnomo of Cemeti Art House. In a 2016 interview with DestinAsian Indonesia, Nindityo talked about 'art without a scene', which referred to the consequences of commercialism in art. Although tough, this criticism is necessary to keep Indonesia's art ecosystem growing—both artistically and commercially.
The variety of conversation and debate in Bandung and Jogja continues to develop, with important spaces and initiatives in both cities, including IVAA (Indonesian Visual Art Archive), Cemeti, the Jogja Biennale, Sangkring Art Space and Kedai Kebun in Jogja, and ITB (Bandung Institute of Technology), Selasar Sunaryo Art Space, Roemah Seni Sarasvati and NuArt Sculpture Park in Bandung, not to mention activities that support other regions, for example Sakato, an ongoing programme that explores contemporary practice of West Sumatran artists in Yogyakarta, and the Jakarta Biennale here in Jakarta.
SA

You came to Museum MACAN from QAGOMA, Brisbane, where you were curatorial manager of Asian and Pacific art, and prior to that you spent eight years as director of 4A Center for Contemporary Asian Art in Sydney. Are audiences in Jakarta and Indonesia interested in contemporary art from the Asian region or do they prefer to see western art?

ASMy experience working in Australia—at QAGOMA, with a large state collection that houses one of the most significant collections of contemporary Asian art and hosts one of the important recurring triennial exhibitions dedicated to Asia and the Pacific; and at 4A, a small nonprofit which is intimately and directly connected with artists and communities—has given me a sensitivity to the important role that programming plays when engaging with different communities. What I bring to Museum MACAN and Indonesia from both of these experiences is a broad global view of how important Indonesia and the region is to world art.
Duto Hardono, Variation & Improvisation for In Harmonia Progressio (2017). © Duto Hardono. Courtesy Museum MACAN.
Indonesian audiences are extremely curious and thoughtful. The response to our performance programme for First Sight is a good illustration of this. Audiences here in Jakarta are also extremely varied—Indonesia is an extraordinarily populous country, with enormous cultural, ethnic and religious diversity. Indonesians are also great consumers of social media, and there is a desire to engage with art and culture at many levels—so cultural awareness and interests match these platforms. How national art discussions interact within a globalised network of interests and influences is one of the very exciting opportunities for our future programme—the distinctions between Indonesia and the rest of the world somehow become both very important and less clearly defined through our contemporary global experience.
SA

How does Indonesia see itself in the Southeast Asian region and what will Museum MACAN bring to the table in this respect?

ASThere is currently a lot of interest in the art of Indonesia and the Southeast Asian region. For a lot of institutions around the world, it is a 'new zone'. I see it as recognition that the world of art exists outside of the imagination of the institutional frameworks of these museums and curators.

Museum MACAN's international outlook is definitely rooted in an appreciation and experience of Indonesian art and society. By delivering programmes of quality of both Indonesian and art from further afield, and establishing ongoing art education, publishing and discussions, we can assist to activate international networks for dialogue and exchange that strengthens the art scene here and provides information and knowledge to our peers and colleagues around the world.
SA

Can you talk about the term Nusantara and how this idea will manifest at Museum MACAN?

ASNusantara is a word of Malay origin that describes the Southeast Asian archipelago. It is a connection of islands that in the context of Museum MACAN suggests an awareness of how Indonesia is framed by other geographical and regional discourses: based in Indonesia, based in Southeast Asia, but definitely part of the world.–[O]