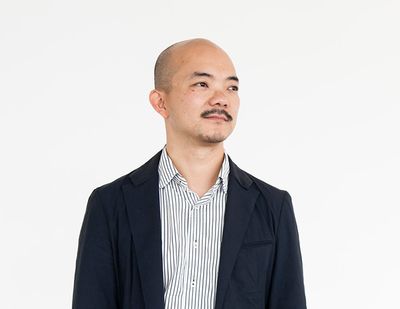 QAGOMA's Aaron Seeto, Curatorial Manager of Asian and Pacific Art. Photo: C Callistemon / Courtesy: QAGOMA
This month the Queensland Art Gallery | Gallery of Modern Art (QAGOMA) in Brisbane, Australia, plays host to the 8th Asia Pacific Triennial of Contemporary Art (APT8). Renowned as a platform for surveying the vast geographic expanse of Asian and Pacific contemporary art, the triennial continues to uphold a long-term commitment to the region. This year's iteration includes work by artists hailing from countries such as Cambodia, India, Mongolia, Nepal, and Kazakhstan, alongside a contingent of work by indigenous Australian artists.

Rachael Vance speaks with Aaron Seeto, Curatorial Manager of Asian and Pacific Art about APT8's thematic surrounding the body and performance, and its standing within the international art world that positions QAGOMA, Brisbane as a contemporary art gateway to the world.

What objectives are you keen to achieve in your relatively new role as Curatorial Manager of Asian and Pacific Art at QAGOMA, Brisbane?
The Queensland Art Gallery houses an incredible collection of contemporary art from Asia and the Pacific. It is an extraordinary privilege to be able to work with a collection that has been developed over decades of curatorial research and activity. The APT also affords great opportunities; it has been an exhibition that I have looked forward to seeing every three years ever since I was a student.
Having spent the last decade working with artists outside of the museum context, I look forward to adding to the depth of conversations about Asian and Pacific art—to look at new artists and practices emerging in the region, whilst reinforcing QAGOMA's global leadership in the field of Asian and Pacific art.
There has been a distinct shift within the international art world over the past five years with a focus on Southeast Asian contemporary art. Why do you think this is?
I believe that there are a few reasons why there is a burgeoning interest in art from Southeast Asia. Firstly, there are very vibrant art scenes throughout this region that have been nurturing and fostering the development of artists, this coupled with the important work which a number of key critics and curators have been doing, has allowed for these artists and scenes to be better known both inside and beyond the region. The 'shift' as you put it, is a result of the growing visibility of the work that is being produced—it has always been there, but perhaps it is now better known.
Of course, the attention is heightened by the establishment of museum development within Asia itself; the new institutions are keen to ensure that the cultural narratives of the region are told as well as the development and viability of strong art markets for contemporary art within Southeast Asia.
Do you think the Australian art world also shares this sentiment?
Australia has had strong connections with artists in Southeast Asia for a long time. Looking back over the history of APT, and also the depth of the Queensland Art Gallery collection, we can see there has been a strong commitment to Southeast Asia at QAGOMA that is foundational to its activities. More broadly, these connections also occur at the artist-to-artist level, facilitated by the work of non-for-profits and independent spaces, as well as through artist residencies and education. There is a changing perception that Southeast Asia is Australia's immediate context, so we see more and more young artists availing themselves of opportunities to travel, exhibit, make work, and develop networks and connections, as well as curators spending time to understand the region's art history and its contemporary artists. I think we are also beginning to see this represented within the exhibition programming of some of the other larger institutions and galleries.
The APT has built a strong reputation for putting Australia, and also Brisbane, on the art world biennial circuit. How do you perceive the importance of art biennials in promoting artist's careers and educating audiences, despite such a proliferation?
The importance of the APT lies in its Asian and Pacific global outlook, but its edge is defined by its long-term view and commitment to the region. The APT's history, the discussions it has generated across each exhibition, and the collection that it has assembled in over twenty years of curatorial activity, illustrates a vast accumulation of knowledge. Each iteration builds upon this understanding.
In the case of the APT, I believe its importance has been in creating a critical platform to look at and discuss the contemporary art of our immediate region. I believe that it has assisted in shifting the outlook Australia has on the region. Importantly, this has been achieved through education, especially through the work of the Gallery's Children's Art Centre, and their work with artists and the youngest audiences.
Children are invited to complete a drawing template based on a traditional yam design called Na Ghimbo to learn more about the yam's significance in Pacific culture. Children's workshop for Marcel Meltherorong, Na Ghimbo, 2015. Photo: Mark Sherwood.
What distinguishes the APT from other biennales?
APT is unique amongst biennales because of its singular commitment to the region, through the various editions we can chart the development of this field and the growing appreciation, not only within Australia, but also elsewhere.
More than just an exhibition, the APT project has sought to reflect an understanding of the region modulated through the concerns of artists. It has been a platform for artists to consider their work amongst a growing set of networks and frameworks—in an order outside of the Eurocentric. From the first exhibitions to now, APT presents audiences with different ways to think about their connection to landscape and geography, and also their connections to other people.
Can you discuss the APT8's curatorial rationale?
APT8 takes as its theme movement and the body, or in simple terms performance, but an idea of performance that is a reflection of the dense variety of social and cultural positions that might be encapsulated by the vast geographic expanse of Asia and the Pacific. It is a highly layered understanding of the breadth of practices that illustrate how the body is deployed in space, which seeks to draw out nuances, respond to history, champion the vernacular, and create critical spaces for art.
Each edition of the APT is an opportunity to take a snapshot of what has been going on in the region over the previous three years—each is developed out of the concerns facing the region. They can be celebratory, looking to materials and practice emerging from locales with less supporting infrastructure, but over the last three years the APTs have shown many artists involved in conversations about economic development and crises; environmental exploitation and natural disaster; and the operation of the politics of nationhood.
APT8 includes a broad spectrum of artists from thirty-six different countries. How have you engaged with the creative communities of underexposed countries such as Cambodia, Nepal, Mongolia and Kazakhstan for example?
The selection of APT artists emerges from a long process of research and travel, and tapping into artistic and curatorial networks around the region. It is true that some of these places may be 'underexposed' in the context of global museum projects, but this doesn't mean that there are not pre-existing conversations and cultural histories in these places. Leang Seckon, Khvay Samnang and Anida Yoeu Ali are artists from Cambodia who are deeply engaged with reviewing the transformation of their cultures and societies—from the traumas of the Khmer Rouge period of 1975–79, where a generation of artists were almost wiped out—through to the opportunities and controversies of economic development and tourism.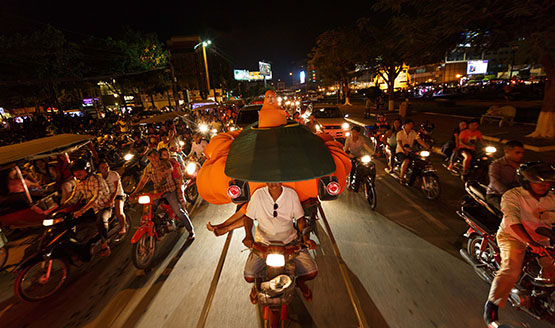 Anida Yoeu Ali (Cambodia/USA b.1974), The Buddhist Bug, Into the Night (production still), 2015, 2-channel HD video projection, 7:00 minutes (looped), colour, sound, ed. of 5. A project of Studio Revolt: concept and performance, Anida Yoeu Ali; video, Masahiro Sugano. Commissioned for APT8. The Kenneth and Yasuko Myer Collection of Contemporary Asian Art. Purchased 2015 with funds from Michael Sidney Myer through the Queensland Art Gallery | Gallery of Modern Art Foundation. Collection: Queensland Art Gallery. Courtesy the artist.These artists' works illustrate a connectedness to their own histories and cultural situations. The same could be said of the work from Nepal and Mongolia—where Tsherin Sherpa innovates tangka traditions or Nomin Bold, Baatarzorig Batjargal, Uuriintuya Dagvasambuu, and Gerelkhuu Ganbold, a group of younger Mongolian artists, revive national painting styles with stylistic roots in East Asian religious, such as tangka, miniature and equestrian painting, to reflect the social changes arising from the growth of economy in the country.
Have you arrived at any recurring themes or approaches to making work in your research for APT8, which spans such a broad range of artistic practices?
In developing the exhibition, there is a mix of approaches with the curators identifying a number of shared concerns, where artists are distilling their observations of the social and the political through representations of the body. Curators subsequently draw these out and develop these ideas into a number of threads within the exhibition itself. Unlike other APTs, APT8 has been specifically designed around the thematic of the body and performance.
There is also a strong Indigenous Australian component in APT8's program. Can you comment on how important this inclusion is?
Indigenous Australia has an extremely important place within the framing of the APT. It reinforces the idea that our perspective on Asia and the Pacific is based upon knowledge and commitment to our own locality.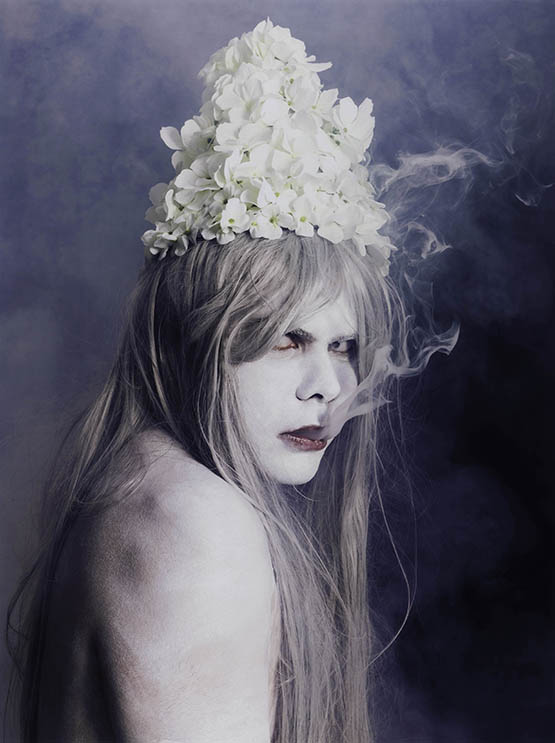 Christian Thompson (Australia/UK b.1978), Bidjara people, Western Queensland. Trinity III (from 'Polari' series), 2014. Type C photograph, 100 x 75cm. Purchased 2015. Queensland Art Gallery | Gallery of Modern Art Foundation / Collection: Queensland Art Gallery. Courtesy the artist.
A range of commissioned artworks will be included within the exhibition. Could you describe some of the more ambitious pieces you are particularly excited about?
Yumi Danis (We Dance)
is co-curated with Ni Vanuatu, a songwriter and musician, and author Marcel Meltherorong (Mars Melto), and brings together dancers and musicians from Papua, Papua New Guinea, Fiji, the Solomon Islands, Vanuatu and New Caledonia. It is staged as an immersive multimedia installation, animated by contemporary dance performances, and consciously addresses the issues involved in translating and contextualising ephemeral performances from these regions for a broader audience. The installation
They look at you
(2015), has been created by Kanak artist Nicolas Molé in response to discussions with Meltherorong and fifteen dancers from across the region who attended a creative workshop as part of the
Emyo Tinyo Music & Dance Festival
on the island of Ambrym in Vanuatu in 2014.
For Rosanna Raymond's
SaVAge K'lub
, the artist has included objects from local and international public and private collections in a club space activated by regular performances by Pacific artists and communities. The incursion of the artist into these museum collections results in a highly layered appreciation of the politics of Pacific communities, and the colonial impulse (here mightily repudiated) to commercialise and render passive. The club's title refers to a historical gentleman's club established in London in the late nineteenth century. Raymond's version draws on the cultural stereotype and decor of such exclusive clubs. The gendered, elitist aspect of the club is however entirely removed as a broad range of Pacific artists and community groups are invited to join.
Central to the work is Raymond's reworking of the title. The
VA
in SaVAge refers to a Samoan philosophical understanding of space as 'active,' not as empty and passive, but activated by people, relationships and reciprocal obligations. The importance of
VA
in Raymond's
SaVAge K'lub
is a response to a colonial history of collecting, storing and displaying the tāonga (cultural treasures) of Pacific peoples. Working with local South East Queensland Museum collections and a group of contemporary Pacific artists, Raymond creates a process and space in which a range of tāonga are brought out of museum storerooms to participate in the articulation of contemporary Pacific culture.
Over sixteen years ago, the APT exhibited the vernacular traditions of India in the work of Sonabai Rajawar, a woman from Central India who created clay-filled domestic environments of figurines and latticed jali. At the time, the inclusion of a woman making work from the simplest of materials was seen as controversial by some of the art establishment, and it stirred wider criticism of the inclusion of vernacular practices within the realm of contemporary art. APT8 revisits some of these earlier conversations through a major project titled Kalpa Vriksha: Contemporary Indigenous and Vernacular Art of India. The exhibition project features nineteen artists whose practices look to a range of everyday traditions and heritage knowledge. Some components are adopted, others discarded. In the combination of traditional and contemporary techniques and ideas, this project presents artists working to construct a new reality.

Haegue Yang's practice references modernist art history, literature, and social and political events, transforming spaces through light, colour, objects and movement so that they are constantly shifting and directing experience. Ongoing concerns in Yang's work are the relationships between cultures and language as experienced through translation, migration and diaspora, as well as the formal properties of specific materials. Sol LeWitt Upside Down – Open Modular Cubes (Small), expanded 943 times, consists of over 1,000 white Venetian blinds arranged into grids and suspended from the ceiling in an inverted and expanded rendition of the 'open modular cube' structures that were a signature of American artist Sol LeWitt.
Production still from Now Showing, 2008. Director: Raya Martin. Courtesy the artist and Arleen Cuevas, Manila.
APT8 includes a strong public programme alongside the main exhibition with a range of performances and film screenings. How are you hoping to engage with audiences in this way?
The public programme is an integral part of the APT8. There is a full programme of talks, performances and presentations as part of the opening weekend and through APT. There are two projects in QAGOMA's Australian Cinémathèque co-curated by two leading artists:
Filipino Indie
with Yason Banal, and
Pop Islam
with Khaled Sabsabi. These projects, though dissimilar in their material, look towards new forms of cinema emerging from the availability of recording devices and audiences, which in part spring from communities emerging out of social media connectivity. In the case of
Filipino Indie
, this has seen a variety of productions sometimes filmed with the most basic available technology, including mobile phones. For
Pop Islam
, we see the extent of creative activity, both secular and religious, which emerges from Islamic popular culture. With more than twenty percent of the world's population identifying as practising Muslims, this cinémathèque programme stretches from Australia and Southeast Asia, through the Indian subcontinent, the Middle East and Africa, while also visiting the growing communities across Central Asia, Europe and North America.
—[O]
The APT8 opens on the 21st of November and continues until the 10th of April 2016.