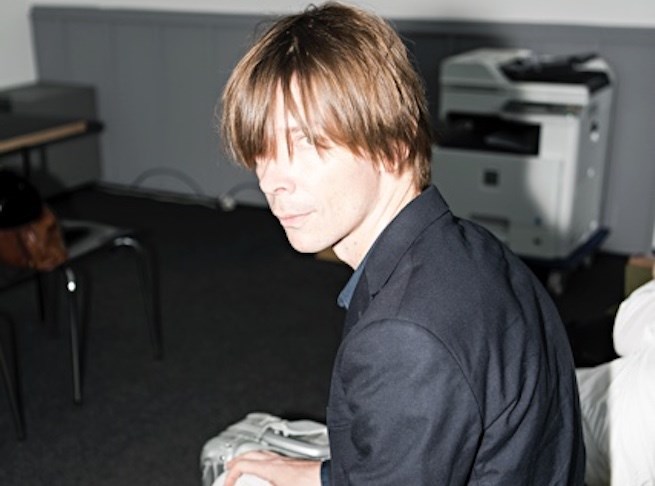 Adam Szymczyk. Photo: Gina Folly.
For this interview, Adam Szymczyk meets with us on the large, dark stage of Megaron at the Athens Concert Hall. A few hours before, the same stage was full of his team of curators and more than 100 artists and collaborators. Unconventionally the press conference for the opening of documenta 14 in Athens, started with this team of people performing Epicycle by Greek composer Jani Christou (1926–1970), articulating sounds and screams from the work's original score.
With 'Continuum', of which Epicycle is part of, Christou gradually moved from experimental musical forms to open scores, enabling all kinds of activities—sound and performance being only two possibilities—to take place over a duration, the length of which is determined by participants. documenta 14 started in September with its public programme, sometime before the press conference and the event's official opening, and unlike any other exhibition in the institution's history, Szymczyk has orchestrated his own 'continuum' by moving with his team to Athens over two and a half years ago, transmitting, as he puts it, from the city to the rest of the world.
It is the first time since its inaguration in 1955 that documenta, which takes place every five years and is one of the most prestigious exhibitions of contemporary art in the world, is split between two cities: its homeland in Kassel, Germany and Athens, Greece. The process of Learning from Athens, as the exhibition is titled, now reaches a crescendo with an exhibition staged across more than 40 venues throughout the city and running from 8 April to 17 September. Inviting us to 'unlearn what we know', while proposing to redefine the controversial slogan 'Learning from Athens' as meaning 'Learn from Athens out', the city is positioned as a kind of amplifier for the multiple voices forming what Szymczyk sees as a 'personal/collective attempt' of his team to 'change our circumstances'. We asked Szymczyk to give voice to the exhibition and comment on the echo it has already created.
Annie Vigier & Franck Apertet (les gens d'Uterpan), Imposteurs (2013), from the re|action process (2009– ). Print on fabric and box. Exhibition view: Athens Conservatoire (Odeion), documenta 14 (8 April–7 September 2017). Courtesy documenta 14. Photo: Mathias Völzke.
How has the initial concept of 'Learning from Athens' evolved or changed over these three years?
ASIt has grown bigger and more rich, like something that initially seemed almost like drawing a formula has now become flesh. It's like the difference between looking at a diagram and trying to understand the theory behind it and making it happen. In the last years, we were busy making and didn't like to be in the spotlight, but now we are on stage, we are exposed, one can see the works and ask questions. We are open for debate. But first of all I hope it is an enjoyable, long and multifaceted experience for the viewer as it has been for us these three years, despite the crazy pace we were in.
Now that the exhibition in Athens has opened, how would you summarise your main preoccupations behind it?
ASThere are many things. First of all, we are really close to certain forms of making which have a lot to do with craft. Not like 'arts and crafts', but there's a lot of work which requires skills which are beyond the manual skills of a skilled sculptor or painter trained in the academy. A lot of artists in the exhibition are craftsmen. They are producing many useful things, like beer (that will be in Kassel), soap, textiles and lots of jokes. There are many amazing things you haven't seen before because the tactile knowledge is getting lost, and this exhibition is against the loss of a tactile relationship with the world, among other things. So when we are talking, for example, about abstract painting, we are interested in the kind of blindness and the type of abstraction you can see with your hands rather than your eyes. These are preoccupations that are brought forward more clearly at the EMST (National Museum of Contemporary Art, Athens), where you have the oil paintings Composition (Afterimage) (1948–49) and The Sun—The Heart of the Day (1948) by Władysław Strzemiński next to a series of dancing signs in ink and oil pastel on paper by Ernest Mancoba, or the music of colour in the works of Stanley Whitney and the performance by Annie Vigier and Franck Apertet, where the visual side of the performance and the métier of the dancer is taken away from the eyes of the viewer and the only thing left is the sound of the bodies that are jumping away.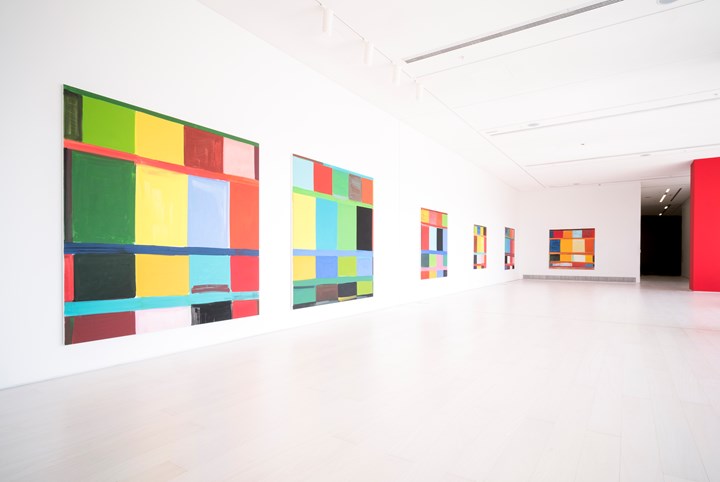 Exhibition view: Stanley Whitney, EMST—National Museum of Contemporary Art, Athens, documenta 14 (8 April–7 September 2017). Courtesy documenta 14. Photo: Mathias Völzke.
This exhibition goes into a series of investigations of what 'genre' is today. Not as the distinction that is there to keep things separate, but to talk about specificity of a genre. For example the genre of theatre in Peter Friedl's film Report (2016), where we see professional and non-professional actors on the stage speaking fragments of Franz Kafka's 1917 short story A Report to an Academy, in which a human who used to be an ape tells his story of becoming a human. This story is told by many people who live in Athens today. There are so many things in this work which makes it so hard to talk about it, but it connects to so many other works in the show which are doing completely different things. These connections are like those between one tentacle connecting to another. So the exhibition is like a mess, it's not a networking exhibition, but a mess-working exhibition, like the once fashionable term 'rhizomatic', but more pretty than that!


Peter Friedl, Report (2016) (film stil). Single-channel video installation. Courtesy documenta 14.
What about the role of music in the process?
ASThere is music, sound and scores. Things that reverberate like sound, and scores, which are not there to limit possibilities, but to enable people to do things. Like the traditional music from Epirus played in Emeka Ogboh's installation The Way Earthly Things Are Going (2017) in the Athens Conservatoire (Odeion), which reminds me of the album by The Stranglers, Aural Sculpture (1984) which has a stone ear on the cover—it makes me feel like I am inside a concrete ear. These voices seem from another world. And then we have the EMS Synthi 100—a rare analogue synthesiser built in limited edition by Electronic Music Studios, London, in 1971 and later purchased by the Contemporary Music Research Center in Athens—which is now restored and will be performed on by a new generation of musicians. We are interested in the antique era of technology, which is the 1970s. Odeion shows this direction, but it's not only about sound works. There are many works which do not go into music, but when you look at them, they make you think about them in terms of music. I am thinking, for example, of the musical sources of early abstract art—we have two works from the Costakis Collection in Thessaloniki by Maria Ender from the 1920s, which are like visual representations of sound. Or contemporary ways of working with sound in a visual way, like in Alvin Lucier's Music on a Long Thin Wire (1977), where a 30-metre long string along the stairway of EMST captures the sound of the building and amplifies it through speakers letting the building become the musical instrument.
Alvin Lucier, Music on a Long Thin Wire (1977). Audio oscillator and electronic monochord. Exhibition view: EMST—National Museum of Contemporary Art, Athens, documenta 14 (8 April–7 September 2017). Courtesy documenta 14. Photo: Mathias Völzke.
What is negotiated for you in the institution of documenta coming to Athens? Paul B. Preciado talks about your constant struggle to challenge the institution, while certain local voices find orientalist aspects in the project.
ASWe are innocent! It was about making work, not about the sake of challenging something. We were unhappy about how things are in general and wanted to change it, so we decided to make this exhibition and many people joined on the way. I see it more as a personal/collective attempt to change our circumstances and, judging from what I've seen so far, the exhibition succeeded quite a bit. It feels different from any other exhibition I've ever seen. Of course each exhibition is different, but still this exhibition is a different experience, also compared to every other big exhibition I've visited. It's huge but very personal, yet it belongs to many persons. The institution was challenged, it was personalised and divided into multiple persons. Each of them acting and at the same time being very altruistic. So since we didn't kill each other, that's great!
What was misunderstood in Athens, I feel, is that we are not an army or a corporation, we are many armies and we are many people so it is something that changes, that moves, that evolves. And it's not flexible at all, it's not about flexibility as an efficiency idea. We are terribly inefficient, we paid a very high price, lots of disappointment because we were not acting like a smart guy who gathers money, grabs something, puts his product there and displays it. It was about making this bloody experience. As we said in the [press] conference, one should be judged for the outcome, not the source. I am so tired of preemptive critique and defensive responses. I am not a tiger with two heads, I am a human being, and so are all my colleagues, more or less. We had one dog in the team but it left ...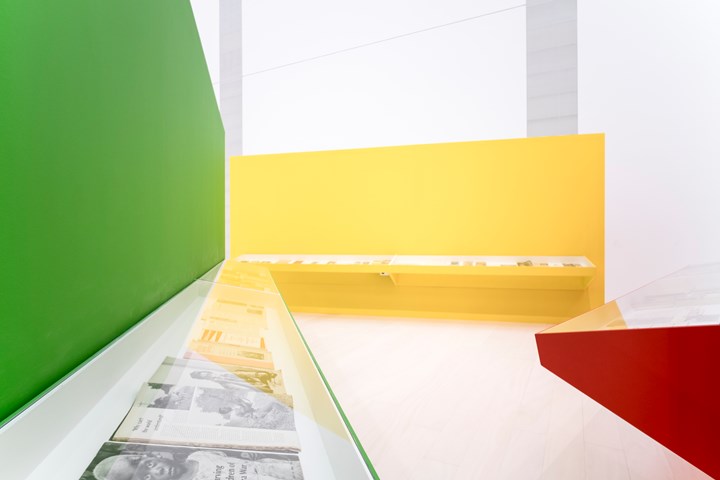 Olu Oguibe, Biafra Time Capsule (2017). Documents, archival objects, and mixed media. Exhibition view: EMST—National Museum of Contemporary Art, Athens, documenta 14 (8 April–7 September 2017). Courtesy documenta 14. Photo: Mathias Völzke.
I think this certain type of criticality as negativity is so passé and so useless. I cannot understand why people are still wasting time on destroying something instead of focusing on what can be built. Maybe not built in the sense of a big construction, but made together. This is one of the aims of this exhibition in terms of any single artwork also in relationship with the terms we got involved with. There are so many interlocutors or those who gave us a lot in conversation and who I hope enjoyed this exchange and made them think differently of what they have. I know this experience from when I lived in Poland especially. The best moment was when someone arrived from abroad and saw the city differently. I once wanted to offer very banal tours of the country to foreigners who were coming, because they would make me feel very differently for the places I was familiar to. I liked this moment when things that used to be familiar were suddenly becoming completely strange and unfamiliar because somebody was visiting.
Documenta didn't arrive in Athens to make discoveries, but to speak from Athens. And in this way, the Athens experience is actually very productive for many people not only outside of Athens but from anywhere practically. It's a great place from which to speak and the directionality of the title, I saw it in this way: to learn from Athens out. It's not a transport. We are not transporting, we are more transmitting, amplifying. It's like we put a speaker and they can hear you further away. Let's see. Maybe they hear us in Kassel.
What's happening now that Kassel takes the baton?
ASWe have inaugurated the exhibition in parallel with Daniel Knorr's Expiration Movement Manifest (2017) which consists of a smoking tower over Fridericianum. During the opening hours of the exhibition, there's white smoke coming out, which looks like burning, or giving signs. So this smoke will be there throughout the 160 days of documenta, it will be something like a smoke clock. —[O]