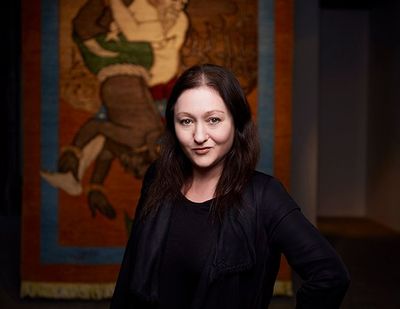 Image: Alexie Glass-Kantor, Art Basel Encounters Curator, Hong Kong. Photo by Zan Wimberley.
Australian curator Alexie Glass-Kantor has held a range of senior roles in independent art centres across the country. These include Gertrude Contemporary and the Australian Centre for the Moving Image, both in Melbourne. Currently, Glass-Kantor divides her time between working as executive director of Artspace, Sydney, one of Australia's leading interdisciplinary contemporary art spaces, and curator of the Encounters section at Art Basel in Hong Kong. Encounters is dedicated to presenting large-scale sculpture and installation works by leading artists from around the world, and this year it includes works by artists such as Charles Avery, Lawrence Weiner, Zhang Ding and Isa Genzken.

In this interview, Glass-Kantor speaks about the role of the curator in the contemporary art landscape and her vision for the Encounters section for Art Basel in Hong Kong, which opens to the public on 24 March, 2016.
What have you been most proud of implementing at Artspace during your time?
Leading an independent institution like Artspace—where I believe the focus is not on achieving endpoints or outcomes but about how you demonstrate a commitment to facilitating ideas and ambition to be consistently evolving through time—I am most proud of my team's ability to work outside their comfort zone. I think curators often have sets of interests in areas or research that will occupy them for years or even decades. Something I feel strongly about in a leadership position where you are curating an overall programme is that I don't singularly programme for myself and do not curate solely to my own set of interests. Rather, I prefer to work collaboratively with my colleagues to enable an agile, inclusive and discursive programme where we invite the opportunity for the unexpected to shape the coordinates of what we do.
There has been an emphasis at Artspace over the past two years on decentralising the primacy of major exhibition-making as the pre-eminent mode of curatorship and a move away from always situating the curator as author. The term curator is so contested and value-loaded culturally that we want to foreground responsive curatorial approaches that equally acknowledge public programmes, performance lectures, alternative publishing structures, studios, the archive and advocacy within the mantle of twenty-first century curatorial practice. In a non-collecting organisation like Artspace, the curator has to be someone who has the discipline to have a depth of knowledge about the practices and the methodologies of exhibition-making, and also can work in a more agile and lateral sphere, collaboratively recognising the contribution of others. Something I am really enjoying at Artspace is how we are working internally as a team with a generosity to support an expanded curatorial programme and engaging both existing and new audiences with a spirit of inclusiveness.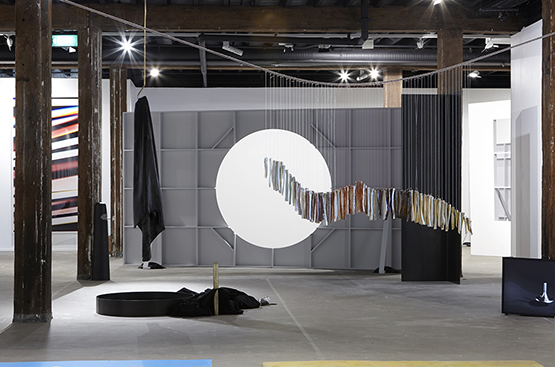 Image: An Imprecise Science, 2015, Exhibition view, Curated by Alexie Glass-Kantor and Talia Linz, Artspace, Sydney. Photo: Zan Wimberley.An example of working more responsively is a space we introduced in March 2015 called the Ideas Platform. It's a newly-revealed space that was formerly an overlooked storeroom at the entrance of our building. In the main galleries, because exhibitions require lengthy lead time and are resource-heavy, I felt we were operating in a way that was risk-averse, and we lacked the capacity to present projects as they might arise as opportunities or propositions or speculations rather than fully fledged major shows. Where were the spaces to test risk in our exhibition programme? The Ideas Platform is as simple as it sounds: if you have an idea, we have a platform. We don't programme this space in advance of each year. We have projects that run for one, two and four-week durations and work with artists, writers, curators as opportunities emerge. In 2015 we had 12 stand-alone projects in this space, which allowed us to do a range of things that we were not able to do within the construct of our exhibition platforms in the main galleries. In this way, it is very true to what I think of in relation to the role of the curator; it is about being committed to both longer-lead, research-based programming and having the capacity to simply say 'yes' more quickly to ideas so you can support more artists to achieve new works. Crucially, it is all about artists.

Image: Writing Art, curated by Scott Donovan, 2015, Exhibition view, Ideas Platform, Artspace, Sydney. Photo: Zan Wimberley.
Do you think your curatorial style has changed since taking on the role of Executive Director at Artspace?
Something I have thought about often since arriving at Artspace is the responsibility of curatorship and how that aligns with the objectives of institutional leadership. I think that contingent with being a curator of contemporary art and working with living artists, it is important to maintain a curatorial practice that is commensurate with the ethics and accountabilities that are made explicit through the practice and production of contemporary art by artists. It is important to engage meaningfully in arenas that have to do with issues of broader social concern and to consider the political space that art may or may not occupy.
Part of my role as a director of a not-for-profit space is to consider organisational sustainability, diversification of revenue and income sourced through benefaction or philanthropy, communications, human resources and other operational priorities, all of which have little to do with my graduate studies as an art historian. I think the time has passed where organisations could have toxic internal cultures and leadership hierarchies that demeaned personnel or deaccessioned responsibility from others. Contemporary art and artists over decades have posed questions and created art works that challenge anachronistic power structures and [they] explore alternatives. As a curator, I am always looking and reading and listening and then I look again, and, if I am to be true to the circumstances in which artists are working then I have to be consciously aware of the culture of my institution and make a persistent effort to review and support ethical standards—simply what happens at the back-of-house must match what is communicated externally and that's always a work in progress.
Image: Arndt, Eko Nugroho. Art Basel in Hong Kong 2015 © Art Basel.International peer spaces, like Artspace, that came of age over the past 40 years, such as Para Site (Hong Kong), Art Sonje (Seoul), Whitechapel (London), Witte de With (Rotterdam), Artists Space or White Columns (New York), have all had to constantly rethink the position of what they do in relationship to how they work as non-collecting institutions, and also how to support the production and presentation of contemporary art through a myriad of platforms. Occupying the dual role of director and curator, and working in an independent or kunsthalle context, you need to be broadly accountable and open to working differently in changing environments. In these institutions the approach is an expanded one, and it is critical to consider what responsibility the curator maintains in relationship to investing in advocacy, alternate spheres of publishing that sit more broadly outside the lineage monographs and publications and public programming or online platforms that exist within a shape-shifting field.
In Australia, in certain spheres, there is an ongoing attachment to the curator as author, and a kind of notional status that is attached to thematic curating. As a standard methodology thematic curating has its place but I think it's only one approach and that the curator has to be more broadly engaged than the person who chooses a theme and assembles a list of names or artworks into group or solo exhibitions. This is an outdated mode and arguably a late twentieth-century model of curatorship. Working contemporaneously in independent and museum spaces, the curator has a responsibility to be more agile and less determined by the edifice of the gallery, to think in a way that is less about attribution and more generously speculative and open-ended.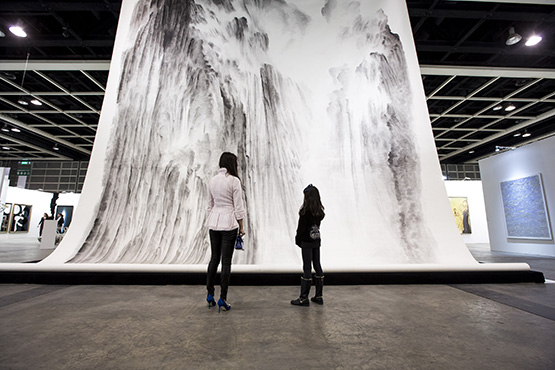 Image: Hanart TZ Gallery, Xu Longsen. Art Basel in Hong Kong 2015 © Art Basel.
How did you come into the role of curator of the Encounters section for Art Basel's Hong Kong show in 2015?
Across the three Art Basel fairs—Hong Kong, Miami Beach and Basel—there are seven invited international curators who are selected to develop special presentations of installations, public art and film. In each location there is a specific approach adopted which is determined by Art Basel and then guided by the curators who specialise in relevant media.
Art Basel invites curators who are attached to independent, not-for-profits or museums. We all come from institutional or independent backgrounds and by co-incidence two of the four installation sectors are currently curated by Australians: myself in Hong Kong and Nicholas Baume, who curates Public for Art Basel's Miami Beach show. Over decades Art Basel has been committed to these curated sectors that foreground space in which the fair can encourage a critical point of engagement and where work is tested at an amplified scale. This dialogue between art gallery booths and curated sectors is key.
I curate the Encounters sector which is dedicated to presenting large-scale sculptural installations by leading artists from around the world which transcend the traditional art fair booth. Unlike other sectors the Encounters sector is located across four 'meridians' within the fair itself, which requires extensive collaboration with the Art Basel architects to maximise the full volume of the space and the extraordinary sightlines available. Throughout the year all the sector curators work in contexts independent of Art Basel, bringing to their sectors particular expertise; I was selected because of my commitment to developing new work by living artists and interest in working collaboratively with the architects and Art Basel Hong Kong team to realise ambitious site-specific projects.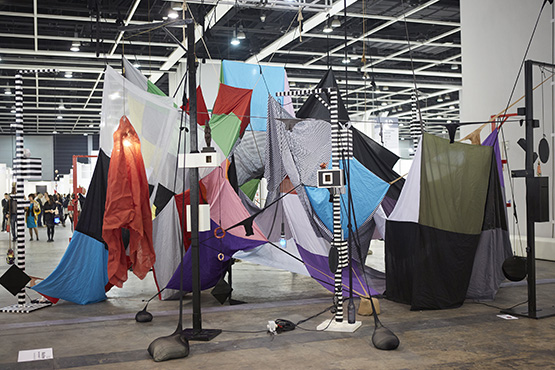 Image: Roslyn Oxley9 Gallery, Mikala Dwyer. Art Basel in Hong Kong 2015 © Art Basel.
What impact does a curated section, such as Encounters, add to a commercial art fair?
Art Basel's Hong Kong show is in many ways a city within the city: it is a constructed world that channels the energy and zeitgeist of the international market place and creates a meeting place for the region and further afield. But it is more than that, and, uniquely, Encounters occupies significant exhibition space within the art fair itself. In 2015 Encounters brought together 20 artists from 13 different countries with more than half from Asia and the Asia-Pacific region. The selection represented artists working in remarkably varied ways, and 11 of the installations were premieres. Although it is not a thematic presentation, there are distinct connections that weave the Encounters [sector] together through visual association. In the process of curation, I aim to identify artworks that exemplify how art can resituate experience and enliven the viewer.
Can you discuss your curatorial plans for Art Basel's show in Hong Kong 2016?
Selection of the artists for Encounters 2016 occurred in Hong Kong during October last year. We decided to reduce the number of projects from 20 to 16 to allow more room for ambition in projects. Last year I was thinking about landscape urbanism, this year we were able to go much further, exploring the idea of shifting or altering the perception of order in space. For Art Basel's show in Hong Kong 2016, I wanted to think about: 'What is an encounter?'–the encounter in terms of both its ability to create a landmark, but also its register around vulnerability, uncertainty, temporality; and the relationship of the encounter to time. At Art Basel's show in Hong Kong, we have 72 hours to install the entire fair. Time is of the premium with 60,000 people visiting over five days.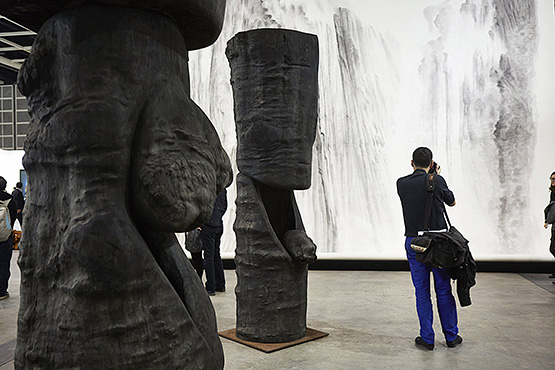 Image: 10 Chancery Lane Gallery, Wang Keping. Art Basel in Hong Kong 2015 © Art Basel.In a first for Encounters, five of the artists have created site-specific works, which are ephemeral in their materiality. A further six installations are premieres. There are artists represented across generations, with senior artists alongside emerging voices. There is strong representation from the region: the Philippines, Indonesia, China and Japan as well as America, Scotland, Germany, Sweden and France.
The feel of Encounters for 2016 will be very material, textural and locative. The audiences interaction with the section will be very visceral and situated. Visitors will walk the meridians with a selection of exquisite and often beautiful artistic interventions. There are some seriously ambitious works that have a high level of immersion that will situate the viewer explicitly and directly within the work, particularly activating unexpected senses, such as smell as in the work of Pae White. I am very excited that one of the premiere works this year is by Brook Andrew, an indigenous Australian artist who has never shown at Art Basel before. I am also pleased that there are works anchored on translation and there is an extraordinary new work by Lawrence Weiner, which will populate multiple positions in Encounters, existing in English, Mandarin and Cantonese. Some installations, like that of Zhang Ding will invite audiences to directly graffiti and alter the surfaces of the artwork.
How have you seen the art market change in the past five to ten years? Do you agree there is more intermingling between public and private sectors?
Art occurs within, around and in direct contact with a broad range of groups including the art market, collections, museums, foundations, independent spaces, festivals, biennials and all sorts of other collaborations—and has done so for decades. In the contemporary parlance we could say: 'It's complicated.' However, it's worth noting that an art fair like Art Basel was established over 40 years ago and by inviting external curators to guide substantial presentations of artworks that sit outside the conventions of the traditional marketplace, the art fair itself actively acknowledges that each one of these groups is distinct but also in dialogue. The arts are a rich ecology and I think that transparency around this intermingling can be dynamic; indeed, the entanglements of these groups are particularly important for supporting the experimentation that drives artistic practice. I want artists to be enabled to lead with risk and creativity and to be encouraged to evolve their practice; for this to occur there must be conversations and collaborations between all those who are working to support spaces for art in both the public and private sector.
—[O]