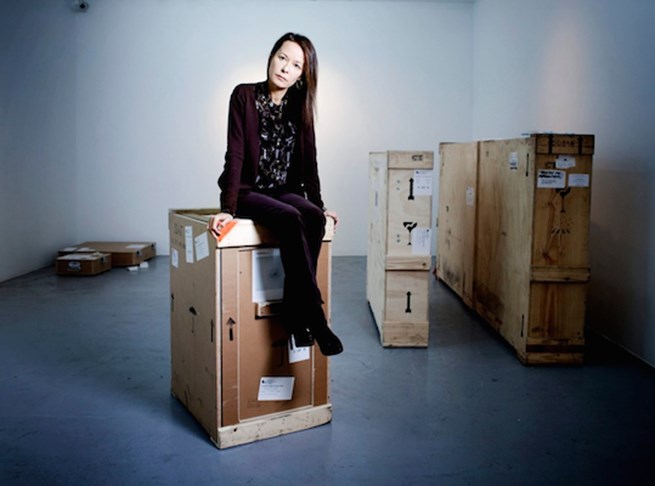 Image: © courtesy of Almine Rech Gallery and LEA CRESPI / Figarophoto.com
Almine Rech—the well-known French art dealer and founder of her eponymou gallery—recently expanded on her spaces in Paris and Brussels by opening a third space in London. The new gallery in Mayfair opened with Pittura Oggetto, a group show that features a tightly curated selection of pieces by important Italian artists of the 1960s. The exhibition reflects the gallerist's long time interest in conceptual and minimal art; specifically, there are connections that can be drawn between this show and the first exhibition Rech co-produced in 1989, which featured a single work by James Turrell. The early Turrell exhibition was presented by Galerie Froment-Putman, which was co-owned at that time by Rech, and it was significant for being the first ever showing of that artist's work in Europe. In 1997, Almine Rech Gallery opened its first space in Paris with a group show featuring a then unknown Ugo Rondinone. Rech continues to act for Turrell and Rondinone, along with other established artists such as Jeff Koons, Richard Prince, Jannis Kounellis and Joseph Kosuth. In addition to these heavyweights of the art world, Rech also invests in a new generation of talents such as Brent Wadden, Liu Wei and David Ostrowski—who, in her view, share the more established artists commitment to creativity and originality. In this interview Rech discusses the origins of her interest in art, and her new space in London.
Was there a first artwork that triggered your passion for art?
I am originally a Parisian and I was going to the Louvre as a child and the Rubens room as well as Leonardo Da Vinci's "Saint Jean Baptiste" impressed me a lot.
Can you describe your initial entry point into contemporary art?
From the beginning I was very intrigued by the Light and Space movement as well as Minimalism and we started at Froment & Putman in November 1989 with a James Turrell show—the first light piece shown in a gallery in Europe.
That exhibition was the first time his work had been seen in Europe. For a young gallery to stage a solo show by James Turrell must have been enormously exciting, but also very challenging. How do you think that initial experience shaped your approach to subsequent exhibitions?
It was a big risk but I was a beginner and quite unconscious of the risk. Just before the opening I had a press interview and the person asked me if I thought I was going to be bankrupt because of this first show and that second I realised—but then I knew taking risk and doing what I think is good was the right decision.
In 1997, you opened your own gallery—Almine Rech Gallery in Paris. What show did you open that space with, and why?
I started with a group show including artists that followed me after I decided to be on my own, Ugo Rondinone and others, and then I showed John McCracken.
You are about to open a new space in Mayfair in London. Tell me about that decision?
I must say I love London, my parents used to live there from 1989 to 2005 and my son is studying at King's College, so it seemed very natural to me, especially as I have some close collectors living in London.
For the new London space, you have decided to present a group show, Pittura Oggetto, which features work by Agostino Bonalumi, Enrico Castellani, Dadamaino, Paolo Scheggi, Turi Simeti—all Italian artists who were working during the 1960s and who are described as heirs to Lucio Fontana's cut canvas. Why this particular group of artists, and why in London?
I have been working on this group show for a while because the spatialist movement is very interesting to me; it relates to the American artists such as James Turrell and John McCracken that I have been showing for many years and more recently DeWain Valentine. I have also presented group shows including works by Enrico Castellani and Agostino Bonalumi before. So, it became clear that this was a good project for the new London space where I could open it immediately.
Natacha Carron has curated this exhibition. Tell me why it was important to work with Carron for this particular show?
It was important because she is an art historian that has great knowledge of Italian spatialists. Especially, she realised the Dadamaino retrospective and catalogue at Le Consortium in Dijon last year.
How would you define the gallery's ethos, as it is applies across all its spaces?
I want to remain very free in my programme, meaning I don't have any formal restrictions and what is very important is that I feel strong engagement and authenticity in the artist and their work. My fundamental taste was related to minimalism but it is absolutely not a constraint to remain in this aesthetic.
Do you intend to take a different approach to the programme for the London space, compared to the approach taken for Brussels or Paris?
The approach will be different in the way that the space is a more intimate space and allows me to show sometimes a very small selection of work. A show with three very strong works is possible in this space when it would be impossible in the other spaces I have, maybe also works on paper would be adapted on some occasions.
What next?
We will soon unveil the content of the next show. —[O]