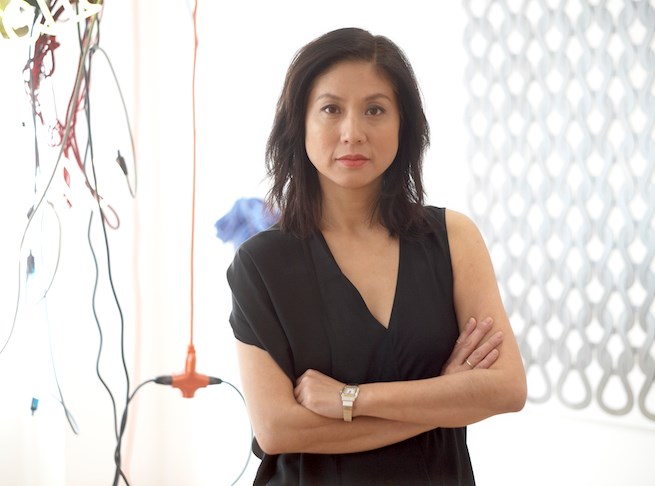 It's the list we all pretend not to read: ArtReview
's 'Power 100'. This year David Zwirner featured at No. 2 in the magazine's roster of the most influential people in the contemporary art world. Since opening in 1993, the gallerist's eponymous gallery has expanded to include three spaces in New York, and in 2012 it opened a further gallery in the heart of Mayfair, London.
The gallery now represents forty-eight artists, including Francis Alÿs, Mamma Andersson, Karla Black, Iza Genzken, Jeff Koons, Yayoi Kusama—and that's just a selection from the first half of the alphabet. The gallery also represents a number of estates, including that of Dan Flavin, Gordon Matta-Clark, and Alice Neel. In 2010, David Zwirner announced its exclusive representation of the Judd Foundation, and in 2013 representation of the Estate of Ad Reinhardt.
Angela Choon, one of the gallery's first employees and now a senior partner of the gallery is also no stranger to "power lists". In 2012, she moved from New York to London to open David Zwirner's gallery in Mayfair, and that year (and also 2013) the Evening Standard named her one of "London's 1,000 most influential people". In 2012, Art & Auction included her in its annual 'Power' issue too. Since joining David Zwirner, Angela has developed the careers of a range of artists—including Luc Tuymans and Thomas Ruff. She has also collaborated on numerous major museum exhibitions, most recently Chris Ofili's solo show at the New Museum in New York, which opened in October 2014, and the forthcoming solo show at the Solomon R. Guggenheim Museum featuring the work of Japanese artist, On Kawara.
In this interview, Choon discusses her first week on the job, how the gallery has changed since she joined, the David Zwirner ethos, Gordon Matta-Clark, Luc Tuymans, On Kawara, Chris Ofili, and the gallery's plans for Asia.
You joined David Zwirner in 1994, and were one of his first employees. Please can you tell me about the first day in the job, and what the gallery was like then?
I joined the gallery a year after David first opened his New York space in SoHo. I want to share more about my first week on the job, which included the first opening I ever worked on, which was with Franz West. Back then we had less than five people at the gallery. Everybody pitched in. David and I would be at the front desk and would answer the phones. Email didn't exist and we didn't even have a copy machine. This opening was particularly memorable because we hired two stretch limos, one black and one white, to take us to a Russian restaurant in Coney Island. Instead of water on the table, we had vodka. So you can image, it was quite a festive evening! David even ended up playing the drums at the end of the night. There has always been a good and fun spirit about the gallery and our dinners even back then, and we have certainly kept that spirit throughout the years.
Aside from its obvious physical expansion, how has the gallery most significantly changed since you joined?
We have more staff on the team to help manage and take care of support for the artists, as well as the gallery staff in general. Even though we do have more staff, the workload also keeps expanding as well!
How would you define the gallery's ethos today?
The gallery is still invested in every aspect of our artists' careers. We also have close relationships with our clients. Even if we are much bigger now, we still maintain a personal, intimate, and thorough relationship with both our artists and clients.
You have had an extraordinary opportunity to work closely with many leading artists of today: Stan Douglas, Raymond Pettibon, Diana Thater, Carol Bove, and Jason Rhoades, and Thomas Ruff. What do you think defines the perfect gallerist/ artist relationship?
Trust—as in any relationship—is the most important. You have to be a good listener and understand what artists really want and always put their best interests first. As a gallerist, you also have to share and work through ideas with the artists that they may not necessarily have considered but that you know could be beneficial for their career.
You were the curator of Gordon Matta-Clark's exhibition Bingo, which was awarded 'Best Show in a Commercial Gallery' in New York by the International Association of Art Critics (AICA) in 2005. Tell me about the experience of curating this exhibition?
Bingo
was on a long-term loan to a museum in Münster, Germany. I really wanted to show a sculpture of Gordon's that many people in New York did not have the chance to see. So I asked Jane Crawford, Gordon's widow, if it would be possible to bring the work back from Europe to New York. I also wanted to keep the exhibition about
Bingo
quite simple, since the sculpture is such a strong and amazing piece.
Bingo
was the center point of the exhibition and the rest of the show was curated around it. We were fortunate that The Museum of Modern Art in New York acquired
Bingo
from this exhibition.
Gordon Matta-Clark, Bingo, 2004. Exhibition view, David Zwirner, New York

You have worked particularly closely with the Belgian artist Luc Tuymans, who has been with the gallery since it opened. I understand the artist will have a new show in London in 2015—what can we expect from this show?
The title of Luc's forthcoming exhibition is
The Shore
. We opened the London gallery with Luc in October 2012, since he is an artist we have worked with since the beginning. That exhibition, titled
Allo!
,was originally made for a space in Zagreb in Croatia. The show in late January 2015 will be the first show where Luc is making work specifically for the gallery in London. He will be looking at the legacy of Scottish painter, Henry Raeburn, as well as paintings that relate to the current political climate.
Luc Tuymans, Allo!, 2012. Exhibition view, David Zwirner, London

At David Zwirner, you were the lead artist manager for On Kawara, who sadly died earlier this year. I understand you have been overseeing his Guggenheim survey exhibition, which will be curated by Jeffrey Weiss, and which will open in February 2015. Having worked with On Kawara for so long, you must have felt you knew everything about his practice. But as a result of being involved with the retrospective, have you uncovered more about his work?
I am extremely privileged to have been able to work with On Kawara so closely over the past fifteen years. His work is deceptively simple, yet the more you know and delve into the material, the more questions we uncover. I am lucky to have been able to hear the stories and laughter of On Kawara who was an extremely private person and artist. I would like to remain close to his work by retaining this privacy, but know that we can also share his legacy through this exhibition. The beauty of On's work will remain always alive.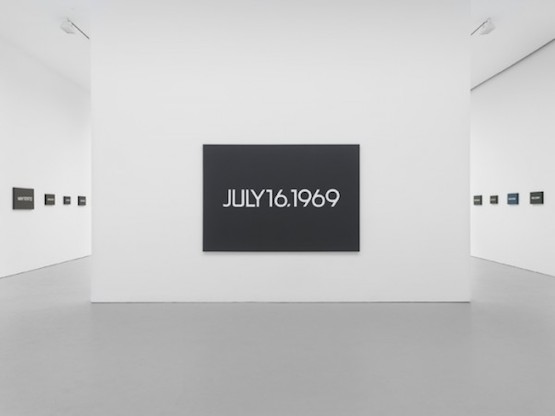 On Kawara, Date Painting(s) in New York and 136 Other Cities, 2012. Exhibition view, David Zwirner, New York

The New Museum in New York recently opened a solo exhibition dedicated to the work of Chris Ofili. Tell me about working with Chris Ofili on preparing for this exhibition—what were the most interesting aspects, and the most challenging?
It is always a pleasure to work with Chris. We have similar views on work and how one should always achieve the highest standards possible. Every museum exhibition should be the best possible presentation of an artist's work, and we collectively always try to make that happen. We have worked on quite a few shows over the years, including the Tate Britain show in 2010. The New Museum was a challenge because the architecture of the building itself is not so easy. We had a lot of discussions with curator Massimiliano Gioni and I believe we came up with the best solution for the work and the space itself. During installation, lighting was quite difficult to get right especially for the midnight blue paintings on the second floor. Chris's idea to create a lush wall mural for the third floor was a stroke of genius, one that unifies the latest and more recent work with that of his earlier more well-known works.
What do you think this particular exhibition of Chris Ofili's work contributed to the critical understanding of his work?
First of all, the press responses have been overwhelmingly positive. Jerry Saltz of
New York
magazine even wrote that Chris puts "painting through far more enticing paces than Lucien Freud or
Francis Bacon
." Roberta Smith's review in
The New York Times
was also very positive. To put in context, back in 2010, there were talks of Chris's Tate Britain show coming to New York then. In retrospect, it was better to wait until now, as Chris's works have been marked with undeserved controversy along the way. Now that those controversies are well in the past, his works can be seen for what they are: incredible paintings. He stands out today because he is able to use paint in a very lyrical and thoughtful way and it was time that the critics caught up with this. I am very happy that people are finally able to see the work for what it truly is: great painting.
Chris Ofili, Night and Day, 2014. Exhibition view, The New Museum, New York

Over the last five years, what have been some of the milestone exhibitions for the gallery?
New York
Dan Flavin:
Series and Progressions
, 2009
Primary Atmospheres: Works from California 1960-1970
, 2010 (group show)
Marlene Dumas
:
Against the Wall
, 2010
Edward Kienholz:
Roxys
, 2010
Raymond Pettibon:
Hard in the Paint
, 2010
Luc Tuymans:
Corporate
, 2010
Marcel Dzama:
Behind Every Curtain
, 2011
Donald Judd, 2011
On Kawara:
Date Painting(s) in New York and 136 Other Cities,
2012
Doug Wheeler, 2012
Richard Serra:
Early Work,
2013
Ad Reinhardt, 2013, New York
Yayoi Kusama:
I Who Have Arrived in Heaven
, 2013
Stan Douglas:
Luanda-Kinshasa
, 2014
London
Bridget Riley: The Stripe Paintings, 2014
Kerry James Marshall: Look See', 2014
Is it possible to define a 'David Zwirner' artist?
There is no single criteria to become a 'David Zwirner artist.' When we decide to work with a new artist, we discuss the work collectively. It is a process. The work has to be conceptually and visually engaging, rigorous and exciting, and the artist has to have a voice that is authentic. But most of all, we hope that it stands the test of time.
In a 2008 interview in Spread ArtCulture involving yourself, Bellatrix Hubert, and Hanna Schouwink, the interviewer asked: 'Where do you see the gallery in five years?" Both Hubert and Schouwink answered "Not in China". You answered, "There are expansion possibilities". What would the response be to that same question be today?
I would have the same answer today. In 2008, when we did this interview, we did not have the London gallery, so expansion is always a possibility. We also should be open to the expansion possibilities as you can see we are a not gallery that shies away from that.
I know Charlie Spalding is based here in Hong Kong as the gallery's representative. Tell me about how else the gallery is engaging with this region?
We are definitely very interested in Asia. It was under my initiative that we started participating in Art Basel Hong Kong and to hire Charlie to work "on the ground" with us in the region. There are so many things happening there now and we are very focused on learning more and also increasing our presence there.
There are no artists yet from China represented by David Zwirner? Is this likely to change?
I would not rule out the possibility, of course. We should always be open to that eventuality.
What is the next major project the gallery is working on that you are most excited about?
In general, I am very excited about the upcoming year. Belgian painter Michaël Borremans and American sculptor Carol Bove will have their first exhibitions in London. I also look forward to working with Bridget Riley on her big gallery show in our New York space. And of course to see the works of On Kawara installed inside New York's Guggenheim Museum.
—[O]

Marlene Dumas, Against the Wall, 2010. Exhibition view, David Zwirner, New York