Archie Moore's practice draws attention to the cultural and social assumptions on which contemporary Australian society is built. For the 20th Biennale of Sydney, Moore compares multiple histories on a site on Gadigal land originally known as Tubowgulle, and now commonly referred to as Bennelong Point.
At this location, Moore has built Bennelong's Hut, a replica of the structure that Governor Arthur Phillip built in 1790 for Woollarawarre Bennelong, a member of the Wangal clan and a central figure in Sydney's early colonial history.
TM

Congratulations on your participation within the 20th Biennale of Sydney: The Future Is Already Here—It Is Just Not Evenly Distributed. Can you tell us more about the work you will be showing at the biennale?

AMI am working with Kevin O'Brien, an Indigenous architect, and builders to reconstruct Bennelong's Hut in the approximate location of the original structure. It will be located in the Royal Botanical Gardens opposite the Sydney Opera House. This was a gift from Captain Philip upon request from Bennelong, and importantly, it is the first residential building built for an Indigenous Australian by a white person. It is 12 square metres, and made of bricks with a tiled roof, one door, a window, and a chimney.

Whilst it will resemble what we know of Bennelong's Hut on the outside, it will resemble what I remember of my grandmother's hut on the inside. Both were dirt floor huts. It is intended to be a meditative space to sit inside, look out the front door to the opulence of the Opera House, and perhaps ponder who has benefitted from resource-rich Australia over its occupied history. It is called A Home Away From Home (Bennelong/Vera's Hut).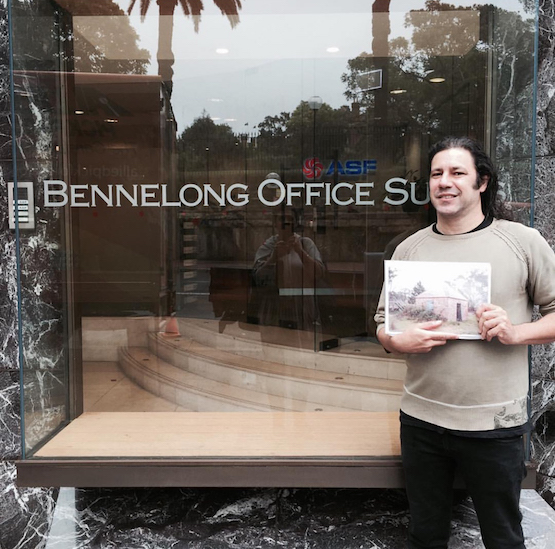 Site visit by Archie Moore for A Home Away From Home (Bennelong/Vera's Hut). Courtey The Commercial, Sydney.
TM

This sounds like a process to both highlight and problematise collective histories in Australia. Could you tell us more about your research process for this new work, and how you originally became interested in Bennelong's story?

AMThe curatorial idea of embassies for the 20th Biennale of Sydney made me think about Bennelong and his hut—this hut being the official residence of a diplomat, which is what Bennelong was then considered, and the idea of an embassy as being a sovereign state on foreign soil.

Bennelong was living outside his country, which provides another complicated layer to his story. He engaged with Captain Philip in a diplomatic way, conveying information between two worlds. Bennelong would also be invited to Government House for social occasions, here performing the diplomatic role.
I'm also interested in memory and memory of a site, the idea of trans-generational inheritance of trauma, phobias, anxieties, desire, etc.
TM

Yes, Bennelong's story provides a curious case study in Australian diplomacy at the time. As you highlight, his hut ironically functioned as a gifted diplomatic lodge posed on 'foreign' colonial ground, despite Bennelong's obvious connection to the land as a traditional custodian.
Earlier you mentioned an aesthetic connection in your work, which draws a relationship between Bennelong's story and your own grandmother's history. Can you tell us more about this?
AMMy grandmother lived in a hut in Glenmorgan, Queensland. It had a dirt floor like Bennelong's. I was thinking about the inequality of the distribution of wealth—if there were any distribution at all—which is why my grandparents were living in corrugated huts when the rest of the town had houses.
Aboriginal people should be the richest in the country, but where has all the money generated from this land's resources gone? Why are there problems with Indigenous health and living standards when the state only has to allocate care to 3% of the population?
In addition to these ideas of equality, I'm also interested in memory and memory of a site, the idea of trans-generational inheritance of trauma, phobias, anxieties, desire, etc., or that a person's or a people's psychological make-up can be affected by events in a previous generation, which have been relayed through genetic memory.
I have an experience when I see a particular clearing, a pile of rocks, or some other natural feature when I'm out west. It's like an attempt at communication from the land, but the techniques to decipher this have never been passed onto me. The Opera House appears to mimic a few shells on top of one of the middens that existed at Bennelong Point in the distant past.
Exhibition view: Archie Moore, Blood Fraction (2015). 100 individually framed pigment UltraChrome ink prints on Epson archival matte paper. 325 x 275 x 3.4 cm. Courtesy The Commercial, Sydney.
TM

You have worked collaboratively a few times in the past—I'm thinking of your collaboration with the perfumer for Les eaux d'Amoore, your exhibition at The Commercial in Sydney in 2014.
Now for the biennale, you will be collaborating with leading Indigenous architect Kevin O'Brien. Can you tell us more about what you learn through working in a collaborative context?
AMThere are no archival plans of Bennelong's Hut in existence; the only information available is a description of measurements and materials. It is depicted in a few drawings and paintings from a great distance, across the cove, without detail. Kevin is familiar with this type of colonial structure and says it was quite common during this time.
I learned a bit more about this type of vernacular architecture and its materiality—for example, the type of brick, and the orientation of the window, door, and chimney to each other and to natural elements, such as wind and the arc of the setting and rising sun. I wanted to work with Kevin because I needed the structure to stand up and stay put, but also wanted to work with another Indigenous person for this project. —[O]