Ben Brown. Courtesy Ben Brown Fine Arts.
After years of repetitive reference to Hong Kong as a 'cultural desert', the arrival of the city's first contemporary art fair between 14 and 18 May 2008, Art HK 08, under the direction of Magnus Renfrew, marked a new turn. Sales turnover for Sotheby's in Hong Kong grew from USD 88 million in 2000, to USD 340 million in 2007, situating it as the third largest market by auction sales in the world after New York and London. 102 galleries participated in the fair's first edition, offering fresh scope beyond the overheated Chinese contemporary art market. Yet, with only 12 Hong Kong galleries invited to participate at the fair's first edition, an imbalance between outside forces and strength on the ground was still evident.
Ben Brown, son of British-born painter Rosamond Brown who was an active member of Hong Kong's art scene in the 1970s and 80s, established Ben Brown Fine Arts on Cork Street in London in 2004, with a focus on established contemporary artists such as Candida Höfer, Keith Haring, and Heinz Mack. In 2009, Brown rode the contemporary art market wave into Hong Kong and opened his second gallery in the Central Pedder Building. A diverse roster had already defined the gallery's London base, which defied expectations with each show. In 2008, the gallery presented Tseng Kwong Chi: Self Portraits 1979–1989, a showcase of 90 photographs by the Hong Kong-born 'self-appointed cultural ambassador of China'. Dressed in a Mao suit, with closely cropped hair and sunglasses, the black-and-white images capture the artist against backdrops such as Disneyland, Pisa, and the Hollywood sign, shutter cord in hand. In these images the artist, who was part of the New York scene of the 1980s, presents an ironic embodiment of cultural difference. Tired tropes were reimagined once more in The Other Wave: Contemporary Chinese Photography (7 December 2011–29 January 2012), curated by William Zhao, which contained works by Chen Wei, Cheng Ran, Jiang Pengyi, and Ye Linghan, and offered a view beyond the high profiles of contemporary Chinese painters that had already garnered international recognition.
Back in Hong Kong, the gallery's programming dances between lesser-known and more established names, offering insights into the facets of international contemporary art. From the encaustic, spray paint, and gold leaf paintings of South Korean artist Hyon Gyon, to the neon light works of Awol Erizku that were presented in a dimly lit gallery last year, Ben Brown does not shy away from going beyond his more traditional shows of Picasso, Boetti, Fontana, Muniz, and the like. During Art Basel in Hong Kong, the intense psychological space of Cuban artist Yoan Capote will be delivered through a series of paintings in which thousands of fishhooks have been pierced into canvases as shimmering seas, while heavily impastoed skies thunder above (Territorial Waters, 26 March–17 May 2019). At the fair, Ben Brown Fine Arts will be participating in the Kabinett sector with a selection of dusky landscapes from the 1980s by Rosamond Brown, with works by the likes of Julian Charrière, Awol Erizku, José Parlá, and Hank Willis Thomas on view at the gallery's booth, alongside pieces by Alighiero Boetti, Lucio Fontana, and Günther Uecker.
In this conversation, Brown discusses some of the key moments in the gallery's trajectory.
Exhibition view: Awol Erizku, Slow Burn, Ben Brown Fine Arts, Hong Kong (18 May–21 July 2018). Courtesy Ben Brown Fine Arts.
I understand you grew up in Hong Kong. Can you tell me about your early memories of art, and what made you want to pursue it as a career?
BBMy early memories of art are mostly related to my mother [Rosamond Brown], who was a very well-known painter in the Hong Kong art scene in the 1970s and 80s, and had various shows at Alisan Fine Arts, who are still functioning now under the aegis of Daphne, Alice King's daughter.
What work did you embark on after leaving? Did you keep a finger on what was happening in Hong Kong and Asia during this time?
BBIn my year between school and Oxford University I decided to work in the art world. I filled my CV with places like Sotheby's, Christie's, a gallery in Rome, and the Peggy Guggenheim Museum in Venice. I enjoyed all of these but thought the most fun and interesting place at the beginning of a career was probably an auction house, and therefore embarked upon ten years at Sotheby's, becoming director of the Contemporary Art department. While I was in Sotheby's London, I tried to keep a finger on what was happening in Hong Kong, but there was really very little interest in Western art at auction from Asia at that time. After the Asian crisis I started doing quite a lot of business with both Korea and one particular client in Hong Kong. This was really what planted a seed in my brain about opening in Asia.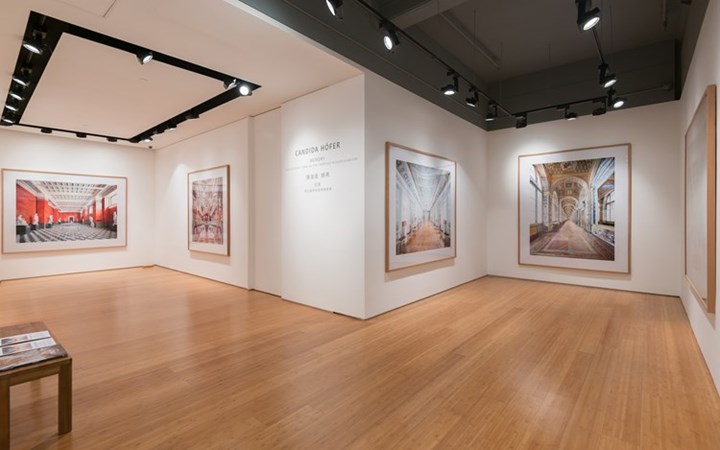 Exhibition view: Candida Höfer, Memory: Selected Works from the State Hermitage Museum exhibition, Ben Brown Fine Arts, Hong Kong (13 October–27 November 2015). Courtesy Ben Brown Fine Arts.
Could you tell me a bit about the opening of the gallery on Cork Street in 2004? What other galleries joined you there, and how did you fit into London's scene as a whole?
BBI opened my gallery with a show of Candida Höfer in the autumn of 2004, and they were the photographs of her Irish trip. We had an incredibly successful opening, and indeed I am still showing Candida, with an exhibition earmarked for this November at the London gallery. My second show was an exhibition of Lucio Fontana paintings, so I think people were a bit confused as to what I was doing. I still represent a group of highly respected international contemporary artists and continue to deal in top end international contemporary art.
What were your decisions behind opening the gallery in Hong Kong in 2009?
BBBefore opening the gallery in Hong Kong, I held two successful group exhibitions in consecutive years at Hanart TZ Gallery—owned by Johnson Chang—including works by Andy Warhol, Hiroshi Sugimoto, Lee Ufan, Thomas Ruff, Tony Bevan, Lucio Fontana, the Lalannes, and Candida Höfer. Then Art HK opened, under the aegis of Magnus Renfrew. The first year of the fair's running was a big success, so I thought if I can make money in one week and attract new collectors, then I can surely do commensurably more in 52 weeks, and the rest is history.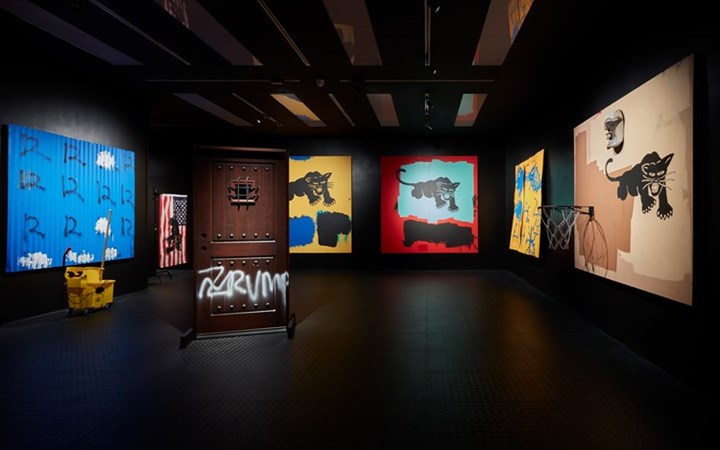 Exhibition view: Awol Erizku, Make America Great Again, Ben Brown Fine Arts, London (21 April–2 June 2017). Courtesy Ben Brown Fine Arts.
Tell me about your first show in Hong Kong. Do you remember the opening night?
BBI do remember my first show in Hong Kong, as it was a group show demonstrating the gallery's strength in depth. We had only signed the gallery 28 days earlier. And then I remember thinking how incredible the workmen were in Hong Kong, getting everything right and how unworried the architect André Fu was.
What were your biggest challenges in setting up the gallery in Hong Kong, and how did you overcome them?
BBThe biggest challenge was getting people into the gallery to look at art from an aesthetic perspective, rather than just an investment perspective. It took a lot of time, and many hours of trying to convince people, much of which fell on deaf ears. It still does.
Exhibition view: Alighiero Boetti, Works on Paper 1967–1983, Ben Brown Fine Arts, London (9 June–20 September 2017). Courtesy Ben Brown Fine Arts, London.
You subsequently staged a number of successful exhibitions, namely the showcase of Pablo Picasso's work in 2010. In your history of putting on shows, what were the ones that you staged that you feel were most successful, and do you recall any that were not?
BBOf course, I have had some successful and some unsuccessful shows in Hong Kong, and the one you mention of works by Pablo Picasso looked fantastic. Although in the end, I only sold one painting back to Europe, so it was not financially successful. Essentially, I was much more successful in selling high margin, cheaper works of art to Hong Kong than the big names, which I feel followed later. I was asked around 2008/2009 whether I thought the mainland Chinese would start buying Western art in the big league, and I replied on the record that I thought it would take around five years. I think I was more or less spot on. Of course, now the Chinese are a serious force both at auction and privately and in both impressionist and modern as well as contemporary.
Exhibition view: PABLO PICASSO, Ben Brown Fine Arts, Hong Kong (24 November 2010–28 January 2011). Courtesy Ben Brown Fine Arts.
Has the gallery's identity and/or vision changed since its first arrival in the city? What keeps you moving with the times?
BBThe gallery's identity and vision has changed and keeps changing since its first arrival in the city. When I first arrived, Hong Kong was a cultural desert, with no international galleries and almost entirely centred around Asian art. I felt very strongly that some of the local galleries did that incredibly well and I felt my mission was to educate the Hong Kong public about mainstream Western art, which is why we bought them Fontana, Boetti, Gerhard Richter, Sigmar Polke, Miquel Barceló, Frank Auerbach, Vik Muniz, Candida Höfer, and the Lalannes. And to this end, I feel we were very successful. Given the plethora of international galleries, which have opened in Hong Kong and make the competition much keener, we tend to do business on a repeat basis with our regular, happy clientele, and have moved into various niche areas, such as great Italian 20th century art, including Lucio Fontana and Alighiero Boetti; German artists such as Gerhard Richter and Sigmar Polke, and a roster of contemporary artists such as Vik Muniz, Yoan Capote, Tony Bevan, and the Lalannes, which keep us going. Luckily Hong Kong as a whole now sees beyond the concept of investment in art, and is very happy to try and work out itself what is great.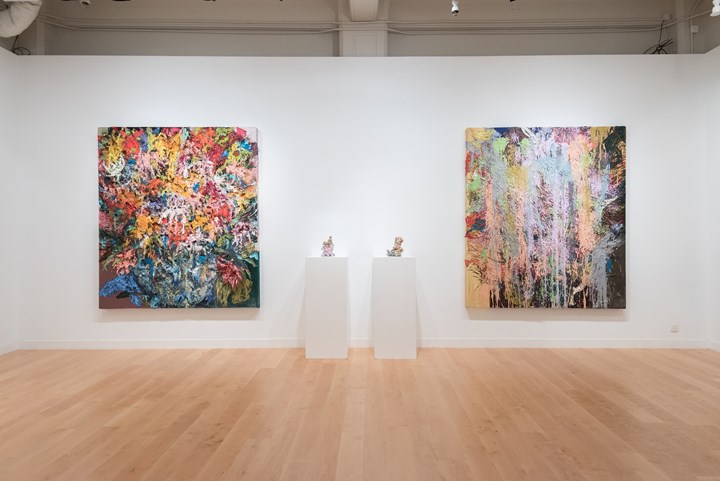 Exhibition view: Hyon Gyon, Cruel World, Ben Brown Fine Arts, Hong Kong (21 September–9 November 2017). Courtesy Ben Brown Fine Arts.
The gallery population in Hong Kong has boomed in recent years. Do you feel an allegiance among these spaces? With whom have you collaborated in the past?
BBIn much the same way as there are allegiances and relationships with my rivals in London or New York, there are similar allegiances and relationships with the gallery in Hong Kong. The difference of course is that there are very few principals who are based in Hong Kong or who go there on a regular basis. Some of them are collegiate and some are distinctly un-collegiate. I personally think that being un-collegiate is stupid, and inevitably comes around to haunt you in the end. I have collaborated with various galleries in the past, more on individual deals than group shows, but we all know who our friends are.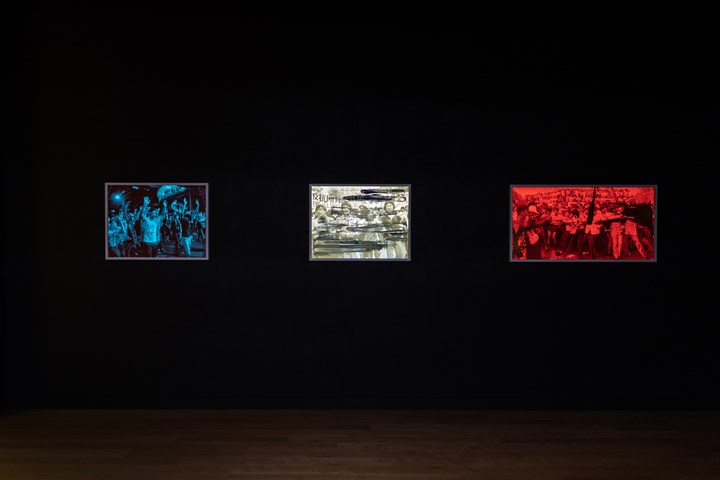 Exhibition view: Hank Willis Thomas, My Life is Ours, Ben Brown Fine Arts (20 September–27 October 2018). Courtesy Ben Brown Fine Arts.
You have participated in West Bund and Art021. How do you keep a finger on what is happening in China?
BBWe have participated in fairs in China and intend to keep on doing that. Amanda Hon, who runs the gallery in Hong Kong, is the one who keeps a tight finger on China, as it is part of her territory.
Is there any region that you are particularly excited about at the moment?
BBThe whole world. —[O]