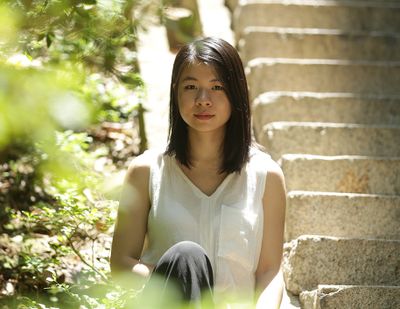 Chloë Cheuk. Photo: Cheung Chi Wai.
Chloë Cheuk works across sculpture, installation, video, and photography to distil human emotions and behaviours into mechanical assemblages that are frequently site-specific. In the outdoor sculpture ...Until I am Found (2017), for example, two different-sized glass globes sit either side of a spherical lens, that drifts closer to or further away from the larger of the two globes, depending on how it is moved. Installed on the rooftop of Asia Society, viewers can look through the larger of the two globes to gaze upon Hong Kong's dramatic cityscape of skyscrapers and tufts of trees. It is a cityscape known to have endured rapid and constant change—a fact that is brought to life in Cheuk's reflective globes, which construct a perspective of the city that paces between 'clarity and haze, the familiar and the strange.'
The work is also a metaphor for the human search for belonging and direction, with our views of the world—and of ourselves—constantly shifting between clarity and uncertainty. Cheuk has a knack for laying bare complex, interior states—a practice that has developed through the artist's fearless experimentation, which sees her tirelessly test new combinations of technology with aesthetic forms. In I am fine, I am good, I am happy. (2016), for instance, the artist reconfigured a printer with a kinetic mechanism so that a long loop of paper is continuously fed through it, upon which the title is repeated over and over—a cycle that portrays the pressure that society imposes on us to suppress our true emotions in lieu of appearing fine, good, and happy.
Chloë Cheuk, I am fine, I am good, I am happy (2016) (detail). Dimensions variable. Exhibition view: Chloë Cheuk, Tsang Chui Mei and Tsang Tsui Shan, The Other Story, Karin Weber Gallery (13 September–3 November 2018). Courtesy the artist.
Born in Hong Kong in 1989, the artist—who is currently completing her MA in Studio Art at Concordia University in Montreal—returned to the city on the occasion of her participation in Exit Strategies (1 March–7 April 2019), a site-specific exhibition of work by emerging and established Hong Kong artists installed in the stairwell of H Queen's. Conceived by David Chan, the exhibition played on the business term of 'exit strategy', as a pre-planned means of extracting oneself from potential failure, to explore 'notions of psychological escapism experienced in relation to the hustle and bustle in Hong Kong.'
Cheuk presented two works in this exhibition, including a new iteration of her 2015 work Homeless, in which she confronted perceptions of the homeless community in Montreal, along with Long Gone (2019), a 3D-printed transparent telephone that hangs from the ceiling, suggesting 'unresolved matters, missing answers, and a lack of proper closure.' In this edited transcript of the artist's talk with Ocula's content director Anna Dickie, held as part of the UBS Open Classroom programme during Art Basel in Hong Kong (29–31 March 2019), Cheuk discusses the works on view at H Queen's within her wider practice.
Chloë Cheuk, Long Gone (2019). Stainless steel, glass, rubber, resin. 41.5 x 99.5 x 8.5 cm. Exhibition view: Exit Strategies, H Queen's, Hong Kong (1 March–7 April 2019). Courtesy H Queen's. Photo: Kwan Sheung Chi.
AD

How did you come to art? Was there a trigger moment when you decided you wanted to be an artist?

CCWhen I was young, I learned to draw and began making art in a very traditional way, but at the City University of Hong Kong I studied creative media, which combines technology and art. For my graduation project, I created a work that uses kinetics to tell the story of my childhood. The Burst of Pleasure (2012). The work is an inflatable kinetic installation of a birthday celebration setting centred in the room stands a birthday cake above which a balloon is being inflated slowly. On top of the cake is a candle with a pin in it. As the balloon inflates it nearly touches the pin and then deflates slowly. As tension builds and is released watching the balloon inflates and then deflates, a computerised random setting has been installed to allow the balloon to touch the pin one time a day causing a burst with confetti fireworks. The sudden burst into cheers is like a pleasure released from the pressure, yet at the same time one feels a slight loss and depression after the climax is reached and the longing vanishes. The process of building up the excitement and relief holds the audience's breath and emotion and serves as a certain art therapy. People really liked the work and I received more recognition for my art practice—it was picked up by a gallery and showed at Hong Kong gallery 10 Chancery Lane Gallery, HK-FOREWORD Part 1 - Discordia (17 Aug–1 Sep 2012). I started to think about how my voice could stand in the art world, and that it would be fun to express myself through art. I've been thinking about what an art career is, and it seems to entail an endless pursuit of expressions and creations, which is what I really like to do.

Chloë Cheuk, The Burst of Pleasure (2012) (detail). Arduino, processing, custom electronics, balloons, needle, air compressors, valves. 300 x 300 x 400 cm. Courtesy the artist.
AD

Your work seems to have a very personal element that sees you channel emotions into different objects. Could you perhaps give us a broad description of your practice?

CCI have a very strong sensitivity to how certain objects relate to my feelings. It's quite funny to say, but I want to feel how certain objects feel, because objects are created by us and we always need to engage with them, whether they have a function or not. Each object also has a huge cultural background. So, even though it's personal, I just take that object and put it in my practice or storytelling to allow other people to engage with its story. It's nice to use ready-made objects to give people alternative perspectives. Some people might have their own story, as well, and I really like that exchange with other people—that is the fun part of my practice.
AD

The titles of your work are very evocative. They immediately ask the audience to consider how they respond to the work. I was thinking of The Burst of Pleasure, which you made in 2012 and consists of a balloon and a candle with a needle inside.

CCYes, there's a needle that extends from the top of the candle. It's an analogy of celebration and the meaning of growth. We usually think about celebration as a happy occasion, but I turn it into a very tense, stressful scenario: the work is motorised to that the balloon floats up and down above the needle, but ultimately it hits the needle and bursts. There's a sensor hidden inside the candle to receive feedback on the distance between the balloon and the needle. The balloon deflates and inflates based on the sensed distance between it and the needle. Then at a pre-programmed point in time, the sensor turns off and the balloon inflates until it bursts. People feel quite tense watching the work and even a little scared watching the balloon, which is 30cm in diameter, inflate and deflate.

Chloë Cheuk, The Burst of Pleasure (2012) (detail). Arduino, processing, custom electronics, balloons, needle, air compressors, valves. 300 x 300 x 400 cm. Courtesy the artist.
AD

The works you create are often mechanical. Do you have people you collaborate with to make the work, or do you engineer the works yourself?

CCAt the university, we were introduced to kinetic art, and learnt about the motors and so on to make such work, but it was very introductory. I work the mechanics out myself; there are a lot of sources on the internet, and I also speak to my peers. Basically, I have to explore—there's a lot of trial and error. That work The Burst of Pleasure took me half a year to make.
AD

So, the process is such that you come up with the concept and then it's a matter of working on the mechanics to bring it to life. I think a lot of people forget that young artists can't always call on technical experts, but they find their own way to manage their way through this. Is that one of the challenges of being a young, emerging artist—figuring out ways to create your work without investing monies in technical support?

CCOf course, there are a lot of materials that we need to purchase. And during the learning and creation process it's not always 100 percent successful, so there are a lot of materials or resources we need to experiment with or research, so of course funding is absolutely important, not just for artists who are emerging—we are all trying to push the limit of materials. Some technicians may say, 'Oh, this may not work.' But others are rebellious or curious about how to bring to life something that has been imagined.

There is not a lot of variety of funding in Hong Kong. Of course, the government supports young artists, but in Canada, where I am currently studying, there's a lot of great funding in terms of duration—sometimes we need a longer period to experiment.

Chloë Cheuk, ...Until I am found (2017). Stainless steel, glass, concrete. 171 x 120 x 138 cm. Courtesy Asia Society of Hong Kong.
AD

You have done a lot of work and residencies, such as Videotage, I believe.

CCYeah, Videotage. I also went to Zurich. I have spent two years in Canada studying my masters and have participated in other residencies, including one in Austria with Ars Electronica Future Lab, in which there was a lot of exchanges of ideas.
AD

How important would you say your residencies are to how your practice has developed? Perhaps you can discuss Videotage in this regard?

CCThe Videotage residency resulted in my first solo exhibition. I still feel very happy that I had my first exhibition with Videotage. They are the first organisation to support video and media art in Hong Kong; there's no other institution that is as focused on it as they are. I had a very short time to prepare the exhibition, and I made three pieces in response to social issues, as it was right after the Umbrella Movement. Generally, I don't really engage with politics, but my practice is concerned a lot with emotions, and I was sure many people would have strong feelings or a strong voice when talking about this event. While the Umbrella Movement was unfolding, I was living in Austria, on my residency with Ars Electronica, so my experience of the Umbrella Movement protests in Hong Kong was very much gleaned through the internet. Following the residency in Austria, I started the Videotage residency and I created the art pieces which I subsequently showed at Videotage, and these related to the Umbrella Movement, and my emotions relevant to this time.

Chloë Cheuk, Waiting for Another Round (2015). Video loop 6 min. Courtesy the artist.__

There was a work called Waiting for Another Round, which is a video work and features footage of the view from bus stops. I took the footage from different bus stops relevant to the Occupy Movement, which was dispersed across the city. I kept shooting it, over about 22 days, but every day I tried to capture the view from the same bus stop, then I divided the views and composed them depending on the places. The work holds a symbolic meaning about what the bus stop means in society, and this idea of life ordinary events continuing, despite extraordinary events. It is a reflection on the struggles of society. The bus wheel turning was the object of most relevance in the video.

Chloë Cheuk, Dependence (2015). Metal, light bulbs, cable. 17 x 17 x 15cm. Courtesy the artist.
AD

At Art Basel two years ago, you showed a work called Dependence at the booth of Mother's Tankstation. Could you describe it?

CCThis work comes from a personal story. I made it after my first breakup, which was the first time I realised how relationships work, or how impactful human relationships can be. I made a very simple work using two light bulbs—one with the power on while the cables leading to the other bulb were cut. One light bulb came alive by using the light source that went through the one that I would call 'dead'. This is how I would describe an unhealthy relationship—that you have to depend on the other person in order to stay alive. Once you take out that object, it doesn't make sense at all—it loses its function. This is how I feel about romantic relationships. The other work that I showed is called Since We Last Met, in which there are two toothbrushes on a plinth that encircle one another—one keeping still, while the other moves around it. When the bristles of the toothbrushes encounter one another, there's some friction, and then the movement suddenly slows, and they struggle a little to keep moving. Some people may think it looks as if they are kissing, but I see the encounter as being negative, reflective of couples on the verge of a break up, when there is this sort of moving away and then coming together, and then moving away that goes on until finally the break-up occurs. My intention for my work is for it to be open to different interpretations—an interpretation will kind of reflect whether the audience is negative or positive about relationships.

Chloë Cheuk, Since We Last Met (2015). Motor, wood, cups, toothbrushes. 26 x 30 x 20 cm. Image courtesy of the artist.
AD

The latest work of yours that I've seen is in the exhibition Exit Strategies that is presented throughout the stairwell of H Queen's. Could you talk about the two works that you showed?

CCThe theme Exit Strategies relates to when businesses have to find a plan when it's not working out for them. The two pieces that I made were called Long Gone, which is about communication, so I just took a telephone and used transparent, 3D-printed material. The stairway is an enclosed space, so I really wanted to break the spatial boundaries of the environment. The telephone involves two-way communication—it helps to break boundaries. However, the handset in the work is hanging, so it's a little bit hopeless—no one is answering. So, the question becomes an open one, about why the telephone is there, and who might be on the other side. I was thinking about the term 'ghosting' when I made it, which is a term that became common when dating apps became popular. When communicating with people, and then no longer wanting to have further communications, we just 'disappear' by not answering the phone or texts—this is how modern people treat relationships. The transparency of the phone makes it appear as a ghost—it creates a mysterious feeling.

Chloë Cheuk, Long Gone (2019). Stainless steel, glass, rubber, resin. 41.5 x 99.5 x 8.5 cm. Exhibition view: Exit Strategies, H Queen's, Hong Kong (1 March–7 April 2019). Courtesy H Queen's. Photo: Kwan Sheung Chi.

The other work I showed there is called Homeless, which I produced while doing my masters in Canada. At the time, I was feeling very low because I had just relocated. I'm quite an emotional person, which can affect how I make work. At that time, I felt I wanted to engage with the homeless people I saw on the street. I suppose I also felt homeless, but the more people we encounter, the more we are able to put ourselves outside and realise our situation isn't so bad and we can start to feel have empathy for others instead of self-pity for ourselves. The work consists of a long metal vitrine, with coins placed all the way through it, and each coin is different. Each coin was exchanged with a homeless person. The work is intended to speak to questions of equality, to consider how because of our circumstances we value things differently; a coin we give to the homeless has a very different value to them, as opposed to us. This then raises questions related to how some people in society are valued more than others.

Chloë Cheuk, Homeless (2015–2019). Stainless steel, glass, Canadian coins. 17 x 158 x 7 cm. Exhibition view: Exit Strategies, H Queen's, Hong Kong (1 March–7 April 2019). Courtesy H Queen's. Photo: Kwan Sheung Chi.
AD

At the start of the talk, we touched on what it is to be a Hong Kong artist, and I'm interested as to what your views are on the future of artists in the city, which is now a major arts hub. Do you feel positive about it? Or do you have some concerns?

CCI think for sure the future of the art scene of Hong Kong is becoming more vibrant and I'm very positive about the future. However, a lot of the facilities or policies need to catch up, because I feel that the art scene in Hong Kong changed really quickly and developed really quickly, but the people within the art industry need more respect, resources, and policies in place which can help the artists to grow. The rent here is always an issue. Artists here also have to bear the costs while developing their work, which requires trial and error, and therefore time and money to mature and progress. That process requires help from the government or other public and commercial sectors, that understand that art is not just for entertainment, but also as a means for the public to refresh and reflect.
AD

What's next for you?

CCI am currently finishing my masters, and after that—I'm very interested in public art right now—I'd like to learn more about the production of it, and how to make a work successful within public space. There might be some future projects with hotels or architecture firms.—[O]