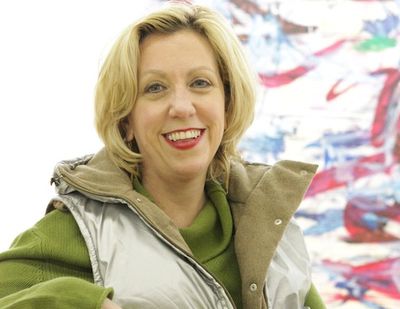 Meg Maggio's enthusiasm is a force to be reckoned with. She races into her gallery space in Wong Chuk Hang to meet me, with entrepreneur and friend, Juan van Wassenhove in tow. She runs around the gallery eager to introduce visitors to each other, with a: "You need to know him, he has the most magnificent temple hotel in Beijing which houses the only James Turrell installation in China – fantastic". During our pre-Chinese New Year holiday interview Maggio's speech is punctuated by the signing of cheques, the sending of emails, the giving of instructions to staff, and the swinging of her computer screen to show me something "You Must See". With such energy and presence, it is not surprising that Maggio has maintained her status as one of the leading gallerists in Asia over the last twenty years - something very few of the original China based gallerists have been able to do in the encroaching tide of the mega galleries from the West.

A Bostonian, Maggio first moved to China in 1986 initially as a lawyer, but from 1998 until 2005 she ran one of the first galleries in China, Beijing's Courtyard Gallery. In 2005, Maggio opened Pékin Fine Arts, in an Ai Weiwei designed space in Caochangdi Village in Beijing. In December 2012, Pékin opened a second gallery space in Wong Chuk Hang in Hong Kong's burgeoning Island South District. During her career she has worked with and launched the international careers of many of today's leading artists from China. Today, her gallery represents Chinese artists alongside artists in Asia and internationally. Artists represented by Pékin Fine Arts have had exhibitions and/or works collected by art institutions such as: Mori Art Museum, London's V&A Museum and Hayward Gallery, Musee Pompidou, the National Gallery of Australia, MOMA, NYC, SF MOMA, LACMA, LA MOCA, Boston Museum of Fine Arts, JP Morgan Chase Art Collection, UBS Bank Art Collection, Switzerland, HSBC Collection, Seatle Art Museum, Boston Museum of Fine Arts, Asia Society and others. In this interview Maggio discusses the inaugural Pékin Fine Arts exhibition, contemporary ink, her artists and gallery, and the importance of placing art, rather than selling it.
You were a successful corporate lawyer, working for Skadden Arps in Beijing – but then in 1998 you started running the Courtyard Gallery in Beijing. Then in 2005, you opened Pékin Fine Arts. Tell me about the transition into art?
I came to the art world from the point of view of a collector; I was always keeping my eye on happenings in the art world. A friend and I were co-investors in one of the first galleries to open in Beijing in 1997, and I was involved because I had been collecting Chinese art since the late 80s - from when I first arrived. I collected a little bit in the United States, but I was especially intrigued about what was going on in the art scene when I arrived in China. I met lots of the artists – these were very nice non-commercial years.
Tell me about Pékin Fine Arts inaugural exhibition in 2005 in Beijing?
The first exhibition I did was in an outside space. I had signed a contract to have a new space built and designed by Ai Weiwei, in Caochangdi. But the construction wasn't complete so when we started the gallery I did the first exhibition in a temporary space. It was in the office of a couple, who are art collectors, and also very prominent Beijing real estate developers, Zhang Xin and Pan Shiyi. They were integrating art exhibits into the launch and marketing of their new real estate projects in Beijing in a very creative way. They did Commune At the Great Wall, a private collection of contemporary architectural spaces designed by 12 great architects – Gary Chang from Hong Kong, Kengo Kuma and Shigeru Ban from Japan, Antonia Ochoa from China and so on. Ai Weiwei had a large installation at The Commune and also helped curate projects at SOHO, one of the couple's first Beijing real estate projects. Many artists were involved in group exhibits on properties owned and operated by Pan Shiyi and Zhang Xin.
So in the enormous atrium of Zhang Xin and Pan Shiyi's company headquarters, I did a project with Liu Zheng in 2005 called Survivors. We had been working with Liu Zheng in the past, at Courtyard Gallery, and when I opened my gallery I continued to work with him. He was the only Mainland artist in the 50th Venice Biennale in 2003 – in the Arsenale section - in the year that Francesco Bonami was the curator. In 2003 and in 2004, I co-edited a book about his work called 'The Chinese', which was published by a great German photo bookmaker Gerhard Steidl. That was the first book Steidl had ever done in relation to a Mainland Chinese artist's work. Much of that work was also exhibited in the Arles Photo Festival that year in a solo exhibit project I curated. Liu Zheng had never left China and in 2003 went to Venice Biennale and Arles Photo Festival. It was an exciting time.
Tell me about the work in Liu Zheng's Survivor exhibition?
It involved these gorgeous 2-meter high, big color headshots of people who had all been battered up. They looked physically and mentally traumatized as though they had been through some sort of disaster, but you didn't know what the disaster was. It could have been war, 9/11, or a tsunami. Liu cleverly made up these faces, as dirty, disheveled, injured, frightened - they were a bit of a symbol of our times; faces of trauma, whether man-made or nature's disasters. Actually, the artist made up each model in the studio, to such dramatic effect, that they looked quite authentic. We also showed Liu's Survivor work that year in London's Frieze art fair.
When the current gallery space in Cao Changdi was ready, we did our first of several solo exhibitions with Huang Zhiyang.
Huang Zhiyang's work is very different – his work is very much involved with contemporary ink.
Well in a way, I like to think that Liu Zheng and Huang Zhiyang are similar. They have a common denominator in that they are both masters of innovation in their particular medium. Liu Zheng is considered one of the China's great contemporary photographers. Huang is considered one of the true innovators within the traditional medium of ink. Both use classical references and mastery of traditional technique, then turn this mastery on its head, using the traditions of studio photography and ink painting to break through to deeper meanings and often disturbing results. In 2007, Pékin Fine Arts opened with four and half metre installations of abstracted "Beijing-bio" titled scrolls for Huang's show – he was doing something very different, very idiosyncratic and individualistic with ink. Creating forms reminiscent of biology specimens under the laboratory microscope: Animal, vegetable and mineral simultaneously. Now, I feel like we are being vindicated because here we are in 2014 and Huang is about to have a very big solo retrospective at the new National Museum on Tiananmen Square, with recognition for his contemporary calligraphic prowess from the National Museum's director and vice-director, both of who are dedicated calligraphy students.
There is an exceptional interest in contemporary ink at the moment. Chen Shaoxiong (another artist you represent) is in the Metropolitan Museum of Art's Ink Art show in New York.
Yes. But we have worked over the years with several of the artists in that show.
We are very supportive of the artists who are in meaningful conversation with tradition, and able to take the tradition and express it to contemporary audiences in a completely innovative way.
What did you think about the Met's decision to display the contemporary Ink Art exhibit in the Department of Asian Art as opposed to showing it within the Department of Modern and Contemporary Art?
I think it was an inevitable decision to do that. It was the only logical place for that show. The curator's aim was clearly to give the works a historical context, and roots and foundations that provided a base to understand what has happened in the last twenty years in Chinese art. People need to remember the development in Chinese contemporary art hasn't happened in a vacuum. In the Met's selection, there is a very strong foundation of both traditional mediums and motifs – and it doesn't matter whether you are innovating with rice paper or innovating with ink, or using other mediums to renew traditional forms and iconography. In all cases in the Met's selection, there is a dialogue with the ancient.
This is the first exhibition of Chinese contemporary art that the Met has ever done and they needed to relate this show to their permanent collection. A lot of these museums have an extensive collection of antiquities from China, but most of those collections were little added to after 1949. Today, if you look at major museums around the world – the Met, the Tate, the Pompidou, and so on – they may own one or two early Modernist works from China, but then everything stops. And how do you continue the conversation and the research and the scholarship? This year's show at the Met provided material for research, and is clearly the first chapter in what will hopefully be a long research project for the Met: We are witnessing the start of a more scholarly investigation of Chinese 20th and 21st century contemporary art. There needs to be more exhibitions and more research into the transition from the traditional to modern ink and finally to the contemporary.
The recent institutional interest in Chinese art is also reflected in the commercial world. The Armory Show this year will have an entire section devoted to Chinese art, curated by Philip Tinari. Which artists are you taking to The Armory?
Each gallery at this year's Armory Show was asked to limit its exhibit to 1-3 artists, so that work could be presented in greater depth. We will show video work by Chen Shaoxiong, video work by Zhao Liang, and paintings by Wang Luyan; three artists we represent and recently exhibited in Beijing and Hong Kong.
At the fairs we always want to show work that is reflective of our exhibition programming in Beijing and Hong Kong. We approach a fair booth as a window on to our gallery, we want people we meet at the fairs to visit our galleries, in Hong Kong or Beijing, and get to know the artists in greater depth. In February we will be showing new work in our Beijing space by two artists better known for their film work, documentary film maker Zhao Liang and Hong Kong cinematographer Yu Likwai who resides in Beijing and works with Jia Jiangke one of Beijing's most exciting young film makers. Zhao Liang is one of the great Chinese documentary filmmakers. He is considered one of Beijing's documentary film making stars, but at the same time he has a very active visual arts practice - which perhaps is not as well known as his documentary film work. Yu Likwai's artwork was most recently seen in Hong Kong, in a small exhibit organized by M+ Museum curators, and we thought it would be interesting to show this new work in Beijing where Yu resides, alongside Zhao Liang, as the two film-makers are friends, and solo projects together make sense in the Beijing context.
You initially had your gallery in Beijing and then last year you opened the gallery space in Hong Kong. Why did you decide a space in Hong Kong was necessary?
Hong Kong allows us to look at the South more than we can from Beijing. We work with a lot of artists from Southern China, and we work with a lot of museums in Southern China. We've been active in Hong Kong over the years, not only in art fairs: We gave Hong Kong artists Tsang Kin-Wah and Movana Chen their first solo exhibits in Beijing.
It also gives us more of an opportunity to get involved with and converse with Southeast Asian artists. We showed Eko Nugroho – a wonderful artist from Yogyakarta – he did his first solo show in China with us. We also gave Kohei Nawa and Aida Makoto from Japan their first solo shows in China. As well as Choi Jeong-Hwa from Korea, who had a few solo exhibits with us in Beijing.
Tell me about the current show in your Hong Kong space?
Our aim in Hong Kong is to show artists' work that has a connection with Hong Kong and that we believe will resonate with the art community here in Hong Kong. Yang Dongxue has a solo exhibition here in our gallery in Hong Kong at the same time that he is participating in a group exhibit at the museum in Shenzhen, the OCT Contemporary Art Terminal - so there is a conversation there. Yang Dongxue was also a student at the Guangdong Fine Arts Academy in Guangzhou. This is the first time for Hong Kong audiences to see this young artist's work in Hong Kong, despite his being well known in art circles in Beijing and the Mainland.
And your next exhibition in Hong Kong?
We will be showing a Mongolian artist, Nashunbatu. I have known him since about 2006, and I actually came to know him because I started collecting his work. Ethnically, he is 100 percent Mongolian, speaking, reading and writing Mongolian first, Chinese second and German third. He is from Ordos in Inner Mongolia. After university in China, he went to Germany for graduate study, and I had seen his work in a number of international art fairs. We started working together in 2006/2007 when I sold some of his work to the Swiss UBS Bank Art Collection, and he is widely regarded as an extremely skillful painter. He is preparing for two big museum exhibitions in Inner Mongolia, and lives between Germany and China. Nashunbatu's work has been shown in Art Basel Hong Kong, but not in an in depth gallery solo show in Hong Kong. This will be his first.
How would you define the artwork you show?
We do everything from installation, sculpture, video, to photography, to painting and drawing and book making. For me, the medium is less important. I am more excited about the message and an artist's need to convey strong concepts across whatever materials he has on hand. The artists that we tend to gravitate to have the self-confidence and acumen to experiment and to express themselves across a wide variety of mediums. They are strong conceptually and they have things they want to say that are not limited to one tool or object. I find that versatility exciting – the lack of fear to try something new and to experiment in different mediums. Many of these artists have continued their studies abroad, and straddle two or more worlds. This also creates a unique perspective. As someone who has lived over half her life in China, I am naturally attracted to artists who dare to live and to work outside their "comfort zone".
You do a lot of work with Museums.
We work with a lot of museums around the world – both private and state. Most of the artists we represent have museum show invitations/commitments over the next year or two. So for example, Wang Luyan who we just showed with Hungarian-German artist Kata Legrady at The Hong Kong Art Centre, also recently opened the Park View Green museum in Beijing, a project by the owners of Park View here in Hong Kong. Beijing's Park View Green commercial and residential real estate project, also houses a massive 2000 square meter private museum owned and operated by its owners who are also avid art collectors. Kata Legrady similarly just had her first museum solo exhibit, at the ZKM Museum in Karlsruhe. And she and Wang Luyan are likely to work together again soon, with a museum in Europe.
Chen Shaoxiong has exhibited at the Times Museum in Guangdong and the OCT Museum in Shenzhen, and has works on exhibit in NYC at the Met's New Ink exhibit. Chen will have a solo exhibit later this year at the Seattle Art Museum. He was included in the last Gwangju Biennale – he has also been a visiting fellow at Para/Site and Asia Art Archive, and at the Rockefeller Foundation's Bellagio Center in Italy. This year, he will also be in exhibits at New York's Asia Society, at the Vancouver National Gallery of Art, NY's Jewish Museum, and also in the Salzburg Museum of Modern Art in Austria.
It is really nice to see these artists of the same age group and generation getting the critical museum recognition they deserve. I think these artists who are mid-career look to us as a gallery who can boost their careers to the next level. Probably my proudest achievement in the art business is in placing artists' works into museum and corporate permanent collections of significance – helping them to achieve that high level of international critical recognition that comes from being added to such important collections.
My mantra – oft repeated - is that we are not in the retail business: It's not about selling the work. It's about placing the work.