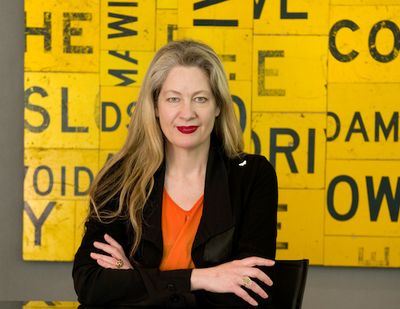 It is difficult not to fall for the Auckland Art Gallery's award-winning new building. Exhibition spaces are lit by passages of natural light, tree-like beams stretch from ground to sky, and wood-panelled canopies unfurl overhead. The café is also pretty swish. But to fall for the building is to overlook the gallery's less cosmetic changes. Most recently, it has established new curatorial roles, farewelled its long-serving Director Chris Saines and appointed Rhana Devenport in his place. Australian-born Devenport comes from a long stint as Director-Curator at New Plymouth's Govett Brewster Art Gallery. Her strong curatorial background raises hopes in the Auckland art community for more critically adventurous exhibition programming. Now that the gallery has good bones, Aucklanders are wanting to see good shows.
The Auckland Art Gallery has been awarded the prestigious World Building of the Year. On the back of this success, you've recently returned from a quick-fire tour of European, North American and Asian museums. How do you position the gallery within these global networks?
Winning the World Building of the Year means that there is a great deal of attention given to the gallery right now from an architectural perspective. My trip involved visiting key institutions, introducing the new building to them, but also discussing our vision for the gallery. Building relationships with institutions and individual curators sets up conversations for the future. Good things take time, and in museums timelines are both very rapid and very slow, so one has to work on these dual levels. There are areas that I think we can contribute to internationally and people are very interested in what's happening in this part of the world.
From a more local perspective, what does Auckland have to offer and how will the art gallery attend to the needs of its many communities?
Auckland is my momentum towards the future. It is the fastest growing city in Australasia and, for me, it is a terrifically exciting city because it is centred around a fascinating nexus between Maori, Pacific and Asian contemporary cultures. We also have a large number of art schools within the city and a huge student population in the gallery's vicinity. If we are to have a relevant and meaningful impact in this local environment, then we have to really speak to these audiences. In the future, this will be reflected in our collection policy, but more directly it is something we can act upon immediately in terms of exhibition making.
Can we expect new and different exhibitions in the future? What will you bring to the direction of the Auckland Art Gallery?
Every waking moment and every sleeping moment I am thinking about this! It is about a process of activation and, at the moment, we will be focussed on activating the building through art. It is an exquisitely beautiful building that is beautifully crafted; there's a lot of respect for the architecture and people come for it, but I think we can take more advantage of this. I want people to come for the programming as well as the building. It is crucial for the encounter with art to be as strong the encounter with architecture. At the moment the architecture is dominant—it's exceptional and people are very proud of it—but we will quickly get to a point where people will also be proud of the programming and exhibitions.
The gallery's largest exhibition of contemporary art in the last 25 years, Freedom Farmers, offers a very welcome survey of recent art practices in this country. How are you balancing the needs of maintaining an historical collection and developing new commissions and critically adventurous exhibitions such as this one?
Any great historical work that lasts over time was vitally contemporary once. In this way, I am always looking at historical work. My favourite room in the gallery at the moment is the Tony Fomison room – it is a beautiful little exhibition. What I'm very excited by in terms of exhibition making is when juxtapositions exist between the historical and the contemporary—they are to me the most interesting shows I've seen in recent times. The relationship between works interests me enormously. I think these historical/contemporary juxtapositions are what can really activate collections; I'm looking to develop more of this, rather than focussing on the presentation of works within a similar time-band.
How do the gallery's exhibition practices and art collections contribute to broader cultural discourses in Auckland? What impact can contemporary art have on the culture at large?
Freedom Farmers is a very interesting exhibition looking at new art practices. Significantly, it has had a rich public programme—this has been one of its most successful aspects. A great deal of work has gone into public programmes such as these that offer the opportunity to explore fertile discourses concerning art and ideas. It's not just a matter of putting the works on display and expecting illumination to occur. If it's not lively and robust, then what's the point?
One of the things that I'm most excited about here is our relationship with universities. Some of the best projects I've been involved with in Queensland and Sydney have been collaborative projects with universities—it is something that interests me greatly. Freedom Farmers included a Late Night panel discussion of 'creative living' that involved university researchers from the Creative Thinking Project at Auckland University and others. It is this kind of exchange of ideas that will be important to shaping our contribution to the intellectual life of Auckland and greater New Zealand.