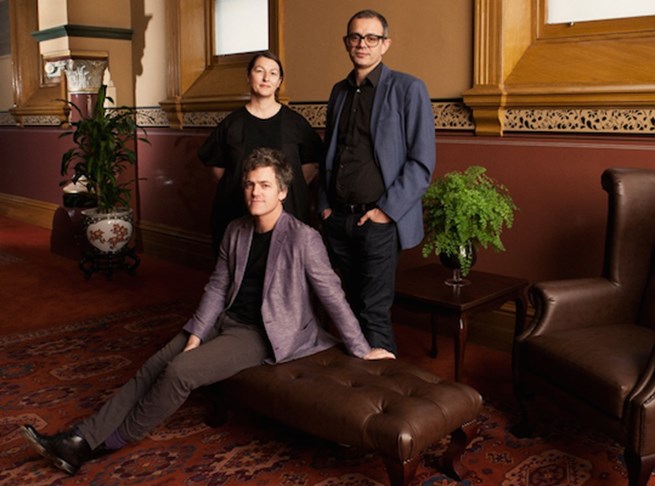 Geoff Newton (seated), Vikki McInnes and Vasili Kaliman
SPRING 1883 is an exciting new art fair that draws on the traditions of the Gramercy Art Fair in New York, to present the best in contemporary art practice from Australia, New Zealand, Europe and the United States.

SPRING 1883 will see twenty galleries exhibiting in individual or shared suites at The Windsor, Melbourne's oldest and most cherished grand hotel. By providing a boutique venue for dialogue and interaction between galleries, artists and collectors, the fair seeks to create a new energy in the Australian contemporary art market. Ocula spoke with Vasili Kaliman, one of the founders of the fair, about their principal motivation for starting the fair, the curatorial foundations behind it, and some of the highlights we can expect to see.
How did you come to work together on SPRING 1883?
The three galleries came to work together through shared concerns about contemporary art and a desire to propose alternative modes of presenting art that might be beneficial to galleries (and collectors). Geoff Newton proposed the idea to me as I had initiated the New Fair with Jarrod Rawlins in 2012, a project which included galleries from New Zealand and New York. Sarah Scout Presents (which Vikki McInnes and Kate Barber run) is quite close to Neon Parc, and we had worked together previously, so it seemed a natural progression that the four of us start working together on a bigger event, establishing a level of collegiality and shared ambitions.
Tell us about the Hotel Windsor and why you have called the fair SPRING 1883?
The Hotel Windsor is an incredibly exquisite building—equally so are its boutique suites, full of history and elegance - it is a Melbourne icon. Though its not the typical space for the display of contemporary art, we feel that this new environment will allow for an interesting and exciting new context, resulting in an intimate opportunity to engage with art. As for the name Spring 1883, it is dedicated to the building that houses the fair, first to its location of Spring Street and secondly to its opening in December of 1883. However, we like the fact the title has a certain ambiguity to it, and is not absolutely wedded to site.
What would you say is your principal motivation in founding SPRING 1883?
Spring 1883 came from a desire to synergise a moment, and in that moment to create something new and fresh for the Australian art community. There felt like there was a gap, which simply allowed for the conditions to fill it. The timing was right, with the right list of galleries wanting to enter into this dialogue of art fair, coming together to form this model. It was simply a point in time which had the ability to be generated into something.
You will be launching during the same week as the Melbourne Art Fair, Australia's longest running art fair. Do you see SPRING 1883 as competing with or complementing MAF? What will SPRING 1883 offer that is different to the MAF?
I do not see it as either, rather its own entity with no real connection, although we are certainly appreciative of the context and anticipate there will be some crossover audience. As Spring 1883 is a bespoke event, where the MAF is primarily designed for the masses, they do not really compete nor complement, just co-exist as simultaneous entities. Spring 1883 also offers a more intimate environment for viewing, discussing and acquiring of contemporary art and is completely free to attend.
You have taken a different approach to the way in which galleries were selected to take part in the fair. What was the process and why is this important?
In many ways you could view Spring 1883 as a curated event, we invited galleries that we believed were doing interesting things, galleries which have a shared attitude to the presentation of art and support of artists both in Australia and abroad.
With the recent proliferation of art fairs around the world what will make SPRING 1883 a success?
I already see SPRING 1883 as a success, we have placed some of the most interesting local and international galleries in an incredible space, there is already a buzz surrounding SPRING 1883 in the Australian art world both in media and community; and we are yet to open. We have been quite overwhelmed by this support, and hope that the success of Spring 1883 is further seen in the public reaction to the fair and to the experiences the participating galleries gain from it.
The fair includes a group of interesting international galleries. Do you expect to see growth in the international selection of galleries in the years to come?
We'd certainly like to see more international galleries coming to Australia. We are already in discussion with other overseas galleries for future iterations of SPRING 1883 - galleries which have already cultivated a client base of Australia collectors which they met at other art fairs around the globe. These galleries are keen to have some sort of ongoing presence in the market here, both to build on those relationships and to find new audiences.
Tell us a bit about some of the highlights we can expect to see?
There will be site specific installations, juxtapositions of established and emerging artists as well as of established and emerging galleries. The biggest highlight as far as I am concerned will be the opportunity for the collecting public to meet contemporary practitioners and their representatives, to sit down and discuss art with them in this terrific environment.
What are your hopes for the future of the fair?
We hope that the fair will be a critical alternative to the MAF and offer a fresh approach to the exhibition of and market for contemporary art in Australia. —[O]