Feature
1:54 Contemporary African Art Fair in London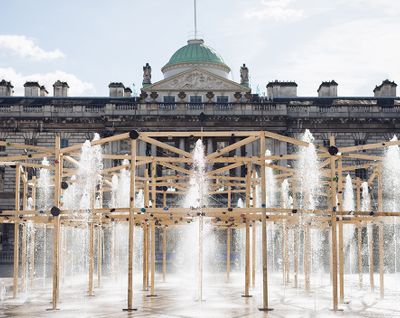 Pascale Marthine Tayou, Summer Surprise (2017). Wood spears and cobbles. Dimensions variable. Installation view: 1:54 Contemporary African Art Fair, Somerset House, London (5–8 October 2017). Photo: Katrina Sorrentino.
Visitors arriving in the courtyard of Somerset House for 1:54 Contemporary African Art Fair (5–8 October 2017) were greeted by a large work by Pascale Marthine Tayou entitled Summer Surprise (2017). In this site-specific installation, wooden spears crisscrossed by colourful cobblestones made up a structure that sat atop the Edmond J. Safra fountain. It was loosely modelled on the traditional Malian toguna; a public hut located in the centre of the village that brings people together to discuss community concerns. But unlike the traditionally low ceiling of the toguna, which forces people to sit down, Summer Surprise was uncovered and high enough for people to walk through, if it were not for the fountain. The installation raised concerns about modern forms of violence, while extending an invitation to visitors to come together within the context of the fair, despite certain obstacles.
This quest for dialogue and exchange is at the heart of 1:54 Contemporary African Art Fair's ethos, whose name references the 54 countries on the African continent. Launched in London in 2013 and New York in 2015 by Touria El Glaoui, this year's fifth edition in London featured 42 leading galleries, hailing from Tunis, Nairobi, Maputo, London, Paris and Milan. In total, the fair represented more than 130 artists from Africa and its diaspora who live and work in 32 countries from Algeria to Canada and Zimbabwe, and whose practices include sculpture, photography, paintings, installations, mixed media pieces and performance art. There were 12 new galleries to the fair, including Arte de Gema, Elmarsa, Pippy Houldsworth Gallery, Lawrie Shabibi, Gallery MOMO, and Plutschow Gallery; and a number of renowned artists were on display for the first time, including Zineb Sedira, Ayan Farah, Samuel Fosso, and Buhlebezwe Siwani.
Aïcha Snoussi, Bugs series (2017). Ink on school copybooks. 17 x 22 cm. Exhibition view: 1:54 Contemporary African Art Fair, Somerset House, London (5–8 October 2017). Courtesy AGorgi Gallery.
Of the 42 exhibitors, there were eight solo presentations, featuring Nidhal Chamekh (Selma Feriani Gallery), Safaa Erruas (L'Atelier 21), Ahmed Keshta (Ipsum Galería), Atta Kwami (Beardsmore Gallery), Nelson Makamo (Gallery of African Art GAFRA), Ndikhumbule Ngqinambi (Barnard Gallery), Abe Odedina (Ed Cross Fine Art) and Zineb Sedira (Plutschow Gallery). One highlight was Chamekh's drawing series, Le Battement des Ailes (2016), in which the artist uses archival images, anatomy and ornithology to explore primordial questions about beginnings and ends, life and death, using image-montage to simultaneously disassemble and reassemble fragments of dreams and reality. (With the subtext of his practice returning to civil unrest and police brutality in Tunisia.) The exhibit was curated so that the viewer was forced to stand on a small ladder to properly view the works, which brought the appearance of the booth closer to that of a biennial pavilion.
Nidhal Chamekh, Le Battement des Ailes No. X (2016). Graphite, ink and transfer on cotton paper. 23 x 32.5 cm. Courtesy Selma Feriani Gallery.
Throughout, 1:54 was punctuated with a number of special projects. For the Lounge commission, A United family eats from the same plate (2017) by Yinka Ilori presented a set of vibrant coloured and patterned tables and chairs, which invited visitors to gather. Goodman Gallery curated History is Not Mine, a daily film programme, including works by Mounir Fatmi, Hank Willis Thomas, Tabita Rezaire, Kiluanji Kia Henda and others, which explored contested and forgotten historical narratives. At I-Screen, a video art programme curated by LE 18 offered short films by Oussama Tabti, Rim Mejdi, Hamedine Kane, Jacob Wiener and others, which examined questions of identity, movement, migration and exile. Desire Path, a durational performance by German-Moroccan artist Hana Tefrati, brought visitors together in the corridor of the West Wing to raise awareness about the state of the LGBTQ community in Morocco.
Overall, the cultural experience of the exhibited artists this year called into question the categorisation of identity and national borders. (As Princess Alia Al-Senussi, academic, patron, and board member of 1:54 remarked: 'Not only does 1:54 force a wider view of what Africa is, global and local, but also expands the stereotype of sub-Saharan Africa to include North Africa'.) FORUM, a series of talks curated by Koyo Kouoh, Founding Director of RAW Material Company in Dakar, brought together Hans Ulrich Obrist (Artistic Director, Serpentine Galleries), Sepake Angiama (Head of Education, documenta 14), Emmanuel Iduma (co-curator, Nigerian Pavilion, Venice Biennale 2017) and artists Pascale Marthine Tayou, Emeka Ogboh and Michael Armitage, among other speakers. The talks reflected on the shifts towards Africa and its diaspora as a topography within the arts sector. Questions about the (re)-constitution of margin and centre and the continued engagement with this geography were central to the discussions that unfolded over two days.
Yinka Ilori, If Chairs Could Talk (2015). Courtesy the artist. Photo: Veerle Evens.
An expansive thread that tied the fair together was an exploration of the constructions of identity in post-colonial contexts. The focus on quotidian life in Africa and the personal experience of artists brought together a wide-ranging body of work that highlighted a diversity and fluidity of identities.
The booth of Cape Town-based gallery WHATIFTHEWORLD consciously gave space to each artist presented so that practices might be read within the milieu out of which they emerged, thus mirroring the fair's curatorial intention to avoid the usage of the blanket term—Africa—to represent a large and diverse continent. South African photographer Lakin Ogunbanwo explores issues of ethnic and masculine identity in Lagos. Focusing on the millinery tradition of Nigeria, he photographs denuded men from the back wearing different hats. Heavy in historical symbolism, each hat becomes an indicator of ethnic or class identity. Mohau Modisakeng (also represented by Tyburn Gallery), whose work forms part of the South African Pavilion at the 57th Venice Biennale, deals with Apartheid and post-Apartheid identities in South Africa, with images that focus on the black body to examine themes of violence, labour, security, ritual and persistent trauma. Passage 8 (2017), part of a three-channel video projection, shows a woman lying in a boat, holding a long sjambok whip, a visceral symbol of state-sanctioned violence used by the police to maintain order under Apartheid. Further, Dan Halter, a Zimbabwean artist living in South Africa highlights the post-colonial condition of Zimbabwe: by shredding and weaving a large one trillion Zimbabwe dollar (Z$100–Trillion, 2017) and juxtaposing it with one US dollar (US1$, 2017), Halter highlights the economic damage caused by Zimbabwean president Robert Mugabe.
Lakin Ogunbanwo, Let it Be (2016). Archival inkjet print on Hahnemühle PhotoRag. 119 x 79.5 cm. Edition of 10. Courtesy Lakin Ogunbanwo and WHATIFTHEWORLD.
Yet, while there was room given to individual practices and contexts, the aesthetics that echoed between some artists in the fair highlighted a certain transnational fluidity. The use of found objects and discarded material to comment on the effects of capitalism, land pollution and the abuse of power among the political elites linked the work of Zimbabwean artist Moffat Takadiwa at Tyburn Gallery, Nigerian artist Olumide Onadipe at SMO Contemporary Art, and Ghanian artist Serge Attukwei Clottey Gallery 1957, while recalling the work of El Anatsui and Abdoulaye Konaté (the latter artist on view at the booth of Milan-based Primo Marella Gallery). Malian artist Konaté, whose work is currently on display at the 57th Venice Biennale, creates large-scale tapestries made of hand-woven and dyed strips of textiles, as markers of history, culture and environment.
One of the highlights of 1:54 was La Caravane, Hassan Hajjaj's first UK show in seven years, on display as a special project in the South Wing's Terrace Rooms. Born in Larache, Morocco, in 1961, Hajjaj moved to the UK at an early age, but has spent his life between the two countries. His work, which includes portraiture, installation, performance, fashion, and interior design is heavily influenced by both his native North African heritage and the club, hip hop, and reggae scenes of London. The immersive presentation consisted of video installation, sculpture, photographic portraits and handcrafted objects in vibrant colours and patterns, typical of the artist's style. Hajjaj pays homage to Malian photographer Malick Sidibé (1936–2016), whose work was exhibited in the same room at last year's edition of 1:54 in London. Known for his powerful black-and-white studio portraits and photographs of post­-independence Bamako, Sidibé's influence on Hajjaj's work is evident: both artists use a wide angle to shoot, often from below, to capture their subjects in empowering poses. In the case of Hajjaj, photographic portraits of veiled females on their bikes from the Kesh Angels series were on view in one room of the exhibition. These scenes, typical of Moroccan streets, burst with energy, with subjects seemingly towering over the camera's gaze.
Hassan Hajjaj, Kesh Angels (2010–14). Photographic print. Courtesy the artist and Vigo Gallery.
Yet, despite the noteworthy range of works and practices on view at this year's 1:54, the implications of the heavy costs of participation on small galleries from the region is noticeable when it comes to the fair's changing line-up of participating spaces. The sheer expense of participating in a fair in London may explain why some galleries decided not to return, and the imbalance between galleries from the West and from the continent was visible. How to maintain quality and continuity when working with emergent talents and young galleries raises other issues. In the context of a regional fair, there is a danger of encouraging artists to respond to a certain demand or aesthetic to appeal to collectors.
Nevertheless, alongside the Lagos Biennial, ART X Lagos, the newly opened Zeitz Museum in Cape Town, AKAA (Also Known as Africa) in Paris, as well as recent auctions at Bonham's and Sotheby's, 1:54 has been a catalyst in the global rise of African art. With 1:54 launching at La Mamounia in Marrakech in February 2018, the fair's progression back to the continent marks an important move in an effort to focus on the interests of local collectors. And though the recent cancellation of the Marrakech Biennale may seem like a blow, it will be interesting to watch how 1:54 will evolve hereafter. [O]