Feature
A guide to Sydney Art Week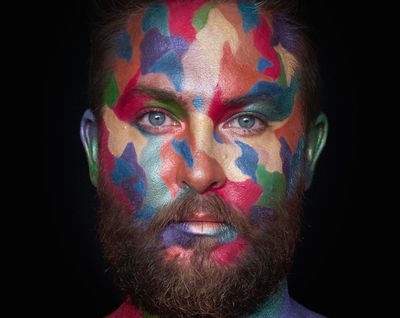 Liam Benson, Ned Kelly Red Gum Hypercolour, 2015. C Type print, 50x50cm. Image courtesy of Artereal Gallery
There's no question, art fairs these days attract a lot of focus. But it's also fascinating the way they can ignite a city and become a focal point for all sorts of art activity. This week, Sydney Contemporary presents work from over 90 Australian and international galleries at Carriageworks in the inner city. Fair director Barry Keldoulis has introduced a wide ranging program of events—including performance art in the streets around the fair—and his vision for a newly dubbed Sydney Art Week has to be credited. But others have certainly picked up the challenge. Remember to wear sensible walking shoes. There is a lot of exploring to do.
Trailblazing performance art
The vernissage party for Sydney Contemporary takes place Thursday evening, 10 September 2015. But don't get trapped inside. There will be unusual performance art by artists such as Liam Benson and Brian Fuata taking place on the streets outside. Few details have been released—that would spoil the surprise—but performances will run at different times between 8.30pm and 10.30pm at locations including Redfern Station, a bus stop on Regent Street in Redfern, and the Chee Soon & Fitzgerald store, also on Regent Street.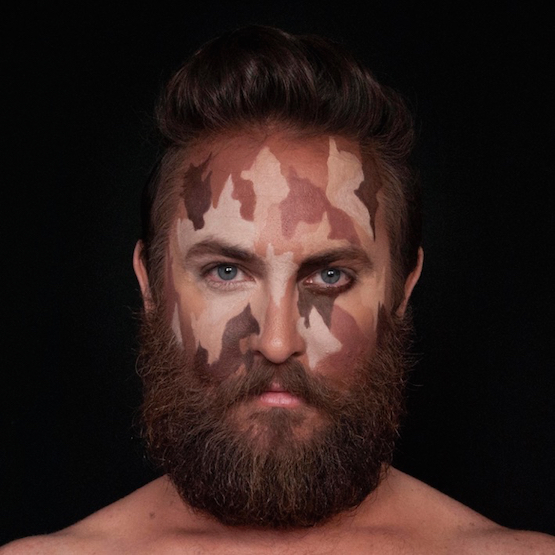 Liam Benson, Ned Kelly Red Gum; sepia, 2015. C Type print, edition of 5. 50 x 50 cm. Image courtesy of Artereal Gallery
Jim Lambie's mind-bending installations
It took 10 days to install Jim Lambie's current exhibition at Roslyn Oxley9 Gallery in Paddington—a massive undertaking for any commercial gallery. The Scottish artist presents another of his mind-bending floor installations, with the gallery's floorboards covered in multicolour strips of tape. There are also a series of sculptural works, ranging in scale and medium, which demonstrate the same hypnotic manipulation of colour. The exhibition shares an intense and hallucinatory take on the world, speaking to fantasy and popular culture, as well as the way that our perception of physical space is not as infallible as we think it is. Perhaps one of the most well-known Scottish artists of his generation, Lambie's works are rarely seen in Australia, though his major
ZOBOP
work did appear in last year's Biennale of Sydney.
Exhibition view, Jim Lambie, Zero Concerto, 2015. Image courtesy of Roslyn Oxley9 Gallery, Sydney
Exploring Chippo
A short walk from Carriageworks, where Sydney Contemporary is being held, are two of the more interesting young art spaces in Sydney: The Commercial and Galerie Pompom. Both are in Chippendale on Abercrombie Street, an otherwise fairly unexceptional stretch of terrace houses and low-rise businesses. The Commercial has a show by Archie Moore, but is only open over the weekend, and Galerie Pompom has work by Vicky Browne and Emma Thomson, who used Tinder to put together her unsettling exhibition
You Know We Were Matched On A Special Day
. The men in her photographs seem entirely uncertain of the terms of these engagements, and there is an awkward blend of ego, hope and brittle vulnerability. If you don't mind walking a bit further, the White Rabbit Gallery, the private Asian art museum run by collector Judith Neilson, is on Balfour Street and is another worthwhile stop. (And it has dumplings.)
Emma Thomson, Eugene, 26, 38 kms away, 2015. Lambda print, 86 x 60 cm. Courtesy the artist and Galerie pompom, Sydney
Big ideas
Oars are usually a sign of hope, a tool for the resourceful to help themselves. But in Alex Seton's
Someone Else's Problem
they take on a darker meaning. Clustered like a pile of debris or a bonfire ready to be lit, the work points to the fraught debate about asylum seekers and the way some lives are not accorded equal value. Seton's sculpture is one of 18 large-scale installations that will be on view at Carriageworks during Sydney Contemporary. The works have been selected by a new Sydney-based curatorial agency called The Curator's Department, with the well-known Sydney curator and writer Glenn Barkley, alongside Holly Williams and Ivan Muñiz Reid. Their selections are diverse to say the least, ranging from a geometric wall piece by Helen Eager, who has been exhibiting for decades, to works by Caroline Rothwell, Callum Morton, Justine Khamara, and even a collaborative multimedia work by young up-and-comer Tony Albert with choreographer Stephen Page.
Alex Seton, Someone Else's Problem. Image courtesy Carriageworks
Expand the library at Volume
Taking place at Artspace in Wooloomooloo, this mini fair presents independently produced, artist-led books from around the world. Volume is presented in partnership with Melbourne's Perimeter Books and Printed Matter from New York, but there will be publishers and bookstores from all over the world, as well writers and artists like Keg de Souza, also known in the zine world, and Kenny Pittock, a young Melbourne artist fast making a name for his odd brand of humour. Expect everything from hand photocopied mini projects to underground press, and the sorts of expensive hardbacks you keep forever. There will also be talks, workshops, screenings and book launches.
An introduction to Sydney humour
Aleks Danko has a sharp sense of humour. One of the first works you encounter in My Fellow Aus-Tra-Aliens at Sydney Museum of Contemporary Art is a wall installation with the word "Ha" repeated over and over. When even the walls are laughing at you, maybe your only option is to laugh back. Danko works across a range of mediums, and his survey at the MCA spans several decades of his practice, including the role he played in Sydney's conceptual art movement during the 1970s. This exhibition is also worth a visit because a trip to MCA, with its harbour views, is never unpleasant.
Join a conversation
Talks at art fairs can be a bit forgettable, ranging from bland introductory spiels for the general public to platforms for the event sponsors to waffle on about their brand's support of the visual arts. Sydney Contemporary offers something a bit more meaty, with panel discussions on topics such as post-internet art, including the critic Andrew Frost, and whether gender matters in art, with Artspace director Alexie Glass-Kantor and Mona curator Jarrod Rawlins, among others. Also look out for appearances from well-known Australian collectors such as Gene Sherman and Clinton Ng.
Spending time in the hotel room
The boutique art fair, Spring 1883, takes up residence in the Establishment Hotel, on George Street in the middle of the central business district. There are 24 galleries exhibiting, including veteran galleries like GAGprojects from Adelaide, and Sarah Cottier Gallery from Sydney, as well as international spaces like Dutton from New York, and even a young artist-run space, Moana, from Perth. Last year, at the first edition of the fair in Melbourne, there was a real sense of encountering the unexpected. Come prepared to spend a couple of hours.—[O]