Feature
A New York perspective: Ten Instagram accounts to follow
@museummammy (Kimberly Drew).
With the rise of social media channels such as Facebook and Twitter, no other site has captivated the art community quite like Instagram. The photo-sharing app has given many known and unknown artists, as well as art observers and insiders, a massive platform with which to share their projects, travels, tastes and interests. While everyone cannot make themselves an overnight success, there are those who have managed to combine internet savvy and profile pull to become social media influencers. While a younger generation definitely dominates Instagram there are also quite a few art world veterans that have taken to it. From a New Yorker's perspective (and other than @oculadotcom, of course!), here are ten of the most interesting art-focused Instagram accounts to follow.
Kimberly Drew is a social media maverick, curator and blogger who has amassed over 96,000 followers and counting. Drew uses her platform to help emerging artists via her Tumblr (blackcontemporaryart.tumblr.com/ ). Through both her blog and her Instagram, Drew has a following that consists of many influential contemporary artists including LaToya Ruby Frazier, Jennie C. Jones, and Derrick Adams among others. This all lends serious clout in her quest to make black contemporary art and artists more visible. In addition to these pursuits, Drew also does social media for The Metropolitan Museum of Art as their Associate Online Community Producer and is a regular contributor to institutional panels on art, including those organised by the New Museum, the Museum of Modern Art, the Brooklyn Museum, and LACMA. Kimberly Drew is definitely a young unique voice in the art world to watch and certainly one to follow on Tumblr and Instagram.


Isaac Julien, Trussed series, 1996. Courtesy the artist, Jessica Silverman Gallery and @museummammy.
Brett Gorvy has plenty on his plate as the Chairman and International Head of Post-War and Contemporary Art Christie's, New York. However, his account still manages to be one of the most informative on Instagram. For those who may not be familiar with the blue chip artworks he promotes on his account, his posts provide lengthy descriptions and art historical context. For the musically inclined, he also frequently provides a rather stellar selection of tunes that he combines with his artwork of choice providing a thoughtful soundtrack. Though Gorvy is definitely part of the art world elite, his Instagram account seems to reflect a genuine commitment to connect and educate the community at large. As an added bonus, if you follow his account closely, there are some subtle hints as to what may be showing up in the upcoming sales.


Alexander Calder, Sumac No.17, 1955. Calder's voyage to India in 1955 as the guest of the Sarabhai family resulted in nine sculptures inspired by the colors and fauna of Ahmedabad. This mobile was named after the red berries of the sumac tree. Courtesy @brettgorvy.
Though the creator of this account remains unknown, and has pretty much abandoned the account after a year of brilliant and succinct posts making fun of art world zeitgeist, its still worth visiting the account for a chuckle or two. No one in the art world was safe from ridicule on freeze_de, which is of course what made it so entertaining. The author, who one has to presume definitely works deep within the art market, pokes fun at everything from art advisors (often found in New Balance trainers and the ArtRank app in tow), to Andrew Kreps gallery, posting a screenshot of a faux Kickstarter campaign to finish the floors at the gallery so they don't resemble a sidewalk! @freeze_de successfully made jokes from inside the bubble of the art world: perhaps it's for this reason the account is currently dormant (but we are ever on the look out for a 'come-back' post).


Image courtesy @freeze_de.
Kristen Joy Watts is the Art and Fashion Lead at Instagram. As such, Watts is tasked with finding new and interesting Instagram accounts and engaging with them. While it may be a huge undertaking searching Instagram for the best accounts, we can't help but be a bit envious of Watts. She frequently travels to the best art and fashion events including Art Basel in Hong Kong and Paris fashion week to host parties, see new exhibitions, and meet with new and upcoming artists and designers. Her account provides a sneak peek of her unique adventures, and represents every millennial's dream job.


Yayoi Kusama at The Philip Johnson Glass House. Courtesy @kjwww.
Noted architect David Adjaye's Instagram account is full of photos from his travels, and an insiders view of his upcoming and finished projects. Adjaye is known for working with major museums, collectors, and artists. His accolades include the Smithsonian's National Museum of African-American History and Culture, Museum of Contemporary Art Denver, the studio of Chris Ofili and the home of Adam Lindemann and Amalia Dayan. He documented not only the new Aïshti Foundation building in Beirut which he designed to house the collection of Tony Salamé, but also the opening party and the collection of works that were on view at the exclusive opening earlier this fall. Those that were not able to make the list still had a chance to see works by Wade Guyton, Richard Prince, and Urs Fischer thanks to Adjaye. A recent trip to Detroit included snaps of the Mies van der Rohe designed Lafayette Park as well as the Palmer House designed by Frank Lloyd Wright. As his handle suggests, his account successfully captures great shots that we imagine serve as inspiration for his upcoming ventures.


Noah Davis, model of Lafayette park at Stoney Island Arts Bank, Chicago. Courtesy @adjaye_visual_sketchbook
JiaJia Fei, the current Director of Digital at the Jewish Museum, always seems to be at the right place at the right time with her camera-phone in hand, at least this is all we can surmise from her social media accounts. Her Instagram is a well-curated journey through the best exhibition openings in the world. Fei has traveled to what seems like every museum and has taken some of the most remarkable photos in the Centre Pompidou, Museo Nacional del Prado and of course the Guggenheim, where she previously worked. Fei can usually be spotted with her signature bowl cut, flashing a peace sign.


Cornelia Parker at The Metropolitan Museum of Art, New York. Courtesy @vajiajia.
Antwaun Sargent is a writer and former Buzzfeed fellow whose work has appeared in the Nation, The New Yorker, and Complex Magazine. Antwaun's Instagram account features clever, witty, colorful photos of his travels. Often pictures on his account show him with @vajiajia and @museummammy: Sargent and his Instagram clique have mastered the art of the perfect photo, but Sargent's account seems to have a knack for showcasing art and not taking it so seriously. While his Instagram is usually bright and colorful, featuring images of highly photogenic artworks, Sargent's twitter focuses on important LGBT, pop culture, and race issues.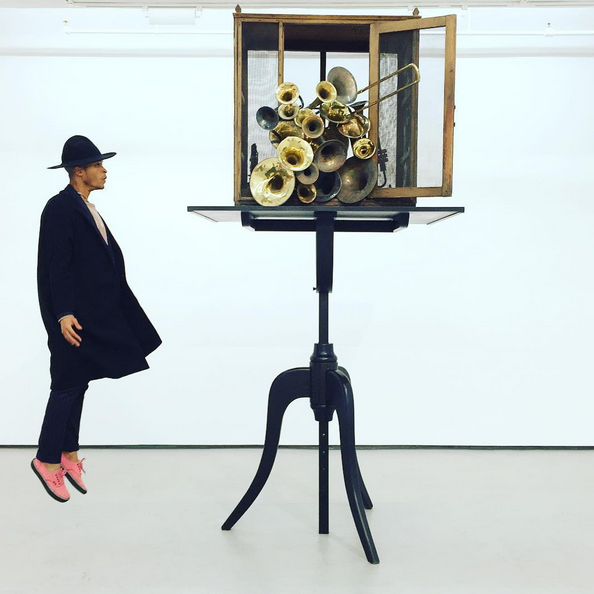 Radcliffe Bailey. Courtesy @sirsargent.
The well-known art critic and writer for the New York Times, (her husband, Jerry Saltz, is incredibly active on social media) has an Instagram account focused more on art and less on art world figures, as it chronicles her rounds about town. She frequently posts from major gallery exhibitions, and museums but her commentary from art fairs can be super insightful and helpful to those looking for something new. However, fair warning, she often goes to see shows on the last day of the exhibition so if you are looking for gallery shows to visit based on her recommendations make sure you are already out and about.


Jules Olitski, 1962. Courtesy @robertasmithnyt.
The enigmatic Jeffrey Deitch has had a long and varied career that has taken him through most facets of the art industry as a writer, curator, advisor, and museum and gallery director. Most recently, Deitch resigned from his post at the Museum of Contemporary Art, Los Angeles, after three years as director. Currently, Deitch is back in New York and has set-up shop at Suzanne Geiss Company in SoHo; the location of his former gallery, Deitch Projects. Deitch and his eponymous gallery have always been on the forefront of introducing new artists in the most extravagant way. Unrealism, the exhibition he co-curated with Larry Gagosian opened this past December during Art Basel in Miami, with a Rashaad Newsome created parade featuring vogue dancers, a dirt bike gang, and even a custom Lamborghini covered in Newsome's artwork. Similarly, his Instagram has throwback photos from the seventies and eighties of Deitch with artists such as Andy Warhol and Steve Burton. These photos are definitely the highlight of his account thus far, but considering he has been on the app for less than one month, we're certain it will look back at New York and its legendary artists soon.


Image courtesy @jeffreydeitch.
Finally, don't forget to follow @oculadotcom for images of artworks, art events and exhibitions from around the world. —[O]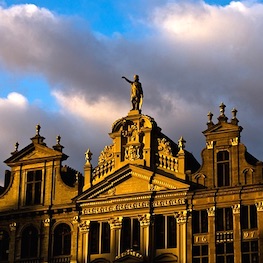 Belgian photography collective OTTOMURA experiment with the industrial space at Art Brussels 2016. Courtesy @oculadotcom.