Feature
A report from ASIA NOW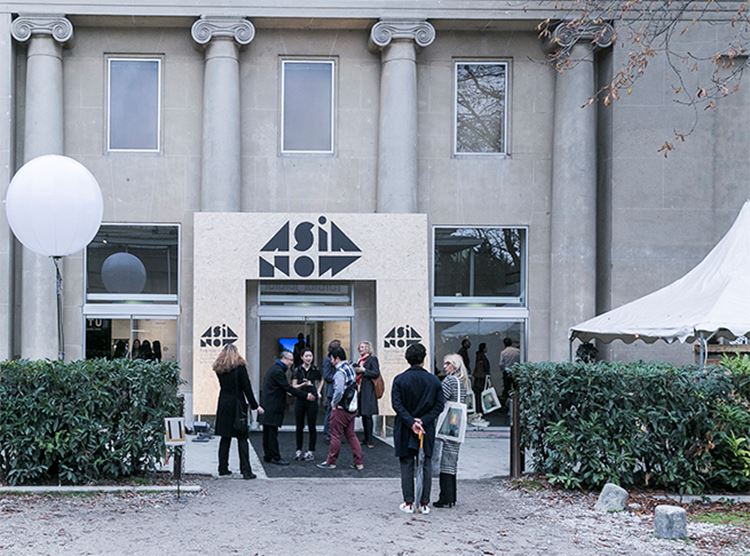 ASIA NOW Paris 2015 Photo: © Charles Roussel & Ocula
When details of the new Parisian art fair, ASIA NOW, were announced only very shortly before its inaugural opening on 20th October 2015, it appeared as though the fair might be a last minute job. Yet, it has, according to numerous accounts, been a very successful fair: carefully planned and organised, and well attended by collectors genuinely interested in Asian contemporary art—as Vincent de Sarthe of de Sarthe Gallery noted: "The fair truly cared about the participants and there was a great crowd." This is perhaps in part because planning and thinking about the fair started five years ago when founders, Alexandra Fain and her father Claude Fain, visited Beijing to find out more about the art scene there.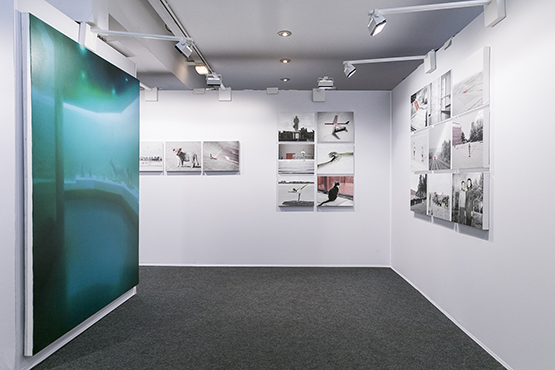 De Sarthe at ASIA NOW Paris 2015 Photo: © Charles Roussel & Ocula
In 2010, aided by Karen Levy, who with her family has actively built one of the most comprehensive holdings of Chinese contemporary art in the world today, the DSL Collection, Fain and her father visited Beijing and were introduced to many of the main players in the art scene there. They visited numerous artist studios while in the city, and it triggered a passion for the region that has continued. Aware of a misconception in France about what "Asian art" might encompass, they knew they wanted to bring to Paris what they had discovered in Asia. Five years on that desire to share has manifested in ASIA NOW.
In contrast to the behemoth art fairs on the international art fair calendar, Frieze London and FIAC, which ASIA NOW is strategically wedged between, it is a considerably smaller and more intimate event. Within the relatively squat, but elegant Espace Pierre Cardin, only a short walk from the Grand Palais, where FIAC is hosted, and across two floors, the inaugural edition of ASIA NOW showcased a mere 18 galleries. This year galleries with space across 13 different territories were represented, and Alexandra hopes to add additional galleries from Japan, India and the Philippines next year, albeit, she emphasises, that the aim is to keep the gallery numbers low; she wants ASIA NOW to be a fair that is "on a human scale", and to present a 'vertical' rather than 'panoramic' view of the best art of the region. She cites the Shanghai fair, ART021, and the London based but African focused 1:54 Contemporary Art Fair, as benchmarks and wants to focus on attracting quality galleries and discerning collectors.
ARNDT at ASIA NOW Paris 2015 Photo: © Charles Roussel & Ocula
One of the leading galleries to show at the fair was highly respected Berlin and Singapore based gallery, ARNDT Fine Art, showing a stunning selection of work including two exquisitely executed Ahmad Zakii Anwar charcoal drawings on paper (
Reclining Figure 14
(2015) and
Reclining Figure 15
(2015)). Presented in a horizontal format and almost in mirror image, each of the Malaysian artist's drawings portrays a male lying naked with his back to the audience, the body taut and sinuous, caught writhing in either agony or, possibly, ecstasy.
Alongside Zakii's drawings were works exploring a range of mediums by other leading practitioners hailing from the wider Asian region: a wool, cotton thread and ink work by Australian Afghani artist, Khadim Ali; paintings by Filipino artist Rodel Tapaya; sculptures by China's Qiu Zhijie and Thailand's Pinaree Sanpitak; and a highly intricate and detailed ink on silk work by another Chinese artist, Yang Jiechang. Outside of the booth and on the stairs that divided two floors of the fair was an embroidery work by the rising Indonesian art star, Eko Nugroho, who is one of three artists participating in Roots. Indonesian Contemporary Art, currently showing in Frankfurt at Frankfurter Kunstverein. Another work of note located on the parameters of the fair was Beijing Air (Dec 2012), No 2 (2013) by Zhou Wendou, who is represented by de Sarthe Gallery.
The Arndt booth was a fitting introduction to the rest of the fair, which also pointed to a diversity of practices from a myriad of different centres, hopefully disintegrating any preconceived notions of what "Asian" art might look like. On the same floor as Arndt was the sole gallery from Vietnam, Galerie Quynh, showing work by two Vietnamese artists, Hoang Duong Cam and Trong Gia Nguyen, both recognised for their diverse practices. Included in the booth was a work by Nguyen from his Library project where he faithfully copied word for word entire chapters of books onto small kernels of rice. He then jumbles the words in a plastic bag, which he carefully attaches to a library card. The original meaning of the source is erased and subverted, simultaneously addressing both the futility of language, and equally its power to distort and create new meaning.
Opposite Galerie Quynh was Italian gallery Primo Marella's booth. Divided in two, one side of the booth was dedicated to a solo show by Chinese artist Li Wei, and the other side was dedicated to a group show. One of the works included in the group show was by Vietnamese artist Nguyen Thai Tuan; a figurative image, it depicts a headless male figure dressed in a white shirt and beige trousers crouching in a corner with his back to the audience and hands tied, though where hands should be, there were two gaping black hollows. Both this work and the work of Zakii serve as eloquent reminders of how the image of the body acts as a vessel, so often absorbing the psychological, cultural and historical context of the viewer. It felt impossible to view either work without thinking about the refugee crises continuing to unfold across Europe, and in particular the camp at Calais, only a relatively short distance from the fair.
Primo Marella Gallery at ASIA NOW Paris 2015 Photo: © Charles Roussel & Ocula
Raising slightly less heavy associations, but no less presenting relevant and interesting content, were three booths of note: Edouard Malingue Gallery, BANK, and Leo Xu Projects, who each showed highly designed concept booths. Edouard Malingue presented a solo curatorial project,
Molyneux
(2014), by Taiwanese artist Chou Yu-Cheng. Painted and carpeted blue, with artworks hung in an arrangement that created a sense of having walked into a geometric abstract painting, Chou's project represented a reinterpretation of veteran artist, Geoff Molyneux's work; it appeared to be an exploration of the formal elements of Molyneux's painting, but equally, the booth raised ideas around the status of an art object and the limits of appropriation.
Edouard Malingue Gallery at ASIA NOW Paris 2015 Photo: © Charles Roussel & Ocula
BANK also presented a booth painted blue, but as a back-drop to their presentation of the video work
Do the
Same Good Deed
(2014), by five-artist Chinese collective Polit-Sheer-Form Office (PSFO) (comprising Hong Hao, Xiao Yu, Song Dong, Liu Jianhua, and Leng Lin). The video is the documentation of a performance the group staged, at the invitation of the Guangdong Times Museum in Guangzhou, China and the Queens Museum too, in New York. The performance involved volunteers cleaning their respective cities, and the work draws upon PSFO's stated desire to explore ideas of individualism versus collective ideals.
An exceptionally strong video piece was also to be found in Aike-Dellarco's booth, Tao Hui's work The Dusk of Tehran (2014). The recent recipient of the Grand Prize of the 19th Contemporary Art Festival Sesc_Videobrasil, Tao's work often blends the boundaries of fact and fiction. In the work presented at ASIA NOW, a solo female protagonist appears sitting in the back of a moving car and dressed as a Middle Eastern bride. She talks in Arabic to an invisible companion, and as her dialogue unfolds the audience discovers that she is an actress dressed in character. She speaks bitterly of the irony in being a woman who is continually playing a bride, but never one in reality. Blending layers of fact and fiction, the narrative reflects the real life story of the Hong Kong actress Shu Qi, whose outlook on marriage and her conflicted sadness at not being married was played out in the tabloid press. With exquisite simplicity and elegance, Tao's video engages with the big issues of gender, religion and societal expectations, but equally it focuses attention upon those human vulnerabilities that are shared across many divides.
Leo Xu Projects at ASIA NOW Paris 2015 Photo: © Charles Roussel & Ocula
Another artist playing with the boundaries of fact and fiction is Chen Wei, whose photographs depicting carefully handcrafted and meticulously staged sets for his work were presented by Leo Xu Projects, along with Michael Lin's installation,
Please remove your shoes before stepping on to the carpet. Feel free to choose from the selection of music
(1996). Lin's installation was the subject of the artist's solo exhibition,
Interior
, at Taipei's alternative space, IT Park, in 1996 and for ASIA NOW, Leo Xu re-presented it such that the booth was ostensibly composed of domestic paraphernalia from Lin's home—two carpets and a stereo, a selection of music, and a statement on the wall reflecting the work's title. Lin's work is of particular historical significance, arguably marking an early exploration by Chinese artists of participatory works that incorporate everyday objects and specific environments.
The risk for a satellite fair focusing on a relatively emerging art scene is that it can ghettoise the art it seeks to highlight, and therefore it needs to take extra care. While patchy in places, the general calibre of the galleries was good, and there were strong pieces to be seen dotted throughout the fair. Further, if the fair's carefully considered 'Conversation Platform'—which saw the participation of many of the main players in the Asia scene (from curator Phil Tinari, to collector Guy Ullens, to consultant and art critic Jérôme Sans)—is an indication of ASIA NOW's aspirations, then Claude and Alexandra Fain have made a solid start to their goal of sharing the best of Asian art with Paris.—[O]