Feature
A Report from Gallery Weekend Berlin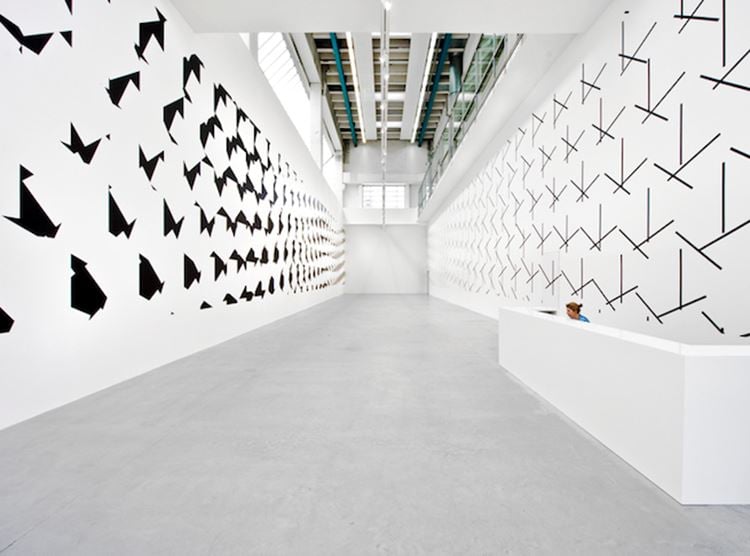 Francois Morellet, Exhibition view. Courtesy Atelier Morellet and Blain | Southern. Photograph: Christian Glaese
The 11th iteration of Gallery Weekend Berlin (1-3 May 2015) further strengthened the German capital's standing within the contemporary art world. With forty-seven galleries in the official programme hosting new exhibitions, this year's offering proved May is a particularly good month for art in Berlin.

Museums and commercial galleries alike presented some of their best shows of the year to attract the international art cognoscenti en route to the Venice Biennale. From grungy, experimental spaces exhibiting emerging voices, to white-cube showrooms displaying the work of senior artists, such diversity engaged a broad audience. Rachael Vance selects ten stand-out shows across a spectrum of venues.
NGORONGORO Group Exhibition, Lehderstrasse 34
This temporary exhibition throughout the weekend was an initiative organised by artists Jonas Burgert, Christian Achenbach, Zhivago Duncan, Andreas Golder, John Isaacs and David Nicholson. Across their shared 5,000 square meter studio complex in a disused GDR-era factory, they invited one hundred and thirty other artists with an association to Berlin to participate in a group exhibition.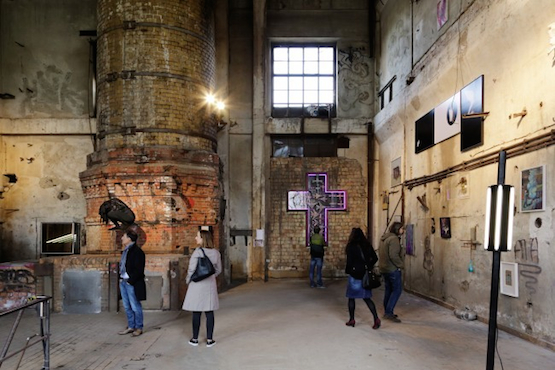 Ngorongoro exhibition Exhibition view. Photo courtesy Lepowski Studios Berlin
Endearingly chaotic, the show included works dispersed throughout a truly Berlin environment of run-down warehouses, garages and ateliers. The spectacle comprised a bounty of paintings, sculpture, installations, films and photography. Notable names included: John Bock, Mat Collishaw and Anri Sala. The show's title NGORONGORO derived from a collapsed volcanic crater in Tanzania, that exists today as a diverse biosphere invited parallels with the unique artistic communal environment of Berlin.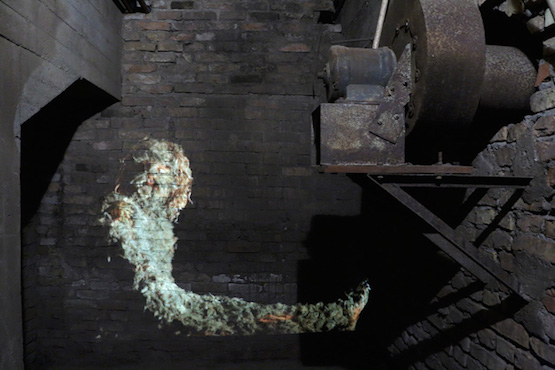 Ngorongoro exhibition Exhibition view. Photo courtesy Lepowski Studios Berlin
Cyprien Gaillard, Where Nature Runs Riot, Sprüth Magers (until July 18 2015)
There were many strong films on display throughout Gallery Weekend Berlin 2015 and perhaps Cyprien Gaillard can be crowned as the most impressive. Gaillard's film
Nightlife
(2015), with a duration of just under fifteen minutes, is the central focus of his exhibition
Where Nature Runs Riot
at the Berlin branch of Sprüth Magers. While waiting for admission to the film's screening visitors were given 3-D glasses to fully appreciate Gaillard's immersive projection. Slow panning aerial and close-up views convey urban settings with plant life in Cleveland, Los Angeles and Berlin "dancing" in perilous weather conditions. The looping four bar vocal sample from Alton Ellis' rocksteady classic Blackman's World "I was born a loser" further entrances viewers via its dub reverbs.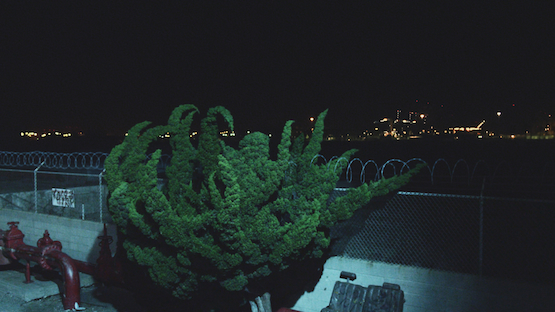 Cyprien Gaillard, Nightlife, 2015. Film still, 3D motion picture, DCI DCP 14 mins 28 seconds. © Cyprien Gaillard. Courtesy Sprüth Magers
Peter Krauskopf & Chia-En Jao, Künstlerhaus Bethanien
Kreuzberg's Künstlerhaus Bethanien is one of the world's most coveted international residency institutions. Presenting exhibitions by artists from around the world throughout the year there is always something inspiring to see. During Gallery Weekend a dual presentation of textural large-scale paintings by Berlin-based painter Peter Krauskopf and films by Taiwanese artist Chia-en Jao were on display.
Both impressive in their own right, Chia-En Jao's Xeno-epistemics exhibition of two three-channel films were however, a favorite for gallery goers with time to spare. Not afraid to find humour in contemporary art's inaccessibility, his film Statement (2010) documents a selection of everyday people earnestly reciting a range of complex artist statements in the hope of appearing convincing. REM sleep (2011) on the other hand tackles a more sober topic. The intimate work features foreign care workers who had relocated to Taiwan as part of the governmental "Go South Policy" discussing their situation and recent dreams.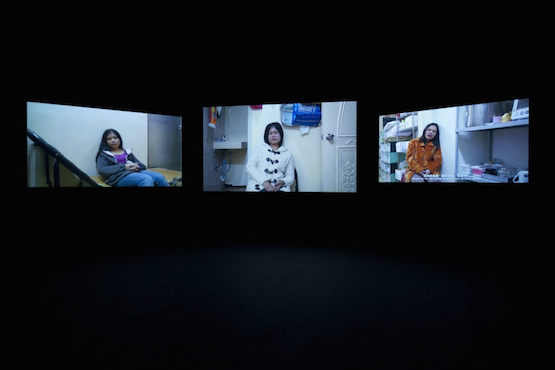 Chia-En Jao, REM Sleep, 2011. Film still, 3 channel HD video projection. Kuenstlerhaus Bethanien Berlin
Haegue Yang, Temporary Permanent, Barbara Wien Wilma Lukatsch (until 31 July 2015)
Known for utilising household objects in her practice in order to transcend them beyond their mere functionality, the works in South-Korean artist Haegue Yang's exhibition
Temporary Permanent
are no exception. Grappling with literary references and notions of folk, her recent work takes Victor Hugo's 1869 novel
The Man Who Laughs
as a basis for artistic investigation. The multi-media display comprises word and image collages, curious craft-like
Straw Sculptures
and interactive
Sonic Sculptures
made up of countless reflective small bells that can be rotated and spun. The latter suite of works encourages interaction from gallery patrons to physically engage, and even dance, with some of the pieces.
Haegue Yang at Galerie wien Lukatsch Berlin. Photograph: Nick Ash
Katharina Grosse, The Smoking Kid, St. Agnes Church, Johann Konig (until 21 June 2015)
One of the most anticipated events of Gallery Weekend was the opening of Johann Konig's new off-space at St. Agnes Church: a towering reconstructed 1960s Brutalist structure which offered a truly awe-inspiring exhibition environ. With its soaring ceiling and industrial concrete walls, the remarkable light-filled interior is the perfect back-drop for Katharina Grosse's exhibition of new large-scale paintings. Six explosively vibrant abstract pieces activate the space, exuding depth beyond their two-dimensionality. The multi-layered works filled with energy are the perfect contrast to the serene atmosphere and hold their own against the vast architectural surrounds.
Katharina Grosse, Exhibition view, St Agnes Church, Johann Konig Galerie Berlin. Photograph: Hannah Ellis-Petersen
Tino Sehgal / Roman Ondák, Johnen Galerie (Tino Seghal until 6 June 2015 / Roman Ondák until 20 June 2015)
Upon entering Johnen Galerie there is no clear sign of a Tino Sehgal work. The exhibition within the gallery's interior is exclusively reserved for Slovakian artist Roman Ondák. A disparate range of objects and drawings are on display such as a lead water pipe excavated from the artist's house and suspended electricity cables with old-fashioned ceramic mountings decommissioned from the city of Bratislava; each piece,the result of a physical extraction from personal interaction. Upon leaving the space a female performer emerged from the gallery's courtyard sweetly singing the words to Tino Sehgal's theatrical piece
This You
(2006) for each gallery-goer. These transient and unique moments of exchange are what Sehgal is known best for, and better still, for the lack of documentation surrounding his works. A Gallery Weekend encounter better experienced rather than read about.
Roman Ondak, Exhibition view, at Johnen Galerie, Berlin
Ape Culture, Group Exhibition, Haus der Kulturen der Welt (until 6 July 2015)
Ape Culture
tackles the subject of human primate connections via two lines of enquiry: academic and artistic. The exhibition is physically divided accordingly. For the first section, curators Anselm Franke and Hila Peleg didactically present a scientific account of evolutionary enquiry via early published works and documentary material. The second section acts as a counterbalance offering creative expression specific to ideas concerning human-simian likeness. At times playful, yet also confronting—not least in Anja Dornieden and Juan David Gonzáles Monroy's film
THE MASKED MONKEYS
(2015) that presented ethnographic footage of enslaved street-performer monkeys—the exhibition forces a reflection of ourselves. This is most poignantly expressed in Pierre Huyghe's transfixing film
UNTITLED (HUMAN MASK)
(2014) whereby a monkey trained as a waitress is observed in a deserted Japanese restaurant wearing a wig, girl's dress and white mask in the shape of a human face. The monkey's humanisation promotes an uncomfortable identification between the viewer and a subject oblivious to the external gaze.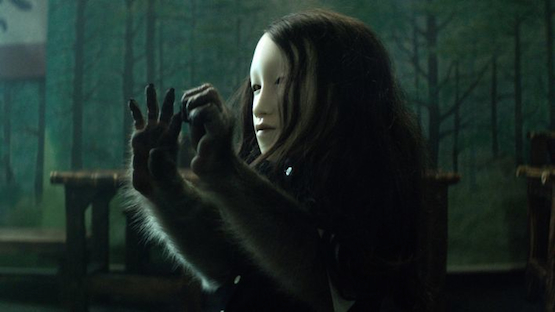 Pierre Huygue, UNTITLED (HUMAN MASK), 2014. Film still, 19 mins. Haus der Kulturen der Welt, Berlin
François Morellet, DASH DASH DASH, Blain | Southern (until 1 August 2015)
Blain | Southern offers an overview of recent work by acclaimed French artist François Morellet, infusing a mature voice into the Gallery Weekend programme. Born in 1926, Morellet is regarded as an important innovator in the development of geometric abstraction. Prefiguring the minimal art movement, Morellet was a founder of the Groupe de Recherch d'Art Visuel (GRAV) active in the 1960s, and worked across painting, kinetic sculpture and light works. Chiefly interested in the process of creating, his solo presentation of neon sculptures, vinyl wall works and paintings highlight Morellet's interest in mathematic systems. The display is a result of calculated repeated sequences, symmetrical oppositions and coded numbers.
3D Bandes décimées
(2015) and
3D concertant
(2015) are characteristic examples. These two mammoth site-specific vinyl wall installations envelope the nine metre high, thirty-nine long metre space, evoking a sense of three-dimensionality.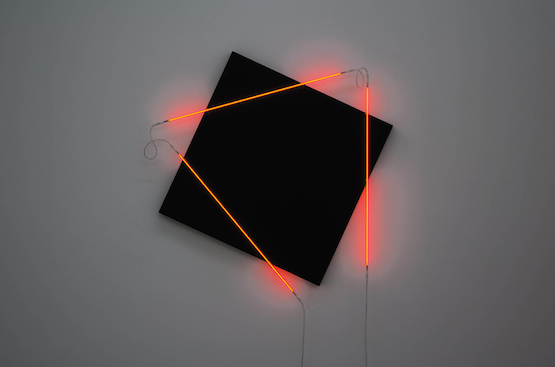 Francois Morellet, Exhibition view. Courtesy Atelier Morellet and Blain | Southern. Photograph: Christian Glaeser
ZERO Exhibition, Martin-Gropius-Bau, Berlin (until 8 June 2015)
Despite opening weeks before Gallery Weekend, the Martin-Gropius-Bau's exhibition
ZERO
had not lost its momentum. The show pays homage to the ZERO art movement which was founded in the 1950s by German artists Otto Piene, Heinz Mack and later, Günther Uecker. Established in the aftermath of World War II the movement sought new beginnings, striving to produce a radical global art that dissolved disciplinary boundaries. This innovative and idealistic visual language is presented in a dense group exhibition of multimedia pieces exploring light, space, colour and movement. With the inclusion of work by fellow contemporaries such as Enrico Castellani, Lucio Fontana and Jean Tinguely, the exhibition is a welcome educative experience; all the more pertinent following Otto Piene's death in Berlin in last year.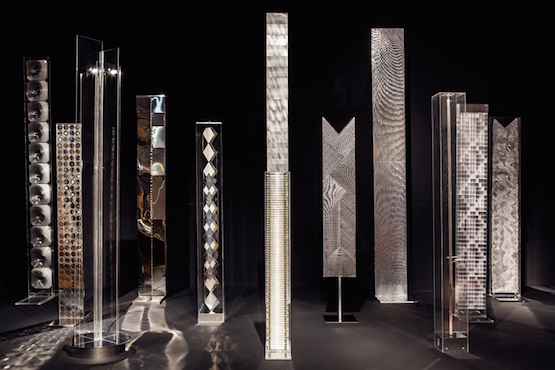 ZERO exhibition, installatiom view, Martin-Gropius-Bau Berlin. Photograph: David von Becker
Klara Lidén, Galerie Neu (until 6 June 2015)
The inner courtyard of a domestic building complex is not normally where one would expect to find a gallery, however it is quite a typical proposition for Berliners and where Galerie Neu resides. Inside the gallery's box-like structure, visitors are presented with a solo exhibition by Swedish artist Klara Lidén. Known for her installations that respond to specific architectural environments resulting in improvised constructions, Lidén investigats the functionality of a range of objects. Reinventing plastic water containers as ceiling lights and East Berlin paving slabs and scaffolding wood as benches, the artist's sculptural installation make use of everyday materials in creative new contexts. Such diversion marries concept and design in a showroom presentation that challenges the role of the gallery.
—[O]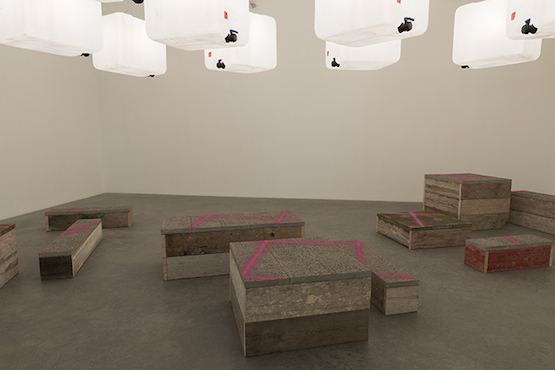 Klara LidÇn, Exhibition view at Galerie Neu Berlin. Image courtesy the artist and Galerie Neu