Feature
A View From Eurasia: A Report from the 3rd Cosmoscow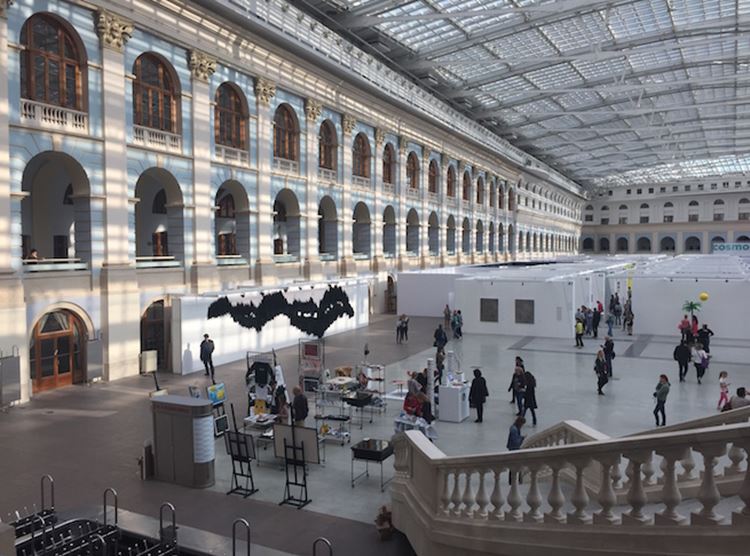 View of Gostiny Dvor
Cosmoscow, Russia's only contemporary art fair, opened this year on the momentum of the fair's re-launch in 2014 (it took a hiatus after the first edition in 2010), moving this edition from the Manège in Moscow to the 18th century merchant hall, Gostiny Dvor. Designed by Catherine the Great's favourite architect, Giacomo Quarenghi, the new location was an effective mission statement for this fair's long-term vision. With 34 galleries participating this year, co-directors Margarita Pushkina (who founded the fair) and Sandra Nedvetskaia noted that Gostiny Dvor's grand hall is large enough for expansion in the future.
Not only is Gostiny Dvor's hall large; it's beautiful too, made more so with the elegant design of the fair floor. Aside from galleries, there was an open auditorium for the Cosmoscow Talks programme, a large-scale café installation built by the ZIP Group, and a special programme curated by Elena Selina consisting of large scale installations, (which included work by Recycle Group, Ivan Gorshkov, and Ilya Dolgov), and an array of other parallel programmes. These included the Cosmoscow Artist of the Year exhibition booth featuring the paintings of Alexandra Paperno, the Patron's Programme, a booth for the Laboratoria Art & Science Space, and a killer children's zone, not to mention the Off White exhibition staged in support of the Naked Heart Foundation, and the Collector's Eye exhibition. There was not a single criticism of the fair's design. Local gallerists who know Gostiny Dvor as a trade fair venue were astounded by the transformation.
Zip Group's cafe installation for Cosmoscow
But this wasn't the only change for Cosmoscow in 2015. The fair also welcomed a new strategic partner in the guise of Credit Suisse, whose involvement, a number of galleries noted, injected greater diversity to the fair floor by way of collectors. This is always a good thing, since Cosmoscow doesn't exist because there is a market in Russia for contemporary art—it exists because there is a real desire to develop one. As such, prices ranged, per Nedvetskaia's estimation, from €1000 to €600,000. Collages by artist Vitaly Pushnitsky were actually going for €500 at pop/off/art, who devoted their entire booth to the artist's work, with prices reaching €22,000 for his paintings. Then you had the more high-end, blue chip prices commanded by international artists. Blain | Southern showed, amongst others, Lynn Chadwick (whose welded stainless steel sculpture, Crouching Beast I, from 1990 looks just like a soviet bus stop in the context of Moscow), Rachel Harrison, Francesco Clemente and Bill Viola. The crowd-pleasing—and power clashing—Gary Tatintsian Gallery Booth, Ilya Kabakov, Peter Saul, Peter Halley, Keiichi Tanaami, Evgeny Chubarov, Lee Ufan, Tony Matelli and Wim Delvoye.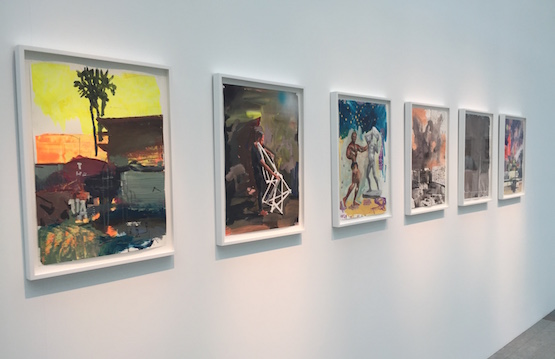 Rachel Harrison at Blain | Southern
Clearly, Cosmoscow is casting a wide net so as to offer something for everyone, and draw in a new generation of potential art patrons within Russia. After all, the biggest issue for a fair dedicated to establishing a truly global event is the need for a local market to entice an international one. To this end, the Collector's Eye exhibition curated by Olga Vachilinia and titled If I Could…From an Imaginary Past to a Certain Future, offered a kind of object lesson in what could be. The show proposes an alternate world in which the Iron Curtain never happened, and presents what an imaginery Russian collector's house might have looked like in this scenario. As such, the exhibition paired original pieces of Soviet furniture with works of art by artists from Rudolph Stingel to Sherrie Levine, in what essentially amounted to a fantastical projection of an alternate history of art collecting. Yet, there was a double play going on, here; the exhibition evoked a sense of nostalgia by its presentation of Soviet furniture, which was replaced in the eighties by more modern designs.
Exhibition view, Collectors Eye exhibition, If I Could…From an Imaginary Past to a Certain Future, curated by Olga Vachilinia
The Collector's Eye exhibition touched on the fact that, as Garage curator Katia Inozemtseva explained, Russia's art scene is quite particular in comparison to other art worlds, thanks to the country's particular history and vast geography. It is evolving out of a precise historical context after all, and the scene reflects this legacy. Take Pechersky Gallery, presenting Maria Agureeva's beautiful abstract sculptures positioned in front of paintings of female athletes, or Vostochnaya Gallery, where large, bold paintings by Leonid Rotar recalled the aesthetics of Soviet Realism and the importance sport played in the secular USSR.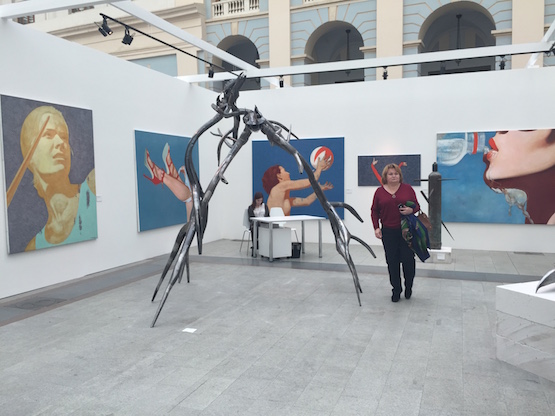 Exhibition view, Vostochnaya Gallery
As Inozemtseva explains, there is not a strong gallery presence in Russia, with private foundations and city museums filling the gap by supporting young artists. The Vladimir Smirnov and Konstantine Sorokin Foundation is a case in point—the foundation runs a residency programme, which was showcased at Cosmoscow in a booth curated by artist Igor Shuklin titled Ayt/Out —a theme predicated on moving beyond the limits of normality as expressed in the work of current and past residents Alexander Vilkin, Alexandra Galkina, Alisa Yoffe, Valdimir Logutov, Anton Nikolaev, Sergey Sapozhnikov, Sergey Skutaru, Sveta Shuvaeva and David Ter-Oganyan. This was positioned opposite XL Gallery, which brought a wonderful body of conceptual sculptures by Alexander Povzner, paired with a gorgeous series of illustrations by Julia Zastava.
Exhibition view, Alexander Povzner at XL Gallery
On the lack of an art market in Russia, Triumph founder and co-director Dmitry Khankin confirms that there are barely any galleries here, not to mention a market, which may explain—to his mind—why Russian galleries are often relegated to a localised level. There are barely any galleries in any of the main global fairs, Khankin points out: "We all pretend like we are part of a global art market, but we are not … yet." As Inozemtseva explains, this is true insofar as the 2008 crash forced a number of galleries to either close or change the way they operate. By way of example, Khankin calls Triumph a foundation, even if it shows at fairs as a commercial gallery, with a booth of works at Cosmoscow pairing the contemporary landscapes of Min Jungyeon with those of Kristoff Meyer: a kind of east and west mix that London's Rosenfeld Porcini also went for in a beautiful booth that paired works by Chao Lu with Antonis Donef.
Exhibition view, Rosenfeld Porcini
This is where things get interesting. Of the 11 international galleries out of the 34 galleries participating in the fair, the apparent lack of a robust commercial ecosystem resulted in mixed fortunes. Some made no sales at all, others only a handful. Some galleries were seriously considering their future with the fair, while others recognised the fact that time must be invested in order to create a network—this is a brand new market after all. Thus, the measure of the fair's success at this point rides on the speed with which it can encourage more sales to take place, not to mention how willing international galleries are to invest in what is effectively a new frontier. (To this end, the main criticism this year amongst gallerists was the timing of the Off White charity auction, staged as part of the fair's vernissage, which many complained stopped collectors from coming for the rest of the fair's duration.)
Yet, market talk aside, the one thing all international participants agreed on when it came to Cosmoscow this year was the fair's impressive standards, and the fact that it offers an unrivalled opportunity to gain an overview of the Russian art scene through the galleries and artists that come not only from Moscow, but other cities and regions within and surrounding Russia. From St. Petersburg, the excellent Rosa Azora Gallery brought stunning tempera on wood panels of kitchen utensils and alcoholic beverages by young Georgian painter Anton Totibadze, whose work recalls Henrik Olesen, Konrad Klapheck and, after a trip to the excellent Tretyakov Gallery, David Shterenberg and Mikhail Roginsky. Marina Gisich Gallery offered one of the fair's more political groupings that included Kerim Ragimov's aptly titled 2015 illustration series Fear Fair, in which seemingly benign photographs become sinister studies of contemporary popular culture with a hint of ironic wit (one image features Ronald McDonald). Ragimov also showed paintings from the Human project series, including Episode #49 (2015): a portrait of the Guerrilla Girls.
Exhibition view, Marina Gisich Gallery
From Yekaterinburg came Ural Vision, which describes itself as the first contemporary art gallery in the Ural region, who brought tempera on wood panels executed in iconographic style by Ilya Arhipenko. Stretching out further afield was Artwin Gallery, focusing on Kazakhstani artists Almagul Menlibayeva, and Gulnar Mukazhanova, while Estonian gallery Temnikova & Kasela presented the wonderfully playful paintings of Kaido Ole. One Gallery presented the beautifully minimal paintings by Moscow-based Azerbaijani artist Aidan Salakhova (with an upcoming solo exhibition at London's Saatchi Gallery), whose work touches on Islamic themes, while Dagestani artist Aladdin Garunov showed work from the Zikr series, which explores Islamic traditions through pattern and Arabic calligraphy at Savina Gallery. The latter two artists pointed to the cultural reality of Russia as a whole—far from local, but a world unto itself that is complex to say the least. Indeed, as much as Cosmoscow is a new frontier for international gallerists and collectors alike, it is but the tip of the iceberg when it comes to the visual language of a world that is as much post-western as it is post-soviet. (As one visitor noted, some Credit Suisse visitors were positively giddy at the chance to think of anything other than western sanctions on Russia as a result of the annexing of Crimea, such is the weight of the Russian context, past and present.)
Exhibition view, Ilya Arhipenko at Ural Vision
With all this complexity, my visit to Cosmoscow would not have been the same had I not stopped by the Tretyakov Gallery on Krymsky Val, which houses the only permanent exhibition of 20th century Russian art in the country. This rich and dense collection takes you through the history of Russian art from the stirrings of Tatlin and the avant-garde, to the coded figurations of late-Malevich and beyond. The museum's collection provided the opportunity to really place contemporary works on view at Cosmoscow within a strong visual field of historical and regional associations.
To this end, it is fitting that the 5th Moscow Biennale of Contemporary Art will soon open in Pavilion #1 in the magnificent grounds of the VDNKh, an exhibition centre first constructed in 1935 that evolved to become a celebration of the Soviet Union and its 16 republics. Fitting still is the question the 6th Moscow Biennale poses—how to gather in the heartland of Eurasia? This is coincidentally the same question Cosmoscow seems to be tackling. In both cases, the future looks speculative which, as investors know, makes things truly exciting. —[O]