Feature
Adriana Varejão's cultural cannibalism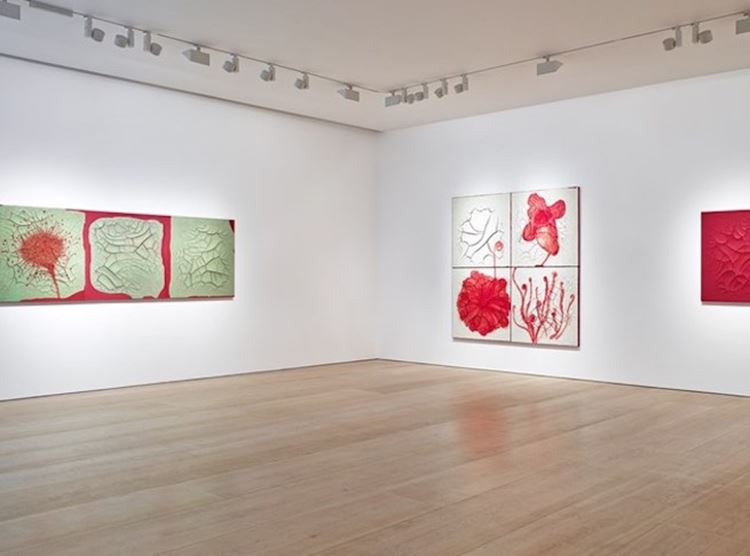 Installation view: Adriana Varejão, Carnivourous, Victoria Miro, Wharf Road, London (6 June–2 August 2014). Courtesy the Artist and Victoria Miro. © Adriana Varejão.
Brazilian contemporary artist Adriana Varejão's artwork is provocative, visceral and charged with references to Brazil's colonial past, miscegenation and the history of art. Renderings of architectural ruins or tiled surfaces that expose fleshy interiors; paintings inspired by cartography and European academic portrayals of Brazil; quasi-monochromatic geometric paintings of saunas and public baths; large-scale wall-mounted plates that echo Bordallo Pinheiro ceramics and delicate landscapes infused with references to Chinese Song Dynasty artefacts. Varejão devours her sources and churns out unique views on recurring themes doused in Baroque dramatic theatricality.
Based in Rio de Janeiro, where she was born in 1964, her artwork steers clear of idealised images of colourfully tropical and festive Brazil. Arguably one of the country's most expressive contemporary artists of her generation, she appropriates artistic styles introduced to Brazil during its colonial era, and as she once said, she uses "parody and misrepresentation to reassign cultural significance". Over the course of her thirty-year career, Varejão has built an iconic oeuvre that speaks of the formation of her country's identity, culture and race—as well as, consequently, her own.
Adriana Varejão, Proposta para uma catequese – parte II / díptico: aparição e relíquias [Proposal for a catechesis – part II / diptych: apparation and relics], 1993. Oil on canvas, 140 x 240 cm. Photo: Eduardo Ortega. Image courtesy Fortes Vilaça, São Paulo.
The artist's unique style gained her recognition in the 1990s with the
Proposta para uma catequese (Proposal for a catechesis)
and
Terra incôgnita
series. The latter a selection of paintings in which she blends appropriated traditional styles of Dutch, Portuguese and Chinese art imported to Brazil through artefacts and travellers that arrived through the seventeenth century trade routes.
Panorama da Guanabara
(2012), a more recent work that entered
Terra incôgnita
series, pictures a landscape echoing the flattened Chinese Song Dynasty landscape style with two pink resin octopuses attached to the otherwise empty lower third of the five metre wide painting. In the former series of works, Portuguese terracotta tiles punctuate the imagery depicting the violent presence of Brazil's colonisers through sliced and fragmented body parts and narratives drawn from academic painters' portrayals of the country's social and political history.
Irezumis
, another series from the 90s, took the gore and terror of quartered bodies and spilling guts to installations such as
Extirpação do mal por incisura (Extirpation of evil by incision
, 1994) for the first time: one of the clear preambles to works in the later
Línguas e cortes (Tongues and incisions)
series.
Adriana Varejão, Panorama da Guanabara, 2012. Oil on canvas and resin, 120 x 550 cm. Photo: Eduardo Ortega. Image courtesy Fortes Vilaça, São Paulo.
By the late 1990s the portrayed tiles and body parts of prior works were becoming more sculptural, they seemed to be gaining life and psychological depth, morphing to become the pieces in the
Línguas e cortes (Tongues and incisions)
series: sliced and torn open canvases that revealed fleshy interiors that spilled out from their surfaces as in
Azulejaria em carne viva (Tilework with live flesh
, 1999) or more contained as in
Parede com incisões a la Fontana (Wall with incisions a la Fontana
, 2000); a sliced canvas with six barely open slits on the painted tiled surface. At this point, Adriana Varejão's work moves from representing bodies to becoming them.
Adriana Varejão, Parede com incisões a la Fontana [Wall with incisions a la Fontana], 2000. Oil on canvas and polyurethane on aluminum and wood support, 190 x 200 cm. Imag courtesy of Jones Bergamin Collection. Photo: Eduardo Ortega. Image courtesy Fortes Vilaça, São Paulo.
In the iconic hand-painted series of
Jerked-beef ruins
, made in the early 2000s, the bodily parts that curled out like tongues from the canvas in previous series, gained weight and become themselves three-dimensional bodies. Quartered buildings and body parts are fused to become one, in wall-mounted and freestanding floor pieces that claim their anonymous autonomy. The juxtaposition of the geometric hand-painted tiles and the bulbous guts contained by them, speak as much of social and political history as they refer to the history of art. By the turn of this century, the dramatic Baroque theatricality seen throughout Varejão's production is more textured and bound by the clinically rational organisation of geometry in a clash of styles articulated through many folds and layers: visual, cultural and psychological. "It is easier for Latin country audiences to understand my work–this "Baroqueness". I think Nordic people know little about the history of Brasil, Portugal, Macau and Goa, for example," said Adriana during a press conference at the August 2015 opening of her retrospective show
Pele do Tempo (Time Skin)
in Fortaleza, Brazil.
Adriana Varejão, Ruína de charque Santa Cruz (Quina) [Santa Cruz Jerked-beef Ruin (Corner)], 2002. Óleo sobre madeira e poliuretano [oil on wood and polyurethane] 233,0 x 90,0 x 166,0 cm. Coleção [Collection] Rose e Alfredo Setubal. Fotografia: Eduardo Ortega. Image courtesy Fortes Vilaça, São Paulo.
The texture and patterns of Baroque Portuguese tiles and architecture, which have always fascinated Adriana Varejão, and the visual effects of craquelure—the cracked effect she appropriates from ancient Chinese artefacts—are protagonists of the
Mares e azulejos (Seas and tiles)
series, where traditional patterns, predominantly blues and whites, arabesques and architectural details are organised to form large-scale mosaics, installations and site-specific works such as
Azulejões
(2000) and
Celacanto provoca maremoto
(2004): a large wall of tiled paintings that together form a giant wave, refitted in a permanent installation in
Inhotim
(2008), a unique art space and botanical gardens in Brazil.
Around 2003, the artist takes a dramatic, although not incoherent, turn from the excess, violence and texture found in earlier works, to portray the geometric interiors of saunas and public baths in predominantly monochromatic paintings. In pinks, blues, yellows and white, the paintings vary in size but the precision and organisation of the geometric surfaces takes over in this series, where the body's presence is veiled, only confirming itself through its phantasmagoric absence, traces of blood and rippled water in settings supposed to be occupied by people, as in the enormous O Iluminado (The Shining, 2009), A Fonte (Fountain, 2009) and The Guest (2004). The tension in these works is still located at the intersection of cultures and styles; in this case the precision of geometry and the drama of Baroque lighting. The artist zooms into psychological and architectural drama through impeccably portraying light and leaving space for personal narratives to be formed from the dubious titles that never ascertain whether it is their positive or negative connotations that predominate.
Adriana Varejão, O Iluminado (TheShinning), 2009. Oil on canvas, 230 x 560 cm. Photo: Jaime Acioli. Image courtesy Fortes Vilaça, São Paulo.
In a series that was received with mixed feelings by Adriana's audience in the mid 2000s, the elegance and sobriety of earlier series is exchanged for a sumptuously Kitsch approach to large-scale wall-mounted plates inspired by the ceramics of Portuguese Bordallo Pinheiro. The concave artworks are heavily decorated inside and outside the bowl with molluscs, fruits, mermaids, sand castles, naked female figures, plenty of water imagery and even a portrait of the artist herself on a red background with pomegranates and golden drawings. On the backs of these giant plates there are different markings, from tribal and European patterns to abstracted colours.
In the Polvo series, Varejão broaches the construction of race in Brazil as a central theme. In a country with a large ethnic mix, it is a topic that has always played a large role in Brazil social and political spheres, and does so to this day. Based on a census from 1976 in which people described their own skin colour in different ways, Varejão selected 33 wonderfully figurative descriptions, such as: Café com Leite (coffee with milk), Queimada de Sol (Sun-kissed) and Burro quando foge (Donkey when running away). Based on the census answers, the artist created a collection of flesh-tone oil paints called Polvo. Apart from being an art object unto themselves, these paints were used in a series of self-portraits and colour wheels that explore the mixed-race identity of Brazil.
Exhibition view: Adriana Varejão, 2015. Image courtesy Lehmann Maupin, New York and Hong Kong. Photo © Kitmin Lee.
The artist's fascination with China and its relationship to Brazil through colonial trade routes has permeated a great deal of her work and a recent series, currently on show in Hong Kong, features some of her latest paintings that reflect the influence of traditional Chinese ink Song Dynasty paintings. Flattened perspectives and imagined landscapes fuse with references to Brazilian Baroque churches on canvases the shape of fig and banana leaves, echoing the Chinese miniature painting tradition.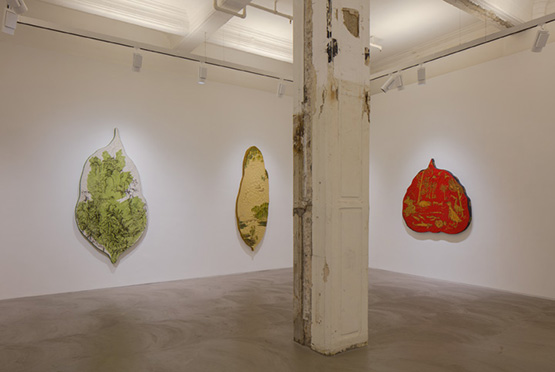 Exhibition view: Adriana Varejão, 2015. Image courtesy Lehmann Maupin, New York and Hong Kong. Photo © Kitmin Lee.
This mix of styles and references—this "
mestiçagem
", to use the Portuguese word—is central to all of Adriana Varejão's work. The miscegenation of styles, of cultures, of forms, of people, histories, times and stories; this is fruit of the Brazilian cultural cannibalism that modernist Oswald de Andrade's
Anthropophagy Manifesto
spoke of in the 1920s. It declared that creatives should cannibalise the cultural contributions of their colonisers and transform them to create a new Brazilian culture. Through her work, not only does Varejão constantly contribute to a unique Brazilian visual culture, she also creates and recreates her own.
—[O]

Current exhibitions:
Adriana Varejão, Lehmann Maupin, Hong Kong, China from October 10th to November 21st
Kindred Spirits, Dallas Contemporary, Dallas, USA, from September 20th to December 20th
Adriana Varejão, Pele do Tempo, Espaço Cultural Airton Queiroz, Fortaleza, Brazil, August 26th to November 29th
adrianavarejao.net