Feature
Ocula Report: Berlin's private art collections
Image: KINDL – Centre for Contemporary Art, Brew House. Photo: Jens Ziehe.
Apart from holding the distinction as one of the world's most important contemporary art centres, the city is fast becoming a destination to experience a diverse selection of remarkable private art ventures.
For a long time, Berlin was considered a capital for art but not for art collectors. Today, apart from holding the distinction as one of the world's most important contemporary art centres, the city is fast becoming a destination to experience a diverse selection of remarkable private art ventures. Many collectors and philanthropists have chosen Berlin in recent years as the city to showcase their artworks and art projects. Resident Rachael Vance, explores the latest developments within the sphere of private art collections, listing her top selections.
Julia Stoschek Collection
The Julia Stoschek Collection—aka JSC—launched a temporary satellite presentation Welt Am Draht of impressive proportions on the 2nd of June, 2016 in Berlin; it coincided with the opening of Berlin's 9th biennale. The collection was established by the glamorous art collector Julia Stoschek: the daughter of German billionaire businessman Michael Stoschek, well known for her stylish sense of fashion. In addition to the Berlin show, the collection holds permanent premises in Düsseldorf across 3,000 square metres of exhibition space. To date it is the first private collection in Germany to show across two publically accessible locations at once. With a focus on media art, the collection has become known for its contemporary selection of installations, videos, photographs and sculpture.


Image: Facade of the Julia Stoschek Collection, Berlin.
Emblazoned with Stoschek branding and text in uppercase, the highly visible temporary exhibition space in Berlin is located in the former Czech Cultural Institute on Leipziger Strasse that was designed by architect Joachim Näther. Built in 1969, the sleek facade of the GDR style building with its panoramic windows is equally impressive inside with a spectacular interior conversion completed by Berlin architect Johanna Meyer-Grohbrügge. Gaining entry with a JSC wristband, one enters the show, navigating a labyrinth of small and expansive rooms, through passages of darkness and light over two floors.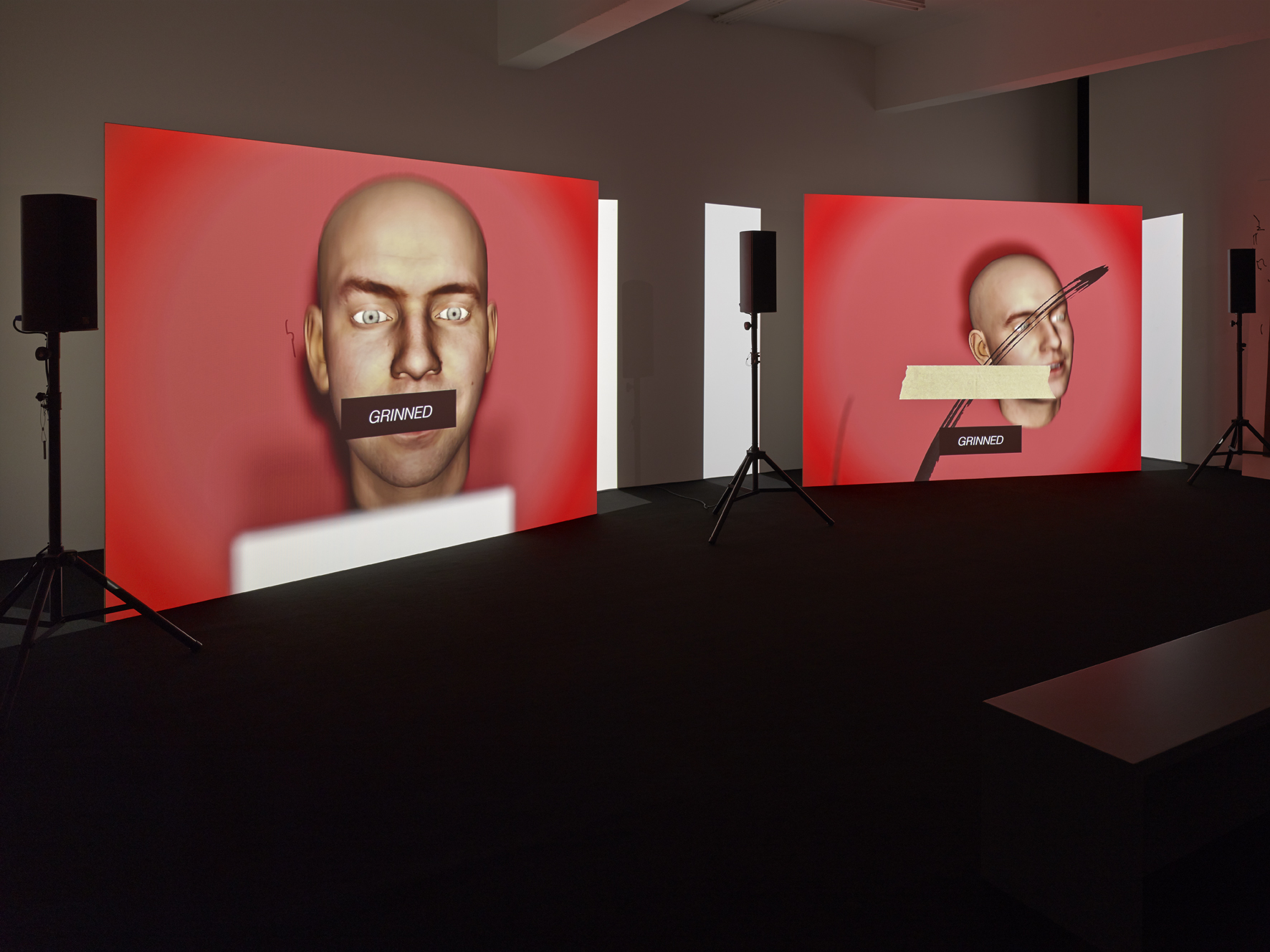 Image: Ed Atkins, Us Dead Talk Love, 2012. Two-channel video installation, 37'24'', colour, sound. Courtesy the Artist and Cabinet London.
The title of the exhibition, 'Welt am Draht', translates to 'World on a Wire'—borrowed from the eponymous science fiction 1973 film by Rainer Werner Fassbinder—and its overall concept aims to address ideas of change and influence on today's social reality, while also exploring the notion of identity against the backdrop of a digital society. Unsurprising of-the-moment artists included under this umbrella are Ed Atkins, Ian Cheng, Rachel Rose, Hito Steyerl, and Wu Tsang.


Image: Frances Stark, My Best Thing, 2011. Single channel video installation, 100'00'', colour, sound. Courtesy of the artist and Gavin Brown's Enterprise, New York.
Humour is found within Frances Stark's single-channel installation My Best Thing (2011)—that premiered at the Venice Biennale in 2011—whereby an outwardly low-fi digital animation presents two hovering avatar figures in communication via text-to-speech voice generation derived from Internet chat forums. Here, Stark chronicles online relationships in order to present the detached experience of the Internet complete with philosophical musings about masturbation. Similarly, Josh Kline's tongue-in-cheek FOREVER 27 (2013) and FOREVER 48 (2013) present audiences with warped, digitally enhanced personifications of Kurt Cobain and Whitney Houston. The artist has transposed each singer's digitally mapped face onto living actors to create ludicrous entertainment-style Q&A interview scenarios.


Image: Josh Kline, Forever 48, 2013. Still, HD-Video, 16'06'', colour, sound. Courtesy of the artist and 47 Canal, New York.
Art world darling Camille Henrot's interactive mixed media installation of sculptural telephones with voice recordings from 2015 such as 'MASO MEET MASO' and 'GUILT TRIPPING' playfully conjure an organic futuristic Star Trek aesthetic and taps into notions of longing and isolation.
The exhibition continues until the 18th of September 2016.


Image: Timur Si-Qin, Selection Display: Ancestral Prayer, 2011. Display banners, Tibetan prayer flags, 150 x 50 cm. Courtesy of the artist and Sociéte, Berlin.
The Feuerle Collection
Positioned on the Landwehr Canal within an old telecommunications bunker from World War II another new private art collection is found. With a soft opening at the beginning of May this year during Berlin Gallery Weekend, The Feuerle Collection, owned by Désiré Feuerle, is housed within a colossal concrete structure with 3.5-metre thick walls. For many years the building remained forgotten until the bunker was discovered by Feuerle and decided upon as the perfect viewing space for his remarkable collection. Works range from Imperial Chinese design objects and historical sculptures from Southeast Asia, to contemporary art.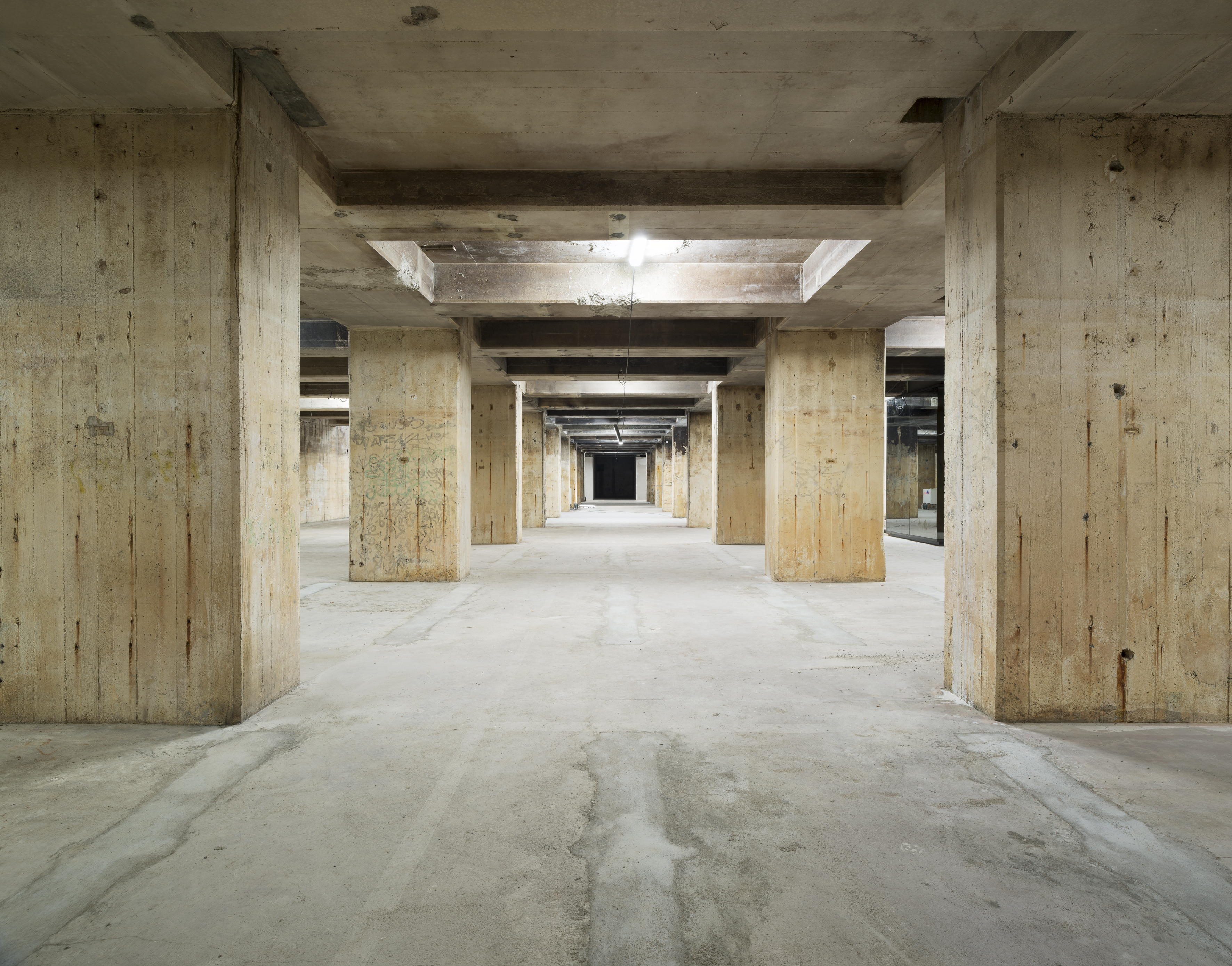 Image: The Feuerle Collection, Site in November 2015. © Gilbert McCarragher.
The building has been masterfully re-designed by British architect John Pawson across two floors over more than 6,000 square metres. A sensitivity to the original structure remains with the exposed cast-concrete walls left bare and vast spaces left open. With a dramatic entry, tour groups—no larger than 14 people—are taken to the lower level and cast in cold darkness. Disoriented by the lack of light, visitors take in a minimalist sound piece by John Cage that runs for two minutes and acts as a prelude to the experience of the tour. At the conclusion of the composition a docent ushers the group towards the light. In this subterranean environment one emerges to the dramatic display of spot-lit figurative sculptures that stand on a range of pedestals across an expansive, seemingly endless space.
The works are not labelled and visitors are encouraged to ask questions about the works they see. Cambodian Khmer sculptures dating from the 7th to the 13th centuries are positioned in direct contrast to sculpture by Anish Kapoor and photographs by Nobuyoshi Araki. Here, Feuerle invites the public to experience his truly unique creative vision, providing visitors with an inter-cultural dialogue that transcends historical timelines.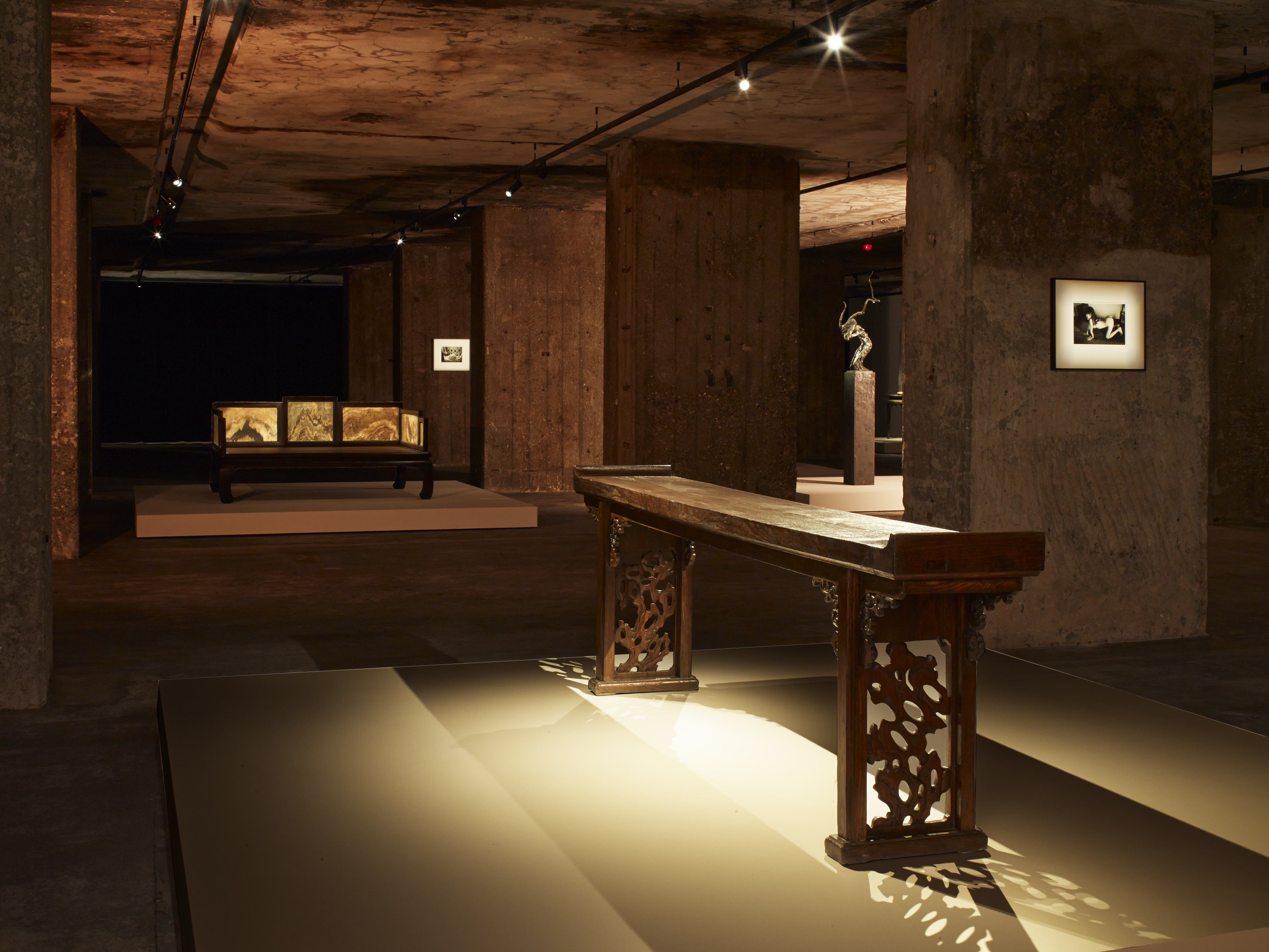 Image: Exhibition view of The Feuerle Collection, Side table with everted ends, Early Qing dynasty, 17th Century. Elm, Approx. 272 cm long. In the the background: Lohan Bed, Qing Dynasty, 17 Jichi wood. Approx. 149 x 204 x 100cm. Zeng Fanzhi, Untitled, 2009. 117 x 61 x 42 cm. bronze, 129.5 x 26 x 26cm (base) and work by Nobuyoshi Araki. Photo: Nic Tenwiggenhorn / VG Bild-Kunst, Bonn. © The Feuerle Collection.
Until the 18th of September 2016 the ground floor room acts as one of the primary venues for the 9th Berlin Biennale. Following this presentation, the official grand opening of the Feuerle Collection will be celebrated in October, after which both floors of the space will be permanently dedicated to the collection. Further integrating Feuerle's strong interest in Asian history and ritual, a traditional incense ceremony in the museum's own incense room will re-enact the Chinese tradition that dates back over 2,000 years to the Han Dynasty in order to mark the occasion spiritually, while making connections to the Imperial Chinese furniture and sculptures within the collection.


Image: Exhibition view of The Feuerle Collection, Lohan Bed, Qing Dynasty, 17 Jichi wood. Approx. 149 x 204 x 100cm. In the background works by Nobuyoshi Araki. Photo: Nic Tenwiggenhorn / VG Bild-Kunst, Bonn. © The Feuerle Collection.
Sammlung Boros
The original art bunker in Berlin, the Sammlung Boros, perhaps holds the title as one of the world's most iconic private collections. The creation of art collector couple Christian and Karen Boros, the collection is housed in former air-raid shelter that was built in 1941. With a varied use over the years since—from textile warehouse to techno club—the building's reincarnations offer an insight in to Berlin's tumultuous history. Situated in Berlin's Mitte district, the structure has been converted into a space for presenting a rotating display of the Boros' contemporary art collection. Comprised of a maze of eighty rooms on five floors, the bunker is open to the public via appointment for guided tours. Although the Boros' are not personally present, they are often not far away as their personal residence crowns the building in a 450 square meter glass rooftop penthouse.
Each room within the museum plays host to a specific work or installation by one artist, making use of the unique spaces and brutalist environment to present a variety of media from photography, to sculpture and sound. Many of the works are installed by the artists personally, or even commissioned for the collection specifically. The current show includes work by artists such as: Ai Weiwei, Dirk Bell, Cosima von Bonin, Olafur Eliasson, Alicja Kwade, Roman Ondák, Stephen G. Rhodes, Thomas Ruff, Michael Sailstorfer, Tomás Saraceno, Wolfgang Tillmans, Rirkrit Tiravanija, and Danh Vo.
Sammlung Hoffmann
Another mainstay on the private collection circuit is the Sammlung Hoffmann. Located in the former East Berlin in the Sophie-Gips-Höfe in Mitte, the collection offers visitors the very unique experience of stepping inside owner Erika Hoffmann's personal residence. Upon arrival, visitors are met with sculptures in the foyer by Antony Gormley and Richard Serra before ascending via a lift to the third floor. Upon entering the tranquil industrial warehouse conversion, any perception of being located in the nerve centre of Germany's capital is left behind. Every Saturday tours in German and English are hosted by a tour leader in an informal discussion-style format led by the interests and questions of the group. The presentation of the collection aims to enliven a sense of intimacy and accessibility to the contemporary art on display.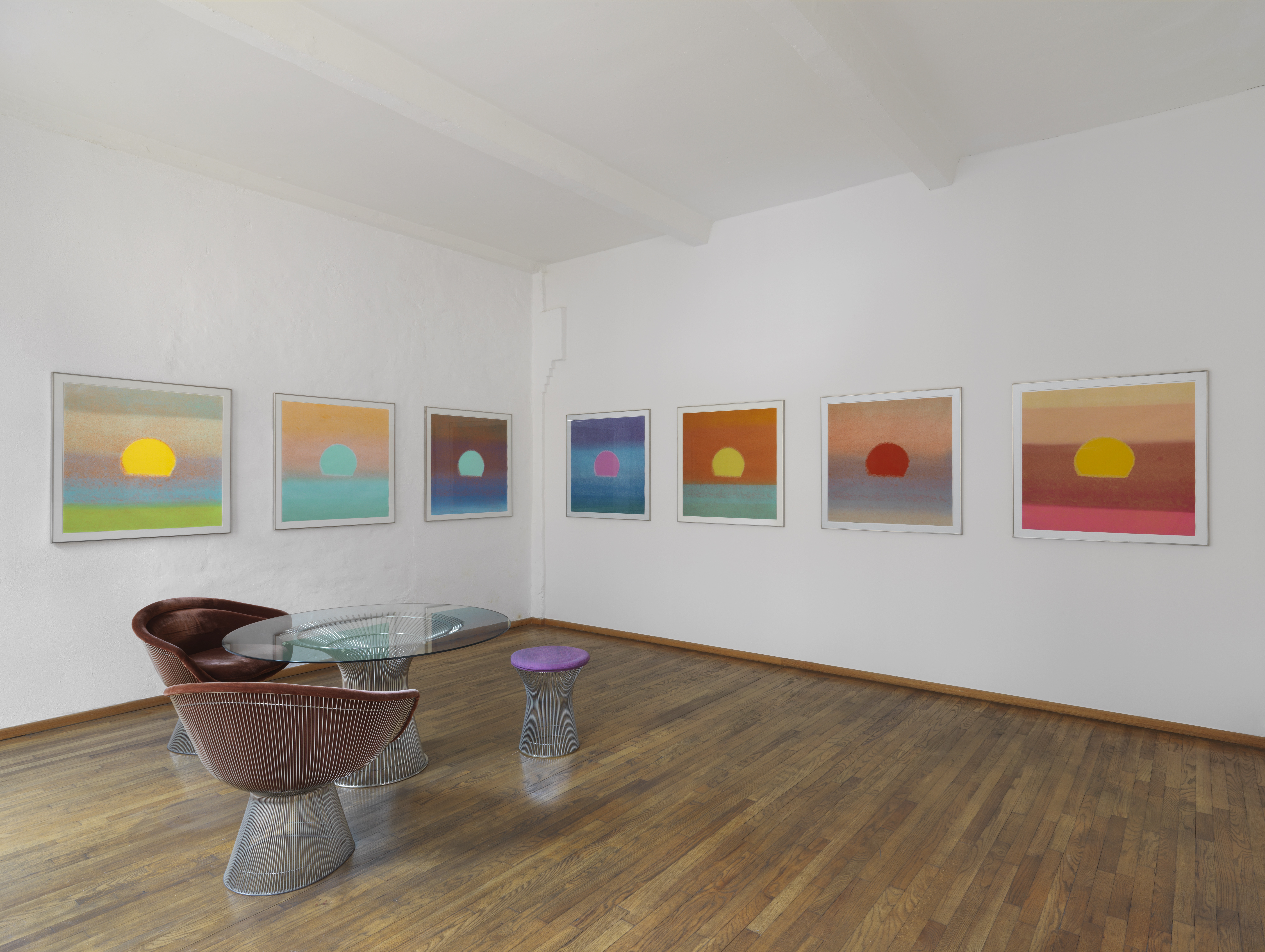 Image: Andy Warhol, 11.85-88 Sunset, 1972. 10 unique screenprints on paper, individually framed, 86 x 86 cm. Courtesy Saamlung Hoffmann, Berlin. Photo: Jens Zieche.
The collection is made up of works purchased by Erika Hoffman and her late husband Rolf Hoffman. The couple began collecting art in 1968. Today works from the collection are displayed in an annually rotating loosely themed presentation. The current hang includes works by Andy Warhol, Astrid Klein, Chiharu Shiota, Eduardo Chillida, Felix Gonzalez-Torres and Richard Phillips. A room dedicated to work of German artist Isa Genzken is particularly noteworthy in addition to Ulrike Grossarth's arresting combination of found domestic imagery of baking cakes juxtaposed with text sourced from the memoirs of Albert Speer recounting his last meeting with Hitler in 1945 in the 'Führerbunker'. Permanent works in the living room include a spectacular installation by Katharina Grosse and wall-mounted sculpture by Frank Stella. Guests may also be able to meet Erika in person if she happens to be at home.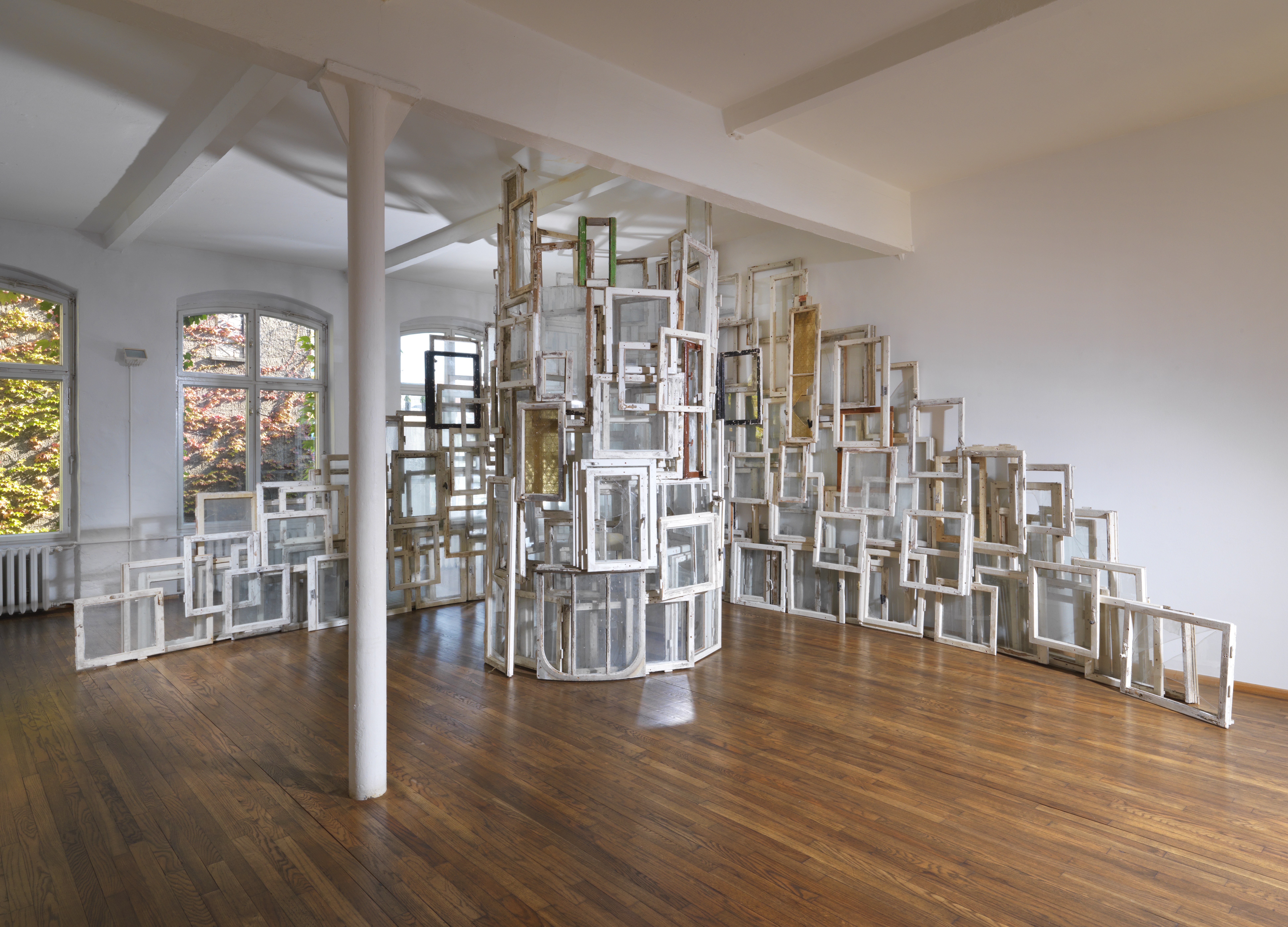 Image: Chiharu Shiota, Inside-Outside, 2009. ca. 280 windows, 1 chair, dimensions vary with installation. Courtesy Sammlung Hoffmann, Berlin. Photo: Jens Ziehe.
KINDL - Centre for Contemporary Art
Re-imagining another space in Berlin, the KINDL – Centre for Contemporary Art inhabits the towering former Kindl Brewery in the hip district of Neukölln. Owned by German-Swiss couple Burkhard Varnholt and Salome Grisard, the property is being developed into an art complex that will eventually encompass the entire 5,500 square metres.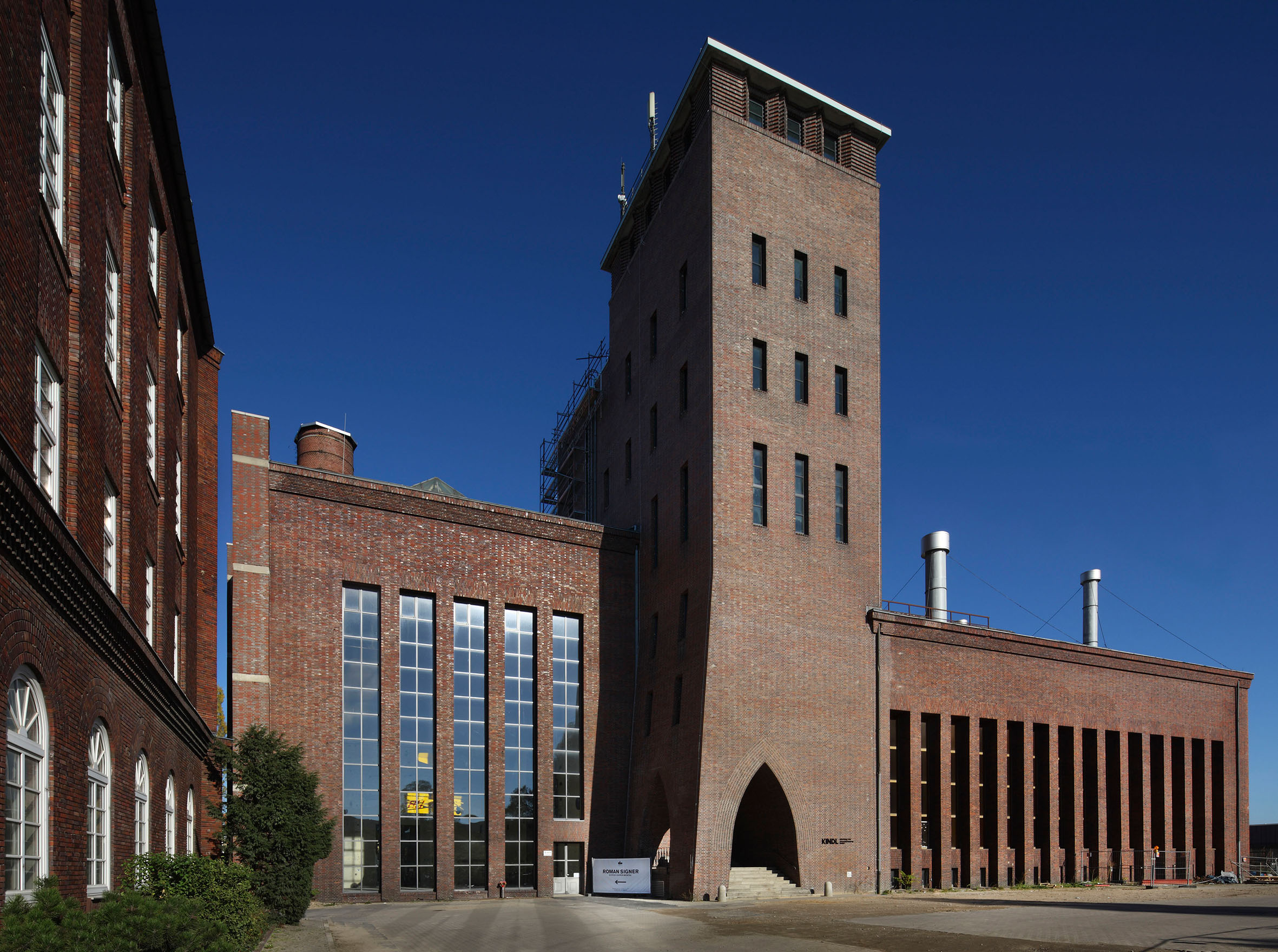 Image: KINDL – Centre for Contemporary Art, Berlin, 2014. Photo: Jens Ziehe.
Architectural firms Dr. Krekeler & Partner and Salome's own practice, grisard'architektur, have been sought for their expertise in overseeing the reconstruction of the industrial monument. The pair have appointed Swiss curator and art critic Andreas Fiedler as artistic director of the centre to spearhead the ongoing exhibition program. In its finished form the privately funded project will show a rotation of temporary exhibitions and provide space for events complete with an in-house café 'König Otto'.


Image: Roman Signer, Kitfox Experimental, 2014. Installation in KINDL's Kesselhaus (Boiler House), September 14, 2014 - June 28, 2015. Photo: Jens Ziehe.
The unforgettable Boiler House within the current property and with its six brewing coppers and a ceiling height of 20 metres, has been used as a teaser to present the potential of this new location. From its inception each year international artists have been commissioned to realise a site-specific installation within the space. From 2014 to 2015, Swiss artist Roman Signer installed his work Kitfox Experimental, which comprises a rotating aircraft floating suspended four metres above ground level. Appearing to nose dive, powerful fans evoke artificial interior wind forcing the plane to spin continuously while creating an overpowering drone noise. Opening this year on September the 11th, Belgian artist David Claerbout will install the next site-specific video installation entitled Olympia. —[O]