Feature
Art Basel in Hong Kong 2018: A Post-mortem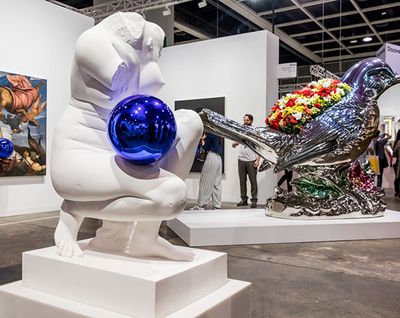 Works by Jeff Koons on view at David Zwirner, Art Basel Hong Kong (29–31 March 2018). © Art Basel.
Hong Kong is set to become more than just a trading post for art defined by its international art fair, as a city with its own voice on the international art stage.
On Monday night of Hong Kong's art week, the feminist art collective Guerrilla Girls, who call themselves the 'conscience of the art world', addressed a packed lecture theatre at the University of Hong Kong—their first public appearance in Asia. Armed with signature stats, facts, and bananas, three gorilla-masked members of the group, which has counted more than 55 members since its formation in 1985, made a damning case against an unregulated art market riddled with unethical practices, insider trading, and gender and cultural inequalities.
'It's difficult to address imbalances when you are caught up in the economy of art', one of the Guerrilla Girls said. As they explained, museums are overseen by collector trustees with vested interests validating their collections, and often collect the same things as other collectors—largely the work of white men. These collectors—named and shamed in a slide presentation—also open museums, which help them pay less tax, and dictate what art is to the public. 'Your huge donations get you huge tax breaks, while people think you're an incredibly generous philanthropist', one visual slide read. 'At fancy art fairs, parties, and biennales, everyone sucks up to you—and your wallet!' read another.
Guerrilla Girls, 'Not Ready to Play Nice' talk at the University of Hong Kong (26 March 2018). Photo: Jill Chun.
Such contrasts were evident throughout Hong Kong's Art Basel week, when collectors, curators, private museums owners, and museum directors descended on the city for the annual pilgrimage to clink glasses of champagne and Kool-Aid. As if validating the group's argument, the week kicked off with openings of all the usual big names (mainly men) making up mega collections and breaking art auction records: George Condo had a sold-out exhibition at the Hong Kong Maritime Museum presented by Sprüth Magers and Skarstedt, and another show with Picasso at Sotheby's; Antony Gormley was at White Cube again, after a 2014 solo show there; and Sean Scully presented a series of signature abstract paintings at the Hong Kong Arts Centre.
At the new, purpose-built 24-storey commercial art building H Queen's, a red velvet rope was set up downstairs to contain the queues snaking their way down the footpath to get to the previews. After waiting for an eternity, visitors were crushed into inadequate and exhausted elevators to see Yoshitomo Nara at Pace Gallery; Mark Bradford at Hauser & Wirth, whose works all sold (according to one collector, prices started at USD650,000). Wolfgang Tillmans had a solo show at David Zwirner Gallery, with photographs of various sizes—framed and unframed—clipped to the wall at differing heights across four separate rooms. A collection of Christopher Wool paintings owned by billionaire collector and vice chairman of Blackstone Group, J. Tomilson Hill, were on view on the ground floor. 'Everyone complains about governments or councils showing public art, but no one seems to object to a load of capitalist privates showing their stock,' remarked one observer, referring to the trend of private collectors showing (and sometimes selling) their wares at international art events.
Exhibition view: Wolfgang Tillmans, David Zwirner, Hong Kong (26 March–12 May 2018). Courtesy Ocula. Photo: Charles Roussel.
On Connaught Road, upstairs from White Cube's Gormley exhibition, Perrotin opened KAWS' show of colourful paintings—perfect for skateboard decks—plus one garish sculpture of a cartoon figure, which drew a mob of sneaker-collecting fan boys. Over at Pedder Building, one of the few international galleries to present a female solo show was Gagosian Gallery—the second female artist the gallery has presented since opening in Hong Kong seven years ago. Jennifer Guidi, whom one renowned art-world figure calls 'the most famous and expensive non-Aboriginal Aboriginal painter', showed a series of decorative, abstract colour field sand dot paintings. The paintings, which seem to be ubiquitous in at-home yoga rooms up and down the coast of LA, have been described repeatedly as meditative, and it's true they did engender a mindless state whenever I stared at them.
Exhibition view: KAWS, Galerie Perrotin, Hong Kong (26 March–19 May 2018). Courtesy the artist and Galerie Perrotin. Photo: Ringo Cheung.
At the Hong Kong Convention and Exhibition Centre, the sixth edition of Art Basel Hong Kong kicked off with a VIP preview on Tuesday, 27 March, featuring 248 international and regional galleries—up from 241 last year—which attracted an overall attendance of 80,000.
But it's not just the fair that has grown. Hong Kong has caught up with the international art market, with China now the second largest secondary market in the world, surpassing London, accounting for 21 percent of sales globally. There are now more billionaires in Asia than the US (Asia accounted for 41 percent of the world's billionaires in 2017, with the United States coming in at 32 percent, according to the 2018 Art Market Report), with the taste for establishing private museums creating a huge appetite to fill wall space. Beijing's tightening of capital controls and caps on overseas withdrawals hasn't dampened the spending of mainland Chinese buyers with homes (and bank accounts) in Hong Kong and elsewhere, either—there's always a loophole.
Nyapanyapa Yunupingu, Lines (2016). Exhibition view: Encounters sector, Art Basel Hong Kong (29–31 March 2018). © Art Basel.
The first VIP preview day of Art Basel seemed more crowded than in previous years, and galleries brought out their top tier works this time, no longer second guessing their audience or pandering to Asian tastes with clichés. Big sales were swiftly sealed (although swift payment was another matter), no doubt through months of planning on the part of gallerists.
Just hours into the opening, Lévy Gorvy sold a USD35 million de Kooning, Untitled XII (1975), consigned from tech billionaire Paul Allen. (The identity of the buyer remained anonymous but is rumoured to be Asian.) Tornabuoni placed a work by Lucio Fontana priced at USD2.4 million, give or take a generous discount. (I overheard one French gallerist complaining about the aggressive bargaining that comes with doing business in Hong Kong.) Lisson Gallery sold two works by Anish Kapoor for USD1.3 million each, while Almine Rech reportedly sold a Condo, Russian Girl (2006), for more than USD1 million.
Dr. Yeewan Koon, Guerrilla Girls, Nilima Sheikh, Yurie Nagashima, Yu Hong and John Tain, 'Feminist Aesthetics?: Movements and Manifestations' (30 March 2018). Conversations, Art Basel Hong Kong (29–31 March 2018).
Equal representation of genders may, as the Guerrilla Girls argue, be a while off in the art world, but there were wonderful works to be found by female artists. At Xavier Hufkens, an Alice Neel portrait was picked up at under USD1 million. A large pink mattress sprouting neon tubes and breasts by Sarah Lucas, Dis-ease (2017), could be found at Gladstone Gallery, with more mammaries hung in a bundle like fruit from a post by Laure Prouvost at Carlier Gebauer (Cooling System 1 [for global warming], 2017), and a couple of beautifully detailed anatomical ink drawings at Blindspot Gallery by Hong Kong artist Angela Su.
At Tokyo's Maho Kubota Gallery, Yurie Nagashima presented a series of photos featuring the artist and her family naked. Nagashima also took part in a panel discussion as part of Art Basel Conversations later that week with the Guerrilla Girls, Nilima Sheikh and Yu Hong on feminist aesthetics. Lévy Gorvy sold several works inspired by Chinese pottery by 70-year-old American abstract artist Pat Steir, titled For Hong Kong (2017–2018), each for around USD450,000 a painting, to collectors in Asia. Gallery director and co-founder Brett Gorvy said he found that more women are buying art or involved in buying art in Asia compared to other markets, and that interest in previously unrecognised female artists seems to be increasing.
Yurie Nagashima, Self-Portrait (Mother #36) (1993); Self-Portrait (Family #26) (1993); Self-Portrait (Mother #35A) (1993) (left to right). Exhibition view: Maho Kubota Gallery, Art Basel Hong Kong (29–31 March 2018). © Art Basel.
Regional artists were given strong representation throughout the fair, with around 50 percent of exhibiting galleries hailing from the Asia Pacific region. Silverlens from Manila curated a strong booth of works from Filipino artists including a multimedia installation by Gabriel Barredo, large paintings by Manuel Ocampo, and a Norberto Roldan wall installation with catholic liturgical cape, fabric and lighting. STPI, Singapore, brought together a beautiful architectural series of woven thread on paper by Korean artist Do Ho Suh, which all sold. This is No Fantasy + Dianne Tanzer Gallery showed a series of eight large black and white photographs, with all but a couple priced at USD85,000 sold­, by Australian indigenous artist Michael Cook, whose work touches on discrimination against indigenous people, re-stages colonial-focused histories, and re-imagines the contemporary reality of indigenous populations.
A personal favourite was Auckland's Gow Langsford booth, which presented a number of seminal works spanning 1958 to 1977 by one of New Zealand's preeminent 20th-century artists, Colin McCahon, for the first time in Asia. The artist explores the relationship between the indigenous Māori, the New Zealand landscape, and the influences of colonialism. His work is already carried by museums across Australia and New Zealand.
Works by Colin McCahon on view at Gow Langsford, Art Basel Hong Kong (29–31 March 2018). Courtesy Ocula. Photo: Charles Roussel.
Mid-week, a panel discussion at Upper House with Jeff Koons and star curator Hans Ulrich Obrist proved popular. Koons is the biggest brand there is in the art world, and he seems to suit a brand-obsessed city like Hong Kong; the event was more difficult to get into than the hottest club in Berlin, no doubt putting a few noses out of joint. As the artist arrived, voices hushed and the lights dimmed, prompting British curator and art historian Norman Rosenthal's smart-arsed quip from the audience: 'That's a bit dramatic isn't it?'.
Koons, ever the loquacious silver-tongued salesman, explained to his audience without the slightest hint of irony how his shiny, mirrored works were about personal transcendence and empowering the viewer. Plus something about Plato, which provoked a snort and chuckle from an Aussie in the audience (there's always one). Earlier in the week, I interviewed artist Shirazeh Houshiary, in town to receive the Asia Arts Game Changer Awards at Asia Society, who had a different take on the art market's obsession with reflective artworks. 'Our biggest problem is that we want to fix that image in the mirror and there is nothing there. That's why people are attracted to shiny art—they are desperate for affirmation that they exist.'
Sophia Al-Maria, Mirror Cookie (2018). Exhibition view: Project Native Informant, Art Basel Hong Kong (29–31 March 2018). © Art Basel.
At the fair, there was a lot of shiny trophy work for plenty of self-reflection and affirmation, luring viewers to their reflective surfaces like flakka-doped Narcissuses. A rotating glass and steel concave sculpture by Olafur Eliasson, Concave Sun (2017), hung in a glowing room at Neugerriemschneider, placed right across from the Lisson Gallery booth where a similar reflective elliptical wall mirror by Anish Kapoor sold for more than USD1 million. At Project Native Informant, Sophia Al-Maria presented Mirror Cookie (2018), a multi-panelled mirrored film installation featuring Chinese actress Bai Ling reciting sentences of positive self-affirmation that she posts on social media.
The shiniest work of them all was the giant two-tonne Koons bird sprouting live flowering plants, Bluebird Planter(2010–2016)__, at the David Zwirner booth: a work that was almost impossible to see in its entirety without a horde of visitors posing before it for selfies, or posing with the artist who was (as always) on hand for self-promotion.
Jeff Koons, Bluebird Planter (2010–2016). Exhibition view: David Zwirner, Art Basel Hong Kong (29–31 March 2018). Courtesy Art Basel.
On the subject of affirmation, status anxiety is always spread thick across a self-aware and neurotic art world, particularly when it comes to the parties. (If you want to see a 'powerful' middle-aged male collector/director/curator get bitchy just mention a party he hasn't been invited to.) In Hong Kong, things are 'getting as bad as Art Basel Miami Beach', one collector remarked, with an eagerness to get on invite lists reaching maniacal levels. As well as the usual gallery and museum hosted events, there were Moda Operandi, Net-a-Porter, and Gucci dinners, the latter held in honour of photographer Martin Parr, who seemed bewildered amidst a swarm of Instagram stars; not to mention a Matches cocktail (online retail is making headway with Chinese consumers), a Prada art inspired bag launch, and the ever-ubiquitous watch brand soirées.
At The Murray hotel, clearly the latest 'it' venue, I found myself crammed in the lift going to the rooftop Wolfgang Tillmans party alongside the artist and his entourage. When I asked an art world figure which dinner he'd come from during the ride, he named the gallery and scoffed like a Frank Zappa Valley Girl: 'Where else would I have been? Everyone was there.' Having a Justin Bieber-at-the-height-of-his-fame-moment he seized the opportunity to use the elevator seating as a rave trampoline. What the surveillance footage will reveal will rival the Solange elevator beatdown.
View of Victoria Harbour, Hong Kong. Courtesy Art Basel.
Aside from the frenetic social activities and frantic schedule of exhibition openings throughout the week, auction houses were also previewing sales during Art Basel in Hong Kong, capitalising on Asian collectors' growing appetite for Western blue-chip art.
Highlights from the Sotheby's New York Contemporary Art Evening auction, set for 16 May, were conveniently presented in the Convention and Exhibition Centre on the floors above the fair. The centrepiece was Jean-Michel Basquiat's Flesh and Spirit (1982–83), a masterpiece that has been virtually unseen since it was first shown in 1983. Alongside auction highlights was a private selling exhibition, Panorama: A New Perspective, which included more than 40 works of Modern and contemporary art by Salvador Dalí, Marc Chagall, Pierre Bonnard, Willem de Kooning, Alexander Calder, and Gerhard Richter, among others, plus a group of four Picasso paintings consigned directly from the collection of the artist's granddaughter, Marina Picasso.
Malala Andrialavidrazana, Figures 1838, Atlas Elémentaire (2015). Pigment print on Hanhnemühle cotton rag. Exhibition view: A beast, a god, and a line, Para Site, Hong Kong (17 March–20 May 2018). Photo: Jill Chun.
One of the best exhibitions during Hong Kong art week was from local non-profit art space Para Site. The group show A beast, a god, and a line (17 March–20 May 2018), travelled to the city from the Dhaka Art Summit with a remixed line-up of over 50 artists that includes Hong Kong artists Jaffa Lam, Au Hoi Lam, and Christy Chow, among others. This dense and textile-heavy exhibition thoughtfully reflects on contemporary cultural and political concerns, exploring geopolitics, politicised religion, and the fracture of the neoliberal promise. Notably, it is one of the most gender balanced on view in Hong Kong right now, with 25 women and 33 men on the artist roster. Slightly further afield, Blindspot Gallery, in the industrial area of Wong Chuk Hang, presented a beautifully hung exhibition of photographs, paintings, and a four-channel video installation by Jiang Zhi, meditating on the cycle of life and suffering.
Jiang Zhi, In the Wind (2016). Exhibition view: Going and Coming, Blindspot Gallery, Hong Kong (27 March–12 May 2018). Courtesy Blindspot Gallery.
A highlight of the week was a tour of Tai Kwun Contemporary, located in the former Central Police Station. Hard hat-donning visitors viewed a 'rehearsal' exhibition in an impressive 16,000-square-foot space, featuring 20 local and international artists, including Hong Kong's Lee Kit and Ko Sin-Tung. This new addition to the Hong Kong art landscape, which is still under construction and set to partially open this summer, was designed by museum favourites Herzog and de Meuron, and forms part of a complex of 16 buildings that will make up the HKD1.8 billion arts and culture development.
Under the direction of curator Tobias Berger, it is hoped that Tai Kwun will become one of the most important art spaces in Asia when it opens, alongside Hong Kong's first museum of contemporary art M+, which is on course to be completed by the end of 2019. With that future fast approaching, Hong Kong is set to become more than just a trading post for art defined by its international art fair, as a city with its own voice on the international art stage. —[O]