Feature
Art Basel in Hong Kong 2017: A post-mortem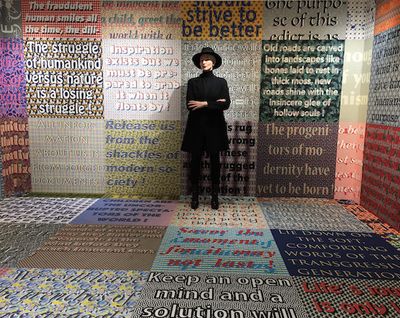 Diana d'Arenberg at .com/.cn, presented by K11 Art Foundation and MoMA PS1. K11 Art Foundation pop-up space, Hong Kong (21 March–30 April 2017). Courtesy the author.
For one week each year, Hong Kong, the capital of capital, transforms from a tycoon's Monopoly board dotted with luxury malls and expensive real estate into Asia's art centre. During Art Basel's annual week in Hong Kong in 2017, art could be found everywhere. Malls were filled with art and every conceivable brand and Hong Kong social personality jumped on the bandwagon for a quick fix of cultural cachet. Art was newly commissioned to hang in bars and homes just in time for the parties; the streets were paved with insta-collectors and shared hysteria. It was like a coming out ball. There were reputations to be minted and statuses to be cemented in that most rarefied and elite of clubs: the art world.
Hong Kong has come a long way from the contemporary art backwater many bemoaned less than a decade ago, with the city having cemented itself as an art market force to be reckoned with, reflecting an increasing shift in economic power from Europe to Asia. (A 2017 Art Basel and UBS Global Art Market Report found China to be the third largest art market in the world, after the United States and the United Kingdom.) Hong Kong still officially enjoys a transparent British rule of law, no tax on art and logistical advantages. The art laundromat runs smoothly. Despite increased scrutiny on the outflow of capital from the mainland, there was no shortage of big collectors from the mainland at the fifth edition of Art Basel in Hong Kong (ABHK) this year. Young wealthy Chinese collectors, many already the directors of their own museums and art foundations—like Michael Xufu Huang, co-founder of M Woods, Kiki Liu of Si Shang, and David Chau of Art021—flocked to the fair. International museum groups and art patron groups were also in abundance at this year's edition of ABHK: MoMA, the Serpentine Galleries, LACMA, SFMOMA, Sydney's Artspace all brought out contingents.
Julius Popp, BIT.FALL (2015). Exhibition view: Pacific Place, Hong Kong (13 March–6 April 2017). Courtesy Swire Properties.
Of course, as one of Hong Kong's most social calendar worthy weeks, there were parties galore: Le Baron, some Gucci party, Hauser & Wirth's 25th anniversary. Naomi Campbell was in town. So were Charlize Theron and a bunch of other people you'll see in the society pages. I skipped most of them to continue month three of my self-flagellatory sobriety. (If you've ever tried it, you'll know that sobriety and art parties go together like peanut butter and anaphylaxis.) As a result, I actually looked at art. A lot of it. In fact my art week was more of an art month, since I had already started previews of local shows a couple of weeks prior.
ABHK week kicked off on 20 March at the Mandarin Oriental hotel with Philips auction house presenting an exhibition of expensive holiday snaps taken by Andy Warhol during his 1982 Hong Kong/China trip, which will be auctioned in Hong Kong this coming May. Warhol came to China at a time when few Westerners had the opportunity, at the invitation of Hong Kong industrialist, Alfred Siu, who had amassed quite the collection of contemporary art long before it had become a national sport amongst new Chinese collectors. Van Cleef & Arpels held a brunch the next morning with the Marfa, Texas-based Chinati Foundation at Asia Society to celebrate the jewellery company's collaboration with Robert Wilson on his poetic and moody installation for the brand. Also announced was Chinati Foundation's upcoming collaboration with former Paris Opera director of dance, Benjamin Millepied. The current Mr Natalie Portman and one-time Hollywood choreographer will be creating a series of contemporary dance performances for the Marfa studio spaces in May, activating the spaces and bringing them alive with music and movement.
Exhibition view: Luc Tuymans at David Zwirner, Galleries, Art Basel in Hong Kong (23–25 March 2017). Courtesy Ocula. Photo: Charles Roussel.
The fair preview on Tuesday afternoon at the convention centre demonstrated that Art Basel in Hong Kong has mercifully moved on from dot paintings and an overdose of Emin neon art. There was not a Mao in sight, except for a dead wax figure lying in state in the Encounters section, forming part of Shen Shaomin's 2009 series Summit, which features four 'life-like' renderings of dead communist leaders, and one dying Fidel Castro. Hauser & Wirth showed a Frank Auerbach painting that sold for seven figures early in the week to a Chinese collector; David Zwirner had a couple of paintings by Luc Tuymans, who was spotted wandering around the booth, which sold quickly for USD 1.5 million each; White Cube placed a large Theaster Gates with a private museum in China. Although a number of galleries boasted swift trade in the preview's opening hours, bargaining with dealers is de rigeur at art fairs. The asking price is for amateurs. No collector worth their Koons will pay what's asked, and the size of the discount is commensurate with one's status on the art food chain—the higher you are (determined by wealth and influence), the better the discount and the more free art dinners you get invited to. But one Hong Kong socialite collector really took it to a whole new level, offering to hold on to a work for 'safekeeping' for a South American gallery, saving them the trouble and cost of shipping it back after not selling it. Now that's how to build a blue chip collection on zero budget and maximum chutzpah.
There were plenty of surprises this year among the up-and-coming galleries and emerging artists in the Discoveries section. Bold, colourful, geometric, minimalist paintings and sculptures by British-Bangladeshi artist Rana Begum jutted out of the wall and floor at Mumbai-based Jhaveri Contemporary's booth. Berlin-based Kathrin Sonntag's multi-media installation of pictures, mirrors and objects played with perception at Galerie Kadel Willborn. And I loved Huang Po Chih's Protein Boy (2015), at a.m. space, a poignant installation of drawings, writing, objects, photography and film exploring the disintegration of the mind of the artist's mentally ill father.
Representation of regional artists is growing from strength to strength every year at the Hong Kong fair, and there was much that provided critique and commentary on contemporary social and political issues. At STPI Gallery, glowing pulp paper prints and paintings by Shinro Ohtake referenced the Fukushima disaster; eye-catching bold works by Eko Nugroho at Arario Gallery delivered a sugar-coated but powerful political message on refugees and migration; while metal armour sculptures by Pakistani artist Naiza Khan at Rossi & Rossi explored the female body as a politicised site of war and repression. A subtitled painting with subtext titled The Midnight After, Our City Changed Irrevocably (2016) (which invited plenty of comments on social media in the wake of the announcement of newly 'elected' Hong Kong Chief Executive, Carrie Lam) explored Hong Kong identity by local artist Chow Chun Fai, who sat on a panel later that week as part of the ABHK talks programme asking the question: 'Does Political Art Matter?'
Exhibition view: Roslyn Oxley9 Gallery, Galleries, Art Basel in Hong Kong (23–25 March 2017). Courtesy Ocula. Photo: Charles Roussel.
While works by many established international art names were yet to reflect the percolation of recent political events through their work (although there were a few Barbara Krugers to be found), the Encounters section was where politics and art were most closely entwined, and viewers could engage with the sociopolitical beyond Trump memes. Shen Shaomin's Summit was placed beside a work by Filipino artist Pio Abad, who presented Not a shield, but a weapon (2016), an installation of 180 knock-offs of Margaret Thatcher's signature black Asprey handbag. Communism placed beside neoliberalism; one dead ideology placed beside one in dire straits. There was plenty to ponder in this meridian. Placed a little further along, large cascading reams of photographic paper depicted stretched and distorted digital images of boat refugees. 'These refugees just become abstract to us, a distorted aesthetic rather than true human suffering. The work represents our emotional distance from the reality of what is really happening in the refugee crisis and war,' explained Encounters curator Alexie Glass-Kantor on a tour of the installation.
My favourite Encounter was by Taiwanese artist Joyce Ho. Tucked away at the side of the fair this 'hidden encounter' was made for 'the rule breakers, the curious, and the adventurous,' explained Glass-Kantor. Comprised of three separate rooms, the installation was something more than an object; the work created encounters between individuals. After waiting in a queue, I found myself in some kind of waiting room, looking into reflective glass panel and staring into the eyes of strangers on the other side. In an adjacent small claustrophobic yellow room, I was seated at a bar watching a bartender pour liquid over and over again into various bottles, in silence. It was a quiet and intimate experience down the rabbit hole, away from the chaos from the fair—a clandestine encounter between perfect strangers.
Other encounters were far more attention-grabbing. Take the high-pitched scream that pierced through the white noise of the fair later that evening, as a woman collapsed to the floor in a re-enactment of the 2015 stabbing that took place at Art Basel in Miami Beach. A misguided attempt at social media clickbait, and almost as bad as the Pepsi Kendall Jenner activist ad. Fairs are the perfect attention-grabbing platform for eye-roll-inducing artwork. Art Central had an artist wandering around with a red sequined burqa holding up a sign reading 'Ban me!'
Installation image: Zaha Hadid, There Should Be No End To Experimentation, ArtisTree, Hong Kong (17 March–6 April 2017). Courtesy Swire Properties.
Virtual reality, the tool du jour, was everywhere this year, both in and around the fair. The Serpentine Galleries collaborated with Google Arts & Culture to present a CAD-like VR experience of Zaha Hadid's architectural vision (I preferred her constructivist paintings) for There Should Be No End to Experimentation, an exhibition of Hadid's paintings at ArtisTree; there was a VR panel talk as part of Art Basel Salon with George Chen of Facebook and VR pioneer Nonny de la Peña; and Cao Fei, Robin Rhode, boychild, Yang Yongliang and Sun Xun were invited to create experimental VR works for Art Basel using Google's Tilt Brush. Non-profit art platform Asia Art Archive presented a VR project by Nonny de la Peña that transported viewers to Guangzhou to watch the artist Lin Yilin build and dismantle a wall. Several galleries offered VR works for sale, including Kamel Mennour who was presenting a model by Chinese artist Huang Yong Ping of his past Grand Palais Monumenta installation, Empires (2016), which came with a VR component. And the Svengali of 'post-internet art' (are we 'post' already?) Klaus Biesenbach co-curated an exhibition on the subject as a collaboration between MoMA PS1 and K11.
Wednesday evening, Design Trust X Serpentine X OCAT hosted a dinner in collaboration with Mr Porter at Potato Head, which had become the exhausted go-to for practically every art dinner that week. The evening was attended by Serpentine's Yana Peel; uber-curators Hans Ulrich Obrist, and MoMA PS1 director, Klaus Biesenbach, who were ubiquitous and omnipresent throughout the week; artists Simon Denny, Ming Wong, and Stanley Wong; and a smattering of collectors. I was seated beside a brooding Teuton and his younger leggy paramour, awkwardly witnessing a midlife crisis in progress as they fed and fondled each other throughout the night at the dinner table. Where to look? Following one guest, I moved several seats over to the French corner where the conversation rather fittingly turned to cannibalism, and Biesenbach informed us that he was heading to his grown-up party at Ping Pong with the promise of dancing, karaoke and gin & tonics the size of soup bowls.
Exhibition view: Siah Armajani, Rossi & Rossi Hong Kong (18 February–15 April 2017). Courtesy Rossi & Rossi.
By Thursday I ditched the 6-inch platform heels, and swapped them for hotel slippers as I entered Whitestone Gallery housed in a new high-rise in the industrial area of Wong Chuk Hang (they handed a new pair to every guest). Several dealers and galleries are billing the area as Hong Kong's Chelsea. Shuffling across the gallery floor to view the Gutai works on show, including a bloody visceral Kazuo Shiraga, was like an exalted spiritual experience. The gallery was taking part in the area's South Island Cultural District Art Day, a collaborative gallery and studio open day for the Wong Chuk Hang art community. Blindspot was showing erotic photographic works with abstract orifices by Jiang Pengyi—instantly censored on my social media account once I uploaded an image with #everyholeisagoal. Spring Workshop continued its otherworldly poetic interlude of music, performance and art with Ari Benjamin Meyers' 'An exposition, not an exhibition'; Rossi & Rossi presented an exhibition of small and intricate architectural models and drawings by Iranian-born American artist Siah Armajani; and de Sarthe Gallery featured a group show of emerging Chinese artists, where I drank the art Kool-Aid at Wang Xin's bar installation (there really was Kool-Aid). It's easy to see why galleries would ditch Central for this hip industrial area. There's plenty of space and character (more bang for your buck) and a growing community of creatives, not to mention some decent coffee nearby, and a recently completed MTR line connecting the district to Central. And there's something to be said for not having to traipse around a soulless commercial building or mall to see art as yet another luxury product.
I avoided the crowds and the maddening regular PA announcements reminding visitors not to touch the work, and headed to the MILL6 Foundation's pop-up exhibition at The Annex on the last day of the fair. The space was holding a Tarot reading workshop with Taiwanese artist Yin-Ju Chen as part of its current group exhibition programme. After interpreting spreads dealing with various human dramas (with an oracular knack, I was told), I was curious what the future would hold for contemporary art in 2017, and pulled 'the wheel of fortune'—market highs and lows, new collectors, more schmoozing (and boozing), another fair, another auction, another biennale; much of the same old, really.—[O]