Feature
Art Basel in Hong Kong: Exhibitions to See in 2019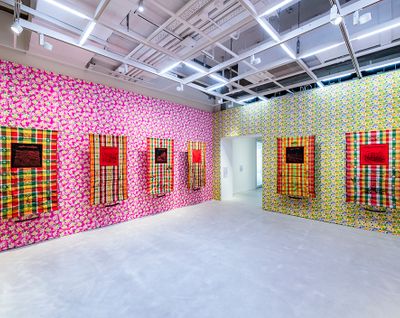 Norberto Roldan, Incantations in the land of virgins, monsters, sorcerers and angry gods (1999–2019). Exhibition view: Unfolding: Fabric of Our Life, Centre for Heritage, Arts and Textiles, The Mills (17 March–30 June 2019). Courtesy Centre for Heritage, Arts and Textiles.
For those visiting during Art Basel in Hong Kong (29–31 March 2019), the smell of fresh paint may still be in the air at the latest heritage conservation project, The Mills, which opened on 16 March to encompass the Centre for Heritage, Arts and Textiles (CHAT), joining the ranks with ex-prison complex Tai Kwun, along with Eaton HK—a retro fitted hotel and workspace, rooted in grassroots activism with a programme defined by the city's makers and shakers. Find out what is currently making Hong Kong tick with this guide of exhibitions to see.
Lee Wen, Land of Oblivion (1990) (detail). Lee Wen Archive, Asia Art Archive Collection. Courtesy the artist's estate.
Form Colour Action: Sketchbooks and Notebooks of Lee Wen
Asia Art Archive, 11/F Hollywood Centre, 233 Hollywood Road, Sheung Wan
13 March–29 June 2019
Late performance artist Lee Wen was born in Singapore in 1957—a soon-to-be independent republic that had lurched from a British colony and briefly merged with Malaysia, with a cultural makeup defined by waves of migrants that arrived through the 19th century from India, China, the Malay Archipelago, and further afield. Lee's practice embodied these shifts. His renowned cycle of 'Yellow Man' performances (1992–2012) began when he was studying at City College of London Polytechnic between 1990 and 1992, when he was often mistaken as Mainland Chinese. Covering his body in yellow poster paint, the artist constructed a performance persona that targeted racial stereotyping, expanding its meanings upon its many international iterations to encompass issues of freedom, climate change, and religious traditions, among others. Its worldwide presentations took place while Singapore effectively cut funding for performance art for a decade after a controversial performance by Josef Ng in 1994, just a year after 'Yellow Man's first appearance in the country.
Lee Wen's body's agency was not only enacted through his art, but also through a profusion of social initiatives, from his engagement with The Artists Village to the international performance collective Black Market International, along with his founding of the Future of Imagination in 2003—an event created to test the freshly lifted restrictions on performance art. From the start, drawing and painting remained key conduits for Lee Wen, representing the ultimate time-based medium. At Asia Art Archive, an exhibition of the artist's drawings, notes, and paintings from between 1978 and 2014 provide insight into the foundations of a practice that changed performance art in Asia.
Lam Tung Pang, Landscape in operation (2018). Ink, charcoal, and acrylics on plywood. 180 x 302 cm. (triptych: 180 x 85; 180 x 122; 180 x 95 cm). Courtesy the artist and Blindspot Gallery.
Lam Tung Pang: Saan Dung Gei
Blindspot Gallery, 15/F, Po Chai Industrial Building, 28 Wong Chuk Hang Road, Wong Chuk Hang
26 March–11 May 2019
Hong Kong's accelerated urbanism embodies the drastic socio-political shifts it has witnessed in recent decades. Born in 1978, Lam Tung Pang can testify to these changes, and is one of many of the region's artists who look to the urban landscape to distil a sense of uncertainty for Hong Kong's future. Lam's surrounding environment spills out onto large-scale paintings and drawings on plywood that comment on the destruction of the natural world and socio-political upheavals, using unconventional pairings such as charcoal and acrylic to create expansive, imaginary worlds. For Lam's first exhibition at Blindspot Gallery, a series of new works created between 2018 and 2019 come together as a non-linear narrative of a wandering individual named 'Eye', whose journey follows the search, and subsequent loss of a manuscript. A sense of fleetingness and unknowing underlines this quest, which came to Lam as he was moving through a dark tunnel on his first journey aboard the new high-speed railway that connects Hong Kong with Shenzhen and Guangzhou, whereupon he was met with a 'vision of anxiety and social unrest'.
The opening for the exhibition will take place on 23 March 2019, with a conversation between the show's curator, U.S.-based culture worker Abby Chan, and Dr Alpesh Kantilal Patel, a visiting scholar at the Asian/Pacific/American Institute at New York University and associate professor of contemporary art and theory at Florida International University (FIU) in Miami.
Liu Chuang, Special Economic Zone (2018). Courtesy the artist.
Unfolding: Fabric of Our Life
Centre for Heritage, Arts and Textile (CHAT), The Mills, 45 Pak Tin Par Street, Tsuen Wan
17 March–30 June 2019
16 March 2019 saw the long-anticipated opening of the Centre for Heritage, Arts and Textile (CHAT)—part of the heritage conservation project of Nan Fung Cotton Mills, a building that belonged to the city's once-thriving textile industry. The inaugural exhibition, Unfolding: Fabric of Our Life, presents works and performances by 17 artists and collectives from across the Asia Pacific region—including Dayanita Singh, Norberto Roldan, and Aoyama Satoru—who reveal the 'faded facts in modern history' through textiles. Socio-political agendas, and personal and collective experiences are unveiled through these humanist works. Alma Quinto's soft sculptures and textile books, for instance, are the result of her three-month residency at CHAT, during which she collaborated with Filipino domestic workers, inviting them to render stitched visualisations of their personal lives. CHAT's location was activated through an installation by Sabah-based collective, Pangrok Sulap, who collaborated with The Mills' surrounding community to create flags with woodblock prints.
Yang Shen, Nocturnal Animals (2012). Oil on canvas. Courtesy the artist.
An Opera for Animals
Para Site, 22/F, Wing Wah Industrial Building, 677 King's Road, Quarry Bay
15 March–1 June 2019
Para Site's new group exhibition—including Lawrence Lek, Samson Young, Haegue Yang, and Robert Zhao Renhui, among others—draws parallels between classical opera and the modern condition. The world is seen through the theatrical lens, at times entering dark episodes, as in the 30-minute video Dog Luv (2009) by Romanian artist Ciprian Muresan, in which four shady canine characters congregate to discuss the limits of non-humanity, beginning with an overview of torture methods. The 'operatic environment' that this exhibition underlines is based on 'conflicts of staging, controlling, hiding, and repressing'—products of Western opera that reflect the world as we know it. The exhibition marks the beginning of a collaboration between Para Site and Shanghai's Rockbund Art Museum, which will culminate with two related exhibitions between 22 June and 25 August 2019 at Rockbund Art Museum, and between September and December 2019 at Para Site.
Photo courtesy Oi! Street Art Space.
Once Lost But Now Found
Oi! Street Art Space, 12 Oil Street, North Point
21 March–28 July 2019
This exhibition features site-specific works created by Leung Chi Wo (Scratching On The Surface), Zheng Bo (YOU ARE THE 0.01%), and MAP Office (Ghost Island),which respond to the context of the Grade II listed building in which Oi! Street Art Space is housed. This former Royal Hong Kong Yacht Club, built on the waterfront in 1908, is the only structure that remains of the former North Point coastline, which has since transformed since reclamantion that took place in the 1930s. The artist's reflect on the site's relationship to the water's shifting edge—an extension of Oi! Street Art Space's own engagement with this legacy throughout its history. The result is a moving and multi-polar portrait of city whose history is tied to the sea as both a metaphor and physical reminder. Theexhibition is presented both within the galleries and in the outdoor spaces of the complex.
Tishan Hsu, Double Ring (2014). Courtesy the artist and Empty Gallery. Photo: Lance Brewer.
Tishan Hsu: delete
Empty Gallery, 19/F, Grand Marine Center, 3 Yue Fung St, Tin Wan
26 March–25 May 2019
Tishan Hsu's anthropomorphic paintings were the stuff of befuddlement and intrigue in the 1980s, when they first entered the public eye. Keeping ahead of your time pays off in the long run, however. The prescience of Hsu's practice has been brought to light in recent shows, including Brand New: Art and Commodity in the 1980s at Hirshhorn Museum and Sculpture Garden (14 February–13 May 2018), followed by Empty Gallery's showcase of his work at the Armory Show later that year. For delete, the artist presents paintings from his 'Shanghai project'—a personal endeavour that he embarked on after the death of his mother in 2012, which led to an enquiry into his Chinese family history. Basing himself in Shanghai, where he held a studio between 2013 and 2016, the artist dug through photo albums, selecting images that had not been lost to the Red Guards for their hints of bourgeoisie. Those that the artist managed to salvage have been printed onto stainless steel and warped and obscured with a layer of latex—a visual manifestation of the fleetingness of memories whilst recalling the post-industrial substance of his early work.
Jorinde Voigt, Radical Relaxation VII (2016). Ink, pencil, pastel, oil pastel on paper. 84 x 64 cm. Unique. Courtesy the artist.
Jorinde Voigt
McNamara Art Projects, 1 Yip Fat Street, Wong Chuk Hang
22 March–5 May 2019
German artist Jorinde Voigt puts to paper the inexplicable. During her studies of literature and philosophy at Göttingen's Georg-August-Universität in 1997, the artist made sense of ideas that she learned through diagrams, ultimately visualising the slippages of language. Upon continuing her studies in art at the Visual Culture Studies School in Berlin and at the Royal College of Art in London, the artist continued to develop her drawing as a practice of map-making; constructing organic, scientific-looking forms that spill across the page like an avantgarde musical score. 'My work is like music,' she says. 'You can enjoy it without being able to read the score.' Indeed, looking at these large expanses of jiving forms and colours is best enjoyed when switching off one's analytical mind and letting associations reign free. In collaboration with KÖNIG GALERIE, the artist's first solo exhibition in Hong Kong will take place at McNamara Art Projects with a selection of significant works on paper from the past three years.
Bosco Sodi, Untitled (2017). Exhibition view: Infinitive Mutability, Axel Vervoordt Gallery, Hong Kong (25 March–1 June 2019). Courtesy Axel Vervoordt Gallery
Infinitive Mutability
Axel Vervoordt Gallery, 21/F, Coda Designer Centre 62, Wong Chuk Hang Road
25 March–1 June 2019
Axel Vervoordt Gallery moves from its Central space to an 8,000-square-foot gallery in Wong Chuk Hang this March, marking a new chapter of larger curated shows and a greater roster of artists. The gallery's inaugural exhibition, Infinitive Mutability, draws together works by Peter Buggenhout, Kimsooja, and Bosco Sodi to contemplate Jacques Derrida's concept of deconstruction to highlight the unending interpretations that can arise with each new reading of a work of art. Belgian artist Peter Buggenhout, who recently joined the gallery, is renowned for his amorphous sculptural installations constructed from found and industrial materials that appear to be in a state of simultaneous ruination and becoming. A series of these abject forms will be on view at the gallery, along with textiles by Kimsooja that reflecton nomadism and migration. The result is a show that offers room for mental wanderings. The second floor of the new gallery will present a selection of works by artists that define Axel Vervoordt Gallery's roster, including master works from Gutai and Dansaekhwa artists, along with contemporary artists such as El Anatsui and Shozo Shimamoto. This selection will rotate throughout the year, presented 'as a large and convivial cabinet'.
Courtesy Eaton HK.
Fragrant Little Heaven
Tomorrow Maybe, Eaton HK, 380 Nathan Road, Jordan
22 March–5 May 2019
Designed by New York-based AvroKO and founded by Katharine Lo, Eaton HK opened in September 2018 as a hub for progressive change, weaving a workspace, music room, in-house radio station, and sleek bar, around a 465-room hotel. The establishment will play host to a three-day audiovisual extravaganza between 28 and 31 March 2019, beginning with a 'Dreamrave' at 7pm on 28 March 2019. Taking the form of an immersive transmedia installation, a performance by new media artist Adrian Yu and Ian Glover, along with sound artist Danny L Harle, will replicate the sleep cycle in five acts, culminating in the final and most vivid chapter of dreams—REM. DJ sets, workshops, and performances will ripple through theweekend, alongside an exhibition of work by VVzela Kook in Eaton HK's gallery, Tomorrow Maybe, titled Fragrant Little Heaven, which will conjure 'Hong Kong's fragrant harbour of the past' through installation, video, and children's pop-up books that explore the city'sChinese name. The title of the exhibition is taken from a description made by British civil servant and historian Geoffrey Robley Sayer, and harks back to Hong Kong's pre-colonial times, as a hub of transport for agarwood, a fragrant wood used for incense and medicine. Bridging Hong Kong's past with its hyper-urban present, this exhibition provides a journey through time and space.
Yeh Shih-Chiang, Black Wall, White Lily《黑牆百合》(2000). Oil on canvas. 138 x 226 cm.
Yeh Shih-Chiang: Edge of Sea and Sky
Hanart TZ Gallery, 401 Pedder Building, 12 Pedder Street, Central
22 March–4 May 2019
After a standout solo show of the artist's work at their booth at the inaugural Taipei Dangdai (18–20 January 2019), Hanart TZ Gallery will feature over 30 oil paintings by late Taiwanese artist Yeh Shih-Chiangin Hong Kong. Born in Guangdong in 1926, the artist studied at the Guangdong Academy of Art before arriving in Taiwan in 1949 where he lived a reclusive existence in his home only reachable by boat. Hanart TZ Gallery's founding director, Johnson Chang,has a long-term but unusual relationship with the artist. A brief visit to Yeh Shi-Chiang's studio in the late 1980s left a strong impression on both, yet no correspondence between the two occurred until the artist's widow discovered a note a year after his death in 2012, instructing that Johnson Chang be in charge of curating his works. Having remained in relative obscurity throughout his life, the first major retrospective of Yeh Shih-Chiang's painting occurred in 2015, arranged by Chang at Hong Kong Arts Centre, followed by a presentation at Hanart TZ Gallery in 2016. _Edge of Sea and Sky_offers another opportunity to experience the artist's iconoclastic practice, which purposefully fringed the rise of modernist art movementsin China in the 1950s to create a highly personal approach to painting defined by expressive brushstrokes of subtle forms and planes.
Heimo Zobernig, Untitled (2018). 200 x 200 cm. Courtesy Simon Lee.
Heimo Zobernig
Simon Lee Gallery, 3/F The Pedder Building, 12 Pedder Street, Central
26 March–10 May 2019
A background in staging and set design began Austrian artist Heimo Zobernig's practice as a master of space. His paintings, architectural interventions, sculpture, films, videos, and performances initiate new approaches to re-thinking the elements of modernist painting, such as colour theory, the grid, the monochrome, and geometric abstraction. At the 56th Venice Biennale, Zobernig reduced the classical architecture ofthe pavilion to a pared down monochrome space devoid of detail, totallyantithetical to the visual chaos of Venice, even without its Biennale. Adevotion to the aesthetic grammar of modernism involves continuous dialogue with art history, which is encapsulated in the artist's upcoming exhibition at Simon Lee Gallery. Formalist enquiries through painting involve references to some of art history's most pertinent imagery, including Pablo Picasso's version of Le Dejeuner sur l'Herbe,along with the landscape paintings of Gustav Klimt and the backgrounds of paintings by Manet, pushing the limitations of space and composition in each instance.
Yoan Capote, Palangre (Abandono) (2018). Oils, nails, fishhooks on linen panel on plywood. 40 x 55 x 8 cm. Courtesy the artist and Ben Brown Fine Arts.
Yoan Capote: Territorial Waters
Ben Brown Fine Arts, 303 Pedder Building, 12 Pedder Street, Central
26 March–17 May 2019
Yoan Capote understands the latent power of materials. Taking the dramatic changes of his home country, Cuba, as his starting point, the artist creates concise manifestations of universal psychological states. The ocean frequently finds itself in his works, an appearance he explains evolved from when he was growing up and would look 'to the horizon and imagine the world beyond. The sea represents the seductiveness of these dreams, but at the same time the danger and isolation.' The ocean takes further importance in its surrounding of a long-isolated republic, as manifestedin the UNESCO prize-winning installation 1, 2, 3 Testing, in which 100 oversize cast-iron microphones mimicking those used by politicians to address the people, were placed along the ridge of El Morro fortress, facing out towards the sea. The ocean appears once more in Capote's first solo show in Hong Kong, for which a selection of 'fishhook paintings' from his 'Isla' series will be mounted along the walls, the horizon line of each matching up to create a vista of the seaand sky. On either side of this line lies a thick, impastoed expanse ranging from red to midnight blue to depict the sky, while underneath a dark ocean is constructed through thousands of tiny fishhooks piercing the surface of the canvas.
Erwin Wurm, Untitled (P38) (2018). Polaroid. Courtesy Lehmann Maupin.
Erwin Wurm
Lehmann Maupin, 407 Pedder Building, 12 Pedder Street, Central
25 March–11 May 2019
What is sculpture to Erwin Wurm? From a pickle on a pedestal, to his 'fat sculptures' of bulbous cars and houses to criticise consumerist society,one thing for certain is that the absurd is often in tow. The artist represented Austria at the 57th Venice Biennale alongside Brigitte Kowanz, where he presented his iconic 'One Minute Sculptures', exactly 20 years after he incepted the series. An interactive work, 'One-Minute Sculptures' involves household objects that the audience is invited to engage with in an original pose to question themes of authorship, temporality, and the relationship between the subject and the object. After the photo-friendly work's success at Art Basel in Hong Kong last year, as part of the Installations sector, the series returns for a fullmonth at Lehmann Maupin, where viewers can obtain a Polaroid picture oftheir pose. The body is ever-present in Wurm's work, whether it is through one's own involvement, or through more explicit associations such as his cast metal sculptures of sausages with human features in his'Abstract Sculptures' series.
Xu Zhen, Under Heaven-Gold-0102MQ1809 (2016–2018) (detail). Oil on canvas, gold foil, aluminium. 160 × 130 cm. Courtesy the artist and Perrotin.
Xu Zhen: The Glorious
Perrotin, 17/F, 50 Connaught Road, Central
25 March–3 May 2019
The swollen art market and the complexities of accelerated globalism are the playthings of Xu Zhen, whose dark humour manifests in outlandish installations, performances, video works, and interventions. Since 2009,the artist has operated under MadeIn—an 'art creation company' that subsequently launched the brand Xu Zhen, for which the artist effectively became a product. Sotheby's Contemporary Art Evening Sale on30 September 2018 included the artist's fully-stocked Xuzhen Supermarket,which mimicked the Western-style minimarts that have sprouted across China since the 1980s. Complete with a full cash register, the empty products in the supermarket are continuously restocked—commentary on theemptiness of mass consumption, and of the art market as a whole. Vapidity prevails in the artist's 'Under Heaven' series—lavish abstractions of pigments ejected onto the canvas through cream piping bags. For his third solo show with Perrotin, Xu Zhen; continues the series in resplendent gold, along with sculptures and installations thatcapture the long-running themes of his practice.
David Altmejd, Bad News (2019). Expanded polyurethane foam, epoxy clay, resin, cement, steel, cotton shirt, acrylic paint, paper, quartz, glass eyes, graphite, coloured pencil and glass gemstone. 72.4 x 30.5 x 31.1 cm. © David Altmejd. Courtesy White Cube.
David Altmejd: The Vibrating Man
White Cube, 50 Connaught Road, Central
26 March–18 May 2019
The art world has a penchant for the uncanny. Such a fact rang true with the international museum craze for Patricia Piccinini's chimera figures made from silicone, fibreglass, and human hair, which roamed South America for a solo exhibition that accumulated over 1 million in attendance between 2015 and 2016. The new head and bust sculptures of Canadian artist David Altmejd that will show at White Cube during Art Basel in Hong Kong have a similar strain of strange. 'A perfect object for me', states the artist, 'is something that is extremely seductive and extremely repulsive at the same time'. Magic meets science in these new works that mark the gallery's official representation of the artist. In Crystal System (2019), for instance, a long-haired guru gone wrong gingerly holds two cigarettes from a multi-fingered severed hand, lifted from the sculpture's base by a slender metal pole, while ash is held over a halved coconut. Multiple eyes peer out tranquilly from the figure's face, that looks as if it is in the midst of mitosis. The mishmash of elements that Altmejd bestows his figures dons a sense of process—transfiguration, even—which allows for a halo of optimism atop the sci-fi horror.
Mary Corse, Untitled (White Multiband, Beveled) (2019). Glass microspheres in acrylic on canvas, 198.1 × 304.8 cm. © Mary Corse. Courtesy Kayne Griffin Corcoran, Lisson Gallery, and Pace Gallery.
Mary Corse
Pace Gallery, 12/F, H Queen's Road, Central
26 March–11 May 2019
Mary Corse's canvases are nothing if not experienced in the flesh. Her renowned 'White Light' series, of which eight new renditions are being presented at Pace Gallery, were begun in 1968 after the artist noticed the bright white lines that lit up alongside the Pacific Coast Highway when driving at night. Employing the glass microspheres that are used to paint the roadside stripes, Corse began constructing immense, shimmering canvases to capture the light she witnessed. Through these works, the artist became associated with the male-dominated West Coast Light and Space Movement—of which Larry Bell and Robert Irwin were part—yet she has consistently asserted her separation to the movement. While her male counterparts rose to fame, Corse settled into California's Topanga Canyon in comparative isolation to concentrate on a prolific body of work, which is only now being given widespread recognition. In 2018, Dia Art Foundation and the Whitney Museum of American Art opened exhibitions of her work, while Lisson Gallery in London presented the artist's first major U.K. solo show. A comprehensive survey of her work will open at Los Angeles County Museum of Art in summer 2019.
Louise Bourgeois, Untitled (1998–2014). Hologram. 33 x 27.9 cm. © The Easton Foundation/VAGA at ARS, NY. Courtesy The Easton Foundation and Hauser & Wirth. Photo: Matthew Schreiber.
Louise Bourgeois: My Own Voice Wakes Me Up
Hauser & Wirth, 15–16/F, H Queen's, 80 Queen's Road, Central
26 March–11 May 2019
Of great inspiration to Yoan Capote was Louise Bourgeois, who the artist encountered during his first trip to the United States in 2002 for a residency at the Vermont Studio Center. Upon meeting, the two exchanged drawings, and Bourgeois encouraged Capote to 'continue in the psychological direction,' a path that she took with force throughout her life. The artist's first solo exhibition in Hong Kong, curated by her longtime assistant Jerry Gorovoy, focuses on the body's importance in Bourgeois' work, as a 'key to both self-knowledge and cathartic release.' The exhibition includes well-known forms of work, including red gouaches, fabric sculptures, and red gouaches, along with her lesser-known holograms—the result of a 1997 collaboration between the artist and C-Project, which was the first holography studio in New York. Bourgeois was 87 at the time she made these eerie works, that glow and fade to reveal deep red interiors containing miniature chairs in metallic dens—surrealistic windows into strong psychic space. On 26 March, a panel discussion between Jerry Gorovoy and four museum professionals and scholars—including Wang Duan, artistic director of Song Museum, and art historian and writer Briony Fer—moderated by Shanghai-based critic Shen Qilan, will discuss the artist's work at Tai Kwun between 2:30 and 3:30 pm.
Shiori Eda, Tsunami (2014). Oil on canvas. 194 x 259 x 3 cm. Courtesy the artist.
Shiori Eda: A Water World
A2Z Art Gallery, 41 Gough Street, Central
28 March–28 April 2019
On 25 March 2019, Paris- and Hong Kong-based A2Z Art Gallery will close its doors to the exhibition of brightly coloured canvases covered with boats made from thin layers of folded paint by Hong Kong artist Ng Lung Wai, and open a comparatively moody showcase of surrealistic paintings by Japanese artist Shiori Eda on 28 March. A Water World continues the artist's portrayal of dark, heaving seascapes—ruminations of human apathy in the face of climate catastrophes. Heaving whirlpools and waves fume white across blackened canvases, while miniature figures and objects—such as a boat and an airplane in the case of Water power (2019)—are consumed by bodies of water. These expansive ruminations also touch on the artist's experience as a woman in Japanese society she asserts is still rampant with misogyny, as indicated by the tiny yet resolute female figures that reappear in works such as Tsunami (2014), in which a gigantic wave crashes down, its bright spume creating a curve across the canvas. A slender board ejects from the right-hand side of the canvas, from which naked female figures fall to the ocean's surface at the behest of the wave—appearing like fluttering gulls in the darkness.
Yinxian Wu, Chinese Hibiscus (1977). Chromogenic colour print. 16.8 x 27.2 cm. Courtesy Lévy Gorvy.
Return to Nature
Lévy Gorvy, Ground Floor, 2 Ice House Street, Central
26 March–18 May 2019
Opening in the 2,500-square-foot ground floor space of St. George's Building in Central, Lévy Gorvy will inaugurate its third gallery space with an exhibition that brings together international artists, including Willem de Kooning, Song Dong, Wassily Kandinsky, and Hao Liang, to contemplate nature and the physical world as a means of reflecting on contemporary turmoil. The exhibition draws from The Literary Mind and the Carving of Dragons, a compendium of literary criticism and from the 5th century by Liu Xie, in which the author begins with a discussion of nature's underlying pattern. Cohesion and clarity offered by nature are explored by the artists in this exhibition through painting and photography, as in the case of Yinxian Wu's chromogenic prints of Chinese Hibiscus (1977) and Chinese quince 002 (1976), which capture in immaculate detail single, orange flowers against dusky grey backdrops. This exhibition promises a sense of respite from the calamity of Hong Kong's art week, with a return to nature as the purist of forms. —[O]
—