Feature
Art Basel Lowdown: Shows to See in 2019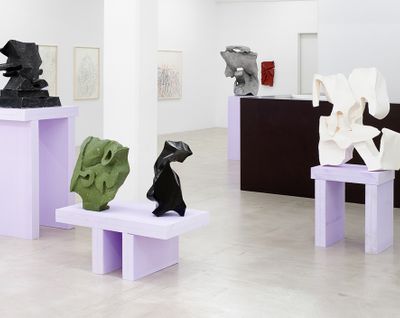 Exhibition view: Josef Herzog, Simone Holliger, Nicolas Krupp, Basel (16 May–31 August 2019). Courtesy Nicolas Krupp. Photo: Serge Hasenböhler.
To coincide with Art Basel 2019, which opens to the public from 13 to 16 June, galleries and institutions across the city are presenting a range of stellar exhibitions. From Rebecca Horn at Museum Tinguely to Geumhyung Jeong at Kunsthalle Basel, here is a selection of what to see.
William Kentridge, Dead Remus (2014–2016). Charcoal on found ledger pages. 47 x 66.5 cm. Courtesy © the artist.
William Kentridge: A Poem That Is Not Our Own
Kunstmuseum Basel | Gegenwart, St. Alban-Rheinweg 60, 4052
8 June–13 October 2019
After the debut of the Head and the Load at Tate Modern in the summer of 2018, William Kentridge's immersive installation graces the Kunstmuseum Basel | Gegenwart. The Head and the Load is an adaptation of what was originally unveiled as a performative piece combining dance, mechanised sculptures, film projections, and a score composed by Philip Miller and Thuthuka Sibisi, which acquaints audiences with the untold involvement of Africanporters and carriers in British, French, and German forces during the First World War. The work forms part of this exhibition at Kunstmuseum Basel | Gegenwart, which spans the artist's career, dating back to early graphic works of the 1980s and 90s. On loan from South African collections, these early graphic works—most of which were created before the end of Apartheid—capture themes that remain key to Kentridge's practice, from postcolonial memory to the aftermath of war.
Kentridge's skill in creating all-encompassing environments is also highlighted in the transformation of an entire room of this exhibition with stage decors designed for Sophiatown (1986–1989), a play directed by Malcolm Purkey that dramatises the forced removals in Sophiatown that started in 1955, before the Johannesburg neighbourhood was demolished in 1963.
On Monday 10 June at 6:30 pm, Kentridge will present performance based on the poetic and musical work by dada artist Kurt Schwitters, Ursonate.
Rebecca Horn, White Body Fan (1972). Courtesy Rebecca Horn Collection.
Rebecca Horn: Body Fantasies
Museum Tinguely, Paul Sacher-Anlage 2, 4002
5 June–22 September 2019
Presented in collaboration with the Centre Pompidou-Metz, Body Fantasies is the first extensive exhibition of work by Rebecca Horn in Switzerland for more than 30 years. In line with the legacy of kinetic artist Jean Tinguely, this exhibition spans four key themes—Flapping Wings, Circulating, Inscribing, and Touching—that consolidate the key developments of Horn's practice over nearly five decades. Born in 1944 in Michelstadt in Germany, Horn contracted a lung condition in 1968 that marked a significant turn to the bodily in her practice. Restricted from using certain sculptural materials as a result of this condition, softer elements found their way into her practice, resembling bandages or prostheses. In the performance piece White Body Fan (1972), for example, Horn reimagined early aviation fantasies by attaching white fabric, semi-circular wings to her body that flutter open with a raising of the arms.
The first group of works in this exhibition are derived from the performance, while later works take a mechanic turn, with movement remaining key. Since the 1980s, Horn's practice has primarily comprised kinetic machines and large-scale installations that are mechanically activated and contrast with the softer materials of her early works. In El Rio de la Luna (1992), for example, the exhibition space is consumed by sprawling lead pipes through which mercury is pumped into 'heart chambers'.
Exhibition view: Geumhyung Jeong, Homemade RC Toy, Kunsthalle Basel (3 May–11 August 2019). Photo: Philipp Hänger / Kunsthalle Base.
Geumhyung Jeong: Homemade RC Toy
Kunsthalle Basel, Steinenberg 7, 4051
3 May–11 August 2019
Seoul-based artist and choreographer Geumhyung Jeong bridges the divide between the body and the technological 'other' through intimate performances that involve inanimate collaborators including vacuum cleaners, sex toys, and dummies. In CPR Practice (2013), for instance, the artist slowly, intimately performed physical rehab manoeuvres on medical dummies, as if tenderly attempting to bring them to life. Uncanny in her approach to objects, Jeong has proceeded to construct meticulous installations in which items are arranged in almost fanatical order, with sex toys, inflatable mannequins, medical test devices, and other bodily constructs assigned categories or types, while accompanying videos illustrate their use in matter-of-fact demonstrations.
Assemblies of objects such as wires, cables, and home-repair parts are laid out on plinths at Kunsthalle Basel, forming part of an installation that centres on five sculptures constructed from disassembled mannequins, their torsos replaced by ungainly machines with rubber wheels at their joints, and their heads—derived from dental study props—with jaws ajar and playing host to small rollers. On 6 June, Geumhyung Jeong awoke these sculptures from their mechanic slumber with the first of a series of performances that will take place throughout July and August, conjuring life from imagined realms to portray an all-too-near future of life and technology intertwined.
Rudolf Stingel, Untitled (2019). Oil on canvas. 335.3 x 457.2 cm. © Rudolf Stingel. Courtesy the artist. Photo: John Lehr.
Rudolf Stingel
Fondation Beyeler, Baselstrasse 101, 4125
26 May–6 October 2019
This summer, Fondation Beyeler presents the first major presentation of Rudolf Stingel's work since his exhibition at Palazzo Grassi in 2013 in Venice, curated by Udo Kittelmann. Removing any thematic chronology, this exhibition centres on the artist's challenging of form and material, with each work to be viewed as per its own, distinct construction in response to Fondation Beyeler's Renzo Piano-designed galleries. Since the 1980s, Stingel has moved between the canvas to all-encompassing environments, as seen in his first solo exhibition at Daniel Newburg Gallery in New York, where the artist covered the floor with a bright orange carpet, while the walls remained bare. The orange carpet of his exhibition at Daniel Newburg Gallery finds itself once more at Fondation Beyeler in an all-new work, this time displayed horizontally on one of the gallery walls.
However disparate the subject matter may seem between each work, Stingel is artful with compositional threads. In one instance in this Fondation Beyeler show, a hand holding a cold, metallic spray gun from one of the black-and-white photographs in his famed artist book Instructions (1989), is rendered as a photorealistic painting that provides an entry point to the exhibition. The abstract paintings within the show have been constructed as per the guidelines in Instructions, which comprises a collection of photographs and entries illustrating the composition of Stingel's abstract paintings, laying bare the artistic process in a manner that invites readers to create their own 'Stingel'.
Nadim Abbas, Deoxyhaemoglobin (Homo Sapiens) (2017). Risograph on 200gsm acid-free paper. Courtesy the artist.
Nadim Abbas: Poor Toy
Vitrine, Vogesenplatz 15, 4056
11 June–25 August
Hong Kong artist Nadim Abbas transforms the banality of the domestic into a horror story for his solo exhibition at Vitrine, consisting of sculptural arrangements abstracted from the all-pervasive world of Ikea. Flatpack furniture and other objects sourced from the Swedish retailer and second-hand shops have been 'hacked' by Abbas with newly constructed 'appendages' and assembled into a supernatural environment. Behind these formations and their accompanying works on paper, which call to mind architectural blueprints, is an extensive body of research drawing from literature, science, and psychology to question the patterns, trends, and subcultures that arise from domestic environments. Similar threads ran through Abbas' 2017 installation, Camoufleur, which made use of Vitrine's enveloping window spaces in London to explore the term hikikomori, which is attributed to young, socially recluse individuals in Japan. In Camoufleur, Abbas attributed a voyeuristic dimension to an otherwise hidden phenomenon, reducing the windows to two pared-down spaces antithetical to hikikomori's oft-associated term_, otaku_, a contested word used to describe individuals with obsessive interests in a particular area, such as collectibles, anime, or cosplay, whereby the bedroom becomes the showroom for said interests.
At the gallery in Basel, which was designed by Swiss designers Jens Müller and Thomas Wüthrich, the exhibition will similarly be viewable from the street, as well as extending inside. A preview will take place between 7 and 11 pm on Monday 10 June.
Exhibition view: Josef Herzog, Simone Holliger, Nicolas Krupp, Basel (16 May–31 August 2019). Courtesy Nicolas Krupp. Photo: Serge Hasenböhler.
Josef Herzog, Simone Holliger
Nicolas Krupp, Rosentalstrasse 28, 4058
16 May–31 August 2019
An artful dialogue arises in this exhibition, which surrounds Simone Holliger's bending, crumpled-looking paper and glue sculptures on plinths with the articulated scrawls on paper in graphite pencil, watercolour, and oil chalk by Josef Herzog. Undulating surfaces engulf and reflect light in Holliger's monochrome sculptures, rendering them like unicellular organisms in some cases, or bundles of slowly melting, morphing plastic in others.
Holliger's forms emanate the same compositional euphoria as other master contemporary sculptors such as Carol Bove, whose powder-coated steel forms—albeit with a smoother, less self-conscious surface texture than Holliger's sculptures—sit within the fine space between becoming and un-becoming. Herzog's drawings are equally evocative of this mental space. In his drawings, Herzog's mad, wandering hand occasionally promises an eventual coming together with hints of repeating colours and patterns, almost appearing like blueprints to Holliger's sculptures. As such, they come together in ecstasy—almost like a celebration of modern-day detritus, like litter on a pavement or an unkempt desk—spaces that act as a testimony to activity and human output.
Karim Noureldin's studio. Courtesy the artist and von Bartha. Photo: Ariel Huber.
Karim Noureldin: Equinox
von Bartha, Kannenfeldstrasse 6, 4056
11 June–27 July 2019
The geometry of Karim Noureldin's drawings is deceptive upon first glance. Harmonious and sustained order seems to recall the artist's background as a trained architect, yet upon closer inspection, an intuitive hand asserts a wandering creative process as cross-hatched and blended colours move across gradients in their assigned forms. A collection of these drawings opens the exhibition at von Bartha, which holds the same title as the series, along with three new textile pieces and previously unseen works on paper from the artist's archive, dating between 1992 and 2015. Spilling across the floor, the textile pieces are collaborative efforts designed with master weavers working in a town 40 minutes outside of Jaipur in India who are among the last to use the labour intensive 'panza' technique, which sees threads woven 'so tight that in a hot climate it feels cool to the feet', explains the artist. Providing insight into the artist's practice are a collection of small-scale works on paper, that are displayed on a wooden mount that spans the length of the gallery, measuring two by thirty metres.
The exhibition's preview will take place on 10 June between 6 and 9 pm.
Minoru Onoda, SAKUHIN II (1960) (detail). Oil, sand, plaster, pipe, on plywood. 97 x 131 x 7.5 cm. Courtesy Anne Mosseri-Marlio Galerie.
Minoru Onoda: Paintings—1960s onward
Anne Mosseri-Marlio Galerie, Malzgasse 20, 4052
7 June–5 July 2019
In 2017, also during Art Basel, Anne Mosseri-Marlio Galerie held the first solo exhibition of work by Minoru Onoda outside of Japan. The exhibition included works created in the first part half of the 1960s, before Onoda was invited by Sadamasa Motonaga to join the infamous Gutai group. Onoda was among the third wave of artists to join, at a time when the influence of Michel Tapié's Art Informel on the group's works had plateaued, and new directions were being sought. The artist, who was born in 1937 in Manchuria, northeast China, moved to Himeji in western Japan with his family on the cusp of World War II, where he published a text in a Himeji-based art magazine outlining his concept of 'propagation painting', which centred around repetition as a reflection of rapid economic growth at the time.
Onoda's early paintings have a rough, industrial quality with materials such as sand and plaster finding their way into compositions, such as the pale surface of SAKUHN II (1960), which culminates in earthy reds, blues, and greens that form a crevice of colour across the middle of painting, interspersed with small, chopped sections of piping. Such paintings are on view at Anne Mosseri-Marlio Galerie for the artist's second solo exhibition here, along with his well-known biomorphic dot works. The psychedelic patterns in these paintings have been rendered on a smooth, undulating bas-relief of hardened gofun, a mouldable paste made from pulverised oyster and clam shells.
Nina Beier, Baby (2018). Courtesy the artist and Metro Pictures, New York. Photo: Stuart Whipps.
Body Splits
SALTS, Hauptstrasse 12, 4127 Birsfelden
12 June–12 August 2019
Set along the River Birs, the garden of SALTS and its reconverted spaces—including a former butcher shop, two garage boxes, and a courtyard—have provided versatile space for young Swiss and international artists to develop their work since its founding in 2009 by Samuel and Anna Leuenberger. Initiated as an art salon, SALTS has provided a platform for performances, happenings, and meet-ups, morphing into its current identity as a non-profit art organisation that continues to challenge artistic practice, with artists often creating work for exhibitions on-site.
SALTS will celebrate a productive ten years with a party on Thursday 13 June between 6 and 10pm, against the backdrop of Tobias Spichtig's solo show, Fridge & Mind Again (12 June–23 August 2019)—which uses the fridge as an analogy for the art institution—and Twin Earth, a joint show of cosmographics by Marguerite Humeau and Julian Charrière (12 June–23 August 2019). Held across the garden and within several specially built pavilions is Body Splits, a group exhibition exploring the representation of the body through different artistic practices. The show features 12 artists, including Jesse Darling, Oliver Laric, Mia Sanchez, and Pakui Hardware, who conjure representations of the body—from the uncanny to the traditional—in order to explore personal and political themes in the cultural realm.
Klara Lidén, A Walk in the Park (2019) (still). HD video, colour, sound, loop. 3 + 2AP. 5 min 53 sec. Courtesy Weiss Falk, Reena Spaulings Fine Art, and the artist.
Klara Lidén: Now Two Three, in collaboration with Reena Spaulings Fine Art
Weiss Falk, Rebgasse 27, 4058
12 June–27 July 2019
From moonwalking across Lower Manhattan in the night (The Myth of Progress [Moonwalk], 2008) to attempting to remove billboard posters from across the whole of Stockholm (U TRY MME, 2002), Klara Lidén is an artful disruptor of urban space, revealing its psychogeography through performative actions, videos, and large-scale installations. In the 2005 photograph Self Portrait with the Keys to the City, Lidén appears like a bandit—face to the ground and partially hidden with a black cap, while she opens the sides of her jacket to reveal pliers, an electric torch, spanner, and other instruments. Described as a 'post-architectural Buster Keaton' by friend and fellow artist, John Kelsey, farcical gestures reveal space and non-space alike. In the five-minute video Grounding (2018), the artist stages a series of pratfalls amidst the flow of bodies in Lower Manhattan, stumbling over invisible obstacles to draw attention to physical space, which, as she explains 'always somehow begins with the body'.
For Now Two Three, Weiss Falk is collaborating with New York-based Reena Spaulings Fine Art to present Lidén's first solo exhibition in Switzerland with new sculptural works and videos, some of which were included in her recent solo exhibition, Auf jeden Fall at Vienna Secession (1 February–31 March 2019), including A Walk in the Park, which sees the artist parading through the city's historical centre with just her feet on show, a white, rectangular tarpaulin site fence covering the rest of her body and more, like a blank canvas gliding through space, open to projection. The exhibition's opening night will take place from 6 pm on Tuesday 11 June.
Verena Loewensberg, Untitled (1976). Courtesy Galerie Knoell.
Verena Loewensberg
Galerie Knoell, Luftgässlein 4, 4051
5 June–13 July 2019
The sole female member of the Zurich Constructivists' inner circle, along with Camille Graeser, Richard Paul Lohse, and Max Bill, whose works from 1941 to 1969 will be on view at the gallery's booth at Art Basel, Verena Loewensberg's innovative approach to form and colour is being presented at Galerie Knoell in collaboration with the Verena Loewensberg Foundation. The exhibition spans 20 works from the 1960s and 70s.
Born in Zurich in 1912, Loewensberg joined the Basel Vocational School in 1927, where she focused on weaving, embroidery, design, and colour theory, leaving before graduating to study weaving under Martha Guggenbühl, followed by dance and choreography with Trudi Schoop in Zurich. Loewensberg's colliding and interconnected interests also saw a devotion to classical and contemporary music, which led her to open the record shop, City Discount, in 1964, by which point she had become a master of composition in her print and painting works, which hover between order and intuition; fullness and emptiness. In Ohne Title (1977), for instance, a perfect, pale cream circle rests upon a thick panel of grey, while interchanging bars of rainbow colour form two pyramids above and beneath the sphere's top and bottom curves against two bars of dark brown.
Cecilia Bengolea, Oneness (2019). Courtesy the artist and TANK.
Cecilia Bengolea: Oneness
der TANK, Campus of the Arts, Freilager-Platz, 4002
8–16 June 2019
der TANK, a glass cube set within the Campus of the Arts of the FHNW Academy of Art and Design, is covered with stones from the floor of the Rhine River for this performative installation by Paris-based, Argentinian artist, dancer, and choreographer, Cecilia Bengolea, who will activate the setting with a one-off performance on Tuesday 11 June at 7pm. Rid of water, the stones are littered with invertebrate creatures that call to mind the bottom of the ocean. But where water cannot exist here, another imagined realm arises—that of the realities of ecological destruction, of sea floors ruined by pollution and deep-sea trawling. Imagining the depths of the ocean is an invitation to imagine a world far removed from the one we know, and it is this negation of 'oneness' that Bengolea is seeking to capture here, to project 'the joy of a world that views its responsibility and future freedom as inextricably linked with the life of each and every one of our planet's organisms.'
Véronique Arnold, Galaxies (2019). Embroidery on fabric. © Véronique Arnold. Courtesy the artist and STAMPA Galerie.
Véronique Arnold: We are the universe
STAMPA Galerie, Spalenberg 2, 4051
28 May 2019–31 August 2019
Literary references and philosophical musings are enclosed in the threads of French artist Véronique Arnold, whose embroidered and sculptural works are a testimony to the intangible. For the artist's solo exhibition Ou elles volent, ou elles tombent at Buchmann Galerie in Lugano in 2018, for instance, gathered leaves were dipped in white porcelain, with further applications of the white liquid applied before the sculptures were fired in a specialised oven. The leaf, a fragile trace of life, was thus rendered immortal—albeit in an equally delicate configuration—while white canvases on the walls pictured lightly drawn leaves in graphite, spilling across the canvas as if by the force of a gust of wind. For We are the universe, metaphysical greatness reigns through colourful embroidery works whose cosmic details have been adapted from Hubble space telescope images, offering a tactile mapping of life's unknown forces. —[O]