Feature
A Change of Scene: Art Stage Singapore 2018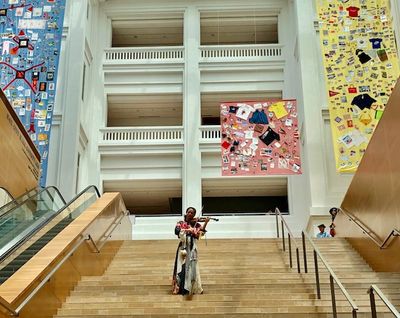 Ayumi Paul performing We Are We as part of Light to Night at National Gallery Singapore (19–28 January 2017). Photo: Diana d'Arenberg.
This year marked the eighth edition of Art Stage Singapore (26–28 January 2018), founded with the goal of bringing together galleries and art from Southeast Asia under the roof of the Marina Bay Sands Expo and Convention Centre. The fair was, in its initial years, seen as Singapore's answer to Art Basel, but with a distinct regional flavour—fast forward to 2018 and much has changed.
For one, the fair has shrunk considerably, with 97 exhibitors from 38 cities participating, compared to the 197 galleries that took part in 2015, with a distinct decrease in international galleries. Gone were Galleria Continua, Edouard Malingue Gallery, Galerie Krinzinger, Rossi & Rossi, Beijing Commune, Paul Kasmin Gallery, White Cube, and the like. Even Pearl Lam Galleries, who has a space in the city's Gillman Barracks, was noticeably absent from the fair. Attendance was also lower than in previous years—dropping from 51,000 in 2015 to 26,500 this year. What remained was an especially strong presence from Southeast Asian galleries including Arario Gallery (Seoul); Gallery OVO (Taipei); Numthong Gallery (Bangkok); Roh Projects (Jakarta); and Gajah Gallery (Singapore; Jogyakarta).
Exhibition view: Works by Anang Saptoto at Roh Projects, Art Stage Singapore (26–28 January 2018). Photo: Diana d'Arenberg.
Some of the fair's highlights included a considerable number of booths dedicated to showcasing emerging artists, with strong presentations from the Philippines, Indonesia, and Singapore, including Rodel Tapaya at Tang Gallery (Hong Kong; Bangkok; Beijing); Handiwirman Saputra at Gajah Gallery (Singapore); and Anang Saptoto at Roh Projects (Jakarta). There was a spotlight on Thailand this year that wasn't immediately apparent, with participating galleries including Numthong Gallery, Tang Contemporary, Richard Koh Fine Art, Whitespace Gallery Bangkok, 1Projects, Nova Gallery, Number1gallery and S.A.C. Gallery Bangkok, and artists Natee Utarit and Kamin Lertchaiprasert presenting installations hidden along the sides of the fair.
Stand-out displays included STPI's booth, which featured a series of mixed media circle etchings—bearing poetic titles like The time travelers calendar, a mental map of the unmappable (2013), and Doubt does not travel in a straight line (2013)–by Rirkrit Tiravanija, whose site-specific rooftop bamboo tea house at the National Gallery Singapore, untitled 2018 (the infinite dimensions of smallness) (2018), represents the second Ng Teng Fong Roof Garden Commission. Also on view were a detailed and textured series of works on paper by Goh Beng Kwan and several Suzann Victor works made of polycarbonate sheet and coloured paper pulp works resembling floating clouds.
Suzann Victor, Blue Mist Cloud (2017). Assembled polycarbonate sheets and coloured paper pulp. 147 x 180 x 24 cm. Produced at STPI - Creative Workshop & Gallery, Singapore. Courtesy the artist and STPI. © Suzann Victor.
Singapore's Gajah Gallery featured several acrylic and silver-plated world maps by Rudi Mantofani, and playful abstract paintings by Indonesian artist, Yunizar, that look like improvised jazz expressed in hieroglyphics on canvas. Taipei and Hong Kong-based Whitestone Gallery brought out a collection of paintings from the Japanese Gutai artists of the 1950s, including Shozo Shimamoto, Yuko Nasaka, Shuji Mukai, while Sakurado Fine Arts showed a series of smaller Gutai works from artists Sadamasa Motonaga, Kazuo Shiraga, and Atsuko Tanaka, plus a signature Jiro Yoshihara circle ink painting on paper from 1965.
Tsuyoshi Maekawa, Untitled (2016). Acrylic, linen on canvas. 130.3 x 162.1 cm; Tsuyoshi Maekawa, Untitled (2017). Acrylic, fibre on panel. 32 x 41 cm. Exhibition view: Whitestone Gallery, Art Stage Singapore (26–28 January 2018). Courtesy Whitestone Gallery.
One of the main features of this year's fair, according to its press release, were three 'selling exhibitions', including a special presentation of works on paper by Alexander Calder, and a dispersed showing of sculptures by 'Honorary Invited Artist' Fernando Botero, which popped up randomly in the aisles of the fair space.
The third of these 'selling exhibitions' was Art Stage's collaboration with The Tiroche DeLeon Collection, a private collection and art fund founded by Israeli born businessman, Serge Tiroche, whose advisory board includes Art Stage founder and director, Lorenzo Rudolf. Occupying the largest booth in the fair at 200 square metres, in focus were Asian contemporary works, several bought at previous editions of Art Stage Singapore between 2011 and 2016. There was an Entang Wiharso metal wall relief (Undermind, 2012); beautiful silk embroidery works by Eko Nugroho from Arndt Gallery (formerly a fixture of the Art Stage Singapore fair circuit, but now absent); and several paintings by Heri Dono, whose pieces were to be found at several other booths at the fair, including at Srisanti Syndicate. A small pink room installation hanging with beautiful, visceral embroidery and mixed media by Filipina artist Geraldine Javier (Hysteria, 2011) delighted visitors, as did a large iconic oil on canvas featuring a large white dog set against a panoply of figures from Filipino myths and folklore by Rodel Tapaya, Cane of Kabunian, Numbered But Cannot be Counted (2010), which won the triennial Asia Pacific Breweries Foundation Signature Art Prize in 2011.
Kamin Lertchaiprasert, No Past No Present No Future (2015). Mixed media. Dimensions variable; Rodel Tapaya, Cane of Kabunian, Numbered But Cannot be Counted (2010). Acrylic on canvas. 305 x 610 x 8 cm. Exhibition view: Tiroche DeLeon, Art Stage Singapore (26–28 January 2018). Photo: Diana d'Arenberg.
According to a press statement on the Trioche DeLeon Collection's website, the collection's collaboration with Art Stage 'came from an evolutionary necessity of collectors to find new avenues for selling outside the auction realm', thus enabling, quoting Trioche himself, 'interested collectors to acquire established masterpieces with fewer intermediaries.' Revealingly, across from the Tiroche DeLeon booth was another bearing the Tiroche name, Omer Tiroche (nephew of Serge Tiroche), exhibiting works from the gallerist's father. As a whole, this corner of the fair layout seemed dedicated to selling off part of the Tiroche's private collection. Of course, Art Stage has never been shy of venturing into unconventional—or controversial?—terrain. For its 2013 edition, the fair presented a 1,000-square-metre Indonesian Pavilion in direct collaboration with 30 Indonesian artists—cutting out and competing with the dealers—with Art Stage receiving a dealer's cut from the sale of the works.
Given the direction Art Stage appears to be taking, one wonders if the fair will go the way of ShContemporary before too long. Indeed, rather than addressing the fair's questionable approach, Rudolf's opening statement to this year's Art Stage intimated that the fair's declining success lies in the lack of infrastructure and art production in Singapore—in 2017 he described Singapore as 'too small, too weak' to compete in the international art market. This position, however, was countered by the events that took place around Art Stage Singapore as part of Singapore Art Week (17-28 January 2018), an initiative spearheaded and funded by the National Arts Council, the Singapore Economic Development Board, and the Singapore Tourism Board to create an ecology around the fair, with a week-long programme of exhibitions, installations and art-related events taking place around the city.
Rirkrit Tiravanija, untitled 2018 (the infinite dimensions of smallness) (2018). Exhibition view: Ng Teng Fong Roof Garden Commission, National Gallery Singapore (24 January–28 October 2018). Courtesy the artist and National Gallery Singapore. Photo: © Joseph Nair.
In fact, Singapore has a strong museum culture, courtesy of a proactive government throwing their weight behind cultural institutions. The National Gallery Singapore—which opened in 2015 and is a treasure trove of Southeast Asian art—was the centre of the Light to Night Festival, which also expanded out to various parks and cultural institutions across the city. As noted, Tiravanija's rooftop installation was on view, along with a programme of performances, dance, music and installations.
The festival included a poetry performance by 50 poets to mark the 50th anniversary of Filipino artist and poet David Medalla's iconic expansive collaborative textile work A Stitch in Time (1968), which hung from the entrance of the gallery. The work—which featured in the 57th Venice Biennale—invites members of the public to sew personal keepsakes, representing memories or stories, onto lengths of fabric, resulting in collaborative dialogue between the artist and his participants, and a portrait of a city and time. In a gallery room featuring Raden Saleh's large dramatic 1849 painting Forest Fire, of animals pushed by flames to the edge of a precipice, an opera singer serenaded visitors with a spine-tingling Schubert lieder—part of Lee Mingwei's durational performance Sonic Blossom.
The National Gallery Singapore's festival programme emphasised the experiential with works that encouraged audience interaction and engagement featuring heavily, as were textile art works, threading together stories of the personal, political, and social. They were all 'works that encourage viewers to slow down,' explained Vanini Belarmino, curator and assistant director at the National Gallery Singapore, who worked on pulling the festival together. Guided by the curator through the gallery's maze of rooms, we joined Berlin-based composer and performer, Ayumi Paul, whose practice was presented in an unforgettable and sublime exhibition initiated by Ari Benjamin Meyers at Esther Schipper Gallery Berlin last year (Solo for Ayumi, 2 July-5 August 2017). Wearing a hand-stitched dress from textiles gathered from 60 friends around the world, Paul presented a moving durational performance on the violin, leading an audience procession through the gallery halls into Thai artist Pinaree Sanpitak's installation, The House is Crumbling (2017), a gallery room filled with moveable multi coloured cushions that guests were invited to interact with to redefine the space.
Pinaree Sanpitak, The House is Crumbling (2017). Exhibition view: Light to Night, National Gallery Singapore (4 December-1 April 2017). Photo: Diana d'Arenberg.
Other installations in the gallery included teamLab's immersive multimedia work, Walk, Walk, Walk (2018); and Singaporean artist, Ho Tzu Nyen's two-channel film and puppetry installation, One or Several Tigers (2017). This was something of a homecoming for the installation, which was presented at Berlin's Haus der Kulturen der Welt in 2017. Told from the perspective of a Malayan tiger, the installation—the result of ten years of anthropological research—explores the effects of British colonialism and Japanese occupation in Singapore. The venue, the National Gallery Singapore's City Hall, fittingly bears witness to the city's past—the colonial building was both the location of the Japanese surrender in 1945, and of the swearing in of Singapore's first Prime Minister in 1959, Lee Kuan Yew. Many of the performances and installations I encountered both at the gallery and later at Gillman Barracks, explored the social and political, navigating topical questions to do with migration, war, identity and isolation.
Art After Dark at Gillman Barracks, Singapore (26 January 2018). Photo: Diana d'Arenberg.
Gillman Barracks' signature programme Art After Dark welcomed an estimated 9000 visitors on the opening night, with queues to galleries winding their way around the complex's buildings. Performance and site-specific works dominated here, too. Indonesian artist Melati Suryodarmo shot hundreds of arrows repetitively at white gallery walls in her durational performance piece, Transaction of Hollows (2016) at ShanghArt Gallery, in an exploration of love and war. Singaporean artist—and former Olympic sailor—Charles Lim, explored Singaporean identity through his decade long film and photography installation, Sea State (2015), which was presented at the 2015 Venice Biennale Singapore Pavilion. The series explores issues affecting Singapore, such as land reclamation, its geopolitical topography, and the island's seafaring roots. Yeo Workshop presented an immersive, video-based solo exhibition, Accelerated Intimacy (20 January–3 March 2018), by Sarah Choo Jing, in which the artist converted the entire gallery space into a hotel replete with fake hotel doors, plastic furniture and multiple videos of staged performances by solitary figures in hotel rooms.
Exhibition view: Sarah Choo Jing: Accelerated Intimacy, Yeo Workshop, Singapore (19 January–3 March 2018). Courtesy the artist and Yeo Workshop.
While, as Rudolf suggested, Singapore may not have the commercial market clout of Hong Kong or China, Singapore Art Week proved that an art scene certainly does exist in Singapore, even if it is outside the traditional framework of the market. As Belarmino mused: 'Art has become so much about the desire to own rather than to experience, of consuming without producing. Why—especially today—do we have to photograph, or own everything rather than just experiencing it? These are poignant questions for our time.' —[O]