Feature
At Art Taipei, Galleries Adapt to Regional Politics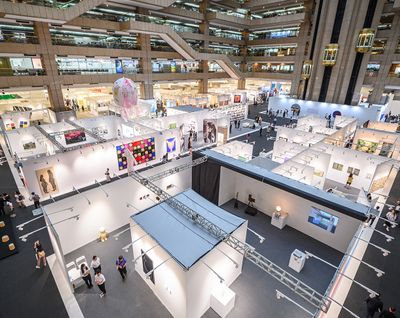 Art Taipei (18–21 October 2019). Courtesy Art Taipei.
In Taipei, the artwork that said most about the contemporary art market's fraught situation in East Asia was not at the 26th Art Taipei (18–21 October 2019), but across town at the Taiwan Contemporary Culture Lab, a publicly funded art park established in Taiwan's former Air Force Command Headquarters in 2018.
Chin Cheng-Te's Tender Soul – Cold-War Era Beitou Waitress Memorial Steles (2019) features the words 'Tender Soul' carved in stone and mounted on the bottom of a blue tile tub like those found in the geothermal baths of Beitou, a natural spring area in the city. The work is exhibited alongside a Time magazine photo of 21-year-old marine Allen Bailey enjoying a bath with two Taiwanese spa girls as part of an R&R break under the Sino-American Mutual Defense Treaty, effective from 1955 to 1979. Chin's work acknowledges that the labour of these sex workers, a service for which they were hardly thanked by their country, was part of a military alliance that led to favourable economic relations with the U.S. that continues to benefit Taiwan.
Article from TIME magazine shown as part of Chin Cheng-Te's Tender Soul – Cold-War Era Beitou Waitress Memorial Steles (2019). Courtesy Busan Biennale Organizing Committee.
In 2019, it is Mainland Chinese consumers who are furthering the political goals of the People's Republic, a more invaluable market than ever in many industries. In recent weeks, South Park, the NBA, and games publisher Activision Blizzard have all run afoul of the Chinese Communist Party amid ongoing political protests in Hong Kong, with the state not hesitating to turn off the flow of Chinese consumer spending by censoring episodes, cancelling games, and revoking publishing licenses in retaliation for criticism.
The contemporary art market is hardly immune to these tactics. Independent Chinese tourists are not permitted to visit Taiwan—a ban implemented on 1 August in retaliation against Taiwanese President Tsai Ing-wen's insistence on Taiwanese independence. Cognisant of how the travel ban could impact collector visits and mainland gallery attendance, the Taiwan Art Gallery Association (AGA), which organises Art Taipei, offered free special business visas to Chinese galleries and 'professional visas' to mainland collectors. Staff at ShanghART travelled to Taiwan via Macau to circumvent the ban, bringing with them two large installations of photographs by Birdhead.
Birdhead, Welcome to Birdhead World Again (2011). Exhibition view: ShanghART, Art Taipei, Taipei (18–21 October 2019). Courtesy ShanghART.
Nevertheless, Chung Ching Hsin, now in her second and final two-year term as chairperson of the AGA, said collectors from China were 'slightly down' on last year. To help compensate for these lower numbers, the fair extended a hand to galleries from Japan by collaborating with the Japanese Contemporary Art Dealers Association (CADA) for the first time as means to deepen the understanding of postwar contemporary art in the region. The presence of 31 Japanese galleries boosted the amount of Japanese work on the floor, much of it inspired by Japanese cartoons, including actual animation cells from Princess Knight and Ambassador Magma at Gallery OLYM, as well as Japanese minimalism and Mono-ha or 'school of things' works, the latter approach emerging in the 1960s with a focus on the inherent properties of natural and industrial materials.
Tokyo's Takeda Art Co. showcased both postwar movements in a Mini x Mono booth, which included Japan-based Korean artist Lee Ufan's From Point No. 79094 (1979), a circle of small red mineral pigment and glue stamps on canvas, and Jiro Takamatsu's Shadow-No. 1425 (1997). Other examples included geometric works in wood—webs of finely cut lines shaped into four-sided pyramids carved into diagonal ridges—at Asia Art Center by Susumu Koshimizu, a key member of Mono-ha school; and minimalist Rakuko Naito's Untitled (RN524-3-1/2'14) (2014), a Japanese paper on board piece as delicate as a wasp's nest at Whitestone Gallery.
Rakuko Naito, Untitled (RN524-3-1/2'14) (2014). Courtesy Whitestone Gallery.
Toons and Mono-ha were also found across the city at major Taipei galleries not participating in the fair. Lin & Lin Gallery showed introspective self-portraits by Kuo Wei-Kuo posing as Astro Boy and Mighty Mouse (The Alchemy of Icon: The Occult Technique of Kuo Wei Kuo's Paintings, 19 October–23 November 2019), while Each Modern put on a spectacular solo show by Mono-ha master Suga Kishio (11 September–26 October 2019). The latter was anchored by Interconnected Space-EM (2019), a white granite boulder that looks almost as if it's levitating on white ropes affixed to the upper corners of the gallery's ground floor space.
Among the fair's curated sections and special programmes was Standing Still to See Afar, a show of works by 15 artists belonging to anonymous members of the Taiwan Art Collectors Club, including David Reimondo's Brain (2008), made of 33 pieces of burnt and broken toast, and two street shots from the early 1970s by Daido Moriyama plus the lightbox Tights in Shimotakaido (1987/2018). The section was something equivalent to a YouTube haul video.
Exhibition view: Suga Kishio, Each Modern, Taipei (11 September–26 October 2019). Courtesy Each Modern.
Another of the curated sections, Art Revives beyond Discipline: Post Martial Law and the Development of Taiwanese Contemporary Art, featured works by 22 Taiwanese artists practicing after martial law concluded in 1987, enabling experimentation with new forms of art-making and engagement in social and political critique.
The exhibition showcases the diversity of approaches that have emerged since, including Pu Hao-ming's A Little Kiss (2012), two stainless steel spheres pinched towards each other to suggest puckered lips—a perfect marriage of the competing inclinations towards cuteness and stark materiality, also reflected in two selfie-generating reflective concavities by Anish Kapoor seen elsewhere at the fair, on loan from an anonymous private collector in anticipation of the British artist's solo show at CAFA Art Museum in Beijing opening 25 October.
Exhibition view: Art Revives beyond Discipline: Post Martial Law and the Development of Taiwanese Contemporary Art, Art Taipei, Taipei (18–21 October 2019). Courtesy Art Taipei.
The most popular display among visitors, at least going by the numbers clustered and queuing to see the works, was three side-by-side rooms by Motse, a 40-artist new media group from Shenzhen whose collaborative, tech-centric production is reminiscent of Japanese studio teamLab.
Installations were presented by Powerlong Art Museum, a growing 'family' of mainland Chinese galleries and museums—located in Shanghai, with plans to expand to Xiamen and Hangzhou—attached to the eponymous real estate group established by Chinese entrepreneur Xu Jiankang. They included Endless, a synchronised 'swim' of 18 stainless steel circles suspended in the air that move in pre-programmed patterns thanks to wires tightening and slackening on reels concealed in the ceiling, and TOM, a projection investigating the theme of surveillance, with an oversized camera lens revealing the intimate details of a plucked, headless chicken named Tom before facial recognition puts viewers' faces on screen.
Motse, Endless (2019). Exhibition view: Art Taipei, Taipei (18–21 October 2019). Courtesy Art Taipei.
Aside from the enthusiasm for such works, the overall success of Art Taipei was difficult to gauge. The number of participating galleries rose from 135 in 2018 to 141 this year, but one Taichung gallery director noted audience numbers were down. In addition to Lin & Lin Gallery and Each Modern, there were notable absences among top tier Taiwanese galleries, including Tina Keng Gallery and Eslite Gallery, who have aligned with Taipei Dangdai, which will showcase 97 galleries in its second edition in January 2020 (up from 90 in 2019). That being said, Ma Yuting, exhibition director at Asia Art Center, which participates in both fairs, observed that the audience at the inaugural Taipei Dangdai, while certainly more international, weren't necessarily bigger spenders.
For some participants, reaching the local audience is more important, and Art Taipei is undoubtedly the more local fair with 67 domestic galleries compared to the 22 slated for Taipei Dangdai's next edition. Beijing's Ink Studio, participating in a Taiwanese art fair for the first time this year with Art Taipei, opted for Art Taipei because, says co-founder and director Craig Yee, it better 'represents the tastes of Taiwanese collectors', who are 'among the most sophisticated contemporary art collectors in Asia'.
Exhibition view: Ink Studio, Art Taipei, Taipei (18–21 October 2019). Courtesy Ink Studio.
How the two fairs will learn to co-exist remains to be seen. Chung says Taipei Dangdai would make a good satellite fair, while Taipei Dangdai's co-director Robin Peckham says 'there continues to be room for both'. One challenge for Taipei Dangdai is that it is scheduled to run between 17 and 19 January 2020, shortly before Chinese New Year on 25 January, and right after the Taiwanese presidential election on 11 January, when tensions with the People's Republic of China are likely to be elevated.
Another uncertainty is how the political situation in Hong Kong, where pro-democratic protests have been boiling over for months, might drive galleries and collectors away from Art Basel Hong Kong to Taipei. In her conversations with Hong Kong collectors, Chung said that many described Taiwan as their first choice not only for buying art abroad, but even for emigrating. —[O]