Feature
Art Universelle: A Report From Art14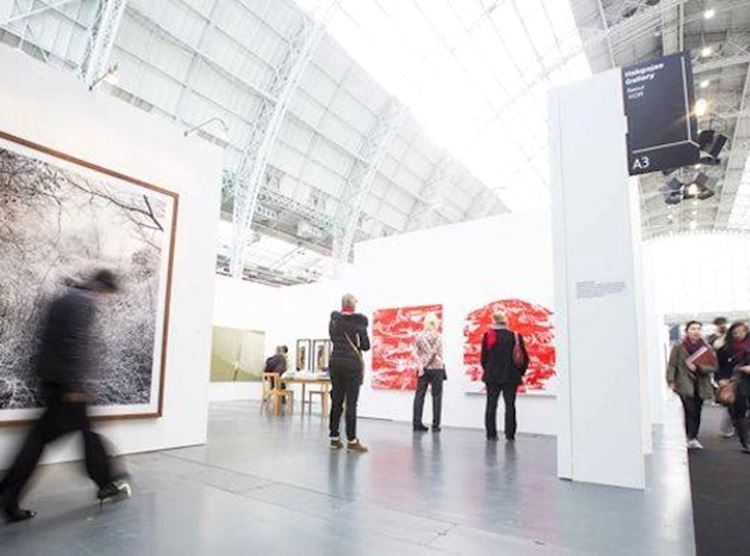 Installation view, Hakgojae Gallery
Art14 is a young fair, and its premise is what makes it interesting. Launched in 2013 as Art13, the fair made a grand statement on its cultural composition by billing itself as London's global art fair – the one and only. In 2014, this identity was asserted with a broad, multi-cultural stroke that brought together 180 galleries, 700 artists, and a total of 40 different represented countries from the Middle East, Africa, Asia, to Russia, under the impressive iron and glass barrel roof of the Olympia Grand Hall.
For many, it was the exhibition hall itself – designed by Henry Edward Coe and inaugurated in 1886 (hosting Britain's first Ideal Homes Show in 1908) – that differentiated the fair experience from the other London fair that Art14 is so often compared to: Frieze. But while the space – in recalling the era of the World's Fairs (also reflected in Agustin Sirai's acrylic on canvas depiction of a utopian modernist complex aptly titled El Arte Universal at Praxis International Art) – definitely enhanced the fair experience (high ceilings; solid structure; great light), it was the range of works on show that made Art14 feel different.
On Art14's global mix, Ursula Sullivan of Sullivan+Strumpf – which showed a solo presentation of works by Sam Leach – observed: "I think this focus on diversity is really healthy," while noting how the fair presented "another option to the heavily westernized fairs." Sullivan is not alone in this conclusion. Showing a collection of works by artists from China, Indonesia, Philippines, Myanmar, Vietnam and Mali, Primo Marella Gallery's Elena Micheletti described Art14 as an interesting phenomenon precisely because of its focus beyond the western world.
This added an interesting layer to the political statements one might expect from an art fair (this year, the most obvious being the sale of a piggy bank in the form of Karl Marx's head at the Saatchi Gallery booth). At Podbielski Contemporary, sandwiched between two images taken on the island of Capri, was the first page of Jonathan Franzen's 2001 novel The Correction, blacked out by artist Francesco Jodice, bar the following words: "coming to an end…the whole northern religion of things." Jodice explained how the page relates to another project he is currently working on, which investigates an emergent "post-western society" – one that Art14 arguably represents.
Reflecting this was an eclectic floor. There were astonishing views of modernism that expanded the historical canon, for example remarkable geometric works by G.R. Santosh, including a work from the Shiva Shakti Series (Early Tantric Period) from 1972, and a painting, Sharika, from 1987, at the Delhi Art Gallery. And, at Tezukayama Gallery, there was a dynamic interpretation of the Becher School of photography by Hirohito Nomoto – a taxonomy of facades from various structures damaged by the East Japan Earthquake of 2011. Recurrent names emerged that felt fresher than those encountered at other fairs: notably Boomoon at Flowers Gallery, Hakgojae, and at the Daegu Art Museum booth, and Lee Sea Hyun at All Visual Arts, Hakgojae, and CHOI&LAGER. The latter gallery presented in the London First section, for galleries showing at an art fair in the British capital for the first time, which also included Japan's Standing Pine, with the hugely popular three-dimensional dioramas by Kenji Sugiyama, and India's Jhaveri Contemporary showing Raghubir Singh.
From a global perspective, Art14 arguably reflected the fast-changing, tumultuous, and contradictory global times. At Art14 Projects, Yinka Shonibare offered a cultural (and colonial) remix in his installation Cannonball Heaven (2011), which depicted headless Renaissance men (dressed in characteristic Shonibare-produced Indonesian-made, but African-esque, batik finery) firing (cannon) balls of wool into a corner as an abstract "spot" painting hung nearby. Composer-in-residence for the Hong Kong Philharmonic Orchestra, Fung Lam, presented The Tiananmen Square Project (1989-2014), in which a glowing stage bore a sign spelled out in bright lights: "LET US ENTERTAIN YOU". The installation at Art14 marked the premiere of the work, which pays tribute to the 25th anniversary of the Tiananmen crackdown as represented in the form of musical notation (a single rest note reflecting the silence in China over these events). Hosted by Jealous Projects, Lam's installation recalled another work included in Art14 Projects by Zoulikha Bouabdellah – silver-painted wooden words hanging from the ceiling with chains that read: "SET ME FREE FROM MY CHAINS". This hung before Jealous Gallery's booth, foregrounding a series of 16 inkjet prints by Jealous Inc. (the gallery collective) of printed statements in the style of slogan signage and advertisement notices, including "MAGIC SPELLS FOR SALE" and "PARTY NITE EVERY NITE."
What was interesting about this aesthetically generic, albeit charming, installation (let's face it) – aside from it being foregrounded by Bouabdellah's plea for freedom (from such things?) – was a quote from Adam Curtis's The Century of the Self, which read: "We must shift America from a needs to a desires culture. People must be trained to desire, to want new things, even before the old has been entirely consumed…" This quote resonated in an art fair making moves towards producing a truly global space in the heart of the western art world. It resonated further when thinking about an uncomfortable truth: that despite what Cristina de Middel suggested in captions produced from Mao's Red Book that accompanied photographs from her China travels (at Black Ship), if there is to be a revolution, it certainly won't happen at a party…like an art fair. Indeed, in a space like this, all we might hope for, when thinking about any kind of revolution, was summed up in Nasser Al Salem's video of the green line that traces a heart beat presented on an EKG monitor at Athr Gallery, titled: Guide Us Upon the Straight Path.
But in terms of evolutions, there was a distinct shift in the globalism of Art14's project, which moved towards a certain universalism (is this why, technically, this fair's name is "Art"?). This was reflected in a common trope at the fair – the landscape and the contemporary interpretations of it. There was Cheng Ting Ting's series of inkjet prints on rice paper depicting old analogue film stacked and arranged to emulate rolling mountains at Gallery Grand Siecle; Ahn Doo Jin's fluorescent, psychedelic scenes at LEEHWAIK; circular landscapes by Zhang Lehua paired with interior spaces by Xiao Jiang at Vanguard; and a presentation of television sets depicting various sunsets by Ghost of a Dream (Lauren Was and Adam Eckstrom) at Galerie Paris-Beijing. There were views of the urban landscape, too – from Louise Bristow at Laura Mars Gallery (also showing wonderful abstract, geometric works by DAG), Tony Roche's Cranes of London (2013) at Updown Gallery, and views of Hong Kong and New York by photographer Adam Magyar at Faur Zsófi Gallery. Then there was Daniel Escobar's city cut outs from travel guides that form the series The World, presented at Zipper Galeria, which really brought the notion of a World's Fair (or Grand Tour) back into play.
Of the more deconstructed scenes was Gayle Chong Kwan's Art14 Projects offering courtesy of Delfina Foundation, Wastescape (2012) – a city sculpture produced from new and recycled plastics taken from the neighbourhood of Moravia in Medellin, Colombia, built on a city rubbish dump. Meanwhile, Marco Strappato reduced the famous Californian landscape used as a Windows screensaver into a modular colour sculpture at The Gallery Apart, a gallery showing for the first time in a fair outside of Italy, presented in one of the most popular sections of Art14, Emerge, designated for galleries under seven years old. (And which also included an excellent booth by China's Gallery Yang showing Dong Yuan, Yan Bing and a cityscape by Ye Linghan, titled 50% Dollar.)
Yet, Art14 not only balanced global cultures, it mashed up themes and styles both high and low. Russia's Triumph Gallery showcased RECYCLE (Andrei Blokhin and Georgy Kuznetsov), who took the notion of the post-digital literally by taking Facebook's 'f' and turning it into a large, grey monument, positioned before a series of stained glass church windows depicting the characters of South Park as saints. Continuing on the Russian kick was Rostan Tavasiev at Anna Nova Art Gallery, presenting a new work in his distinctive series of "abstract" works that make good use of stuffed animals. This was titled Olympic Games in Sochi (2014), in which three white stuffed horses fly across the corner of a square, white canvas, dotted lightly with black spots. This was presented alongside another untitled canvas from 2014, with a teddy bear's head cut off from its body and shifted so as to adhere to the diagonal line that separated the blue side of the canvas to the purple (to which this teddy belonged).
As a whole, most called Art14 a mixed bag, which is a good thing - globally (and geo-politically) speaking - if you think about what Roland Barthes once said of difference being something that is achieved over and above conflict. And, though sales happened unevenly despite definite successes (such was the word on the floor), there was one thing all galleries were in universal agreement on: this fair is about making connections. It drew some 31,200 visitors, and hosted the first Global Private Museum Summit, which aims to establish a network of international museum owners from countries including Russia, Turkey, Mexico and China. Thus, we should note that this fair is young. And, as one gallerist noted: "though the...concept is an excellent one, it has a long way to go." This is to be expected of new ventures – especially those with global – or universal – ambitions.