Feature | Exhibition
Art Week Tokyo 2022: Must-See Exhibitions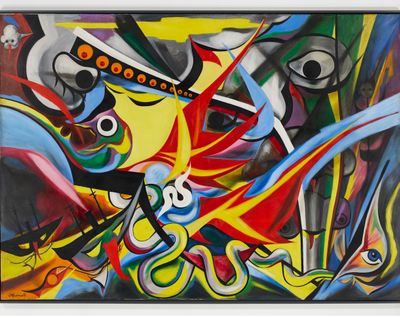 Tarō Okamoto, Men Aflame (1995). Courtesy The National Museum of Modern Art, Tokyo.
Organised with the backing of Art Basel, Art Week Tokyo (3–6 November 2022) spreads over 50 venues this year, connecting museums, galleries, and art spaces across the city. Ocula Magazine shares its selection of must-see Tokyo exhibitions for the occasion.
Mitsuko Miwa, Salt House (2022). Courtesy SCAI The Bathhouse.
Mitsuko Miwa: Full House
SCAI The Bathhouse, Kashiwayu-Ato
1 November–10 December 2022
Aichi-based artist Mitsuko Miwa's interest in pictorial space as a plane to unfold the imagination has amounted to distinct works over the years.
At the recent 2022 Aichi Triennale, the artist showed READ-MADE (1996), an aerial landscape of ten pages that merged the beginning and ends of novels at the top and bottom of the same surface, leaving the middle bare.
Inside the century-old bathhouse turned gallery, Miwa visualises a dream house adapted to the venue's features. Drawn along the walls and extending its checkered pattern to the ground, black and beige stones invite viewers to step on the dwelling's surface.
Kenjirō Okazaki, Announcement to Mac the Finger / How can this be since I do not know myself physically? /黙示 (2022). © Kenjirō Okazaki. Courtesy Blum & Poe. Photo: SAIKI.
Kenjiro Okazaki: TOPICA PICTUS Revisited Forty Red, White, And Blue Shoestrings And A Thousand Telephones
Blum & Poe, Harajuku Jingu-no-mori 5F
24 September–6 November 2022
Following a recent stroke, Kenjiro Okazaki believed he would never paint again. The artist's ten-month-long rehabilitation prompted a reflection on the mind-body connection, which is explored across small-scale abstract works at Blum & Poe.
Reflecting this state of disembodiment, abstract works like Announcement to Mac the Finger / How can this be since I do not know myself physically? /黙示 (2022) build upon the canvas with textured smears and recover the artist's distinct use of the canvas frame.
Segmented in places and doubled in others, its wooden border opens gaps within the artist's subtle suggestions, where dense strokes of canary yellow and dripping blues overlap with rose and white blends.
Exhibition view: Naofumi Maruyama, Kicking the Water, ShugoArts, Tokyo (24 September–5 November 2022). Courtesy ShugoArts.
Naofumi Maruyama: Kicking the Water
ShugoArts, Complex 665 2F, 6-5-24
24 September–5 November 2022
Naofumi Maruyama's soft landscapes are rendered from a process of spreading water on the canvas so that figures, colours, and shapes change as the artist paints. While more realistic than impressionistic, they are said to reflect image-making within fluid realities.
Quiet scenes present lone figures threading bodies of water, caught in whirlwinds of yellow and green. Vivid shades appear blurred and muted as they are absorbed into the cotton canvas, echoing the properties of water as a means to connect and transfigure.
In the triptych 'Kicking the Water' (2022), a small figure on a paddleboard is depicted at different stages along the same blue-toned lake. Viewed together, they appear to gather different points along an ongoing reflection, opening its inquiry to the vast mountainscape.
Ryoji Ikeda, data.gram 36 [supercluster] (2022). ©︎ Ryoji Ikeda. Courtesy TARO NASU.
Ryoji Ikeda: data.gram
TARO NASU, Piramide Bldg. 4F
14 October–12 November 2022
Since 1995, electronic composer and visual artist Ryoji Ikeda has been fusing essential elements within sound and light to translate data sets and information into audio-visual installations and performances.
Among notable works is the artist's 'data-verse' trilogy (2018–2021), which compiled data sets from NASA research, the Human Genome Project, galactic coordinates, and protein structures, among other things, to form striking images of nature and space.
At TARO NASU, Ikeda presents 13 video works that revisit data sets from the 'data-gram' series, which draw from quantum mechanics, genetic information, and the universe.
Akiko Kinugawa, right and left (2022). Oil on canvas. 130.4 x 162 cm. ©︎ Akiko Kinugawa. Courtesy ANOMALY.
Akiko Kinugawa and Sachi Hasegawa: Latencies
ANOMALY, 1-33-10-4F Higashi
29 October–26 November 2022
Latencies gathers paintings by Akiko Kinugawa, known for expressive portraits that amplify a moment of encounter, and sculptures by Sachi Hasegawa, whose abstractions model phenomena like time and memory.
Soft tones and smooth blends are prominent in the oil on canvas right and left (2022), which appears to abstract the family unit, but in fact refers to the thyroid gland, which is differently balanced across both sides of the body. Kinugawa depicts the latter as three interconnected round forms, with two larger pink and blue bulbs framing a smaller white shape.
Evading the confine of temporalities, Hasegaw's granite sculpture Interspace (2022) features a coiled stone form with a dark chiselled surface. Short strokes appear to mark the passage of time; not entirely an artefact, nor totem of the future.
Hitoshi Nakazato, Teramo Diptych, Drawing A, left side (1985). Acrylic on paper. © Hitoshi Nakazato. Courtesy MEM, Tokyo.
On Mono, Koto, and Word – Eight Perspectives
MEM Tokyo, 1-18-4, Ebisu
2–27 November 2022
Eight artists inquire about the relationship between images, words, and speech in this group exhibition conceived around two Japanese concepts: mono, which refers to a perceivable object within space, and koto, an abstract object of thought.
Works by Tomoaki Ishihara, Shigeru Onishi, and Ryo Orikasa, among others, explore how language can connect or introduce new associations between mono and koto, either by incorporating words, extracting their meaning, or playing with the shapes of Chinese characters.
Speaking to the ongoing relevance of abstraction is painter and printmaker Hitoshi Nakazato's forest-green grid Teramo Diptych, Drawing A, left side (1985). Chalk-white lines delimit three rectangles inside one another within the larger rectangular canvas.
Exhibition view: Takashi Ishida, Beyond the Garden, Taka Ishii Gallery, Tokyo (15 October–12 November 2022). © Takashi Ishida. Courtesy Taka Ishii Gallery.
Takashi Ishida: Beyond the Garden
Taka Ishii Gallery, Complex 665 3F, 6-5-24
15 October–12 November 2022
Inside Taka Ishii Gallery, Tokyo-born artist and filmmaker Takashi Ishida conceives a forest of fretsaw-cut forms shaped after trees and rogue vegetation that combine existing threads within his work.
Beyond the Garden began from the simple desire to transplant a tree inside the gallery space, only to extend into a significant ecosystem of quadrangular and circular shapes supported by tree branches.
Coiling lines and detailed geometric patterns generate a sense of movement, recalling the artist's work in animation and sculpture.
Tarō Okamoto, Law of the Jungle (1950). Courtesy Taro Okamoto Museum of Art, Kawasaki.
Tarō Okamoto: A Retrospective
Tokyo Metropolitan Art Museum, 8-36 Ueno-Park Taito-ku
18 October–28 December 2022
Among post-war Japanese artists, Tarō Okamoto was somewhat of an icon. The artist was known for impactful paintings that fused Japanese symbols from ethnographic studies with abstract expressionist principles that spoke to his idea of art as an 'explosion'.
In the case of Myth of Tomorrow (1968), a scatter of fleeing creatures and burning spectres live in the aftermath of an atomic bomb explosion. First commissioned for a hotel in Mexico, the mural was unveiled for the first time at Shibuya Station in Tokyo after being lost for 30 years.
The artist's largest retrospective to date captures his journey from working in Paris at the age of 18 to his involvement with the Japanese avantgarde, and paintings made during his later years.
Shinro Ohtake, MON CHERI: A Self-Portrait as a Scrapped Shed (2012). Exhibition view: dOCUMENTA (13), Kassel (2012). Commissioned by dOCUMENTA (13). Photo: Masahito Yamamoto.
Shinro Ohtake
The National Museum of Modern Art, 3-1 Kitanomaru-koen
1 November 2022–5 February 2023
Since 1977, Shinro Ohtake has been compiling scrapbooks of daily items including tickets, stubs, and posters as a form of self-documentation. Volumes of these material journals were shared with the world for the first time at the 2013 Venice Biennale.
The previous year at documenta 13, the artist dived into the visual influences of contemporary identity with a shed installation that contained paper images, objects, and sound, titled Mon Cheri: A Self-Portrait as a Scrapped Shed (2012).
Accordingly, the artist's museum retrospective features around 500 works, from small handmade books to large-scale installations, organised according to seven core ideas that have informed the artist's work.
Exhibition view: Andrew Salgado, Lotus Eaters, MAKI Omotesando, Tokyo (15 October–19 November 2022). Courtesy MAKI.
Andrew Salgado: The Lotus Eaters
MAKI, 4-11-11 Jingumae, Shibuya-ku
15 October–19 November 2022
While MAKI isn't officially participating in Art Week Tokyo, Andrew Salgado's first exhibition in Japan takes place at the same time. He stages a dreamland inspired by Homer's 1614 epic Odyssey and its infamous lotus fruit eaters, who become dormant after ingesting narcotics and lost the will to continue their journeys.
Alluding to remedies against the accelerated pace of contemporary life, the self-portrait Lotus Eater (2022) shows the artist crouched in a field of pink blossoms at night, with a piece of fruit dangling from his lips evoking the temptation of perpetual rest.
With equally rich hues and symbolism, Prometheus (The Modern Man) (2022) shows a man with a sutured body surrounded by crows and skeletons. He advances, cage in hand, reminding viewers that productive surges do not immortalise bodies against their inevitable ends. —[O]