Feature
Asia Now, FIAC and Paris Internationale: A walk-through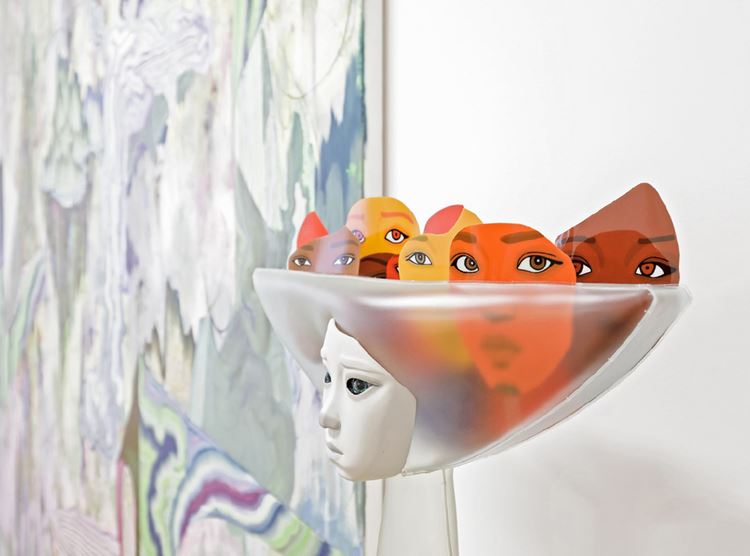 Foreground: Yu Jin Young, Me & Them #5 (2014). Background: Kim Young-hun, p1606-Electronic Nostalgia-Noise (2016). Exhibition view: Choi&Lager, Asia Now Paris (17–21 October 2018). Courtesy Ocula. Photo: Charles Roussel.
Both Asia Now and Paris Internationale have some things in common, despite their differing scope. They are roughly the same size; both celebrated their fourth editions in 2018; and they focus on presenting art making now, and the galleries supporting it.
Located next to the Japanese embassy, it was only a matter of time before Japan would become the focus of Asia Now's annual Platform, with the nation-wide Japonismes 2018 offering a catalyst to do so. The Japanese Platform for the 4th Asia Now (17–21 October 2018) was organised by Emmanuelle de Montgazon, associate curator of the Japanese Season at the Centre Pompidou-Metz.
Distinct presentations were located on the ground floor of Asia Now's host building, Les Salons Hoche, whose former lives include a 1920s dance hall, and a recording company that produced singers like Piaf and Dalida. In one gallery, large wall texts forming Makoto Aida's site-specific installation 2nd Floorism (Reconstruction) (2018) build on a project undertaken with a 2018 grant from the 'Visions of the City' Obayashi Foundation Research Programme. Aida's notes outline a vision for a future city—or rather, a way 'for all countries to live as tenaciously as weeds do'.
Makoto Aida, 2nd Floorism (Reconstruction) (2018). Exhibition view: Asia Now Paris (17–21 October 2018). Courtesy Ocula. Photo: Charles Roussel.
Aida's texts led to Transitional, an exhibition of six emerging artists curated by Mori Art Museum curators Reiko Tsubaki and Hirokazu Tokuyama, who are organising the museum's Roppongi Crossing 2019 (9 February–26 May 2018), the sixth edition of a triennial exhibition that aims to provide a snapshot of contemporary Japanese art. Exploring modes of transitional existence, the show included a video by Bontaro Dokuyma, War is Over (2018), in which a man yells 'the war is over' at populated and unpopulated spots in Okinawa, where the last major battle of World War II took place.
Exhibition view: Transitional, Asia Now Paris (17–21 October 2018). Courtesy Ocula. Photo: Charles Roussel.
Next door was a shop front-style Platform presentation of Teppei Kaneuji's series of sculptures, curated by Isabelle Olivier, which included figurative assemblages composed of removable hairpieces from manga and anime toys. Behind this was a compact exhibition space, where six Japanese galleries were divided—and connected—by scaffolding designed by Sou Fujimoto Architects.
Each space had its own identity. At S.O.C Satoko Oe Contemporary, paintings by Shinichiro Kano—simple yet evocative studies of sentimental objects that recall the artist's childhood—stood out, as did found images, some altered, collected by Ikezaki Takuya. One poster Takuya salvaged depicts a 'friendship first' slogan in English and Chinese, above which Asian, African, and Soviet women workers smile out towards the viewer.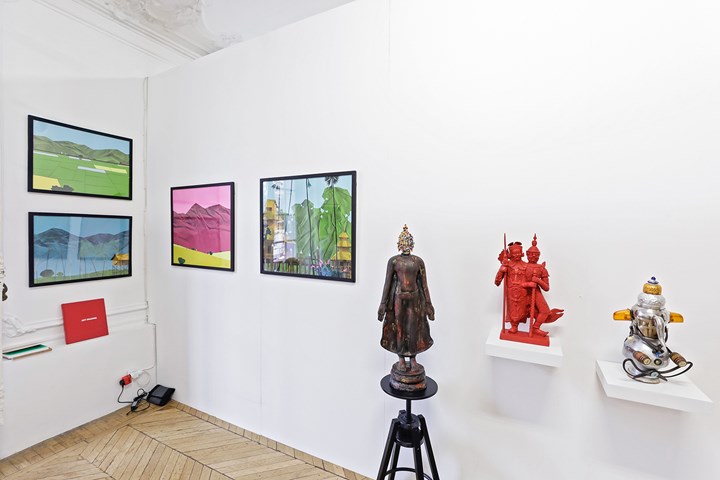 Exhibition view: Art Seasons, Asia Now Paris (17–21 October 2018). Courtesy Ocula. Photo: Charles Roussel.
Acrylic and collage wood panels by Fantasista Utamaro at Tokyoïte—explosions of Manga forms, including arms and hairpieces—connected well with Kaneuji's assemblages. The use of cultural artefacts as ready-made materials was visible throughout the fair; at Art Seasons' booth, sculptures by Komkrit Tepthian included Open the World (2018), a fibreglass cast of an ancient deity with a pixel-like cluster for a head, while MadeIn Gallery presented a Xu Zhen sculpture of a Tang dynasty figure with a round mask for a head: Evolution-Standing Female Attendant, Bwa Bobo Mask (2017).
The Container showed a group of paintings by Joji Nakamura, who uses his hands to create compositions that are expressionist and surreally suggestive. For the Japanese Platform, Nakamura demonstrated his neo-Dadaist process to a live audience on the fair's preview evening. The result, How I Paint Some of My Paintings, was hung in the first-floor hall leading to the main sector: a furious, fauvist face emerging out of ominous strokes of dark blues, greens, reds, and yellows.
Works by Yu Jin Young and Keun-Tai Kim on view at Choi&Lager, Asia Now Paris (17–21 October 2018). Courtesy Ocula. Photo: Charles Roussel.
Also positioned in the hall was a sculpture by Yu Jin Young, the LIFE #5 (2017): partially transparent forms of two young girls seemingly emerging out of—or merging into—one another, made from fibre-resin reinforced plastic and polyvinyl chloride.
More of these Allen Jones-style doll-like avatars were dotted around Choi&Lager's room, where paintings by Keun-Tai Kim hung on the walls—white, monochrome canvases built up from layers of oil paint, with scuffs and marks along and across the surface revealing the colours that lie beneath it—alongside an oil on linen set by Kim Young-Hun, in which lines like the contours of a topographical map, or layers of an ink scroll, appear in bright colours. (All of which form part of Kim's ongoing 'Electronic Nostalgia' series.)
Sculptures by SHOI and paintings by Lee Jin Woo on view at Galerie Maria Lund, Asia Now Paris (17–21 October 2018). Courtesy Galerie Maria Lund.
Organic forms continued next door at Galerie Maria Lund, with glazed earthenware by SHOI, including what looks like an octopus tentacle clinging to a corner of the room, amazingly titled I survived, but who am I (2018).
Beyond that, Galerie Da-End showed Mitsuru Tateishi's untitled mixed media on panel studies of geological forms from 2018: a collection of what look like illustrations of stones on paper, and a black panel on which giant swathes of melting ochres push upwards. Gallery SoSo foregrounded sculptures by Kim Yunsoo's 2018 'Waves' series: layers of thin, clear vinyl that were traced from footprints and piled up repeatedly, allowing the ambiguous forms to attain a shade of blue.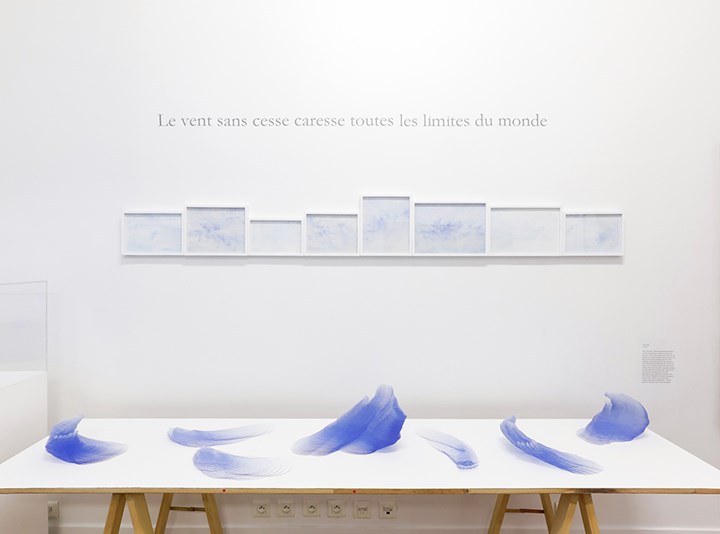 Kim Yunsoo, 'Waves' (2018). Exhibition view: Gallery SoSo, Asia Now Paris (17–21 October 2018). Courtesy Ocula. Photo: Charles Roussel.
In total, Asia Now showed 42 galleries from 10 different countries in Asia and Europe. The scope was broad and mostly fresh. Galerie Paris-Beijing offered a spectrum of works by Wang Haiyang that felt cohesive, despite disparate mediums.
Watercolours from the 2017 'Sex' series depict organic forms that look like intricate computer-generated exquisite corpses, in which dragonflies have been paired with scarabs and other insects. These were placed next to large, acrylic on canvas explosions of colourful markings that build around a monochrome orb at the centre ('Untouchables', 2017). Shown on the back wall was Wall Dust (2016): a video animation best described as a collage of diagrams that connect the cultural with the biological rendered with Victorian-era illustrations. (In one of its simpler scenes, a zip on the back of a man's head is opened to reveal a red line.)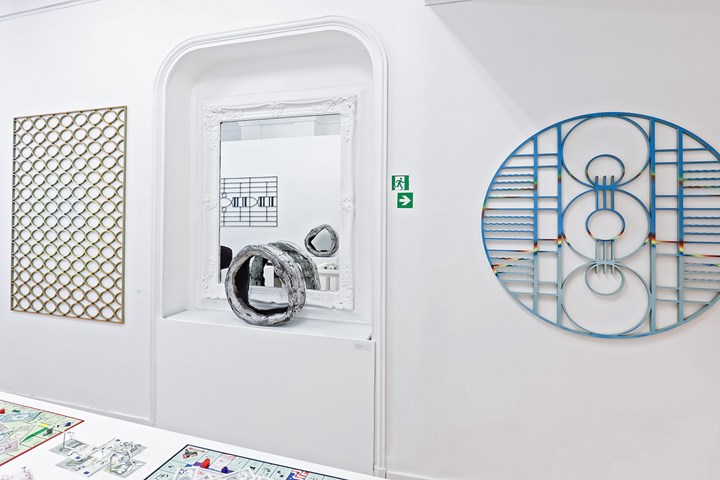 Works by Trong Gia Nguyen on view at La Patinoire Royale / Galérie Valerie Bach, Asia Now Paris (17–21 October 2018). Courtesy Ocula. Photo: Charles Roussel.
As far as abstraction goes, La Patinoire Royale / Galérie Valerie Bach highlighted a stunning set of wall sculptures based on the screens made from welding thin metallic strips that cover the windows of an older Ho Chi Minh City. The title of one frame painted shades moving from green to yellow, Killing Field (2018), points to the more specific—and darker—references that lie behind the aesthetic balance.
The Korean Dansaekhwa movement was well represented at The Columns Gallery, which showed, among others, works by pioneer Kwon Young-Woo, in which the artist delicately carves contours of painted Korean rice paper. Pieces from the 1970s and 1980s by Kwon Young-Woo were on view at Kukje Gallery's booth at FIAC, alongside recent canvases by Ha Chong-Hyun, older ink and pen on paper works from the early 1980s by Kim Yong-Ik, and other pieces.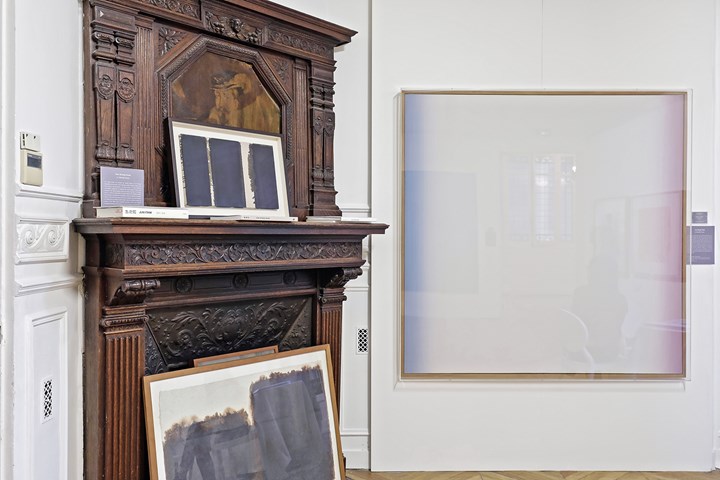 Exhibition view: The Columns Gallery, Asia Now Paris (17–21 October 2018). Courtesy Ocula. Photo: Charles Roussel.
Crossovers between fairs continued with assemblages by Nobuko Tsuchiya, participating in the Japanese Platform at Asia Now, whose work was shown at the 45th FIAC (18–21 October 2018) with SCAI The Bathhouse. Lightweight, household materials, like gauze, are arranged as if in a state of industrial-age experimentation, with objects like metal rods and glass bulbs holding things up and/or down. In the case of Hyperstring theory (2018), a torn-off sheet of foam padding is connected to a thin piece of wire by a clothes peg.
Across the 195 galleries spaces from 27 countries participating at FIAC, painting was predictably in abundance. At Galeria Plan B, La Colline, a Morris Louis-style colour field painting from 1976 by Horia Damian stood out; while Delmes & Zander's focus on Alexandru Chira's futurist oil paintings from the 1970s to the 1990s included diamond-shaped and hexagonal canvases depicting symbolist geometries that include what looks like a Roswell-era spaceship in the centre of one.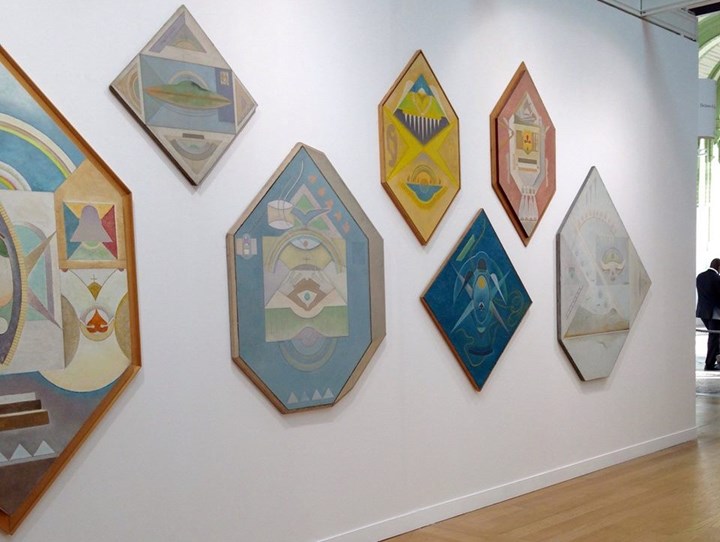 Exhibition view: Alexandru Chira at Delmes & Zander, FIAC Paris (18–21 October 2018). Copyright ALCHIRA Foundation. Courtesy Delmes & Zander.
One oil on canvas painting by Xinyi Cheng, showing with Antenna Space in the Lafayette sector, offered a refreshingly witty take on the monochrome: an envelope camouflaged in a lacquer-like green oil glaze (Incroyable, 2018). Figurative works by Cheng were also seen at Balice Hertling, including the oil on linen Raphael (2018), which kind of looks like a saintly, 'Like a Virgin'-style Salt Bae cutting a leg of lamb.
Exhibition view: Antenna Space, FIAC Paris (18–21 October 2018). Courtesy Antenna Space.
Excellent representations of the figure were on display at Michael Werner Gallery, showing, among other pieces, Quatre Torses, a 1916 Félix Vallotton oil on canvas of four bodies standing in a line against a deep, teal blue sky, and a 1934 Meret Oppenheim oil and collage on scroll titled Anatomy of a female corpse.
There were fantastic paintings by Katherine Bradford at Canada, Miriam Cahn at Galerie Jocelyn Wolff, Genieve Figgis at Half Gallery, and Wang Yin at Vitamin Creative Space. Not to mention Zoë Paul's ceramic bead curtains depicting loosely ambiguous bodies at The Breeder in the Lafayette sector, where Experimenter paid homage to the late sculptor Krishna Reddy, in a booth that included stunning figurative studies on paper.
Katharina Grosse, Ingres Wood (2018). Exhibition view: Gagosian, FIAC Paris (18–21 October 2018). Courtesy FIAC Paris. © Marc Domage.
Of course there were 'statement' booths, like Gagosian's Katharina Grosse centrepiece, Ingres Wood (2018): a pile of tree trunk pieces and fabric spray-painted an array of rich colours, which took up a huge chunk of visible space. Or Galerie Gmurzynska's employment of creative director Alexandre de Betak to design a fire station: an impressive construction that wittily framed many works depicting the act of smoking, including Roberto Matta's 1973 oil on canvas Les Fumoïsses.
Siobhán Hapaska's Snake and Apple (2018) at Kerlin Gallery seemed photo-popular: red lacquer balls 'squeezed' into an industrial steel lattice. Xavier Veilhan's carbon figures Philippe Zdar (2017) and Lyllie (2018), perched atop the front wall of Perrotin's booth with a large mobile, Le Mobile (2005), hovering over them, worked well with the Grand Palais' magnificent ceilings. (Especially when the sun started to set, and sunglasses came off.)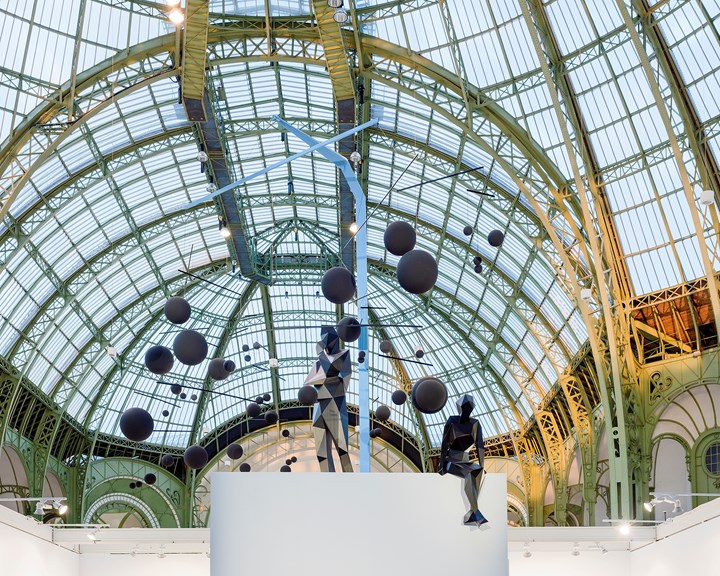 Xavier Veilhan, Philippe Zdar (2017), Lyllie (2018) and Le Mobile (2005). Exhibition view: Perrotin, FIAC Paris (18–21 October 2018). Courtesy FIAC Paris. © Claire Dorn.
In the Lafayette sector, ChertLüdde offered a take on the domestic interior that teetered on the edge of unease and fetish, with works by Patrizio Di Massimo, Kasia Fudakowski, David Horvitz and Franco Mazzucchelli 'confront[ing] the idea of decoration and its relation to art.' The back wall was taken up by works from the 'Bieca Decorazione' series by Mazzucchelli, made especially for the fair: large inflatable black PVC tiles with various patterns stitched in and puffed out.
The installation is a restaging of a 1971 installation at the Spazio Anna di Gennaro: a statement against the reduction of art to pure decoration. Perhaps Daniel Dewar and Grégory Gicquel's Stoneware mural with two sinks and two soapdishes (2016) was making the same statement at Galerie Loevenbruck: a gritty, high-fired stoneware bathroom sink, complete with tiled walls, mounted on aluminium presented on a white wall of an art fair booth.
Franco Mazzucchelli, Bieca Decorazione (I–XV) (2018). Pvc, air, wood structure. 321 x 430 x 5 cm. Courtesy the artist and ChertLüdde, Berlin. Photo: Trevor Lloyd.
At Paris Internationale (17–21 October 2018), the domestic was the context, after the previous edition that scaled up in a car park. Staged in a Haussmanian apartment building bordering Monceau Park with 42 galleries from 21 countries and 8 non-profit spaces, this year's location was—like Les Salons Hoche a short walk away—an ideal setting to view art. A room with a pale grey carpet was the perfect frame for Lee Kit's installation with mother's tankstation: a digital print mounted on an in-built wall showing a woman's stencilled face. Shaded by a projector's light, subtitles below read out the installation's title: Next time when you go home, she will tell you to let go.
Overall, there was some great work, from the Naoki Sutter-Shudo sculptures presented by Galerie Crèvecoeur and Jesse Wine's painted ceramic torsos at Simone Subal Gallery, to Jonathan Lyndon Chase's figurative paintings at Company Gallery, and Jesse Darling, currently exhibiting at Tate Britain, at Sultana. Reserve Ames took full advantage of a modernist, marble-clad bathroom to showcase one of Jay Heikes' 2018 oil on stained canvas paintings of a vista of clouds from the 'Mother Sky' series.
Works by Jay Heikes on view at Reserve Ames, Paris Internationale (17–21 October 2018). Courtesy Reserve Ames. Photo: Margot Montigny.
In the Project Native Informant room, one black marker on whiteboard drawing by DIS, Thumbs That Type and Swipe (2018), featured text written around a seated woman, part of which reads: 'when all content is illegible and all readers are illiterate, only circulation is left'. The statement seemed to encapsulate a subdued sense of foreboding that was palpable not only throughout the Paris fairs this year, but at Frieze London, too; both in terms of some works on view, and the murmurs of slow sales among dealers exhibiting signs of strain.
Nevertheless, that Paris Internationale took place in close proximity to Asia Now in 2018 was a wonderful occurrence. Both fairs have some things in common, despite their differing scope. They are roughly the same size; both celebrated their fourth editions in 2018; and they focus on presenting art making now, and the galleries supporting it. Already they have become a refreshing alternative to the beloved—but exhaustive—rinse cycle of the mega market. —[O]