Feature
Asian Galleries Expand Art Histories At Art Basel Miami Beach 2012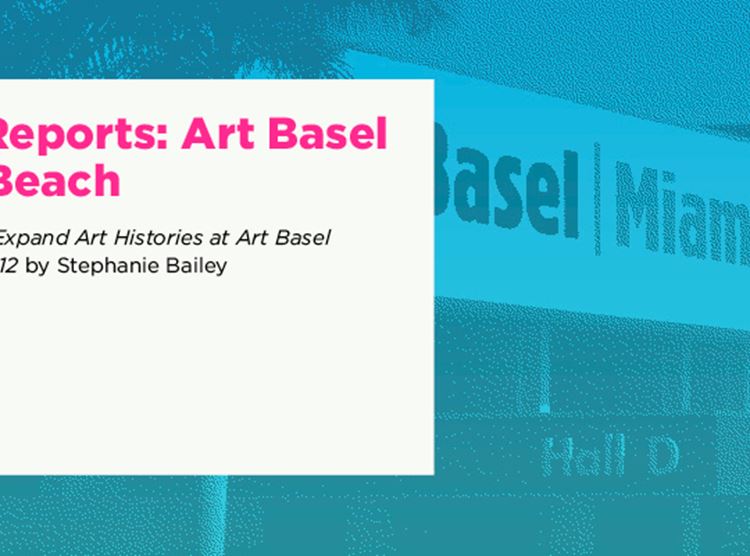 The emphasis on the fair's cultural composition highlights Art Basel's interest in diversifying its programme. At the fair's media reception, Annette Schonholzer, Director of Art Basel along with Marc Spiegler since 2007, announced a new role with Art Basel: Director of New Initiatives, a position with a view to build further relationships and collaborations from across the world.
Amongst the Asian galleries, the visual trend responded to such tastes with selections that expand on art history through the charting of art movements and developments for artists living outside the traditional cultural centres of the West. As a general trend at any Art Basel, art history and object-based, formal disciplines – like sculpture, painting, drawing and photography – take precedent. Man Ray at Bruce M. Naumann Fine Arts, Francis Picabia at Galerie 1900-2000, Alexander Calder at Beyeler Foundation, as well as Dan Flavin, Donald Judd, Barbara Kruger, John Baldessari, Ed Ruscha and Thomas Ruff all proved fair favourites.
Seoul's Kukje Gallery combined Asian artists against Western names, from Bill Viola to Jenny Holzer to Haegue Yang, and Yeondoo Jung. Tokyo's Tomio Koyama Gallery similarly presented a range of artists from Franz Ackermann, Masako Ando to Inka Essenhigh to Kishio Suga. Both arrangements clearly propose a repositioning of Asian art within the contexts of the global art world and its histories.
But Tokyo-based SCAI The Bathhouse takes the opposite approach with the concern to present a generational spectrum of Japanese artists with the intention to present to foreign audiences the nuances of Japanese art history. Choosing minimalist paintings including Lee Ufan, also showing at eight other spaces including Kukje, Blum & Poe and Galerie Thaddeaus Ropac and Lisson Gallery, these paintings provided the backdrop to view one of the fair's most popular works. Kohei Nawa's scene-stealing PixCell-Elk #2 (2009), a taxidermy elk encased in luminously transparent and sparkly mixture of glass, acrylic and crystal beads might well have been one of the most photographed pieces by visitors.
Like SCAI, Long March Space recognises how education takes place when showing work at an art fair within the context of culture or nationality and the art fair is a chance to present new views on regional art scenes. Long March showed paintings and sculpture by Liu Wei, also showing at Lehmann Maupin and Almine Rech Gallery, Wu Shanzhuan, Yang Shaobin, Zhang Wang, Zhang Hui, and MadeIn Company whose playful oil impasto abstract painting Under Heaven (2012) is rendered using icing bags to produce dollops of oil applied decoratively in swirling green shades swathed white presented with a museum-style rope barrier. It is a playful take on abstract painting and the reverence of it as a decorative and conceptual object, thus opening the conversation surrounding the work to the medium of painting itself as presented within the context of the market place.
As ShanghART point out, the idea is not to show Chinese contemporary art but simply 'contemporary art' that engages in conversations surrounding the visual contemporary arts that becoming increasingly global. Showing a range of artists, from Yang Fudong to Bird Head, the gallery's centrepiece was Zhang Ding's overbearing silver installation of four steel and glass tables upon which plaster-made remnants of what appear to be cuts of meat arranged under a gleaming, stainless steel butcher wielding a meat cleaver.
Sculpture (2012), looks unnervingly like Rob Pruitt's Andy Warhol Monument at Union Square. One of ABMB's bolder statements, it is the type of work that recalls Christian Jankowski's valuing of a super yacht first at a retail price and the second the yacht's price as an artwork at Frieze London, 2011. Every art fair has a work like this: the kind that critiques the garishness of the art fair as a market place. Perhaps Zhang Ding's sculpture was Miami's. It is a strange, alien piece; one that could reference communism, industrial agricultural practices, manufacturing, Andy Warhol and the art market machine, even the social or political body, the politician as butcher, or the art fair as a meat market and more, all at once.
Vitamin Creative Space takes a more subtle approach, viewing each participation at an art fair as a project, embellishing each booth with a clearly conceived concept and title. At Artissima 2012, for example, Vitamin presented Hong Kong artist Lee Kit in an installation titled The Scent of a Person. Lee Kit, fast becoming an Art Basel regular since becoming the first artist to exhibit at Art Basel in Artists Statements in 2010, was represented at Miami by Lombard-Freid Projects, New York, also at Art Nova.
This year, Vitamin Creative Space titled its Miami booth, Contemplate Shanshui-Sunny after Snow-The Great Visionary Transformation, named after a scroll by Hao Liang hung outside the booth's closed off space, within which three of Zheng Guogu paintings starting with an abstraction of the Buddhist Mandala motif into blocks of bright colour and line in Great Visionary Transformation of the Mandala (2012). The cross-cultural appropriations and influences inherent in the painting echoes the subtle and multi-contextual approaches Asian galleries took to presenting at ABMB. Curatorial decisions created a visibly intricate web of cultural and artistic relationships running between art works and art worlds, engaging with the space as a global forum through which to explore the visual arts as a universal language.
These approaches tie in seamlessly with Art Basel's general intention to become a truly global art fair, with this year's Art Conversations including Asia Focus: Why Japanese Post-War Art Matters Now and an Art Salon session on street art in the Middle East. In this, Asia's increased presence at ABMB is contributing actively to Art Basel's position as a global space in which galleries and artists from around the world can come together to look at art from around the world, exploring, investigating and ultimately valuing shared and divergent visual histories. With Art Basel's inaugural Hong Kong edition set for May 2013, the developing global reach of Art Basel is producing an intriguing space in which to view how cultural diversification will impact the art market's aesthetic tastes and the art world's aesthetic values. — [ O ]
Stephanie Bailey, Managing Editor of Ibraaz, is an active art writer who has written on art for publications including Artforum, ART PAPERS, LEAP, Modern Painters and Yishu Journal of Contemporary Chinese Art.