Feature
New York Autumn Exhibitions: 2018 Lowdown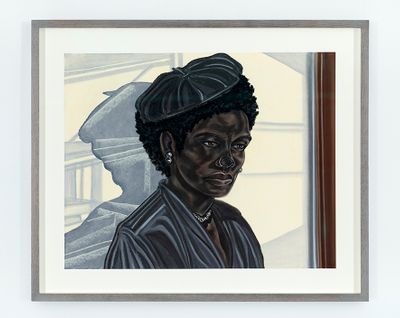 Toyin Ojih Odutola, To Be Titled (2018). Charcoal, pastel and pencil on paper. 47.6 x 60.6 cm (sheet); 62.2 x 74.9 x 3.8 cm (framed). Courtesy the artist and Jack Shainman Gallery.
The autumn exhibition season has officially kicked off in New York, with countless solo and group exhibitions featuring emerging, mid-career, and established artists, with some exhibiting works in the US for the first time. With a host of exhibitions to choose from, including a series of stellar museum exhibitions whose runs are nearing completion, this Ocula Lowdown offers a bumper list of shows to see in the city.
GALLERIES
Toyin Ojih Odutola: When Legends Die
Jack Shainman Gallery, 513 West 20th Street and 524 West 24th Street
September 6–October 27 2018
Nigerian-born artist Toyin Ojih Odutola has had quite a year with three acclaimed US solo exhibitions: To Wander Determined, at the Whitney Museum of American Art (20 October 2017–25 February 2018); Testing the Name, at SCAD Museum of Art (20 February–9 September 2018); and The Firmament, at the Hood Museum of Art, Dartmouth College (9 June–2 September 2018), each presenting her astonishingly intricate drawings to huge audiences. Alongside these significant exhibitions, Ojih Odutola is also part of Manifesta 12: The Planetary Garden. Cultivating Coexistence (16 June–4 November 2018), and her works can also be seen at The Drawing Center's forthcoming group exhibition, For Opacity (12 October–3 February 2018). When Legends Die continues Ojih Odutola's deft depiction of an imagined Nigerian aristocratic family helmed by a nobleman and his husband rendered as exquisite pastel and charcoal drawings. This solo exhibition marks the end of the artists' developing of these characters over three years. A sad ending but an exciting prospect for what the future holds for this hugely talented artist.
Wolfgang Tillmans, How likely is it that only I am right in this matter? (2018). © Wolfgang Tillmans. Courtesy the artist and David Zwirner; Galerie Buchholz, Berlin/Cologne; and Maureen Paley, London.
Wolfgang Tillmans: How likely is it that only I am right in this matter?
David Zwirner, 519, 525 and 533 West 19th Street
13 September–20 October 2018
Wolfgang Tillmans' latest exhibition, How likely is it that only I am right in this matter?, brings together recent and new works by the photographer who has in recent years turned his attention to political activism, most notably in his creation of anti-Brexit posters and his participation in Hands Off Our Revolution, a coalition of artists launched to counter the rise of the far right. How likely is it that only I am right in this matter? mediates on Tillmans' ongoing enquiry into photography that integrates genres, subjects, techniques, and exhibition strategies. Included in the exhibition is I want to make a film (2018), a new sound piece in which a male voice discusses plans for a film that interrogates the powers of smartphones and the position these handheld devices inhabit in our everyday lives. Accompanying this spoken-word piece are photographs created with a photocopy machine, in the darkroom, and with a camera that accentuate the performative and investigational tone of Tillmans' 30-year oeuvre.
Malcolm Morley, Tilting (2017). Oil on linen with additional painting attached by aluminium supports. 127 x 254 cm. Courtesy Sperone Westwater.
Malcolm Morley: Tally-ho
Sperone Westwater, 257 Bowery 12
September–27 October 2018
Malcolm Morley was the first recipient of the prestigious Turner Prize in 1984 and for over three decades up until his death in June this year, the British-American 'super-realist' artist was a pioneer of varied painterly styles, from realism to expressionism. A common thread in Morley's practice was a method for dividing his canvases into grids, and intricately rendering postcards as large-scale paintings. Sperone Westwater presents recent paintings created between 2015 and 2018, centred on his fascination with medieval knights in armour painted in bold hues, most of which were based on paper models fabricated by the artist. A highlight is the nearly three-metre-wide Melee at Agincourt (2017), which depicts two ranks of mounted knights in armour facing each other against a bright yellow background. To further contextualise these recent works are canvases from between the 1960s and 1990s that demonstrate Morley's brilliant artistic achievements.
Mary Weatherford, The Sun, the Moon, and the Stars (Take the A Train) (2018). Flashe and neon on linen. 297.2 x 594.4 cm. © Mary Weatherford. Courtesy Gagosian. Photo: Fredrik Nilsen Studio.
Mary Weatherford: I've Seen Gray Whales Go By
Gagosian, West 24th Street 13
September–15 October 2018
For her first solo exhibition with Gagosian, Mary Weatherford draws on recent events to construct a new take on history painting consisting of paint sponged onto heavy linen canvases. With bold brushstrokes highlighted by neon tubes attached to the canvases' surface, Weatherford's abstract paintings evoke light and the natural landscape. Weatherford began incorporating neon in her canvases in 2012 after being inspired by the illuminated street signs she encountered on the streets of historic Bakersfield, California. In these paintings, the use of industrial light resembles a hand-drawn line across the painting's surface.
Karin Schneider, Sabotage (2017). CCA Wattis Institute, San Francisco. Courtesy the artist.
A new job to unwork at
Participant Inc, 253 East Houston Street
9 September–14 October 2018
Participant Inc is a not-for-profit space for contemporary interdisciplinary art in the Lower East Side that has championed radical artists since its founding in 2001 by Lia Gangitano. Artists who challenge race and gender roles are often featured, including Justin Vivian Bond, Vaginal Davis, Kathe Burkhardt, Kembra Pfahler, Genesis P-Orridge and M Lamar. It is one of the city's most exciting spaces for exhibitions, performances, readings, interventions and parties. This autumn, Participant Inc presents A new job to unwork at, a multidisciplinary exhibition curated by Andrew Kachel and Clara López Menéndez that examines the social, material, and economic processes that constitute what we understand as 'work'. The exhibition includes eight artists and one artist collective, including Tehching Hsieh, Wes Larios and Fred Lonidier, and was preceded by a series of public programmes that took place over the month of August, including Punching Songs Together, a musical performance of 'unknown melodic outcomes, hesitant vibrations and rhythmical fears' by Amelia Bande with susan karabush, Neyza Honore, Jenno Snyder, and Tina Zavitzanos.
Lygia Pape, Red and Black Amazonino (Amazonino Vermelho e Preto) (1990). Automotive paint on iron. 320 x 280.5 x 91.4 cm. © Lygia Paper. Courtesy Projeto Lygia Pape and Hauser & Wirth.
Lygia Pape
Hauser & Wirth, 32 East 69th Street
6 September–20 October 2018
Alongside contemporaries Hélio Oiticica and Lygia Clark who developed from Rio de Janeiro's Grupo Frente, Lygia Pape is renowned for contributing to an art form that brings the viewer into a more sensorial, organic and phenomenological experience. For over 50 years Pape combined geometric abstraction with notions of body, time, and space in a unique way that radically transformed the nature of the art object in the late 1950s and early 60s. Hauser & Wirth presents the first solo exhibition of Pape's work in the United States since the gallery's announcement of its representation of Projeto Lygia Pape in 2016. The show spans her multidisciplinary practice and playful approach to experiencing art, including early woodcut prints from the 1950s along with the installation Ttéia 1A (1978/2018), a woven web of silver thread that exudes a sense of the ineffable and the immaterial.
Liza Lou, Pyrocumulus (2018). Oil paint on woven glass beads and thread on canvas. 141.6 x 142.9 x 7.6 cm. Courtesy Lehmann Maupin.
Liza Lou: Classification and Nomenclature of Clouds
Lehmann Maupin Gallery, 536 West 22nd and 501 West 24th Street, New York
September 6–October 27 2018
Lehmann Maupin opens its new Chelsea space at West 24th Street with a solo exhibition of recent works by Liza Lou that spills over to its 536 West 22nd Street space. Liza Lou often incorporates glass beads into her large-scale sculptures and paintings, and the exhibition at Lehmann Maupin includes a number of stunning examples of this meticulous practice, including The Clouds (2015–2018), which was recently exhibited at the 21st Biennale of Sydney. Measuring over 13-metres long, the woven painting was modelled after Monet's triptych Les Nuages (1922) and consists of a grid of 600 beaded panels on which the artist made individual plein air paintings of Southern California clouds. Each panel was then partially smashed with a hammer, revealing sections of ghost-like thread beneath—an evocation of the ephemeral nature of clouds. Lou's practice is concerned with community and labour, as well as process and repetition.
Exhibition view: Landon Metz, Asymmetrical Symmetry, Sean Kelly, New York (7 September–20 October 2018). Courtesy Sean Kelly, New York. Photo: Jason Wyche, New York.
Landon Metz: Asymmetrical Symmetry
Sean Kelly, 475 Tenth Avenue
7 September–20 October 2018
For his inaugural exhibition at Sean Kelly titled Asymmetrical Symmetry, Landon Metz has created a body of work directly responding to the architecture of the gallery space. Metz uses specially devised pigment dye, which he pours onto unprimed canvas and then coaxes into organic shapes. This labour-intensive process involves many hours waiting for the dye to evaporate and dry—requiring both a meditative and performative approach to painting. Metz continues to push painting's physical boundaries by creating abstract images that seemingly break out of the frame, uncontained and reaching outwards. For this exhibition, which he frames as 'site-responsive' as opposed to 'site-specific', paintings are installed across every surface, including the ceiling, thus encouraging the viewer to consider them from all perspectives.
Suh Se Ok, Two People (2000). Ink on mulberry paper. 27.8 x 42.7 cm. Courtesy the artist and Lehmann Maupin.
Suh Se Ok
Lehmann Maupin, 536 West 22nd Street
8 September–27 October 2018
Suh Se Ok's first solo exhibition in New York spans over 40 years of the South Korean master ink painter's practice. The artist was part of a collective called the Mungnimhoe, or Ink Forest Society, founded in 1959 with the drive to create unique styles of experimental ink painting that had its roots in literati painting. As such, Suh's approach to the medium is highly attuned to its fundamentals, whilst maintaining a progressivity definitive of his style. Suh continues to develop graphic, abstract paintings that are manifested as single gestures using a brush which is half the artist's height. On view in this exhibition are a selection of his ongoing 'People' series, created in the 1960s referencing the human form and alluding to 'shadows on the stage of life' (geu-rim-ja). In each of Suh's compositions, figures are stripped of colour and detail to become abstracted forms that encourage viewers to read his paintings in a manner similar to reading a poem.
Irving Penn, Aging Mushrooms, New York (1988). Platinum palladium print, ink, watercolour and dry pigment on paper mounted to aluminium. 62.9 x 51.1 cm. Courtesy Pace Gallery. © The Irving Penn Foundation.
Irving Penn: Paintings
Pace Gallery, 32 East 57th Street
13 September–13 October 2018
Pace Gallery presents the first-ever comprehensive exhibition of Irving Penn's paintings and works on paper. Internationally renowned for his fashion photography work, the exhibition spans a body of rarely seen work. Thirty paintings dating between the late 1980s and early 2000s are on view, offering audiences a new perspective on Penn as a visual artist. The mixed-media paintings demonstrate the artist's experimental approach with materials, form, and colour; as well as the influence of 20th-century artists on his work, such as Henri Matisse, Giorgio Morandi and Fernand Léger. Penn mostly based his paintings on drawings of subjects such as mushrooms and mythical creatures, which he would then photograph and enlarge to emphasise the subject's graphic elements. The resulting paintings are highly textured—a contrast to the smooth photographic approach for which Penn is renowned. This exhibition marks the first time Penn's paintings have been shown in a commercial gallery since his 1984 retrospective at the Museum of Modern Art, New York.
Lee Ufan, Dialogue (2017–2018). Acrylic on canvas. 218.4 x 291.5 cm. © 2018 Artists Rights Society (ARS), New York / ADAGP, Paris. Courtesy the artist and Pace Gallery.
Lee Ufan
Pace Gallery, 510 West 25th Street
14 September–13 October 2018
Fourteen recent paintings created between 2016 and 2018 by Lee Ufan, one of the founders of the Japanese avantgarde movement Mono-ha (School of Things), are being presented at Pace Gallery's 510 West 25th Street space. The exhibition focuses entirely on Lee's 'Dialogue' series—paintings composed in a highly controlled manner, with the brushstrokes applied in relation to the artist's breath. What might appear as a single, large brushstroke on the canvases' surface is in fact the result of multiple applications of paint, which can take over a month to complete. This isn't the artist's first foray into painting, but these new works represent an experimentation with more vibrant hues alongside dramatic combinations and layers of multiple colours in a single work, whilst maintaining Lee's focus on the resonance of space, colour, light and tension.
Nathaniel Mary Quinn, The Borrower (2018). Oil paint, paint stick, oil pastel, gouache on linen canvas. 35.6 x 27.9 cm. Courtesy the artist and Salon 94.
Nathaniel Mary Quinn: The Land
Salon 94 Bowery, 243 Bowery and Salon 94 Freemans, 1 Freemans Alley
7 September–27 October 2018
Painted from memory, the 15 portraits included in Nathaniel Mary Quin's solo exhibition The Land capture members of the working class black community living in the neighbourhood of Crown Heights in Brooklyn. Quinn's hybrid and fractured portraits are rendered in acrylic, charcoal, gouache, oil paint, paint sticks, and gold leaf and are the result of relationships that the artist has cultivated in a place subject to rapid gentrification. A series of complex characters emerge—including family and friends, teachers, neighbours, and strangers. Combining personal history with vast source materials from fashion magazines, news, and advertising, his figures might be described as combining Cubist technique with painted trompe l'oeil collage.
MUSEUMS
Exhibition view: Huma Bhabha: We Come in Peace, The Metropolitan Museum of Art Roof Garden Commission (17 April–17 October 2018). © Huma Bhabha. Courtesy the artist and Salon 94. Image credit: The Metropolitan Museum of Art. Photo: Hyla Skopitz.
Huma Bhabha: We Come in Peace
The Metropolitan Museum of Art, 1000 5th Avenue
17 April–17 October 2018
For the sixth site-specific Iris and B. Gerald Cantor Roof Garden commission, Karachi-born Huma Bhabha has created an outdoor installation that consists of two large sculptures: a menacing 12-foot-tall, five-faced standing figure, before which another immense figure—referred to as Benaam, Urdu for 'without name'—is positioned bowing down before it, as if in prayer. The title of this installation refers to the 1951 science fiction film The Day the Earth Stood Still, which imagines a first encounter between humans and aliens, thus drawing on the foreignness of the sculptures as a way to consider conditions of alienation from the perspectives of those being alienated, and those doing the alienating, with the audience positioned as the third participant in the process. Each sculpture has been cast in bronze from original forms that the artist constructed out of cheap, roughshod materials, from cork to Styrofoam, thus extending the dualities mediated by the installation, from abstraction to figuration and monumentality to entropy, in which poor materials become rich, and aliens are characterised as powerful, albeit weathered and weary, deities.
Exhibition view: Bodys Isek Kingelez: City Dreams, Museum of Modern Art, New York (26 May 2018–1 January 2019). Photo: Denis Doorly.
Bodys Isek Kingelez: City Dreams
Museum of Modern Art, 11 W 53rd St
26 May 2018–1 January 2019
This exhibition is a stunning presentation of the architectural models, or 'extreme maquettes' as the artist called them, created by Bodys Isek Kingelez (1948–2015), which he made out of everyday materials, like bottle caps and plastic wrapping. Born in Zaire, a Belgian colony that later became the Democratic Republic of Congo, Kingelez created his model buildings and cities in order to envision true independence; as the artist noted, 'A nation that can't make models is a nation that doesn't understand things, a nation that doesn't live'. Curated by Sarah Suzuki with the assistance of Hillary Reder, this show has been installed with the help of artist Carsten Höller, and is the first US retrospective of Kingelez's work. It encapsulates Kingelez's entire career, offering a privileged insight into his prolific and conscious output, charting his first forays into constructing his building sculptures, and tracking his development through to later works envisioning a harmonious, functional future society.
Marianna Simnett, Blood In My Milk (2018). Still. Five-channel HD video installation with 9.1 surround sound. 73 min. Courtesy the artist and Jerwood/FVU Awards.
Marianna Simnett: Blood in My Milk
New Museum, 235 Bowery
4 September 2018–6 January 2019
For Marianna Simnett's first institutional show in the US, the artist unveils a new film and sound installation that continues her focus on bodily anxieties and augmented selves in the contemporary age. Presented in the South Galleries of the New Museum, Simnett's installation is composed of older works, in which the clinical realities of contemporary life are filtered through a fairytale lens. In The Udder (2014), a robot dairy farm becomes the set for a magic-realist take on milk production; Blood (2015) considers this life-giving substance in literal and figurative terms; Blue Roses (2015) is a musical about a swollen leg; and Worst Gift (2017) explores how pharmaceuticals alter the voice. Shown across five screens but framed as a single narrative, Simnett has included previously unseen footage into this ambitious new edit, offering a macro view of the artist's preoccupation with medical procedures and questions of health and nourishment, and the various bodily organs, substances, and fluids involved.
Exhibition view: Akari: Sculpture by Other Means, The Noguchi Museum, New York (28 February 2018–27 January 2019). From left: Isamu Noguchi, Akari H (c.1977), 125F (1971), 15A (1953), and 32N (1969), on BB2 and BB3 bases (1954).
Akari: Sculpture by Other Means
The Noguchi Museum, 9–01 33rd Rd, Queens
28 February 2018–27 January 2019
The Noguchi Museum, located in Long Island City, is a rare gem in New York City. This modest-sized museum with a stunning outdoor garden was the former studio of renowned American-Japanese sculptor Isamu Noguchi. The museum promotes the artist's life and work, with its current show, Akari: Sculpture by Other Means, presenting a series of installations from the artist's paper lantern series. Noguchi used Akari—the washi paper-and-bamboo lanterns made by artisans in Gifu, Japan—extensively in his work, as he favoured their illuminating and weightless qualities. Presented in the museum's second-floor galleries, the first space is filled with dozens of different-sized Akari lanterns that break up space and cast shadows as you walk through them. In the next space, a giant sphere constructed for Noguchi's exhibition for the US pavilion at the 1986 Venice Biennale is illuminated and sits alone in a corner. Alongside these installations is a display of archival material including sketches, drawings, and publications; plus the many scale models that Noguchi created for future sculptures.
Exhibition view: Mary Corse: A Survey in Light, Whitney Museum of American Art, New York (8 June–25 November 2018). From left to right: Untitled (First White Light Series) (1968); Untitled (White Light Series) (1966); Untitled (White Grid, Vertical Strokes) (1969). © Mary Corse. Photo: Ron Amstutz.
Mary Corse: A Survey in Light
Whitney Museum of American Art, 99 Gansevoort St
8 June 2018–25 November 2019
Mary Corse was part of the male-dominated West Coast Light and Space movement of the 1960s and 70s, whose more familiar members include James Turrell, John McCracken, Larry Bell, and Robert Irwin. Corse and other female artists, including Lita Albuquerque and Helen Pashgian, are relatively unknown to most; but in recent years, several important exhibitions like Helen Pashgian: Light Invisible at LACMA (30 March–29 June 2014) and Lita Albuquerque: 20/20: Accelerando at the USC Fischer Museum of Art (26 January–10 April 2016) seek to redress these exclusions. Corse gets her due with this major institutional solo show at The Whitney Museum, curated by Kim Conaty with the assistance of Melinda Ling. One highlight is a collection of Corse's early monochromatic works, which demonstrate her skillful rendering of light as paintings and most evident in her 'White Light Paintings' of the late 1960s. Alongside these paintings are sculptures and 'engineered' light encasements that demonstrate the diverse approaches that Corse took towards minimalism in her practice.
Lorraine O'Grady, Art Is (Girlfriends Times Two) (1983/2009). Chromogenic print. 40.6 x 50.8 cm. Courtesy the artist and Alexander Gray Associates, New York, NY. © 2017 Lorraine O'Grady / Artists Rights Society (ARS), New York.
Soul of A Nation: Art in the Age of Black Power
Brooklyn Museum, 200 Eastern Pkwy
14 September 2018–3 February 2019
After rave reviews and staggering attendance numbers during this show's launch at the Tate Modern in London (12 July–22 October 2017), Soul of a Nation: Art in the Age of Black Power makes its East Coast debut in New York at the Brooklyn Museum following its stint at Crystal Bridges Museum of American Art earlier this year (3 February–23 April 2018), and prior to its presentation at The Broad in Los Angeles (23 March–1 September 2019). Originally conceived by Mark Godfrey and Zoe Whitley, both Tate Modern curators, the show presents over 200 artworks by 60 artists across generations, charting Black American art from the 1960s to 80s and highlighting intersections with the social, political and cultural changes that were occurring during this period. The timeframe begins at the height of the US civil rights movement in 1963 and progresses to the influence of the Black Power movements whilst considering the transatlantic dialogue and exchanges between Black Americans and newly independent Africans. Works by artists including Barkley L. Hendricks, Betye Saar, Ming Smith, and Frank Bowling present multiple perspectives of artists and collectives at work during these explosive times, some of which still ring true today as struggles by Black Americans for justice and equality persist.
Tuan Andrew Nguyen, Letters from Saigon to Saigon (2008). Nine chromogenic prints. 11 x 84 cm. Asia Society, New York. Gift of Dr. Andreas Teoh, 2018.12.1-9. Courtesy Asia Society, New York.
Tuan Andrew Nguyen: Letters from Saigon to Saigon
Asia Society, 725 Park Ave
7 September 2018–6 January 2019
In 1984, Wallace Terry published his oral history book, Bloods: An Oral History of the Vietnam War by Black Veterans, which narrates the experiences of 20 black veterans during the Vietnam War. Tuan Andrew Nguyen's Letters from Saigon to Saigon revisits this conflict in American history with nine photographs documenting the letters exchanged between a young Vietnamese rapper living in Ho Chi Minh City—formerly called Saigon—and an African American rapper who adopted the name Saigon after reading Terry's influential book. The exhibition continues Nguyen's interest in creating artworks that serve as testimonies and strategies for political resistance. In this exhibition, Nguyen presents a contemporary perspective on a historical conflict via a connection through rap music—a reminder of how post-war generations live with, and make sense of, conflicts that inform their identities. Nguyen is also part of The Propeller Group, a Vietnamese art-advertising collective founded in 2006 that uses the language of advertising to reveal power relations.
S. H. Raza, Haut de Cagnes (1951). Gouache on paper. 68.6 x 72.4 cm. The Darashaw Collection. Courtesy Asia Society, New York.
The Progressive Revolution: Modern Art for a New India
Asia Society, 725 Park Ave
14 September 2018–20 January 2019
India's independence in 1947 signalled a period of flourishing ideas around art and architecture that notably alerted the world to a new era for Indian modernism. The Progressive Artists' Group were an influential group of artists mostly based out of Bombay, who challenged the country's conservative art establishments by introducing a new approach to art-making that blended Indian heritage with Western art historical developments at the time, placing these side-by-side without creating a hierarchy between 'West' and 'Other'. Asia Society charts the history of this short-lived movement (the group disbanded in 1956) in The Progressive Revolution: Modern Art for a New India by bringing together key works by members including K. H. Ara, S. K. Bakre, H. A. Gade, M. F. Husain, S. H. Raza, F. N. Souza, V. S. Gaitonde, Krishen Khanna, Ram Kumar, Tyeb Mehta, Akbar Padamsee, and Mohan Samant. The exhibition is jointly curated by Dr. Zehra Jumabhoy, associate lecturer at The Courtauld Institute of Art, London, and Boon Hui Tan, director of the Asia Society Museum. —[O]