Feature
Basel Tov! Art Basel 2015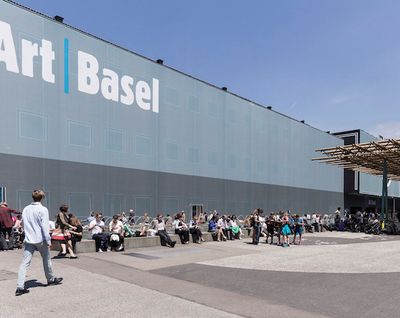 Art Basel 2015. Photo: © Charles Roussel & Ocula
With over 200 fairs held every year, I feel like a hamster stuck on an ever-spinning wheel. I just can't seem to hop off, and after several years of this it has all become a bit of a blur.
Another month, another art fair. With over 200 fairs held every year, I feel like a hamster stuck on an ever-spinning wheel. I just can't seem to hop off, and after several years of this it has all become a bit of a blur. There isn't a city to be visited that hasn't already created its own art fair or biennale; there's even one in the Mongolian steppes. Following a month of Venice Biennale, and Viennese and Berlin museums, galleries, and studio visits, I made the yearly pilgrimage to Switzerland to visit the mother of all fairs, Art Basel.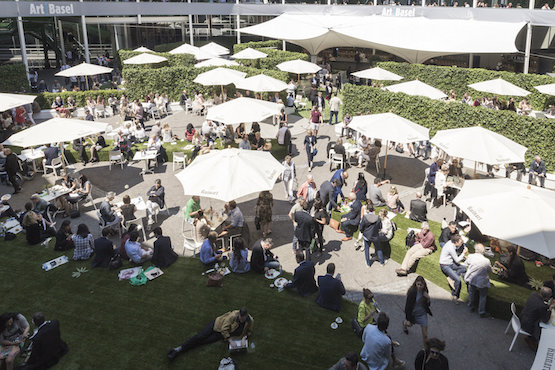 Art Basel 2015. Photo: © Charles Roussel & OculaFirst stop, the Kronenhalle in Zurich, for a reunion dinner with a few collector friends. It would be the last decent meal I'd have for a few days. Inside it was clear that most of the patrons were Baselites. A gaggle of Hong Kong collectors waltzed into the restaurant, and seated across the room was Larry Gagosian with collector Beth Rudin deWoody. Art Basel began before it even began.
In Basel the next morning, Design Miami kicked off its VIP preview. The fair celebrated its tenth year and in the Design at Large section (curated by hotelier André Balazs), we were greeted with a cavernous ground floor exhibition space full of mobile homes, and mini collectible architectural pieces. In the calm and cruisey atmosphere contemporary design pieces were out in force, including a booth of some pretty chic made-in-China pieces at Gallery All. I was lamenting the absence of Galerie Ulrich Fiedler for my Bauhaus fix this year, but spotted a frottage-worthy Prouvé table and chairs in one of the spacious booths that media tycoon Peter Brant was also eyeing. That was my cue to keep on walking. Know when you are defeated.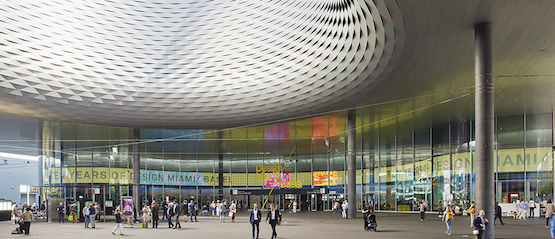 Design Miami/Basel 2015. Image courtesy Design MiamiA couple of Rietveld chairs at Rotterdam's Galerie Vivid had my heart palpitating, but I realised that even without the museum worthy price-tag, they were likely to be used as scratching posts by the our feral feline companions. Nilufar seduced once again with a presentation of Gio Ponti, Gabriele Crespi and Alvar Aalto pieces in a booth that looked like it was lifted straight out of the pages of Architectural Digest. And blurring the lines between design and art, Friedman Benda presented several lovely large sculpted slabs of polished basalt benches by Korean artist Byung Hoon Choi. Weighing in at 90 kgs (i think??) the only thing I could contemplate was the nightmare of shipping and then delivery up four flights of stairs.
At the Liste preview, the beautiful hipsters were out in force as was some cool emerging art. It was cramped, it was hot, and there were a lot of sweaty tattooed biceps on display, as well as wet t-shirts as visitors braved the rain on the external staircase. This year's Venice Biennale artist for the Estonian pavilion, Jaanus Samma, was busy chatting with collectors eyeing his works at Temnikova and Kasela Gallery. I particularly fancied the hand-knitted sweaters from his Hair Sucks Sweater Shop (2015) series bearing a host of profanities gleaned from toilet doors, such as 'Insert Dick Here', and 'Cunt me in'. It beats reindeer and dreidel motif Chrismukkah jumpers. I also loved Athens-based artist Zoë Paul's yarn-embellished rusted fridge grills at The Breeder gallery and Michal Budny's large rubber and scotch tape work at Raster Gallery. And at Proyectos Ultravioleta young Guatemalan artist Jorge de León's etched bullet holes onto black painted metal, resembling beautiful delicate spider-webs, caught my eye.
Jaanus Samma at Liste art fair. Image courtesy Diana d'Arenberg and Post-ismThe Unlimited preview at Art Basel that evening felt a bit like a carnival. Spectacle reigned as it always does in this platform for large pieces and performance art. The beardy Berlin-based artist Julius von Bismarck took up residence in a spinning dish near the entrance of the exhibition hall where he would read, email, eat and sleep, for the duration of the fair. I heard that a liability clause had to be signed in the event of injury or 'brain damage'. On a stage not far from von Bismarck, British musician Ghostpoet was performing a spoken word funk rock number for Gary Simmons' Racapturing Memories of the Black Ark (2014). After the performance the speakers and staging was left in place as a reminder of the absence of the event.
There was art for our times with politically loaded works by Kader Attia and Tony Lewis. Attia engaged in a public performance of smashing his exhibited glass cabinets, the same as those destroyed in the Egyptian Museum during the 2011 Arab Spring, for his work Arab Spring (2014). Chicago-born Lewis presented a wall installation Never argue with police officers, address them as "officer" (2013) that hit home and got visitors talking about US race relations and the recent police related killings. Dotted about the exhibition space and wedged between the large multi million dollar installations were 165 oversized credit cards with the word 'Worldebt' printed on them—a card for each nation who had IMF intervention. The works, made by LA based artist John Knight in 1994 to commemorate the 50th anniversary of the International Monetary Fund and the World Bank, resonate as strong as ever today.
The aftermath of Kader Attia's performance art, Arab Spring at Art Basel Unlimited opening. Image courtesy Diana d'Arenberg and Post-ismAs always, there was ample room to play at Unlimited. Ryan McGinley covered an entire room with photographs of nude models; it reminded me of my teenage bedroom. And Brazilian collective Opavivará! presented their work Formosa Decelarator (2014), an installation of hammocks that had VIPs flocking to kick up their weary feet and pour themselves a cuppa. From Felix González Torres' carpet of blue candy I walked over to Dan Flavin's European Couples (1966-71): buzzing neon light saturated rooms empty but for a couple of guys dancing.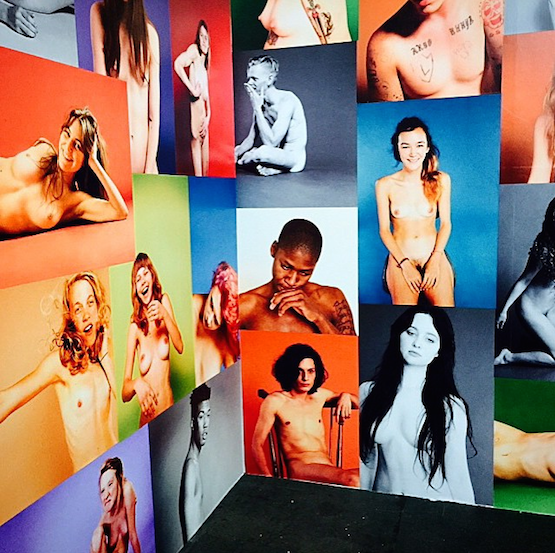 Ryan McGinley's Yearbook at Art Basel. Image courtesy Diana d'Arenberg and Post-ismAfter being reunited with a curator friend we headed to Takashi Murakami's film premier for Jellyfish Eyes where we grabbed our obligatory selfie opportunity with the artist (he is a master of self promotion after all). Two furry and very friendly monsters, one of which pawed and clawed several female guests, greeted visitors. Standing outside with a drink we spotted the man behind the costume—a rather attractive and half naked Swiss chap wearing nothing but underpants trying to crawl his way out of the too small window of his locked dressing room for a cigarette. With a bit of card swapping and cigarette bumming, friends are easily made at art fairs.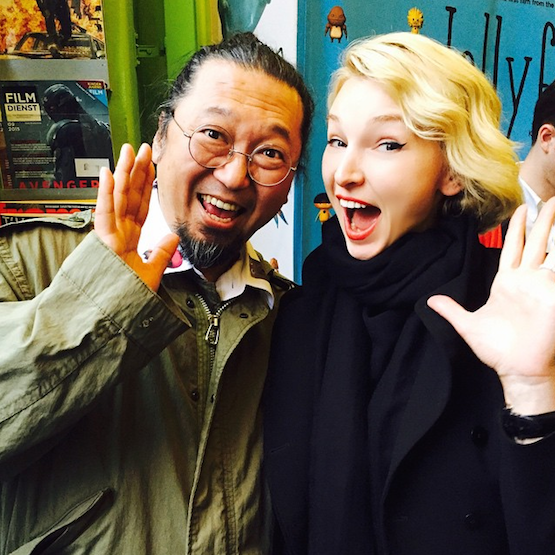 Takashi Murakami and Diana d'Arenberg. Image courtesy Diana d'Arenberg and Post-ismDinner at the packed Kunsthalle, the scene of many a regrettable and misspent night at previous AB's, saw a more civilized evening this time toasting a Basel Tov to the 46th edition with the Hong Kong Art Basel crew, while a few guests wandered around with brown paper bags on their heads. After the art month I've had even the lunatic rants of a right wing Hello Kitty-loving Alabama white supremacist wouldn't get my attention. Weird is the new normal in the contemporary art world. Keep drinking.
Catching the hour-long last train back to Zurich was not a great idea after copious amounts of red wine and fried salty cheese that passed as risotto. I was nodding off like a narcoleptic Henry Kissinger mid conversation with my curator companions, but I told myself that this was by far a better idea than staying at any of the overpriced suicide dens that pass as hotels in Basel. Actually, the one I stayed in last time failed as a suicide den- the windows wouldn't open and my knife was airplane regulation plastic. I was told an armed robbery had taken place in the casino downstairs years ago, and there were plenty of suspicious stains on the sofa and carpet. It triggered my OCD depleting an entire stash of hand-sanitisers in minutes.
Tuesday, the first day of the VIP preview, and it was already heaving with eager collectors frothing at the bit to snap up their trophy first. Art collecting is a blood sport. It was best to sit the first couple of hours out and delight in the entertainment. Outside the main entrance stood DO WE DREAM UNDER THE SAME SKY, an open air kitchen, and creative utopia of sharing, caring, sustainability and community (quite a contrast to the Messeplatz) created by Rirkrit Tiravanija, Nikolaus Hirsch, Michael Müller and Antto Melasniemi. Visitors to the kitchen stand were encouraged to participate in the making and serving of food, and take time out to forge new relationships and conversations. I picked some mint leaves from the organic herb garden and made myself a cup of tea as I watched the parade prance by. The sartorial stakes were high this time around. There was a chap wearing a hybrid Beetle Juice safari outfit, complete with helmet; a red haired geisha with obi; a woman wearing an outfit made up of tiny plush pink vaginas whom I had also spotted in Venice; and of course, Eva and Adele, again.
Rirkrit Tiravanija, Nikolaus Hirsch, Michel Müller and Antto Melasniemi, DO WE DREAM UNDER THE SAME SKY, at Art Basel. Photo: © Charles Roussel & OculaInside the fair booth layout was reconfigured this year with largely modern and post war contemporary artworks on the ground floor and contemporary and newer artists upstairs. The new layout didn't please everyone (certain gallerists are particular about their art fair real estate) but it made it a lot easier for visitors to navigate. A Pistoletto mirror installation upstairs at Luxembourg & Dayan placed the art world behind bars; visitors were encouraged to stand in the middle of the booth, surrounded by prison bar painted mirrors. Irony and a middle finger are never in short supply in the contemporary art market. A fantastic Mike Kelley egg shaped canvas at Skarstedt had me rather excited, as did an Andy Warhol screenprint of a penis, misleadingly titled Torso on show at Jablonka galerie. I had never seen one before, the screenprint, I mean. At Tel Aviv's Dvir Gallery I fell in love with a large concrete sculpture by Romanian artist Mircea Cantor who was also exhibiting a large scale embroidered textile work in the Unlimited section.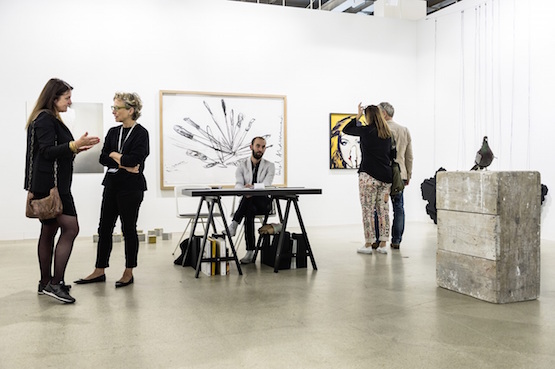 Dvir Gallery at Art Basel. Image © Art BaselThere was a marked increase in Asian collectors this year, including from Hong Kong with Art Basel Asia director Adeline Ooi remarking that 50 VIPs made it out to Basel this year. About 50 more than a few years ago it seems. Chinese galleries and artists were also more visible with ShanghART, Long March Space, Leo Xu Gallery and Galerie Urs Meile also showing as well as Hong Kong gallery Platform China who impressed my curator companion with a presentation of Ai Weiwei's former student, Zhao Zhao. Basel always seemed a very European affair (minus the decent cuisine, what gives?), but now the demographic definitely reflects the shifting geopolitical power structure. In the VIP lounge however, cultural lines, old world versus new, were still being demarcated. I overheard one curator joking with colleagues "What do you call a multi linguist? A European. What do you call a mono-linguist? An American." Hawhaw and gaffaws all 'round.
All around schmoozing and deals were taking place. It was like Görlitzer Park during Berlin Art Week. At a tiny corner table on the lounge terrace I befriended the diminutive European art adviser to a certain titled Brit—we bonded over gin and tonic and the flammability of our hair (excessive hairspray use; Margaret Thatcher would have been proud). "The days of Bischofberger are gone. Now art galleries are run by these mal éduqué glorified stockbrokers. That's all they are. Especially the Americans," she lamented. I got the run down of whom to avoid at all costs in the gallery world. PM me for details.
Basel's 'see-and-be seen' hotel and bar, Les Trois Rois, was this year turned into a Dieter Roth installation that resembled the shed of a compulsive hoarder. An interminably long queue awaited us to get in. I hadn't waited in a line since the Soviet-era Russian bread queues, and I wasn't going to start now. Fortunately a Muscovite artist friend pulled me over the velvet rope and onto the safety of the red carpet. There was so much security I felt like I was on an El Al flight to Tel Aviv. Understandable when you walked in. "Everyone who counts in the art world is here you know. It's like the New York Social Registry of art", I was informed in a whisper by one good-looking leggy botoxed bottle blonde of an indistinguishable age. Perhaps she was right. There was glamour and it was accompanied by those hoping that by rubbing shoulders with it a little bit of its lustre would transfer to them via osmosis. There was also more money in that room than the US Fed Reserve: a gaggle of Russian and Saudi oligarchs; American dynastic scions; minor royalty; German industrialists; the Mugrabis; one of Peter Brant's ridiculously good-looking spawn (bottling those genes and selling them off would bring in enough cash to wipe out 'world debt') … and Leonardo DiCaprio. Why is it all actors are so much shorter in real life? I hadn't noticed it was his head I was peering over to check out a David Gandy-lookalike at the far end of the bar (he turned out instead to be a dealer from a London gallery I knew). At the bar Andre Balazs seemed to be the only one getting served. Best to position yourself right beside him to get that weak and warm vodka soda.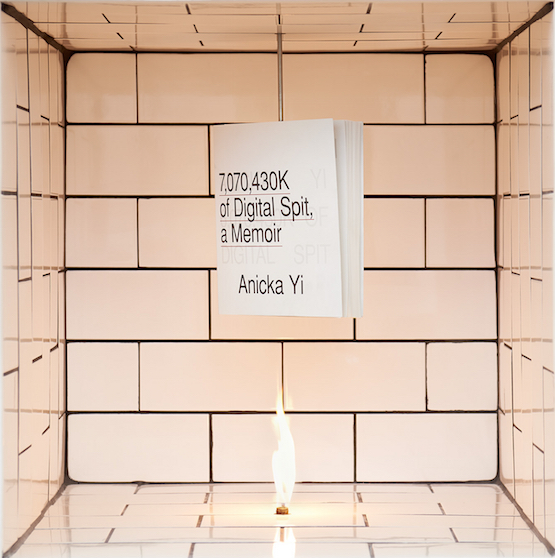 Anicka Yi, Odor in the Court (2015), in 7,070,430K of Digital Spit, Kunsthalle Basel, 2015. Foto/Photo: Philipp HängerThere was much to see at this year's AB edition: Future Present at the Schaulager; Joseph Beuys: Installations, Actions & Vitrines at Museum für Gegenwartskunst; Haroon Mirza/hrm199 Ltd at Museum Tinguely; Anicka Yi: 7,070,430K of Digital Spit and Vincent Fecteau: You Have Did the Right Thing When You Put That Skylight In at Kunsthalle Basel; and Making Africa – A Continent of Contemporary Design at Vitra Design Museum, and Paul Gauguin, Marlene Dumas' and Tobias Rehberger exhibitions at Fondation Beyeler. I only made it to the Beyeler.
As a result of missing the last train to Zurich I woke up in the wrong city without a change of clothes and hairbrush, with a look that one collector described as "Courtney in her '90s grunge phase" and another as 'baby crack ho'. A morning of copious amounts of coffee and ensuing DTs resulted in a burnt face from a straightening iron, and singed hair that was more an homage to The Cure's Robert Smith than the Marlene Dietrich look I was going for. I was checked for ID by security at the Beyeler. Whatevs, I felt pretty punk rock walking through the beautiful Dumas exhibition. Although the Beyeler exhibition follows on from Dumas' retrospectives at the Tate, London, (and Amsterdam's Stedelijk Museum), this one was far more stunning. The hang was different and the space and light of the Renzo Piano designed museum more than did the works justice.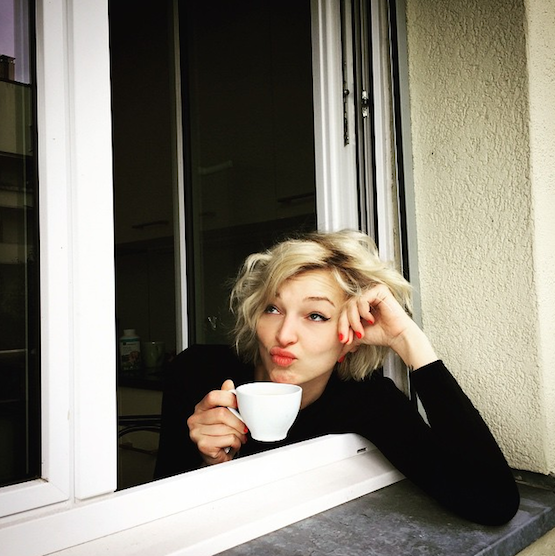 When you wake up in the wrong city after a night at the Trois Rois and you've burnt your face trying to iron your hair and look like a baby crack ho'. Image courtesy Diana d'Arenberg and Post-ismThe sun was out, the grass was green (the last time I saw green grass in Hong Kong was during a fashion/art installation), and I had taken my antihistamines, so I seized the opportunity to lie the morning out and bask in the shadows of the Calder on the lawn and test my patience with lunch at the Beyeler restaurant. The establishment has service rivaling that of the Italian consulate (any Italian consulate) but the prospect of waiting 40 minutes in line over at the Messeplatz for a coffee and sad cheese sandwich amounting to the price of a bottle of premium vodka in Mayfair, was just to grim to contemplate. We were in good company; Beyeler director Sam Keller and Australian born artist Lawrence Carroll were also subject to said service. "This service! They can't possibly be Swiss", remarked a collector at our shared table. "German for sure."
Downstairs in the Beyeler, German artist Tobias Rehberger exhibited a pixilated mural, which revealed itself, so to speak, only when viewed through a camera or iphone. There, stretched out across the length of the room was an educational scene of Japanese erotica—a selfie opportunity if ever I saw one (where was Biesenbach?). It was yet another chance to get my Instagram account deactivated. Speaking of selfies and deactivation, back in Basel town a mere stone's throw away from the Messeplatz, naked performance artist Milo Moire got down to her birthday suit and invited onlookers (mainly men) to join her for a snap—something about our overexposure on social media. Would have loved to join in but, ahem, I guess I didn't have the balls.
The Renzo Piano designed Fondation Beyeler museum. Image courtesy Diana d'Arenberg and Post-ismI cut my Basel sojourn short and missed the Fondation Beyeler-hosted performance of the 1913 Futurist opera Victory over the Sun, performed by the Stas Namin Theater of Moscow. I was informed that the opera was in gibberish and more suited to the tone deaf (although the costumes looked fantastic!), so I couldn't have impressed anyone with my shoddy translations anyway. It was time to head back to Zurich. The need for a cheese-free meal and sleep overrode every other desire. The wheel kept spinning, but this hamster was dead.—[O]