Feature
Berlin's Top Five Institutional Summer Exhibitions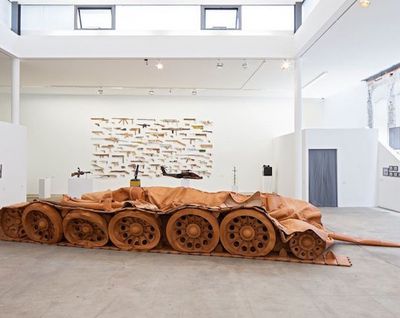 He Xiangyu, TANK, 2011–13. Plant-based-tanned leather, 890 x 600 x 150 cm, Courtesy Sammlung Sigg and Kunst-Werke Institute for Contemporary Art Berlin. Photo: Timo Ohler
Martin-Gropius-Bau
Solo Exhibition: Tino Sehgal

Until the 8th of AugustBritish-German artist Tino Sehgal's first major solo exhibition in Berlin at the Martin-Gropius-Bau is a drawcard for the art critic and tourist alike. Recipient of the prestigious Golden Lion award at the Venice Biennale in 2013, and with previous exhibitions at the Guggenheim Museum in New York, and Tate Modern in London, his artistic presence in Germany's capital on such a grand-scale is much anticipated. Those with prior knowledge of his work enter the space armed with forewarning; ready to expect the unexpected. Instead of presenting audiences with static art objects, Sehgal prefers to communicate with his audiences through others. His practice is one that evades documentation. Employing a selection of trained actors and dancers for specific pieces on regular rotation, they activate exhibition spaces and interact with visitors directly.
Despite recycled, pre-rehearsed scripts and choreography, the freedom and spontaneity afforded to each scenario avoids falling into the trap of contrivance. Instead of referring to these interactions as "performances", Sehgal prefers "interventions", thus emphasising transitory moments of experience, variegated through each individual and collective engagement.
Across the ground floor atrium and four adjoining rooms at the Martin-Gropius-Bau, visitors are treated to five situations that play out: Yet Untitled, Kiss, This Variation, Ann Lee and This Situation. Involving six performers who welcome visitors into the room by announcing "welcome to this situation", This Situation is one of the more amusing works. Engaging in intellectual discourse, at intervals, the performers sway in unison, deliver quotes and pose existential questions such as "what if your life was an artwork?" Here the possibility for everyday life to intermingle with art and performance is directly raised.
In a bright sunlit room the work Ann Lee features a real ethereal looking teenage girl whose persona is derived from the Manga cartoon character that Pierre Huyghe and Philippe Parreno purchased and offered for use as part of their No Ghost just a shell project. While making unnecessary robotic hand gesticulations, she asks visitors rhetorical questions in an obscure monologue such as "Have you heard of Pierre Huyghe?", "Where are you from". This Variation is the most confronting. Previously staged at Documenta XIII (2012), visitors are lured into a pitch-black room by the sounds of incomprehensible humming, singing and beatboxing. The elimination of all visual cues promotes a sense of disorientation and vulnerability. Visitors become increasingly aware of a mass of dancing bodies surrounding them. Regular breakouts from this space involve the figures emerging from the darkness to gather in the central atrium for a communal intermezzo, dancing and singing a cappella.
Depending on the time of the day, it is possible to enjoy these experiences very intimately. Sehgal's exhibition allows participants to help shape unique dialogues, thus challenging the function of the museum. A very clever theatre.
Tino Sehgal and performers in front of the Martin-Gropius-Bau Berlin, June 2015. Image courtesy Martin-Gropius-Bau. © Mathias Völzke
Kunst-Werke Institute for Contemporary Art
Group Exhibition: FIRE AND FORGET. ON VIOLENCE
Until the 30th of August
Curated by Ellen Blumenstein and Daniel Tyradellis exhibition
FIRE AND FORGET. ON VIOLENCE
is a powerful and titanic investigation into ideas of war and violence through contemporary art. The exhibition's title is derived from the military phrase "fire and forget" which refers to weapons that seek their own target after being fired from a great distance. Exhibited across the entire space at Kunst-Werke, work by over fifty artists are divided into four sections: Borders, Affect, Memory/Remembrance, and Event. Each section explores various aspects of violence and modern warfare; creativity, intimidation, destruction and sufferance. Here art is utilised as a projectile, a unique means to communicate sensitive and confronting political, religious and cultural concerns.
Upon entering the space visitors are immediately physically confronted with the notion of borders. Daniil Galkin's Tourniquet (2015) installation of overlapping black metal revolving doors forces visitors to cross the frontier between inside and outside and enter new territory; the first of many confrontations within the exhibition. Jota Castro's Guantanamo, (2005) also presents viewers with physical division in the form of a narrow box-like interrogation structure made from industrial fencing.
Intimidation is conveyed directly in Julius von Bismarck's work Polizei (2015). Comprising a troop of ten realistically scaled adult male dummies in police uniforms, the figures stand together blocking the path of visitors. The canny realism is further heightened by programmed engine movement at sporadic intervals that requires a second take from audiences, inciting feelings of unfounded guilt.
Traces of weaponry are seen first hand in Marcelo Cidade's Tempo Suspendo de um Estado Provisório, (2011) displaying a panel of bulletproof glass exhibiting the impact of bullets from a .357 Magnum Full Metal Jacket. He Xiangyu's sculpture Tank (2011-13), is less hostile, yet equally as thought-provoking. This life-size military tank appears deflated and innocuous. Grappling with ideas about the Westernisation of China and political and economic interrelations, the piece is made from luxury Italian leather, the result of two years work hand-sewn by female needleworkers. The list of highlights continue with Gillian Wearing's black and white film Sacha and Mum (1996) showing a mother disconcertingly beat her adult daughter, and Marina Abramović and Ulay's iconic performance Light/Dark (1978) in which they sit slapping each other's faces for over eight minutes. Beyond direct violence, Hrair Sarkissian reveals eight sobre photographs in his Execution Squares (2008) series depicting various empty Syrian execution squares that allude to death. War's aftermath is blatantly represented in Kris Martin's Untitled (2010) that presents a pile of golden 706 grenade shells. Work by Harun Farocki and Damien Hirst, Barbara Kruger, Pipilotti Rist can also be found.
The documentary photographs from the collection Martin Dammann/Archive of Modern Conflict interspersed throughout the exhibition are a curatorial highlight. The highly charged imagery of soldiers at war in various scenarios ranging from the humorous to the devastating provide figurative historical anchors. The exhibition's strength is its presentation of broad perspectives surrounding violence, proving how easily the roles between the hunter and the hunter can be adopted. One message above all is distinctly clear: the lasting resonance of violence is not easy to forget.
Julius von Bismarck, Polizei (2015). Exhibition view at Kunst-Werke Institute for Contemporary Art. Courtesy the artist, and Kunst-Werke Institute for Contemporary Art Berlin. Photo: Timo Ohler
Schinkel Pavillon
Group Exhibition: THEM
Until the 26th of July
Drawing inspiration from the human female anatomy, the exhibition
THEM
curated by Nina Pohl brings together the work of seven female artists: Alina Szapocznikow, Alisa Baremboym, Aleksandra Domanović, Sarah Lucas, Katja Novitskova, Carolee Schneemann and Anicka Yi.
Utilising the late Polish artist Alina Szapocznikow's practice as a point of departure, the exploration of the notion of the self, desire, corporeality and aesthetic form are exercised through a range of works dated from the 1960s to today that draw comparative feminist discussion. An anatomical sensitivity is extended to the circular staggered exhibition design that provides an integrated presentation structure for visitors to negotiate each work. Szapocznikow's surrealist bodily sculptures draw attention to the impermanence and vulnerability of the human form. The deconstructed nature of her work reflects the post-war environment of her era and experiences in concentration camps during the Holocaust. Known for her radical disembodied remoulds of sexual organs, her work is reviewed in this exhibition under a contemporary lens and is perfectly positioned. Her works Lampe-Bouche (1966) and Sculpture-Lampe (1970) present floating mouths and breasts sitting atop phallic lamp stems that stand at once as functional yet provocative objects. Sculpture (Fétiche IV), (1971) composed of resin, stockings, wood and lingerie takes the isolation and fragmentation of the female form further, to a darker, deformed place.
Carolee Schneemann's video, Meat Joy (1964) depicting an orgy of partially nude women and men sliding in wet paint and playing with meat, chickens and sausages, taps into erotic consumption. Bodily functions are explored further in Aleksandra Domanovic's SOHO (Substances of Human Origin) (2015), in contrast, within a decidedly futuristic paradigm. Three wall mounted artificial pairs of arms with hands in differing positions modelled on the Belgrade Hand—an early prosthetic developed in Yugoslavia in the 1960s—explore the relationship between body and machine.
Sarah Lucas' disturbing sculpture Bunny Gets Snookered #3 (1997) at the exhibition's centre enlivens the female form as a submissive object and representation of abject femininity. Presenting a seemingly mutilated mannequin redolent of a limp sausage, the work, made from stuffed stockings, sits clamped to a secretarial office chair. More tongue in cheek, Anicka Yi's 235,681K of Digital Spit (2010)—a transparent Lonchamp handbag filled with hair gel and tripe—pokes fun at the beauty industry cleverly imbuing ideas of consumption. At times inchoate, this visceral collection of artistic investigations provides a variety of cross-generational female positions.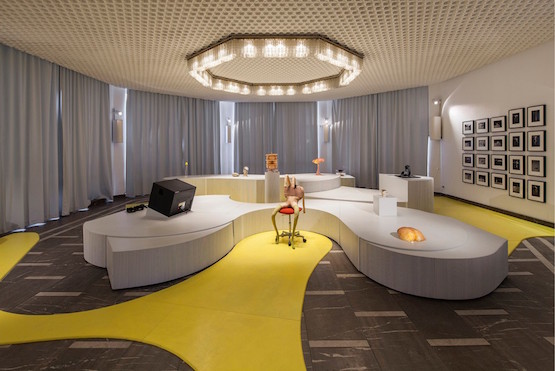 Exhibition view, Alina Szapocznikow, Alisa Baremboym, Aleksandra Domanović, Sarah Lucas, Katja Novitskova, Carolee Schneemann and Anicka Yi, THEM, at Schinkel Pavillon, 13 June - 26 July 2015. Image courtesy Schinkel Pavillon. Photo: Timo Ohler
Deutsche Bank Kunsthalle
Group Exhibition: Photo-Poetics: An Anthology
Until the 30th of August
Conceived by curators Jennifer Blessing and Susan Thompson and organised by the Solomon R. Guggenheim Foundation, New York, the exhibition Photo- Poetics: An Anthology ostensibly documents developments in recent photography through the work of ten contemporary artists: Claudia Angelmaier, Erica Baum, Anne Collier, Moyra Davey, Leslie Hewitt, Elad Lassry, Lisa Oppenheim, Erin Shirreff, Kathrin Sonntag and Sara VanDerBeek. In showcasing each individual practice, the conflation of shared ideas becomes apparent.
Claudia Angelmaier's work is interested in examining the implications surrounding the mass circulation of photography. Utilising reproduced art-historical masterpieces in catalogues and books she didactically explores the perception of such variations through repetition. Her Works on Paper series dating back to 2008 presents enlarged rear views of museum shop postcards. These images are backlit to reveal the outlines of classically painted female figures from the underside. The series highlights the commodification of museum artworks and brings into focus questions of authenticity.
Erica Baum's abstract text and image based photographs use books to convey her visual stories. Her ongoing project Naked Eye isolates fragments from partially opened book pages to reveal unintended layered visual narratives. Her playful collages from vintage paperbacks demand closer inspection and contemplation. Embracing a process-driven practice, Sara VanDerBeek's transfixing 'photo-sculptures' integrate her sculptural practice into her photographs by documenting self-produced three-dimensional assemblages that include appropriated photos within them.
Viewers encounter a form of visual trickery in Lisa Oppenheim's beguiling The Sun is Always Setting Somewhere Else (2006) series. Presented on fifteen 35mm slides, sunsets captured by American soldiers serving in the Iraq war are re-appropriated, printed, layered against comparable skylines in New York and rephotographed. The series promotes a sense of universal connectedness set upon the context of political critique. Photo-Poetics: An Anthology demonstrates ten predominantly female individual spheres of creative enquiry that self-reflexively seek to transcend, scrutinise and expand upon the medium of photography via a range of innovative approaches and techniques.
Lisa Oppenheim: The Sun is Always Setting Somewhere Else, 2006. Slide projection of fifteen 35 mm slides, continuous loop, dimensions variable, Solomon R. Guggenheim Museum, New York Purchased with funds contributed by the Photography Committee, 2009.60, © 2006 Lisa Oppenheim
Berlinische Galerie
Solo Exhibition: Björn Dahlem, Mare Lunaris
Until the 24th of August
After almost one year of closure, the newly refurbished Berlinische Galerie re-opened its doors mid this year with a range of parallel exhibitions that include German artist Björn Dahlem's solo exhibition Mare Lunaris.
Dahlem's commanding site-specific installation is housed within the museum's main entrance hall. The long rectangular space with soaring ceilings is filled with a constellation of custom made wood, copper and aluminium sculptures arranged on geometrically shaped tables and shelves at differing heights. An array of everyday found objects such as crystals, Christmas tree decorations, light bulbs, a tree branch and quail egg are combined rather scientifically into very singular, otherworldly three-dimensional assemblages.
As visitors traverse the space of this poetic landscape further, they are met with the crowning feature of the exhibition at the end of the room: a silver spaceship. Towering above the ground, a staircase invites visitors to ascend and enter the structure and become transported into an alternate reality.
Dahlem draws upon astrological phenomena, natural sciences and physics as a means of exploring artistic notions of the macrocosm and microcosm within this exhibition. By posing speculative questions beyond the realm of factual information and creating associative narratives throughout the space, the artist transmits a sense of wonder that grapples with universal ideas.—[O]
Exhibition view, Björn Dahlem, Mare Lunaris at Berlinische Galerie, 2015. Image courtesy Björn Dajlem and Berlinische Galerie, Berlin. Photo: Roman März