Feature
Best institutional shows in Turin during Artissima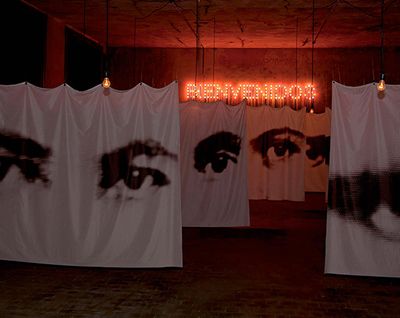 Installation image: Christian Boltanski, Hôtel de Immigrantes at Fondazione Merz.
Each November the art world casts its attention on Italy's art centre of Turin for the annual Artissima art fair. However, its not only the fair that attracts the international art cognoscenti to the Piedmont capital. With a history steeped in the cultural avant-garde of the Arte Povera movement and with strong philanthropic arts circles, the city's public and private art institutions have much to offer.
Rachael Vance lists the best institutional shows to visit during the Artissima art fair.
Fondazione Merz
www.fondazionemerz.org
Christian Boltanski. Dopo
3 November 2015 – 31 January 2016
Established in 2005, the Fondazione Merz pays homage to the legacy of leading local Arte Povera member Mario Merz, and to his artist wife Marisa Merz. Today, across 1,400 square metres, the foundation explores a new generation of artists through a regular exhibition schedule within a former industrial heating plant.
From November 3 2015, the Fondazione Merz presents a solo exhibition of works by French artist Christian Boltanski. Rising to prominence in the 60s, Boltanski's practice has become synonymous with the investigation of the lived experience and individual and collective memory through various media.
Christian Boltanski. Dopo presents audiences with a selection of newly created installations inspired by Turin's cultural and social history. Across several spaces, the multi-media exhibition comprising photographs, video, clothing and sculpture is juxtaposed against a soundtrack set to the human heartbeat. Around 200 images of anonymous cropped faces from photo portraits and images from everyday life are found in the first room. Upscaled and printed on suspended pieces of fabric, the images create a sea of snapshots that visitors are invited to negotiate. Each image represents an artefact from the artist's personal archive. Each set of eyes staring back at the viewer offers a window into a past encounter. Also in the show, Boltanski's theatrical piece, Shadow Theatre, involves a projection of silhouettes of various figurative shapes within a dimly lit room, whereas his film Clapping Hands captures the temporary action of an applause archived forever; intended as a tribute to the late Mario Merz's oeuvre.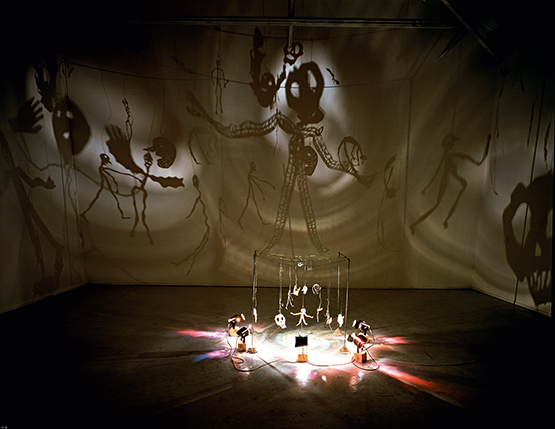 Installation image: Christian Boltanski, Théâtre d'ombres at Fondazione Merz.
Castello di Rivoli Museo d'Arte Contemporanea
www.castellodirivoli.org
Rachel Rose: illy Present Future Prize 2014 Exhibition
6 November 2015 – 10 January 2016
The picturesque Castello di Rivoli Museo d'Arte Contemporanea is situated just outside Turin. Perched on the hill in the Val di Susa, the original structure was built in the 11th century and was the former residence of the Royal House of Savoy. Since its foundation in 1984, the museum's collection has focused on contemporary Italian and international art, featuring minimal art, body art, land art, Arte Povera and a vast video collection that includes works by Nam June Paik and Bill Viola.
From the 6th of November, in conjunction with the Artissima art fair, the Castello di Rivoli Museo d'Arte Contemporanea will hold a solo presentation by American artist Rachel Rose as part of the illy Present Future Prize Exhibition. Dedicated to emerging talent, the prize is awarded each year during Artissima and offers the recipient the opportunity to hold a solo show in Turin the following year in parallel with the fair. Known for her innovative use of film, new-media and presentation of immersive installations, Rose has received a string of accolades since winning the illy Present Future Prize in 2014, including the 2015 Frieze Artist Award and solo exhibitions mounted at the Serpentine Gallery, London and the Whitney Museum of American Art, New York. For her exhibition at Castello di Rivoli Museo d'Arte Contemporanea, Rose presents a new installation, curated by Marianna Vecellio, utilising film projections conceived specifically for the museum space.
Rachel Rose, Palisades in Palisades, 2014. HD video, 9 minutes and 31 seconds. Courtesy of the artist and Pilar Corrias Gallery
Pinacoteca Giovanni e Marella Agnelli
www.pinacoteca-agnelli.it/visit/en
Ed Ruscha: MIXMASTER
7 November 2015 – 8 March 2016
The Pinacoteca Giovanni e Marella Agnelli private art museum is positioned within celebrated architect Renzo Piano's re-design of the Lingotto building—once the avant-garde factory of renowned Italian car manufacturer Fiat, complete with a rooftop race-track. This city icon has been reimagined by museum owners Giovanni Agnelli and his wife Marella. Endearingly referred to as the "Flying carpet" due to the museum's raised box-like structure with flat roof, and more officially known as the "Scrigno" (literally meaning jewel box or treasure chest), the museum houses a permanent art collection that includes artworks dating back to the 18th century.
During Artissima the Pinacoteca Giovanni e Marella Agnelli presents the exhibition Ed Ruscha: MIXMASTER, curated by Paolo Colombo. Taking its point of departure from the museum's focus on the theme of collecting, the hybrid show is made up of objects associated with areas of interest within the acclaimed American artist Ed Ruscha's practice. Artefacts within the exhibition are sourced from public and local collections throughout Turin by the artist himself. This historical counterpart is contrasted with a selection of drawings, photographs and paintings by Ruscha, many of which have been taken from his personal collection. Unique dialogues and aesthetic affinities are thus engendered, offering alternate points of access into the art dignitary's practice.
Ed Ruscha, Standard Station Study, 1986. Oil and collage on silkscreened paper. Courtesy of the artist
Fondazione Sandretto Re Rebaudengo
www.fsrr.org
Adrián Villar Rojas: Rinascimento
4 November 2015 – 28 February 2016
Art collector Patrizia Sandretto Re Rebaudengo's museum Fondazione Sandretto Re Rebaudengo stands today as one of the world's most significant privately owned art museums. Through its cutting-edge exhibition program that aims to engage and challenge local audiences, the foundation has continued to champion a new generation of international artists over a 20 year period.
Holding pride of place during the first week of November, the Fondazione Sandretto Re Rebaudengo presents a solo exhibition by Argentinian artist, Adrián Villar Rojas. Rising to prominence in 2011 when representing Argentina at the Venice Biennale, Villar Rojas has since been featured in dOCUMENTA (13) (2012), the Sharjah Biennial 12 (2015) and the Istanbul Biennale (2015).
Recognised for his investigations into contemporary sculpture informed by narrative references to art history and pop culture, Villar Rojas' practice communicates simultaneously on a prehistoric and futuristic level. Employing organic and inorganic materials, the artist enlivens discussions concerning evolution and entropy. Curated by Irene Calderoni, Rinascimento (Renaissance) presents a major new production conceived especially for the exhibition spaces at the Fondazione Sandretto Re Rebaudengo.
GAM-Galleria Civica d'Arte Moderna e Contemporanea
www.gamtorino.it
MONET: Collections from the Musée d'Orsay
2 October 2015 – 31 January 31 2016
www.mostramonet.it
The GAM-Galleria Civica d'Arte Moderna e Contemporanea houses the city of Turin's collection of modern art, counting over 45,000 artworks under its roof. Pieces by major 19th century Italian artists, such as Fontanesi, Fattori, Pellizza da Volpedo and Medardo Rosso are shown alongside an exhibition space devoted to current artistic production. Such inter-generational depth is embodied in the collection on display and in the public programme during the Artissima art fair.

Monet, Essai de figure en plein-air: Femme à l'ombrelle tournée vers la droite (1886) olio su tela; 130,5 x 89,3 cm; inv. RF 2620 Paris, Musée d'Orsay © RMN-Grand Palais (musée d'Orsay) / Hervé Lewandowski.Staged on the first floor of the GAM, the Musée d'Orsay, Paris has granted the loan of 40 masterpieces by French Impressionist painter Claude Monet—many of which have never been exhibited in Italy before—for the exhibition MONET: Collections from the Musée d'Orsay. The show pays homage to the artist's complex evolution and aims to contextualise his role as a key figure within modern art history. Seminal works include his emblematic female figure drenched in light holding an umbrella, Essai de figure en plein-air : Femme à l'ombrelle tournée vers la gauche (1886).—[O]