Feature
Better Than Ever: Art Dubai 2015
Yazan Khalili's installation, 'The Island' for The Art Bar by Absolut. 2015. Courtesy The Studio, Dubai
Yes, Art Dubai's 9th edition did feel different. But this could have been due to the fact that the quality was better than ever, and the presentations by 92 galleries were, as always, illuminating.
"How was it?" an artist asked when I returned from the 9th edition of Art Dubai. "Strange?" he continued, leaving no time to answer. I asked how he came to this conclusion, and he pointed out the list of galleries: names were noticeably missing. "Obviously, they had to choose between Hong Kong and Dubai." Of course, he was only partially right. Yes, Art Dubai's 9th edition did feel different. But this could have been due to the fact that the quality was better than ever, and the presentations by 92 galleries from 40 countries were, as always, illuminating.
After all, this is Art Dubai's hallmark: hands down, this is—to correct a line from Kevin Jones's Art Newspaper report—the thinking person's art fair. One that truly feels like an organism—a dynamic, evolving space in which the galleries component is complemented by a range of equally important programmes. These include Marker, a curated section in the fair that this year focused on Latin America, and the Global Art Forum, which was co-directed in 2015 by Demotix founder Turi Munthe and Twitter activist and columnist Sultan Sooud Al-Qassemi so as to consider technology and the zeitgeist.
Art Dubai, 2015. Courtesy The Studio, Dubai
But admittedly, it was indeed a strange year, and not just because NYU professor Andrew Ross was barred from entering the UAE just as the fair opened. (Purportedly for investigating labour conditions in Abu Dhabi just that bit too relentlessly.) This was especially true for the galleries and the spectators that managed to survive the March marathon, which started with The Armory in New York, continued at Art Basel in Hong Kong, and ended (for some) at the Madinat Jumeirah. ("There's Art Tokyo and Sp-Arte to think about too, not to mention Venice!" one director mumbled during the closing party on Fort Island. He was nursing a cocktail behind Yazan Khalili's and Arnar Ásgeirsson's impressive mountain façade, The Island, commissioned by Absolut: a work that, though referencing the construction-mad context of Dubai, also somehow recalls the heap of art fairs and biennales that now make up the art world's calendar.) The pace was noticeably slower, most likely a result of Art Basel in Hong Kong's date change. Some of the newcomers were understandably frustrated, though WHATINTHEWORLD, Cape Town, presenting, amongst others, John Murray, were thrilled with their participation, as were Tehran gallery Dastan's Basement, who showed Mohammad Hossein Gholamzadeh, Nima Zaare Nahandi, and Amin Montazeri.
Nevertheless, for Dubai veterans such as Experimenter (whose 2014 Art Dubai booth featuring Hajra Waheed remains one of the best presentations I have seen of any artist's work, ever), this year's slowdown was no cause for concern. This is a transition year, after all—things will even out once Hong Kong and Dubai settle in to the new calendar. In the case of Pi Artworks, which heroically did New York–Hong Kong–Dubai (as did Kalfayan Galleries, who this year brought works by painter Farida El-Gazzar to add to their mix), the key to success is knowing your audience and investing time into building relationships. In Dubai, Pi presented a remarkable new set of sculptural works by Susan Hefuna, as opposed to works on paper in New York. The Hefuna works were set off by the gallery's placement next to Aicon Gallery's crowd-pleaser: an incredibly ornate cube following the geometric Islamic patterning by Anila Quayyum Agha, Intersections, 2015, which hung from the ceiling projecting shadows all across the booth's walls.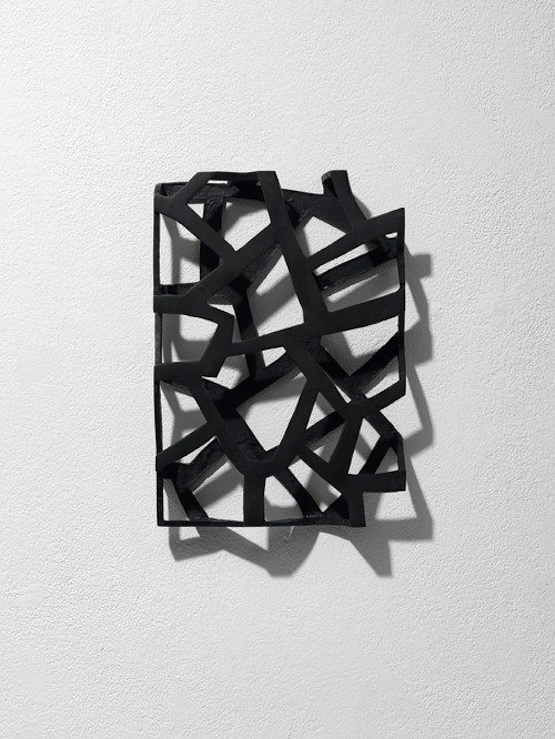 Susan Hefuna, Building, 2014. Bronze, black patina. Courtesy of Pi Artworks and the artist. 24 x 17 x 3cm
In all, the mix on the fair floor was vibrant due to booths presenting well-curated groupings that offered an expanded global purview. Mexico's Kurimanzutto presented a tight selection of works by Carlos Amorales, Allora & Calzadilla, Abraham Cruzivillegas, Gabriel Orozco, Damien Ortega, Gabriel Sierra, Rirkrit Tiravanija, Adrian Villar Rojas and Gabriel Kuri. Rodolphe Janssen also stood out, with a minimal and precise selection of pieces by David Adamo, Walead Beshty, Sam Moyer, Marlo Pascual and Gert & Uwe Tobias, while Paris's In Situ-Fabienne Leclerc showed a fantastic combination of works by Mark Dion, Otobong Nkanga, and Khalil Joreige & Joana Hadjithomas. At Mor Charpentier, Marwa Arsanios's installation Word as Silence, Language as Rhymes (Venice), 2012–2013, stood out amongst works by Cevdet Erek, Liliana Porter, Uriel Orlow and Maria Jose Arjona, while Kamrooz Aram shone at Green Art Gallery alongside Nazgol Ansarina, Zsolt Bodoni and Seher Shah.
Other galleries opted for solo presentations, or more focused pairings. These included Moscow's Gallery Iragui, who showed Pavel Pepperstein; Lagos's Art Twenty One, which highlighted the work of Olu Amoda and Gerard Quenum; Sanatorium, with a booth devoted to the remarkable cityscapes and studies rendered in watercolour on paper by Ahmet Dogu Ipek; and Canvas Gallery, who showed a series of paintings by Ayaz Jokhio depicting the backs of the heads of many a celebrity figure, from Warhol to Michael Jackson. The latter pointed to the only discernable trend at the fair: hair works, as seen at Raster and Wentrup, too.
In all, this was a good-looking event. There was a sense of real effect in terms of one of Art Dubai's aims: take advantage of the Gulf's position between East and West so as to expand the canon by incorporating a wider perspective when it comes to looking at art globally. This was visible even before viewers reached the fair floor at the entrance to the Madinat Jumeirah, where this year's Abraaj Capital Art Prize, Beyond History, presented works by Yto Barrada, Mounira Al Solh, Setareh Shahbazi and Sarnath Banerjee curated by Omar Kholeif. Along the corridor leading from this space to the fair proper was a series of portraits of prize participants in the past six editions, from Wael Shawky, to Nadia Kaabi-Linke and Basim Magdy, showing a history of the prize through the participants.
On the fair floor, the dynamic histories of the Gulf scene were illuminated at Isabelle Van Den Eynde, who took on two booths: one dedicated to Rokni & Ramin Haerizadeh and Hesam Rahmanian, and the other to Mohammed Kazem. The latter included a wonderful series of twenty black and white photographs apparently taken in 1996 by Hassan Sharif of Kazem interacting with a Sol LeWitt-esque ladder titled Wooden Box. (This complemented a brilliant exhibition at the IVDE space at the newly expanded Alkersal Avenue district featuring a remarkable body of work by Sharif.) Another highlight was Grosvenor Gallery's showcase of Rasheed Araeen's newest works—a series of canvases in which Arabic text is turned into bright, geometric abstractions. (Araeen himself has become an Art Dubai fixture—"you can always find him wandering around the halls, or holding court in the Collector's Lounge," one visitor noted affectionately.) Victoria Miro brought forth an effective solo presentation by Idris Khan, with the booth dominated by the floor installation Seven Times, 2010: 144 sandblasted steel cubes with layered Arabic inscriptions—a change from the usual Kusama works Miro has brought to fairs in the last few years (a duty taken at Dubai this year by Tokyo's Ota Fine Arts). GAGProjects, meanwhile, included a work by Hossein Valamanesh, also showing at the always excellent Grey Noise over at Alkersal: an exhibition so hauntingly beautiful that it left this writer without words.
Hossein Valamanesh, Snakes and Ladders no. 3, 2014. Casuarina saplings, gold leaf. Courtesy the artist and GAGPROJECTS/Greenaway Art Gallery, Adelaide. 210 x 210 x 14.0 cm
Such dynamism continued in the Modern section, with notable presentations including Shaffic Abboud at Aigial Gallery (also showing at Galerie Claude Lemand); Dia Azzawi and Marwan at Meem Gallery; Bruce ONabrakpeya at Mydrim Gallery; Aref El Rayess at The Park Gallery; and Goudier Triki at El Marsa.
Also part of the Modern section was a project space curated by Vali Mahlouji featuring the work of photojournalist Kaveh Golestan, who was killed in Iraq while on assignment in 2003. Titled The Fantastical Polaroids of Kaveh Golestan, circa 1976 and presented by Archeology of the Final Decade, this was a remarkable presentation of a body of polaroids (unseen since 1978) that depict anthropomorphic figures produced through a process of collaging in which fragments were moved in front of an open shutter during long exposures. Landscapes and other scenes are depicted, too: including a woman sunbathing in front of a group of men assembled before a mountain scape and pyramid. At first glance, I thought the grey piece of card placed over the sunbather's torso was a kind of minimalist intervention on Golestan's part. Then it became clear—after seeing other grey card pieces on other images—that part of Golestan's displayed archive had been censored.
This brings us to another particular of Art Dubai—the moments within which the specificty of context is made visible. Balancing things out can be tricky in the region—this is something that comes with the territory. One artist admitted that her own works had been blocked by her gallerist for appearing too close to the aesthetics of ISIS, even though they were made well before the group emerged. Of course, bear in mind that the fair opened just as ISIS members stormed the beloved Bardo Museum in Tunis. Indeed, sensitivity is something that will always be required here, for different reasons and at different times, but this by no means discounts Art Dubai as a site of potent debate and interaction.
Consider Dania Al Saleh's gorgeous pair of illustrations at Athr Gallery, Window with a View, 2015, which explore social class divisions; Akram Zaatari's 2007 photograph Reconstructing the Arab Highway, in which workers are photographed from behind, the word "MAN" somewhat sadly printed on the backs of their uniforms at Sfeir-Semler; and Mahmoud Khaled's cheeky print-outs of Grindr chats, Do you have work tomorrow? at Cairo's Gypsum Gallery, which consider how even "soft" spaces are politicised.
This leads us to one of the most effective statements on show: Adel Abidin's video installation Cover-Up, 2014, at Lawrie Shabibi, which depicts a man wearing a thawb recreating the famous image of Marilyn Monroe attempting to tame her unruly dress while filming Billy Wilder's The Seven-Year Itch. Of course, some might dismiss such statements as these as too soft, or too tongue in cheek. And yet humour, as Golestan showed us in his own playful experiments with the Polaroid form, is as potent—and sometimes even more effective—than any other attack. What better way for change to happen than softly, slowly and unexpectedly, especially when pushing hard seems to result in being barred from the conversation altogether? Of course, Art Dubai knows this better than most. Every year it evolves and matures without fail: this in and of itself is an impressive achievement. —[O]