Feature
Beyond the Superstructure: Art Basel in Basel 2017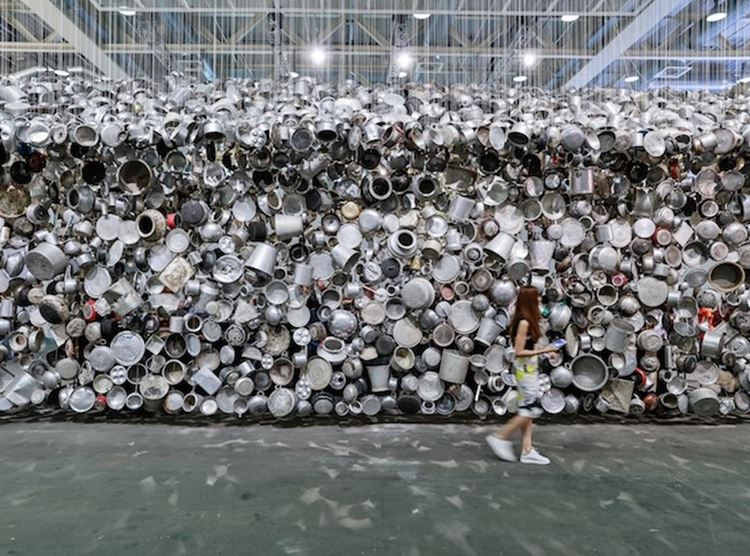 Subodh Gupta, Cooking the World (2017). Installation view: Unlimited, Art Basel in Basel (15–18 June 2017). Courtesy Ocula. Photo: Charles Roussel.
Once again, Art Basel 2017 (15–18 June) provided a good opportunity to get in touch with the reality of contemporary art: its material base. As always, not much effort was made to hide the fact that it is all about money. Manifold social hierarchies encompassing top VIPs down to casual spectators were in place and actively lived out, with everyone busy trying to move up on the social ladder or at least get a ticket for the next fancy vernissage or party with free booze. The designer clothing on show clearly indicated the class affiliation of Art Basel visitors who spread all over town like foam bubbles. Some might have been pleased that going braless seems to be fashionable, and that silver and golden sandals haven't gone out. I may be corrected, but I think we have reached sneaker saturation. On the square in front of the Swiss exhibition site Messe Basel, where the show's venue is situated, there was a monumental funfair: a work by Claudia Comte, curated by Chus Martínez and commissioned by Art Basel, titled (NOW I WON) (2017). One could bowl, play minigolf or drinking games or win a work by the artist. Perhaps the intention behind the structure was to eliminate the possibility of left-wing riots on the square, which had taken place there in recent years and produced some bad press for the fair.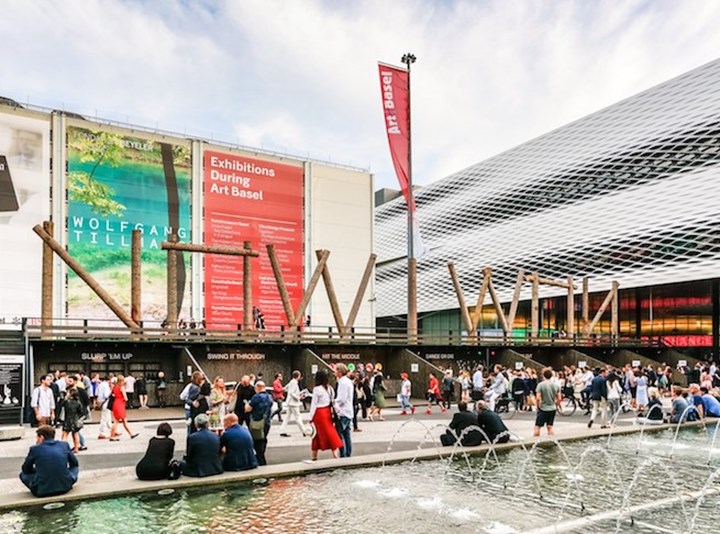 Claudia Comte (NOW I WON) (2017). Exhibition view: Art Basel in Basel (15–18 June 2017). Courtesy Ocula. Photo: Charles Roussel.
Money was the first topic of the press conference, with Art Basel's director Marc Spiegler attempting to reassure investors that the art market is not really shrinking (although UBS' annual analysis The Art Market states that in 2016, global sales declined five percent to USD 56.6 billion) and that art is an asset to be taken seriously. In such volatile times, Spiegler sees Art Basel's role as 'help[ing] galleries to succeed by bringing together collectors, curators and museum directors.' UBS' group managing director of Wealth Management Americas Jason Chandler got second billing: he proclaimed that in times when money is worth less (which he quickly related to the central banks' current interventionist politics: zero interest-rate policy and quantitative easing), art is still a solid 'alternative investment'. Referencing UBS' mammoth art collection and therefore the bank's 'leading hand' in the art market, he noted that to collect art is part of UBS' DNA, and that private investors are passionate about art investment, making it a 'trend to stay'. In Chandler's words, 'passion and money work well together.' One of the qualities of Art Basel, Chandler emphasised, is a 'winner takes all' ethos, which probably was a retort to criticism that in 2017, even fewer galleries applied to exhibit because Art Basel had increased the prices of booths once again.
Francesca Arena, Orizzonte (2012). Exhibition view: Sprovieri Gallery, Unlimited, Art Basel in Basel (15–18 June 2017). © Art Basel.
In reference to the oft-cited 'strong political orientation' of the 2017 fair, both Spiegler and Chandler seem to see art as a mirror of society, although both appeared to be smirking during Gianni Jetzer's passionate speech about the curatorial concept of Art Basel's Unlimited sector, of which Jetzer is curator. Jetzer pointed out in detail the political implications of many works, diagnosing a general trend towards more politicised art. Unlimited is the sector where the larger, more monumental works which don't fit in the normal booths of the fair are shown. The sector also works as a commercial platform to promote artists whose works can be bought within the standard gallery booths, which makes Unlimited also representative of current market trends. Jetzer's diagnosis was related to works like Francesco Arena's Orizzonte (2012) presented by Sprovieri Gallery, a metal beam placed at eye level on which two centimetres of soil from the Lampedusa immigrant reception centre rest. Presented by Goodman Gallery, Sue Williamson's Messages from the Atlantic Passage (2017) is a hanging arrangement of ropes, glass bottles and basins with each bottle inscribed with the name of a slave, and water dripping down from an undetectable source above. Michal Rovner's video installation Anubis (2016), brought to the fair by Pace, was called 'paradigmatic', a so-called video-fresco showing jackals staring at the beholder, which the artist recorded using Israeli military surveillance equipment. Anicka Yi's Skype Sweater (2010) could be deemed political as well, as it—in a different idiom of contemporary art—refers to politics via digestion. The work comprises a military parachute in a corner, rhythmically inflated to mimic biological pulsations, with, among other items, a cow stomach in hair gel inside a transparent Longchamp bag placed on an adjacent pedestal. The work operates as a commentary on human trafficking, sweatshops in New York's Chinatown and hegemonic power in general, so the handout read.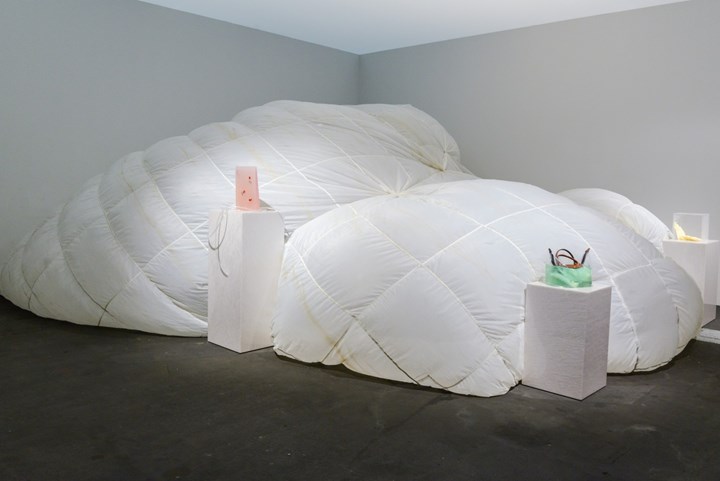 Anicka Yi, Skype Sweater (2010). Exhibition view: 47 Canal, Metro Pictures, Unlimited, Art Basel in Basel (15–18 June 2017). © Art Basel.
Also political in nature was Andrea Bowers' A Call to Arms: Building a Fem Army (2017) shown by Andrew Kreps Gallery: three black-and-white depictions of iconic 1970s and 80s female resistance fighters drawn on cheap packaging carton, with the logo on the middle figure's shirt replaced with the symbol for transgender empowerment. The sources of the three figures are three posters: Ann Grifalconi's 1971 illustration of Sojourner Truth, a poster from the International Marxist Group, and Rafael Enriquez Vega's 1984 'El Salvador' Cuban poster for the Organization of Solidarity with the People of Asia, Africa, and Latin America. The figures now build an anachronic imaginary army. One had to categorise this work as post-conceptual, as it is endlessly repeatable (and thus re-sellable), photographic in nature and thus mirroring contemporaneity through being implemented into the globalised market dynamics. There were a lot of smaller drawings of similar content by Bowers to be bought at Art Basel, spreading subversive messages.
Criticality, like subversion, has finally become mainstream, it seems. This trend was reflected in the tendency of galleries to dig out artworks from the 1970s, one that was commented on at the press conference as one of this year's art world characteristics, also evidenced at the current documenta in Athens and Kassel. Although one couldn't find as many Broodthaers works at the fair this year (probably because his prices have recently exploded and his works have found their last resting place in state-funded museums whose directors now fall prey to the next speculative bubble conjured by UBS' invisible hand), there were something like a dozen works from the 1970s present at Unlimited. Somehow, all of their criticality and non-object character didn't protect these works from capital's claws. As in the financial market, art dealers are creative in engineering 'smart investment instruments' to yield returns, and the restaging of past exhibitions and projects is definitely one of these instruments.
This was also seen at the 55th Venice Biennale in 2013 with the re-staging of Harald Szeemann's 1969 show Live in Your Head. When Attitudes Become Form at the Fondazione Prada. If I understand Bologna-based gallery P420's intention correctly, Croatian artist and cinematographer Goran Trbuljak can now be placed next to Duchamp and Broodthaers as a pioneer of Conceptual art. The gallery (or the artist?) 're-enacted' Trbuljak's 1977 institutional critique installation at Galleria del Cavallino in Venice, which consisted of presenting invitations, posters and catalogues from the gallery's top exhibitions of well-known Modernist artists, ephemera that was presented in Basel as photographic reproductions. Another tool to sell 1970s Conceptual art is to have artists remake their older, already iconic works, as is the case with Bruce Nauman's remakings of his atelier videos, one of which, Walks In Walks Out (2015), was exhibited by Sperone Westwater. The work shows Bruce Nauman walking in and out of a recording of his video projection Contrapposto Studies I-VII (2015) (which itself is a remake of his 1968 work Walk with Contrapposto). In addition to the Post-Fordist fragmentation of the artist's body in the 2015 adaption—where production was shifted from the body and camera towards the MacBook editing process—another layer is added, showing the artist walking in and out of the screen, seemingly confused. It looks as if he has lost control not only of his fragmented body but also, in preparing an exhibition, of authorship in the ultra-monetised art market which regulates his movements. However, perhaps the most elegant way to arrive at some investment yields is to just have the artist copy their older work. One was also confronted with Barbara Kruger's word-piece Untitled (Our people are better than your people) (1994/2017) at Sprüth Magers. These works do gain new meaning through new contexts, but they also gain new value through new markets.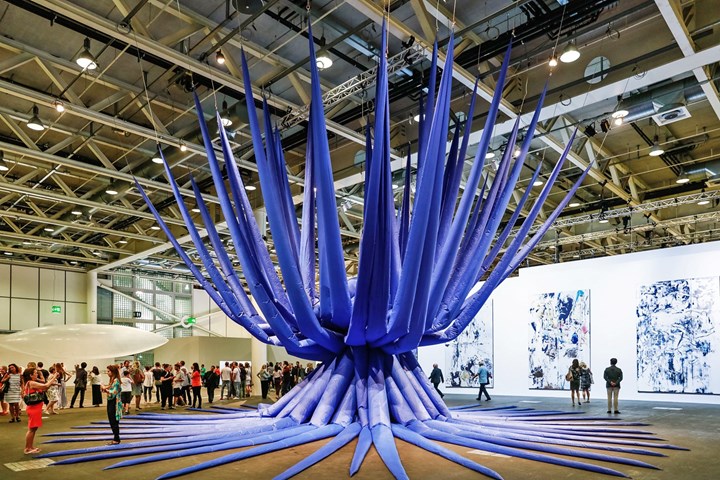 Otto Piene, Blue Star Linz (1980). Exhibition view: Unlimited, Art Basel in Basel (15–18 June 2017). Courtesy Ocula. Photo: Charles Roussel.
In addition to the existence of works associated with Conceptual art, there were also a lot of (late) Minimalist works to be seen. One could even speak of a sort of reenactment of the atmosphere of the 1970s: presence once again was battling discourse. Pace presented a large black sculpture by Tony Smith, Source (1967) in the centre of the Art Basel hall. This work was mirrored by a monumental inflatable sculpture by Otto Piene titled Blue Star Linz (1980) at the main entrance. One wonders if such massive works, also including the stylish mural painting by Julio Le Parc, La Longue Marche (1974), sell better or worse than non or almost non-material works like Donald Moffett's IMPEACH (2006) presented by Marianne Boesky Gallery, which consists of ten speakers playing an audio file from the impeachment process of Bill Clinton. Or perhaps Adrian Piper's Food for the Spirit (1971/1997), which shows 14 photographic self-portraits which she allegedly took while reading Kant's Critique of Pure Reason (1781), a copy of which was displayed alongside in a cabinet—although in general there were less display cabinets this year than previous editions.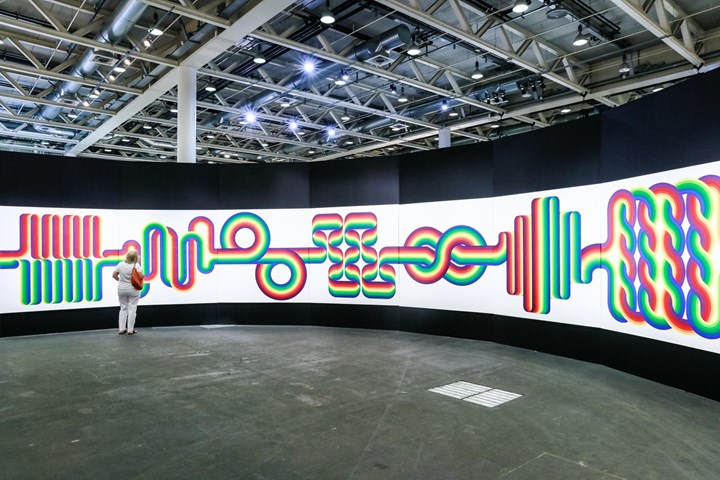 Julio Le Parc, La Longue Marche (1974). Exhibition view: Unlimited, Art Basel in Basel (15–18 June 2017). Courtesy Ocula. Photo: Charles Roussel.
Piper's work is perhaps an easier one to ship and sell than the work by Carlos Garaicoa Saving the Safe (2017), which was shown by Galeria Luisa Strina. Garaicoa's work, comprising of architectural models of six well-known bank buildings plastered in 24 karat gold and locked into six safes, is perhaps the wiser investment. This is despite the fact that it is a well-known fact that the value of virtual money (fiat money) is much easier to manipulate (through the interventions of central banks for example) than the value of physical gold, because fiat money can be sent around the globe instantaneously and can be produced at will, which has made it a tool of hegemonic power for the last five decades or so. Perhaps this concept is alluded to in Carlos Garaicoa's work. At least this work will not lose all of its value if the art market bubble finally does burst.
Claudia Comte's funfair in front of the market-fair may have been meant to be a subversive critical statement about the casino capitalism taking place inside, while at the same time, producing more or less adequately paid jobs for some dozen art students, and also being a participatory place of encounter, thereby producing discourse. The problem is that for Art Basel, it was just a way to calm down the public, who have become more and more upset by the decadence that takes place at the fair and in the art world in general (the left-wing riots against documenta 14 in Athens are a good example). Although one could participate for only three Swiss francs at the funfair or enjoy the Art Basel-organised group exhibition Parcours sector for free, the fair's absurdly high entrance fee of 60 Swiss francs (about USD 60) was not a welcoming sign. In this context, the monumental structure playing party music at around 100 decibels throughout the day seemed more like scorn. On the other hand, it was perhaps the gated, fortified shape of the Basel venue, together with the feeling of scorn and the resurgence of 1970s debates, that reminded me of what contemporary art really is about. —[O]