Feature
Beyond weather and surface: Art Brussels and Independent Brussels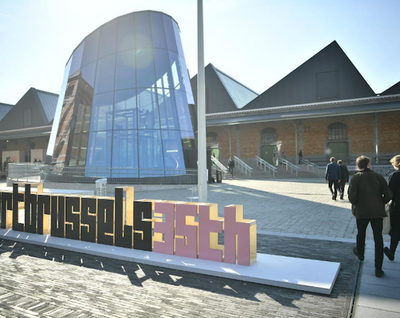 Entrance to Art Brussels (21–23 April 2017). Photo: David Plas.
The Belgian art scene swells every year. The benchmark is its fair week, when a flurry of collectors descends for a brief moment in Brussels. It is a prime first stop for those heading onto Gallery Weekend Berlin, Art Cologne, and perhaps even the 57th Venice Biennale.
Art Brussels, the largest local fair, used to be the sole anchor for activities, but this year, the mainstay shared the spotlight of its 35th edition (21–23 April 2017) with the second Independent Brussels (19–23 April 2017) and the 10th anniversary of the contemporary art centre WIELS, as well as series of high profile openings. The week's excitement skewed towards the young and emerging. São Paulo's Mendes Wood DM opened the doors of its new space in a centrally located townhouse, as local gallery C L E A R I N G upgraded to a white cube cathedral. Waldburger Wouters' abandoned the complex at 67 Rue de la Régence (home to Mon Chéri and Sorry We're Closed) for an industrial garage, where they welcomed the public with a claustrophobic installation by David Polzin.
Exhibition view: Micah Hesse, Neumeister Bar-Am, Art Brussels (21–23 April 2017). Courtesy Neumeister Bar-Am, Berlin.
Art Brussels' 'Discovery' sector felt particularly vibrant, with treasure hunting collectors like Michael and Susan Hort circulating around the booths of international dealers like Shulamit Nazarian and GRIMMUSEUM. New York-based gallery Thierry Goldberg Gallery won attention with figurative paintings by rising star Tschabalala Self and Jonathan Lyndon Chase. (The dealer sold all three of Self's paintings during the preview day, as well as several by Lyndon Chase.)
Neumeister Bar-Am dedicated one of the few entirely digital booths in the fair to artist Micah Hesse. The centerpiece was Shampaigne (2017), an animated video that imagines what it would be like if the U.S. National Rifle Association's unofficial bumper-sticker slogan, 'Guns don't kill people; people kill people,' was taken to its logical extreme. In Hesse's narrative, guns become independent actors shooting into movie theatres and walls without permission. Champagne spouts from the bullet holes; a nod to the cover Charlie Hebdo published after the 2015 ISIS attacks in Paris that took 129 lives. The chilling loop brought to mind the tragic airport attacks in Brussels that dampered the international influx during last year's fair week.
Ella Littwitz, The Land of the Unknown South (2017). Exhibition view: Harlan Levy Projects, Art Brussels (21–23 April 2017). Photo: David Plas.
Gallerists were happy to see American collectors return to the aisles in 2017, especially Harlan Levey Projects, also in Discovery, who placed Ella Littwitz's The unknown land of the south (2017) with a stateside collector. A jury that included collectors Frédéric de Goldschmidt and Dimitri Jeurissen, and S.M.A.K. artistic director Philippe Van Cauteren awarded their booth with the Discovery prize.
Young talent could also be found on the main floor. Brussels-based Maruani Mercier Gallery picked up an honorable mention from the Discovery committee for their solo booth dedicated to Manuel Mathieu, a young painter working out of a studio in Montreal. Mathieu's abstract compositions sold out over the duration of the fair and he is now represented by the Belgian gallery.
Berlin gallery KOW stocked their booth with a film programme and several sculptures by Michael E. Smith. Smith's Untitled (2017), composed of plastic tabletop balanced head first on a taxidermied blowfish, exemplified a trend that could be observed throughout the week. The message was loud and clear: furniture without function. This was on show at the Discovery sector through the work of artist Jean Denant, whose LC4 Le Corbusier (2015), offers a twist on the late architect's lounger at Galerie Anne de Villepoix's booth, while Nathalie Halgand showed a sideboard-turned-fountain by Leander Schonweger.
Exhibition view: Mementos: Artists' Souvenirs, Artefacts, and other Curiosities, Art Brussels, (21–23 April 2017). Photo: David Plas.
Laure Prouvost created an entire room at Nathalie Obadia's booth—following on the heels of her Le Consortium show. Prouvost attended the fair and sat down with curator Jens Hoffmann who alongside Piper Marshall pulled together an exhibition of mementos. The curators asked artists participating in the fair to submit a non-art object of personal importance. The submissions were displayed in tall, sleek vitrines. Prouvost's contribution was a trio of used tea bags, the kind she left on the radiators at her Serpentine Galleries show—a nod to her grandfather. Harold Ancart was represented by a pencil sharpener. One wondered what the object could possibly reveal about the multilevel show he opened at Xavier Hufkens.
Exhibition view: CLEARING/Galerie 1900-2000, Independent Brussels (19–23 April 2017). Photo: Isabelle Arthuis.
Ancart's work was on view, too, at Independent Brussels: part of a joint, salon-style booth by CLEARING and Galerie 1900-2000. Ancart's small painting sat amongst contemporary works by his contemporaries (Marina Pinsky, Jean-Marie Appriou, Lili Reynaud-Dewar) and his predecessors (Francis Picabia, Marcel Broodthaers, Jean Dubuffet). Another collaborative booth by carlier | gebauer, ProjecteSD and Galerie Jocelyn Wolff concentrated on the work of French artist Guillaume Leblon. Transparency and camaraderie are overarching themes at Independent. This communal atmosphere is encouraged by the fair's location: an airy, former department store in the heart of the city.
Exhibition view: Daniel Dewar and Grégory Gicque, Jan Kaps, Independent Brussels (19–23 April 2017). Photo: Isabelle Arthuis.
The furniture trend continued at Independent, but often the works were usable. Daniel Dewar & Grégory Gicquel's embroidered bench at Jan Kaps comes to mind especially when paired with their marble wall pieces featuring bathroom-inspired still lifes. Not far away from Jan Kaps, White Columns presented a booth by Alex Morrison where seats and sculptures were mixed in with a collection of cutouts from the Catherine Vertige Collection.
The most satisfying interactivity to be found was Rirkrit Tiravanija's Untitled (Mount Analog) (2017), at Tommy Simoens. The work comes in the form of a snow cone stand. Originally created for a party hosted by Tiravanija's friend, Yutaka Sone, the work takes its inspiration from Sone's snowcapped sculptures and Japanese heritage. One could consume the cold green tea treat while staring at one of Sone's freestanding palm trees that occupied a central spot in Simoens' space.
Exhibition view: Amanda Ross-Ho and Emily Mae Smith, Mary Mary, Independent Brussels (19–23 April 2017). Photo: Isabelle Arthuis.
Amanda Ross-Ho was the stand out at Independent Brussels, with two galleries, Praz-Delavallade and Mary Mary, lending a significant portion of their real estate to the Los Angeles-based artist. Praz-Delavallade showed an entire booth lined with Ross-Ho's oversized pants and her unhinged clocks, while Mary Mary paired Ross-Ho's gigantic hot water bottles with fiery portraits by Emily Mae Smith.
Darja Bajagić made a strong statement at Carlos/Ishikawa with Molly 5 (Woods) (2016). Originally shown at Künstlerhaus Graz, the kinetic piece spurted blood down its front for the duration of the fair. Bajagić also took over the top floor of Independent's gallery-residency space as part of a two-person show staged by Carlos/Ishikawa. Her installation, Nobody Knows I'm Funny (2016), cast a dark shadow over the bright, airy attic space with the faces of revenge porn victims Bianca Brust, Maddy O'Reilly and Kali Michaels.
Exhibition view: Carlos/Ishikawa, Independent Brussels (19–23 April 2017). Photo: Isabelle Arthuis.
Outside the purview of the fair, there were several major exhibitions, but the most appealing was at WEILS, the contemporary arts centre known for its radical exhibition making and artist residencies. The show, Jo Baer: The Absent Museum (20 April–13 August 2017), curated by Dirk Snauwaert, seeks to unpack the not-for-profit's decade-long history through a self-aware probe into the role of the institution. The exhibition brings together an impressive lineup that includes Luc Tuymans, Jo Baer, Ann Veronica Janssens, and Marcel Broodthaers, with younger artists like Goshka Macuga also in the fold. Most artists have been given individual rooms, with some transforming them, like Oscar Murillo, whose stands of puppets created an impromptu theatre.
Carsten Höller, for his part, is restaging The Baudouin/Boudewijn Experiment: A Deliberate, Non-Fatalistic, Large Scale Group Experiment in Deviation, from 2001. Participants in the collective experiment will abandon their lives, and phones, for 24 hours. They will be given beds and food; their only directive is to be with each other. The intimacy of this work illustrates a trend observed throughout Brussels Art Week. Brussels' art scene is indeed expanding, but its charm is its closeness. The small, dedicated circles that scaffold the city provide a welcoming place for international visitors to touch down; the dealers, collectors and artists that call Belgium home are eager to engage in conversations that go beyond the weather and surface.—[O]