Feature
Ch.ACO's Tenth Edition in Transformation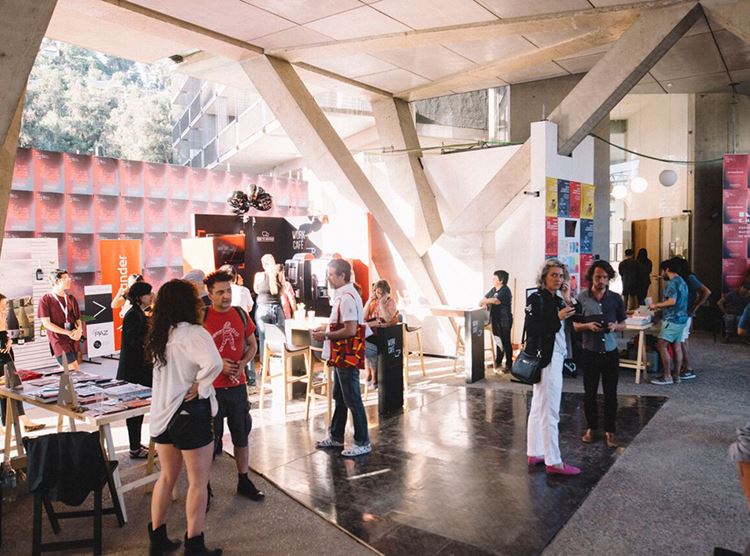 Ch.ACO, Chile Arte Contemporaneo, Santiago (22–26 November 2018). Courtesy Ch.ACO. Photo: Estudio CC.
It was a bold decision to stage the tenth edition of Chile Arte Contemporaneo, or Ch.ACO (22–26 November 2018), in the semi-open-air spaces of a PazCorp real estate project in the upscale suburb of Vitacura. (Since 2016, different buildings undergoing renovation or construction have hosted the fair, mostly around Vitacura.) This concrete development, designed by Izquierdo Lehmann Architects, offered a dramatic stage for over 60 exhibitors from 15 countries. Booths were arranged throughout the complex's ground-floor corridor among angular columns, wrapping around a garden designed by landscape architect Juan Grimm.
Though most spaces hailed from Latin America, 2018 proved to be a more global iteration of Ch.ACO compared to editions past. Galleries also came from the United States and Europe, with Nothing Gallery constituting the sole participation from China showcasing, among other works, a series of ceramic Guan Yin busts dressed in Mao suits by Stevens Vaughn ('Pansexual Buddha', 2009); and Caporales (2017), a red-sequined communist flag-turned-cape by Arturo Duclos (to paraphrase the artist, an outfit fit for a party).
Installation view: Stevens Vaughn, 'Pansexual Buddha' (2009). Ceramic. 39cm x 26cm x 20cm. Nothing Gallery, Ch.ACO, Chile Arte Contemporaneo, Santiago (22–26 November 2018). Courtesy Ch.ACO. Photo: Estudio CC.
Divided into four sectors, the entrance space to the fair was given over to Nave de Ediciones, a small sector for publications curated by Camila Opazo, where Meier Ramirez Books, winner of the first Ograma/Ch.ACO competition, presented the publication Blue Pieces by Jerry B. Martin, the same artist who was awarded this year's EFG Art Award in association with Art Nexus. (And where the Santiago-based zine Estrellita Mía also stood out.)
Just beyond this was the Planta sector, dedicated to young, self-managed, artist-run spaces. Mexico City's PAPI produced works specifically for the fair context: among them Diego Salvador Ríos' installation of a hanging wire frame holding wads of counterfeit designer label shopping bags (plus Hello Kitty) made in the Tepito neighbourhood in Mexico City (known for producing and hawking counterfeit goods); and Wendy Cabrera Rubio's embroidered panels based on film stills from Saludos Amigos, a 1943 documentary about Latin America produced by Walt Disney.
Diego Salvador Ríos. Exhibition view: PAPI, Ch.ACO, Chile Arte Contemporaneo, Santiago (22–26 November 2018). Courtesy Ch.ACO. Photo: Estudio CC.
Curated by Carolina Castro Jorquera for the third consecutive year, this edition of Planta was co-curated with Matías Allende, who will take over the sector in 2019. With a view to explore the affinities and differences in artistic practices across Latin America, there was not a bad booth among the ten spaces hailing from Argentina, Chile, Ecuador, Peru, and Mexico.
The sector's Ca.Sa Award, established by collectors Ramón Sauma and Gabriel Carvajal, went to ASMA (Hanya Belia Lozada and Matías Armendaris), showing with Peru's N.A.S.A(L). The duo displayed 'Instalación Fantasma' (2018), which communicates a two-month stint living in an old São Paulo apartment. Exploring the heightened space of domesticity through crafted objects, the presentation included a set of red cedar tablets with organic lines carved into their surfaces accented by silver and aluminium details, some hidden behind organza curtains.
ASMA (Hanya Belia Lozada and Matías Armendaris), 'Instalación Fantasma' (2018). Exhibition view: N.A.S.A(L), Ch.ACO, Chile Arte Contemporaneo, Santiago (22–26 November 2018). Courtesy Ch.ACO. Photo: Estudio CC.
Argentina's Lateral showed Gaspar Núñez, Florencia Sadir, and Hernán Aguirre García. New works (all 2018 and untitled) included plaster busts that Núñez cast from flexible silicon moulds based on a 1963 sculpture from the 'Miners' series by 20th-century Argentinian sculptor Juan Carlos Iramain; bronze tubes and painted ceramic plates by García, which hung on the wall in a uniform grid, referencing pre-Columbian and European motifs; and wicker forms by Sadir, who works with artisans from Chile and Argentina, including a large wicker half-pyramid resting on a wall—an architectural intervention also on display in Sadir's contribution to an off-site show, Hermandad, organised by Planta's curators featuring the sector's artists.
Hermandad was staged in the former premises of Galería AFA, which was founded by Ch.ACO's co-founders, Elodie Fulton and Irene Abujatum. A 300-metre mural covering the glass walls of the space by Ignacio Gumucio, from the gallery's last show there, was left in situ, perfectly framing a grouping that included a black and white acrylic and marker canvas made up of a patchwork of lines and geometric shapes by Paula Godoy, Snkesnke II (2018). A large-scale, 600m2 version of the painting, LOCAL54 (2018), can be seen on the floor of one room in the Persa Victor Manuel market complex—one of many murals the market has commissioned from local artists.
Planta curators Carolina Castro Jorquera and Matías Allende, curators of Hermandad, with Paula Godoy, Snkesnke II (2018), in view. Ch.ACO, Chile Arte Contemporaneo, Santiago (22–26 November 2018). Courtesy Ch.ACO. Photo: Constanza Sofia Miranda.
Persa Victor Manuel is also one of four venues hosting Inside Out, JR's global project that sees portraits of community members pasted onto public spaces, which Ch.ACO brought to Santiago specifically to celebrate its tenth edition. (At the Parque Bicentenario, posters were pasted along a half-kilometre stretch of a pedestrian walkway.) The link between this public project and Hermandad—one of three off-site shows organised by the fair—is 'Ch.ACO en la Calle' ('Ch.ACO in the Streets'), launched in 2017 to stage projects and interventions in public and private locations throughout Vitacura.
The JR project speaks to the future ambitions of Ch.ACO, and the extension of the Ch.ACO en la Calle project into Ch.ACO's 'Arte Público y Ciudad' initiative ('Public Art and the City'), which explores policies surrounding the commissioning and development of public art in Santiago. As noted by Ch.ACO Director Elodie Fulton, to bring art into the city and expand the fair's reach beyond the confines of its venue lies at the heart of its future mission, having developed a solid market and audience since the fair's inception in 2009. Hence the title of this tenth edition, In Transformation..., Fulton notes.
Worm Gallery, Ch.ACO, Chile Arte Contemporaneo, Santiago (22–26 November 2018). Courtesy Ch.ACO. Photo: Estudio CC.
This drive to connect with the city at large was echoed in Planta, where Valparaiso-based Worm Gallery showed pieces by Renato Órdenes (including Cabeza durmiendo, 2018, a chunk of grey marble resting on a slab of sponge), and Nicholas Jackson (in which concrete hands made from casting in rubber gloves interact with stone and wooden forms). These subtle sculptures, which reference the detritus of the urban landscape, were arranged around Sebastián Gil's Red Flag (2018), whose slim pole is held up by a series of rocks resting on a short stool.
Gil's flag, though referencing those staked in beaches, recalls Antonio Dias' giant red standard (Bandera, 1972/2012) that stands in the front garden of the Museum of Solidarity, initiated in 1971 by Salvador Allende, the first democratically elected Marxist president in the world, who was overthrown by a brutal military coup d'état led by Augusto Pinochet in 1973. The museum's collection consists of some 2,700 artworks donated by artists from the Americas, Europe, and Japan; Roberto Matta, Eduardo Chillida, and Joan Miró all gave work, with Miró's untitled 1972 painting of a cockerel created especially for the institution. Alongside a hanging of its collection, the museum is currently presenting a community project that connects with the avenue on which its building—a palace built by a Belgian aristocrat—is located: a focal point for Junta-sanctioned torture and espionage during the Pinochet regime.
Installation view: Antonio Dias, Bandera (1972/2012). Red trevira fabric with mounting tank and mast. 400cm x 600cm x 1000cm. Collection: Museo de la Solidaridad Salvador Allende (Museum of Solidarity Salvador Allende). Photo: Stephanie Bailey.
At Planta, Santiago's Sagrada Mercancia, located in the same neighbourhood as the Museum of Memory and Human Rights, presented works by artists including Yiyo Tirado (a shopping cart loaded with concrete, grenade-like coconuts with steel rods, critiquing the effects of urban planning in Puerto Rico); and Sofia de Grenade (Especies verticales, 2016: a large black and white photograph of a helicopter lifting a slim log of wood, which comments on the exploitation of natural resources in Chile and Latin America). De Grenade was one of roughly 15 artists from Latin America showing in the FAVA VA! exhibition, installed in the gymnasium of the Colegio Antártica Chilena, a public school in Vitacura, and organised by Ch.ACO's philanthropic FAVA Foundation, headed by Abujatum.
Curated by the Guggenheim's Pablo León de la Barra, who is responsible for FAVA's acquisitions, this stunning show included de Grenade's La Salinas (2016), composed of found industrial tubes filled with resin, cement, and epoxy; Gonzalo Pedraza's Palsajes Amarillos (2016), 16 found landscape paintings shown from the back, revealing browned time-weathered surfaces—a reference to the disappointment colonialists experienced when discovering Northern Chile's arid landscape; and Ignacio Acosta's set of 56 chromogenic prints on paper, Miss Chuquicamata, The Slag (2016), which explores the home of one of the world's largest open-pit copper mines. (Copper is one of Chile's most abundant resources.)
A student presenting at FAVA VA!. Courtesy Ch.ACO. Photo: Constanza Sofia Miranda.
As part of FAVA VA!, a two-day workshop prepared intrepid ninth- and tenth-grade students to offer guided tours of the works between 15 and 22 November; a firm highlight of Ch.ACO's 2018 programme, and a testament to the fair's commitment to creating stronger links with Santiago's many publics as a whole.
Crossovers continued on the fair floor, with galleries showing in the Main sector participating in Focus, organised according to a specific theme each year. For this edition, curated by Cecilia Fajardo-Hill, 12 booths presented 'the political, social, and cultural realities' experienced by some 24 artists. Revolver Galería showed a solo presentation of works by Elena Damiani in Focus, with a group curatorial in Main that featured a hanging installation of neon lights spelling out equations by Andrea Galvani, which proved a highlight at Frieze London 2018. Shown alongside these were pieces that cleverly appropriated existing works of art, including Marlon de Azambuja's Cooling Towers (2017), for which a copy of the iconic photographic series by Bernd and Hilla Becher saw the artist block out the constructions in question with a thick and even coat of black marker.
Exhibition view: Andrea Galvani, Revolver Galería, Ch.ACO, Chile Arte Contemporaneo, Santiago (22–26 November 2018). Courtesy Ch.ACO. Photo: Estudio CC.
When it comes to connections within the fair space to the city's cultural institutions and agents, Santiago's Galería NAC was a bonafide nexus. A Focus presentation included Arca de Caín (2017), Cristobal Cea's installation based on plaster copies of sculptures brought over to Chile from Europe during the early 20th century, now housed at the National Museum of Fine Arts. A series of four screens rest on a low pyramid built from stacked blue platforms, each depicting a digital scan of these copies; while a video on the wall screens another film showing the atrium of the National Museum, where the original copies are located, being flooded.
At the Museo des Artes Visuales (MAVI), the theme of flooding continued with Cea's project Seguidores del Diluvio (Followers of the Flood), which includes a four-channel video installation depicting images of rainstorms and deluges, taken from various online sources, some augmented by digital interventions.
Exhibition view: Galería NAC, Ch.ACO, Chile Arte Contemporaneo, Santiago (22–26 November 2018). Courtesy Ch.ACO. Photo: Estudio CC.
For their Main booth, NAC showed, among other works, playful enamel-painted steel sculptures by Marcos Sánchez from the 'Ondradeks' series (2017), which look like paper cut-outs of recognisable motifs, from a wooden fence to a pair of hands; and Colomba Fontaine Izquierdo's Corta Corriente (2018), 35 bronze plates on which layers of wax and synthetic enamel have been scraped to form contoured lines. Sánchez is currently showing at the Sala Gasco Arte Contemporáneo alongside pearl celluloid and acrylic architectural paintings by Paula Dittborn; while Fontaine Izquierdo was one of nine women in an excellent two-day exhibition organised by curator Andrea Brunson, staged in a former Blockbuster video rental store.
Iosu Aramburu's 2018 oil on jute paintings (from the 'After This' series)—figures camouflaged in geometric compositions referencing early-20th century modernism and pre-Hispanic abstraction—were shown in Focus with Peru's 80M2 Livia Benavides, alongside Ximena Garrido-Lecca's stunning ceramic vessels intersected by copper sheets from 2018. (Garrido-Lecca was also included in the FAVA VA! show.) The gallery took a more political slant in the Main sector, with a curatorial that included a pair of iron oxide fabric paintings by Sandra Gamarra, from the 'Indian Red' series (2018), of landscapes with statements scrawled over each, touching on the objectification of the colonial gaze.
Sandra Gamarra, 'Indian Red ' (2018). Exhibition view: 80M2 Livia Benavides, Ch.ACO, Chile Arte Contemporaneo, Santiago (22–26 November 2018). Courtesy Ch.ACO. Photo: Estudio CC.
On the 'Indian Red' series, Gamarra touches on a key point the curators of Planta, notably Allende, communicated in their curatorial texts: that Latin America is not a derivative of the West. On the subject of Columbus' historical error of identifying the indigenous peoples of the Americas as Indian, and the association of the colour red with communism, Marxism, and the left, Gamarra's artist statement notes: 'the inhabitants of South America are neither Indians nor do they have a culture dependent on Western left thinking.'
This statement felt somewhat countered—or expanded as a dialectical process of mutual and alternating influence and resistance—in Galería Isabel Aninat's curatorial next door, where Marcelo Brodsky's series of annotated photographic prints from the series 'La Fuego de las Ideas' (2014–2016) looks back on various movements that unfolded worldwide in the 1960s, including London, Montevido, and Santiago in 1968. The gallery continued its trajectory at Focus, displaying a large cape by Catalina Swinburn made out of book pages featuring images of artefacts removed from their place of origin (The Sorrows of Absence, 2018); a gesture, apparently, towards embodying the totality of history, with all its transgressions.
Installation detail: La Casa Lobo at Centro Gabriela Mistral (1 November 2018–20 January 2019. Courtesy Ch.ACO. Photo: Constanza Sofia Miranda.
The need to process complex histories feels especially potent in Chile, not to mention Latin America at large, as the region continues to transform with the times, while dealing with the ongoing persecution of indigenous peoples and a history of fascism that continues to lurk, at times openly, in the present. At Centro Gabriela Mistral, for example, an exhibition staged by Joaquín Cociña and Cristobal León coincides with the general release of their stop-motion film La Casa Lobo (The Wolf House), which chronicles Colonia Dignidad, a German enclave established in Chile by German immigrants (many of them notorious Nazis) after World War II. The colony was taken over by former Nazi and paedophile Paul Schaefer in 1961, leading to four decades of unspeakable crimes, some of which were directly linked to the Pinochet regime.
As Cociña explains, La Casa Lobo is about confronting the registers of fascism that continue to permeate society, sometimes in disarmingly subtle ways. (To quote Christian Viveros-Fauné, who participated in Ch.ACO's conversations programme to discuss his new David Zwirner-published book, A Short History of Political Art: 'the veneer of civilisation is thin'.) Indeed, while Schaeffer was finally extradited to Chile from Argentina in 2006 and sentenced for his crimes, Colonia Dignidad continues to exist, now rebranded as Villa Baviera and apparently purged of its past.
Galería Patricia Ready, Ch.ACO, Chile Arte Contemporaneo, Santiago (22–26 November 2018). Courtesy Ch.ACO. Photo: Estudio CC.
The problem of denial, ambivalence, and ignorance was highlighted again during the fair, when a protest was staged in Santiago against the alleged killing of the grandson of a Mapuche leader by police. These events added an uneasy aura to Nicolas Grum's Orden y Patria (2018), a Chilean police car hammered flat and mounted to the wall at Galería Patricia Ready's booth. (Especially after overhearing the indifference one American collector expressed towards the abundance of 'political art' on view.)
But while Ch.ACO might be staged in the safe confines of the outer city—where high society finds sanctuary from the city centre, I am told—the fair is not shying away from the realities of the day. If this tenth edition is anything to go by, Ch.ACO is recognising the need to bridge many gaps, and has a clear vision to do so. —[O]