Feature
Contemporary Istanbul: Open for business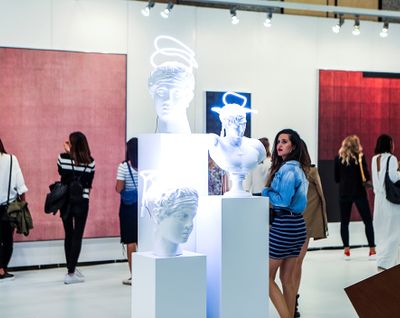 Volkan Aslan, Dear Ugly Future (2018). Exhibition view: Pi Artworks, Contemporary Istanbul 2018 (20–23 September 2018). Courtesy Contemporary Istanbul. Photo: Tolga Adanali.
Nevertheless, if beauty—or art—is in the eye of the beholder, there is something to be said for an art fair that makes room for multiple registers...
On the surface, it's business as usual on the streets of Istanbul, not to mention the halls of the city's art fair, Contemporary Istanbul (CI)—despite the massive depreciation of Turkey's Lira in 2018, which has seen its value against the US dollar drop nearly 40 percent.1 The currency crash has been blamed on US sanctions, tariffs on Turkish steel imports, and a review of Turkey' duty-free access to the US market—all reportedly in protest against an American pastor's detention in the country based on accusations that he supported the October 2016 coup that threatened, or consolidated, the position of Recep Tayyip Erdoğan.
During the tumult of 2016, Art International—which became a direct threat to CI when it launched in 2013 with a slew of high profile Istanbul galleries in tow—cancelled its show with no indication of returning. This is something that CI chairman and founder Ali Güreli seemed to indirectly refer to during the press conference for this year's edition (20–23 September 2018), when he described the 13-year-old fair as 'dependable, diverse, and resilient'. Güreli also emphasised CI's efforts to improve, which include negotiations with the government to lower VAT on art works to 1 percent instead of 18. ('We are optimistic', he noted, acknowledging the support of a new minister of culture, Numan Kurtulmuş, who appears equally intent on capitalising on Turkey's art and culture.)
Contemporary Istanbul 2018 (20–23 September 2018). Courtesy Contemporary Istanbul. Photo: Tolga Adanali.
And it's not all talk: CI has been making changes. To support a new generation of collectors, a non-profit Art, Culture and Education Foundation (CIF) was founded in 2018 to broaden the fair's scope. It hosted the fair's talks programme for the first time this year on 18 September; themed around 'Sensibilities', and including speakers like S.M.A.K. Artistic Director Philippe Van Cauteren, and Technology Director of the IDEAS graduate programme in the department of architecture at UCLA, Güvenç Özel.
To entice a more international tone, CI's Gallery Support Program launched in 2017, which subsidises galleries from around the world to attend the fair and test the Turkish market. For this edition, New York's The Hole and Ethan Cohen Fine Arts were among the 17 galleries from 5 countries taking advantage of this initiative. The Hole foregrounded figurative paintings from Matthew Stone's 'Neophyte' series (2018), and Ethan Cohen spotlighted a number of painters, including Tang Hui and Jeffrey Hargrave, whose Fish Fry on Da' Grass (2017) replaces the white woman in Manet's 1863 painting Le Déjeuner sur l'herbe with a black one. Of course, this subsidised programme has ruffled some local feathers—one gallerist wondered why CI did not reduce the cost of booth space for Turkish galleries struggling with the Lira's depreciation.
Ahmet Güneştekin, Taking Refuge in the Sun (2017). Oil on canvas. 190 x 300 cm. Courtesy Marlborough Gallery.
In total, 30 of the 83 galleries were new to CI this year, with spaces like Galleria Continua, SMAC Gallery, and Galeria Plan B returning after first-time participation in 2017. There were 54 galleries from 22 countries, 11 of which were included in a section of the fair spotlighting French galleries like Galerie Jocelyn Wolff, Galerie Loevenbruck, and Antoine Levi, curated by Marc-Olivier Wahler around the title 'Excuse my French'.
As a whole, the fair floor was uneven—the result, perhaps, of CI's attempts at internationalising and upscaling, while retaining an identity that caters to more local tastes. Some galleries did well at balancing international programmes with the context, with Zilberman Gallery showing Pedro Gómez-Egaña, Heba Y. Amin, and Antonio Cosentino, alongside works by Alpin Arda Bağcık, and Burçak Bingöl, among others. Marlborough Gallery devoted much of their booth to recent work by Kurdish-born and Istanbul-based artist Ahmet Güneştekin, including oil on canvas paintings characteristic of the artist's 'narrative abstraction' in which figures, forms and shapes are camouflaged and broken up by geometric shapes built up out of painted lines; though this wouldn't be the first time the gallery has done so. A series of 2018 paintings by Güneştekin—from the 'Journey to the Sun' and 'Quilted Narrative' series—took up an entire wall at Galerie Michael Schultz, also showing works by Sultan Acar and Jochen Proehl.
Heba Y. Amin, A Refraction of Histories (2018). Iron, powder coated. 200 x 65 x 6 cm. Ed. 3 + 1 A.P. Photo credit: Kayhan Kaygusuz.
There was an abundance of work on paper, including amazing 3D collages created by hand cutting antique books and boxing the resulting dioramas inside them by Alexander Korzer-Robinson at Galería Víctor Lope Arte Contemporáneo; and eerie ink works showing sunken shapes in grassy landscapes by Seçil Büyükkan at Martch Art Project.
At Galeri Nev, Ahmet Doğu İpek's gorgeous watercolours of rocky masses floating on paper, with details subtly marked with gold, recalled Seda Hepsev's 2018 'Bread Island' series, which positions drawings of bread chunks as land masses at X-ist. Here, Murat Palta's We Sail Through Endless Skies (2018) stood out: a mixed-media mandala based on 16th-century Ottoman miniatures, in which a pink-haired deity pushing red beams out of her nipples presides over a celestial scene of turban-wearing men riding floating airships. Equally intricate is Serkan Yüksel's An Ordinary Day (2016-2018): a trippy handcut on paper, in which a being with tree branches for legs holds a chair covered in red spikes for a headless body about to sit on it.
Seçil Büyükkan, Untitled 1 (from the series 'Nosce the Ipsum') ('2018). Ink on non-acidic paper. 96cm x 126 cm. Courtesy the artist and Martch Art Project.
Throughout, titles of recent works by Turkish artists seemed to hint at a general mood, or malaise. Take the bright, acrylic and marker on canvas scene of a modernist building complex at X-ist by Cen Dinlenmiş, Wont Jump, Just Making a Scene (2018); or Evren Sungur's The Train of Madness IV (2018), a two-by-four-metre allegorical depiction of military men populating a wooden 'tank' with a giant hand pointing forward, rendered in charcoal and oil on paper mounted on canvas, at Art on Istanbul. At Pi Artworks, Volkan Aslan's arrangement of three classical busts cast from plaster with white neon halos hovering over them, Dear Ugly Future (2018), pointed to another recurrent theme. Allusions to the ancient world were spotted in a number of works, including Burcu Yağcıoğlu's Venus (2018) at Galerist, a work on paper showing an image of Venus with smoke billowing from her face; and Emre Yusufi's Hercules Selfie (2018) at Galeri Baraz, a synthetic marble sculpture of the Greek hero holding a selfie stick with a working phone attached to it.
In general, there was good kitsch, like Anna Laudel Contemporary's showcase of Sarp Kerem Yavuz's neon-rendered skeleton figures representing Ottoman military and court figures from the 18th and 19th centuries, including a belly dancer and a soldier on horseback. These form part of the series titled 'Curse of the Forever Sultan' (2018), which pays tribute to the 1997 video game The Curse of Monkey Island—the gallery featured more of these neon characters in an impressive off-site exhibition concurrent to the fair at the historic Hüsrev Kethüda Hamam. There was also bad kitsch, like Laurence Jenkell's Jeff Koons-style candy sculptures made of plexiglass, polyester, marble, bronze and aluminium, which filled the Artmedy booth.
Sarp Kerem Yavuz, 'Curse of the Forever Sultan' (2018). Exhibition view: Anna Laudel Contemporary, Contemporary Istanbul 2018 (20–23 September 2018). Courtesy Anna Laudel Contemporary. Photo: Kayhan Kaygusuz.
Nevertheless, if beauty—or art—is in the eye of the beholder, there is something to be said for an art fair that makes room for multiple registers; an approach encapsulated in the title of Matthias Bitzer's acrylic and ink painting of a woman sitting on a chair with circles intersecting her form, The intricate multitude of perspectives in any given moment (2018), at Almine Rech Gallery. Referencing sculptures from another era was Gülsün Karamustafa's The Monument and the Child (2010) at Sanatorium: a carpet on which an image of a young Karamustafa with one of the monuments in Ankara's Güven Park—designed by Anton Hanak and completed by Josef Thorak in in 1935—has been reflected on itself like a woven Rorschach. At Galerie Dix9 Hélène Lacharmoise, an excellent solo presentation of works by Esmeralda Kosmatopoulos highlighted the artist's 2018 'Libro d'Oro' series—white neon lights whose forms replicate 18th-century graffiti found in an Italian jail.
Kosmatopoulos was showing in a series of booths dedicated to solo presentations. Highlights here included Tilo Kaiser's collaged canvases at Nosbaum Reding, in which depictions of plants and other everyday objects—such as a traffic cone or a pair of glasses—create grid-like compositions; and Ihsan Oturmak's history paintings at Karavil Contemporary—including Life is a Dream (2018), a portrait of Ottoman-era school boys—in which the past is deployed as an allegory of the present. Overlapping and intersecting time frames continued at Anadkulova Gallery, where Max Penson's black-and-white photographs documenting the transformation of Central Asia in the early- to mid-20th century were presented in a stimulating encounter with Almagul Menlibayeva's exploration of the Aral landscape in parallel to her own Eurasian identity.
Almagul Menlibayeva, Steppen Baroque (2010). Inkjet on archival paper. 71 x 107 cm. Courtesy Anadkulova Gallery.
Galeria Joan Gaspar focused solely on historical works, including three etchings by Dalí from 1971—Vision de Parades, Le Portique, Le Rhinoceros—and a stunning set of four small canvases from between 1933 and 1944 showcasing the surreal, biomorphic cubism of Gaston-Louis Roux, who shared gallerist Daniel-Henry Kahnweiler in common with the likes of Picasso, Braque, Gris, Léger and Derain. Presenting pieces from the other side of the temporal spectrum was Upstream Gallery, showing websites by Rafaël Rozendaal (ShapeSqueeze.com and StartStopGo.com, both 2018) and Jan Robert Leegte (Repositions, Blue, 2018)—alongside Harm van den Dorpel's 2010 digital video Strategies, in which statements appear over shapes and images, from ultrasounds to works of art, like: 'the past haunts the present, but equally important so does the future'.
The idea of the past and future haunting the present could not ring more true in Turkey right now. 'Every day is a new day here', says gallerist Asli Sümer. artSümer's pitch-perfect presentation of works by Deniz Aktas, Serkan Demir, Gökçe Erhan, Onur Gülfidan, Basim Magdy, Bahar Yürükoğlu, and Gözde İlkin was shown on the top floor of a stunning neoclassical building in Beşiktaş, and included a fabric work spanning an entire wall by İlkin, with figures woven into a stylised rendition of Istanbul and the Bosphorus. On the building's first two floors, the young collector's initiative Clubfinearts presented recent paintings by Ekrem Yalçındağ, created in a painstakingly repetitive process that builds up textured fields of colour on canvas.
Gaston-Louis Roux, Buste de femme au corsage rayé (1939). Oil on canvas. 50cm × 65cm. Courtesy Galeria Joan Gaspar.
While every day is a new day in Turkey, every year seems to be a new year for Contemporary Istanbul, as the fair reinvents itself with the changing times. The 2018 end-of-show report counted strong mid-range sales and around 80,000 visitors, and there is a hope, as noted by fair director Kamiar Maleki, that CI—and the city of Istanbul in general—will become an international centre for art. How such hopes might manifest remains to be seen given the current Turkey-US rift, with Erdoğan stating that the two countries 'will overcome' this 'turbulent period' while warning against any 'unilateral step' against Ankara in the same breath.2 Nevertheless, CI is projecting a message—reflective of the country's stance in general—that Istanbul is open for international business. —[O]
1 Natasha Turak, 'Turkey 'cannot remain silent' over US sanctions, Erdogan tells the UN', CNBC, 26 September 2018.
2 Colby Smith, 'Turkey's Erdogan renews attack on Trump over sanctions', The Financial Times, 27 September 2018.